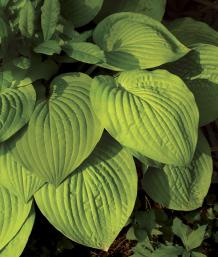 Hostas are the most popular hardy perennial in the United States, and with good reason. Besides providing texture and large leaves to garden plantings, hostas offer an exceptional range of leaf colors, which makes them outstanding foils, specimens, and accents in any shade garden. My hosta collection boasts about 2,300 kinds, including those with green, blue, yellow, and variegated leaves. I'd have to admit though that yellow-leaved hostas are my favorites. Their luminescent leaves glow at dusk and at dawn as well as on rainy or overcast days. They brighten up dark corners of the garden and are especially noticeable when combined with plants with green or blue foliage.
They like dappled light
One of the reasons hostas are so popular is that they are easy to grow. They generally thrive in USDA Hardiness Zones 3 to 8 and prefer fast-draining soils. While blue and green varieties can tolerate full to partial shade, yellow hostas require a bit more sun to bring out their color.
To keep them true to form, divide hostas in spring or fall rather than start them from seed. I recommend amending the soil with composted manure and sand or small gravel when planting a hosta, and adding a handful of slow-release fertilizer. I also fertilize every spring just before the shoots appear. Annual fertilization is especially important for yellow-leaved hostas, which contain fewer food-producing chloroplasts and therefore are not self-nourishing. I also recommend mulching hostas the first year they are planted to prevent the heaving that can result from winter's freeze and thaw cycle. I water newly planted hostas daily for the first two to three weeks, then weekly during the first year.
Hostas are tough plants that are bothered by only a few pests. Black vine weevils sometimes chew along the edges of the leaves, and they can be controlled with various insecticides. The most common hosta pests are slugs, snails, and deer.
Sanitation is the key defense for controlling slugs and snails. They gravitate to moist, dark areas, so be sure to clean up any leaf debris, especially in the fall. It is also a good idea to avoid watering plants toward the end of the day when leaves have little chance of drying before dark. Several slug baits are available that can also help with control. I have never found beer to be an effective control, but a home remedy I do use contains 15 percent nonfoaming ammonia and 85 percent water. I apply the mixture with a watering can at night, completely soaking the hosta leaves and killing all slugs and snails on contact. Absolutely no harm is done to the plants, and the application may be repeated every two weeks.
As far as deer go, I find barrier fencing to be the best method of control, but there are a number of repellent spray products that are also effective.
Hosta
Hosta spp. and cvs.
(HA-sta)
• Of the 4,200 hybrid varieties that exist today, nearly 100 are yellow-leaved selections.
• Hostas are hardy in USDA Hardiness Zones 3 to 8 and prefer well-drained, sandy soil.
• Fertilize yellow-leaved hosta varieties annually.
• Provide all hostas with a layer of mulch to prevent winter heaving.
• To keep them true to form, propagate all hostas by division in the fall or early spring.
These seven hostas are standouts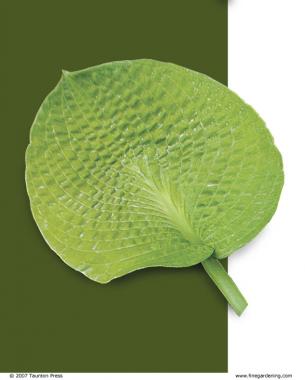 With close to a hundred varieties of yellow-leaved hostas from which to choose, how can you narrow down your list? As a collector, I tend to like them all, but I do have a list of favorites I routinely recommend to customers.
One of them is Hosta 'August Moon', a large, vigorous selection that can be grown almost anywhere. Although it prefers only four to five hours of morning light, I've also seen it thrive in nearly full sun. Reaching 20 to 24 inches tall and 36 to 42 inches wide, 'August Moon' has a mounding nature that makes it an excellent edging and massing plant. In addition, its distinctive heart-shaped leaves provide an interesting and attractive texture. In my garden, it displays white flowers from mid-July through early August.
H. 'Aspen Gold' makes it onto my list for its almost perfectly round, puckered, bright-gold leaves, which have a pattern resembling seersucker fabric. Planted in groups of three or five, it adds drama to the center of a border. In early summer in my garden, 'Aspen Gold' sends out pale-lavender flowers above its 24-inch-tall and 56-inch-wide mound.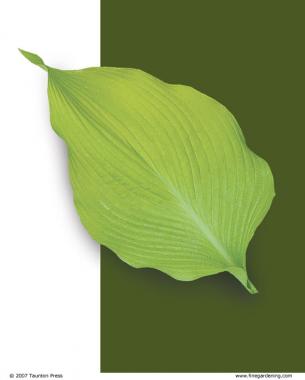 Noted for its prominently veined and ripply edged leaves, H. 'Piedmont Gold' is an eye-catching selection for the middle to edge of the border. Reaching an average height of 18 to 25 inches tall and 40 inches wide and topped with white flowers in midsummer, 'Piedmont Gold' combines well with ferns, astilbes, heucheras, pulmonarias, epimediums, primroses, daylilies, and bulbs.
For a hosta with hypnotic bright-yellow foliage, look for H. 'Sun Power'. At 24 to 28 inches tall and 36 inches wide, this selection flaunts its wavy oval leaves below pale-lavender flowers in mid-summer. You'll want to put this specimen front and center where everyone can see it, preferably in nearly full sun to really bring out the leaf color.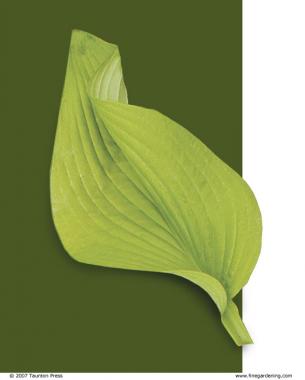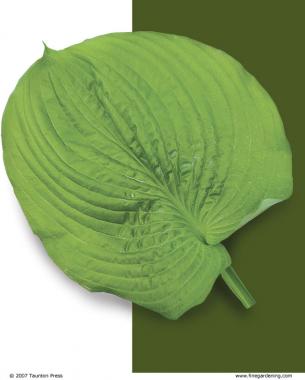 Another yellow-leaved hosta worth buying is H. 'Fort Knox'. It grows to 24 inches tall and 44 to 48 inches wide and has radiant yellowish-gold leaves and a vase-shaped habit that gives it and elegant presence in the garden. 'Fort Knox' looks lovely at the base of small trees or shrubs like rhododendrons and azaleas, especially when its lavender flowers bloom in midsummer.
One of the most popular hostas in the United States happens to be yellow. H. 'Sum and Substance' can be categorized as a botanical giant, averaging 30 inches tall by 60 inches wide. We measured ours at 48 inches tall and 114 inches wide in 1992, with leaves the size of a large serving platter. The upright foliage of 'Sum and Substance' has a glossy chartreuse hue that changes to gold when exposed to more light. The one in my garden displays its near-white blooms from late July through mid-August. 'Sum and Substance' makes a magnificent specimen plant.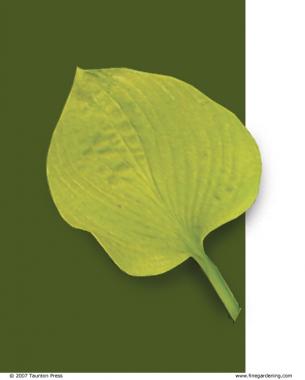 At the opposite end of the spectrum, the expression "Good things come in small packages" couldn't ring more true when it comes to H. 'Little Aurora'. This delightful little gem reaches only 8 inches tall and 12 inches wide and has soft-lavender flowers from late June into early July. The golden metallic sheen of its cupped and bubbly-textured leaves makes it an outstanding edging and massing plant, particularly at the base of evergreen and shade trees.
Now that you've been introduced to a few of the many yellow-leaved hostas available, I hope you will begin to experiment with them in your own garden, using the variations in shape, size, and color to create dramatic combinations. You may find that before long you, too, have become a hosta collector.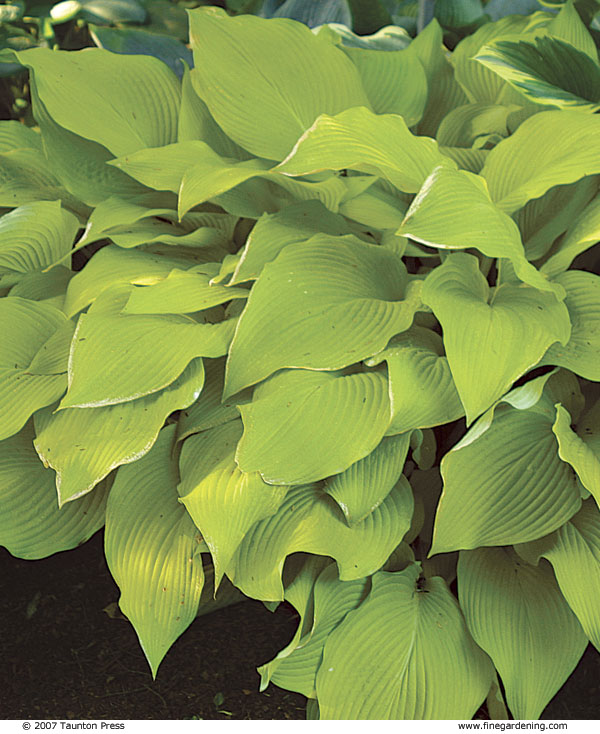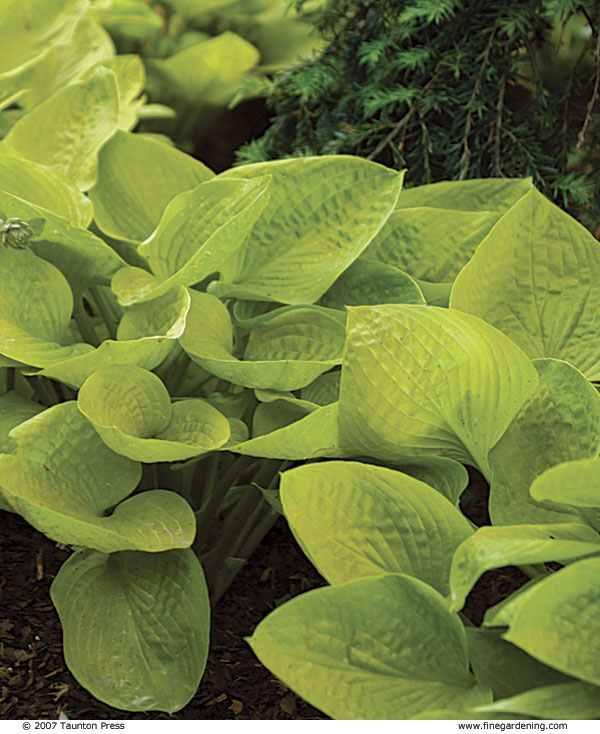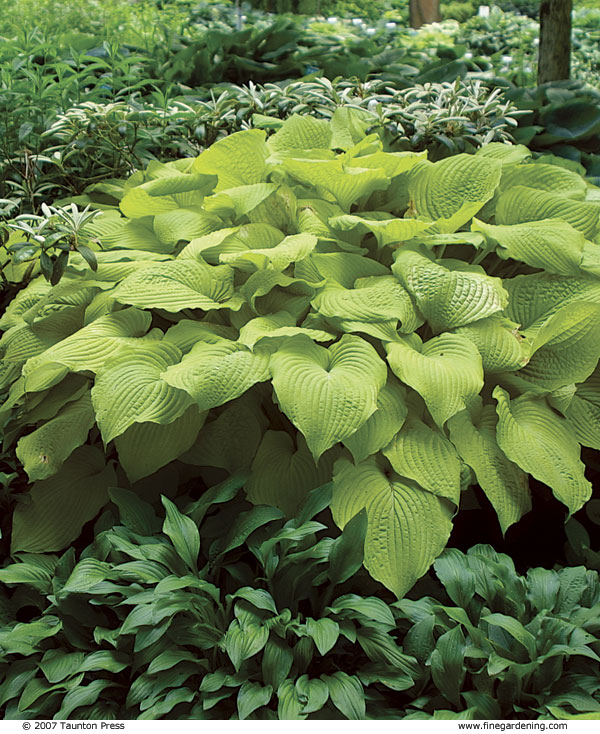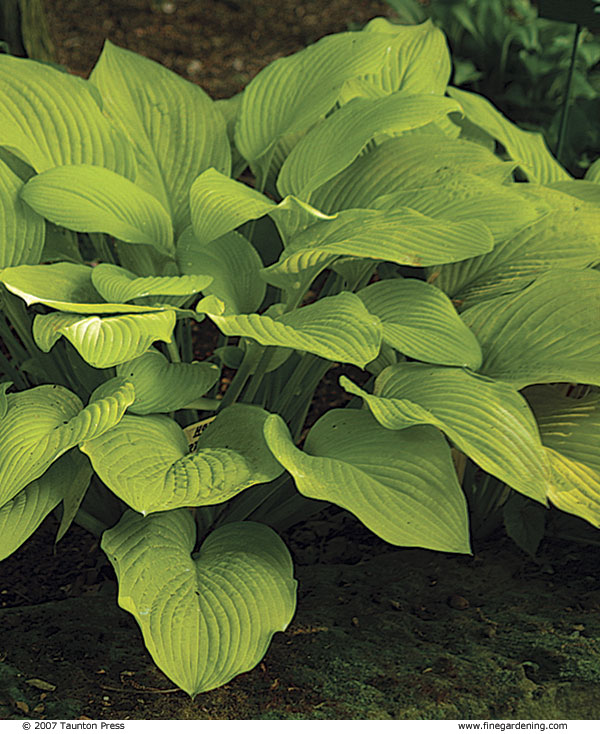 More garden-worthy yellow-leaved hostas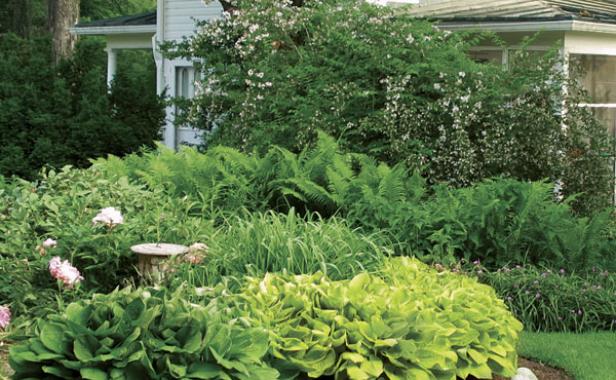 In addition to the outstanding varieties mentioned in the article, the author offers additional cultivars that would shine in anyone's garden. Sizes refer to the width of the plant at maturity.
Small (less than 24 inches wide)
'Gold Cup' – Gold cupped leaves with a remarkable puckered pattern
'Golden Teacup' – Outstanding heavily wrinkled yellow foliage
'Maui Buttercups' – Substantial rugged form with leathery rugose foliage  
Medium (24–36 inches wide)
'Good as Gold' – Pest-resistant chartreuse foliage that changes to gold
'Innisglow' – Brilliant gold cupped leaves
'Lemon Lime' – A good edging plant with wavy lanceolate leaves
'Sea White Gold' – Upright grower that holds its white-gold color into late fall 
Large (36–48 inches wide)
'Gold Regal' – Nice compact form with yellow overlapping leaves
'Golden Prayers' – Good textured foliage that is somewhat corrugated
'Jimmy Crack Corn' – Beautiful piecrust edge on large golden leaves
'Midas Touch' – Deeply cupped and heavily corrugated deep-yellow leaves
'Richland Gold' – A fast multiplier with lovely gold foliage by early summer
'Zounds' – A good semi-glossy metallic gold color with slug resistance
Giant (more than 48 inches wide)
'Choo Choo Train' – Bright gold leaves with heavily rippled edges
'City Lights' – Outstanding yellow heart-shaped leaves
'Golden Gate'- Medium-yellow-gold leaves changing to a richer gold in summer
'Golden Sculpture' – Round, heavily wrinkled foliage with good sun tolerance
'Sea Gold Star' – Ruffled, pale-yellow leaves with a crimped texture