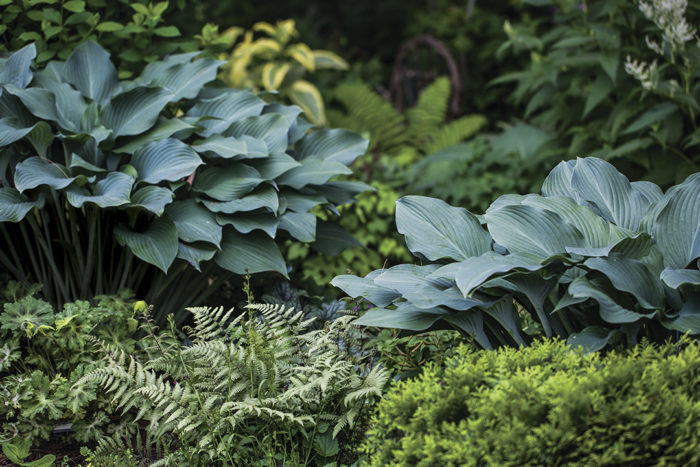 Hosta

spp. and cvs.
USDA Hardiness Zones: 3–9
Conditions: Partial to full shade; moist, rich, well-drained soil
Propagation: Division in spring or fall
Problems: Deer, slugs, snails
Who doesn't love hostas? They're big, they're bold, and they're pretty easy to grow—as long as you don't have a healthy deer population. Hostas give gardeners in cooler zones the tropical look they long to have from plants like elephant ears (Colocasia spp. and cvs., USDA Hardiness Zones 9–11) and bananas (Musa spp. and cvs., Zones 8–11). But with popularity comes endless choices. Wander into the shade section of any nursery, and you're bound to see a sea of hostas, in every conceivable size and color. Unfortunately, not all hostas are created equal. Some struggle to bulk up; others tend to lose their eye-catching variegation as the years pass. To help weed through the plethora of choices, Fine Gardening reached out to some of the most respected plant experts in North America to find out what their favorite hostas are. Now when you go shopping for more of your favorite shade plants, you can make informed purchases.
Best for Fragrance
August lily
(Hosta plantaginea var. grandiflora)
Size: 18 inches tall and 4 feet wide
When choosing the perfect hosta, most gardeners consider foliage first. Few take into account their flowers because—let's face it—while no hosta has blooms that are unattractive, most are not especially attention-getting. Not so with August lily. This old-fashioned favorite deserves a comeback, with its show-stopping floral display taking center stage in a season when flowers in the shade garden are scarce. In mid through late summer, flowering stalks rise to a startling height of 4 feet, and the pure white, exceptionally fragrant blooms (4 inches or more in length) open in long succession. For the best flowering, site it in morning sun (even full sun in the north) or very bright, dappled shade. Feeding in spring and fall and regular watering help ensure a yearly show.
Expert: Troy Marden is a garden and floral designer based in Nashville.
Most Sun Tolerant
'June'
Size: 1 to 2 feet tall and 24 to 30 inches wide
Many hostas prefer some sun, defying the popular misconception that all thrive best in shade. I learned this lesson with 'Great Expectations' and 'Patriot' when they languished in the dark. 'June', however, is unquestionably one of the best introductions to fare equally well under both environments, and flourishing in sun. The foliage has a lovely variegated pattern, featuring gold centers with irregular blue-green margins varying in outline. The thick, glossy foliage makes it fairly resistant to slug damage. It possesses a robust nature, tolerating dry, compost-deficient soils better than many other hosta varieties. Interestingly, the foliage of this highly durable plant sports a matte, pastel tone in shady conditions but flaunts glossy, vibrant hues in sun. 'June' is so well respected in the horticulture field that it has been used as a parent to a plethora of new beautiful introductions, such as 'June Fever'.
Expert: Edward Lyon is the director of the Reiman Gardens in Ames, Iowa.
Best Gold Variety
'Curly Fries'
Size: 10 inches tall and 20 inches wide
Though now a mainstay among hosta aficionados, this 2008 introduction lit up the scene with ridged, ruffled leaves in the most dashing shade of chartreuse. Its nearly miniature proportions make 'Curly Fries' an easy choice for a shady container or a small urban plot and an electric jolt for dim backyard corners. Narrow, turgid, and delightfully wavy, its leaves don't yield to the stress of summer like other golden hostas, instead powering through fall to remain vibrant. Rich purple scapes reveal lavender flowers in late summer. Mature clumps, occasionally outgrowing their miniature dimensions, tend to have a greener shade to their girthy leaves. Given all this, it's not surprising that it was a 2016 Hosta of the Year winner from the American Hosta Growers Association.
Expert: Kelly Norris is director of horticulture at the Greater Des Moines Botanical Garden in Iowa.
Best Big Behemoth
'Empress Wu'
Size: 4 to 5 feet tall and 6 to 8 feet wide
When it comes to big girls, 'Empress Wu' is the biggest of them all. This giant shady lady has leaves that are 2 feet long and wide, forming incredible, hulking mounds. The attractive, lightly rippled, heart-shaped foliage is bluish-green in spring, developing to a shiny green by summer with deep ribbing for good textural interest. The scapes of the pale lavender flowers rise just above the foliage in summer. 'Empress Wu' was the only female emperor of China and a formidable leader who greatly expanded Chinese territory. Her namesake hosta offers a commanding presence as a focal point in the garden. If you have space to cover, a few plants can conquer a lot of ground.

Best Mini Option
'Blue Mouse Ears'
Size: 1 foot tall and wide
'Blue Mouse Ears' is one of the most distinctive hostas and the spokesmodel for vertically challenged plants everywhere, winning Hosta of the Year in 2008. 'Blue Mouse Ears' has incredibly thick, almost rubbery, slug-resistant powder blue foliage held in tight, compact clumps. If you squint just right, the cupped form of each 2-inch-long by 2-inch-wide leaf kind of resembles the ear of a cute little rodent. In summer, short scapes rise just above the foliage (8 to 12 inches tall) with buds that swell like balloons before opening to lavender flowers. Use 'Blue Mouse Ears' in shady rock gardens, at the front of the border, along pathways, or as a unique specimen in a trough or container.
Expert: Gary Lewis is the owner of Phoenix Perennials, a specialty nursery in Richmond, British Columbia.
Most Underrated Variety
'Touch of Class'
Size: 15 inches tall and 30 inches wide
I'll confess to being a bit jaded, having grown over 2,000 hosta cultivars, but of the several hundred truly unique hostas, one that always rises to the top of my list is 'Touch of Class'. It was created by one of the world's top hosta breeders, Hans Hansen of Michigan. He took one of the best cultivars at the time, 'June', and intentionally doubled the chromosome count. The result was much thicker leaves, a much more intense blue, and a much wider blue edge. 'Touch of Class' forms a medium-size clump of dusty blue leaves, each highlighted by a narrow strip of chartreuse flare, which narrows each season as the plant ages. Unlike most blue hostas, which don't thrive in hot summer climates, 'Touch of Class' is equally at home in central Canada as it is in the heat and humidity of the southeastern United States. The clumps are topped with 2-foot-tall stalks of light lavender flowers in late spring.
Expert: Tony Avent is the owner of Plant Delights Nursery and Juniper Level Botanic Garden in Raleigh, North Carolina.
Best Variegated Variety
'Whirlwind'
Size: 20 inches tall and 40 inches wide
In the green/white variegated category of hosta, the cultivar 'Whirlwind' is hard to beat. It has been named a favorite in polls conducted by the American Hosta Association in recent years, and it's easy to see why. 'Whirlwind' is quite tolerant of sun, is slug resistant, and like many hostas, sports leaves that change color continuously throughout the season. In spring, the bright green leaves emerge with a creamy white center. By midsummer, they have shifted to soft green, which eventually deepens to a dark green late in the season. This cultivar also has a unique and distinctive growth habit. Its leaves are slightly curled and point upward in a wavy mound. This posture makes 'Whirlwind' ideal to work in and around other plants in a bed and also adds a sense of motion and dynamism. Though a vigorous grower, its smaller size allows it to be incorporated into shady gardens of almost any square footage.
Expert: Daniel Robarts is the plant breeder and propagator for the Coastal Maine Botanical Gardens in Boothbay.
Most Slug Resistant
'Sagae'
Size: 2 to 3 feet tall and wide
Originally found as a sport of H. fluctuans, the robust habit, excellent substance, and pest resistance of 'Sagae' earned it Hosta of the Year in 2000 and a Great Plant Picks Award in 2012. This large-growing hosta emerges in spring with bold upright growth before unfurling deeply corrugated leaves of pale blue-green with a slightly ruffled, variegated edge of primrose yellow. This edge eventually matures to cream. The beautiful variegation is easy to work into a garden; bright but not gaudy, it draws the eye without screaming for attention. Mature clumps form gracefully layered mounds. The upright habit keeps the thick leathery leaves (which are the trait that makes them slug resistant) off the ground, making them less prone to splashing soil and tattering wear. In midsummer, tall flower spikes rise high above the leaves, sporting pale lavender, trumpet-shaped blooms that hummingbirds love.
Expert: Richie Steffen is curator at the Elisabeth C. Miller Botanical Garden in Seattle.
Most Beautiful Blue Variety
'Krossa Regal'
Size: 3 to 5 feet tall and 3 to 6 feet wide
With so many choices, something special has to set one blue hosta apart from another. While the powdery blue leaves of 'Krossa Regal' are beautiful on their own, it's the distinctive vase-shaped habit and willowy flower stems that offer something extra. The architecture of the frosty foliage—nearly vertical petioles and smooth, cupped leaves—easily distinguish it from other hostas. On the practical side, the thick leaves keep slugs somewhat at bay. As the vibrancy of the leaf color dims a bit in midsummer, graceful lilac bells open on lofty 5-foot stems. Although this hosta pairs well with an endless number of shade perennials, nestled with bleeding hearts—radiant 'Gold Heart' (Dicentra spectabilis 'Gold Heart', Zones 3–9) or fiery 'Burning Hearts' (D. 'Burning Hearts', Zones 3–9)—might just be perfection.
Expert: Richard Hawke is the plant-evaluation manager at the Chicago Botanic Garden in Glencoe, Illinois.
---
Step-by-Step Hosta Division
Most hostas don't need to be divided, but if you want to make more of your beloved plant, division is a wallet-friendly way to do so. You can divide hostas in spring or fall. There is no advantage or disadvantage to choosing one time over the other—just be sure the weather is cool and moist. 
Step
1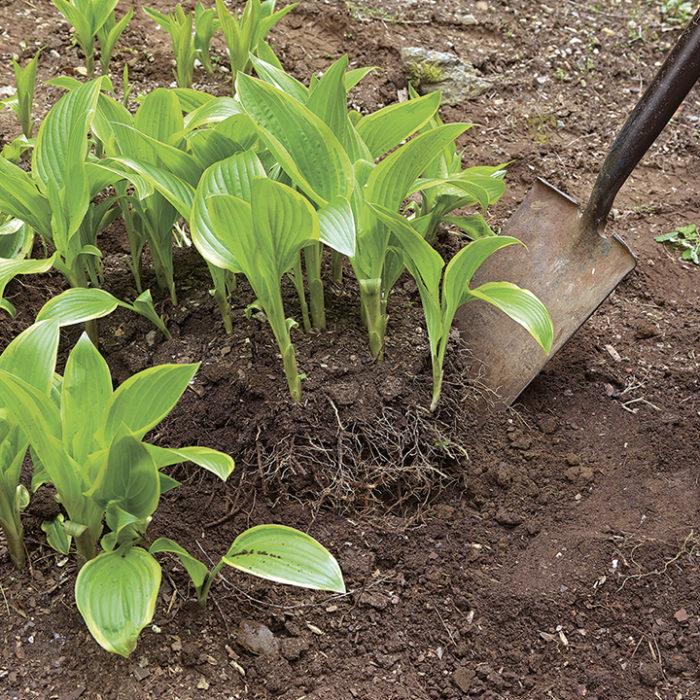 Use a spade to cut around the outside edge of the hosta clump. Then, disturbing the roots as little as possible, gently pry and lift the entire clump out of the ground.
Step 2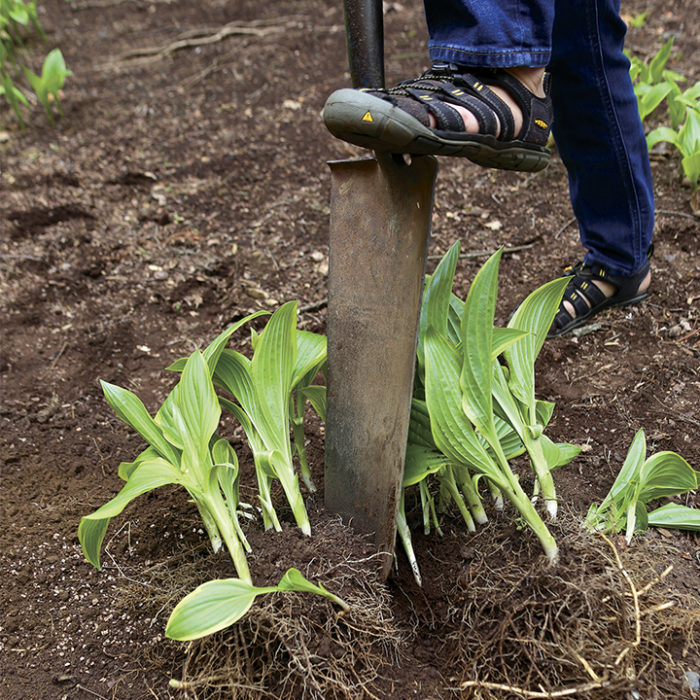 Depending on the size of your clump, use the spade or a reciprocating saw to hack off smaller chunks. A general rule of thumb is to not make any division smaller than 5 inches in diameter.
Step 3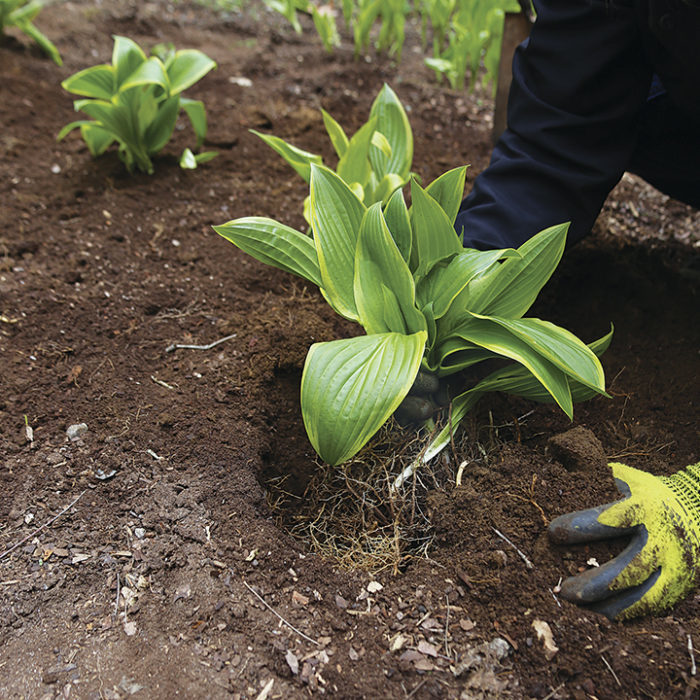 Replant the divisions at the same depth as they were when still a part of the mother clump. Water well, but do not fertilize, as this can burn the already sensitive (due to being disturbed) roots.
---
Photos: millettephotomedia.com; Bill Johnson; courtesy of Edward Lyon; courtesy of perennialresource.com; Michelle Gervais; courtesy of Plant Delights Nursery Inc.; Doreen Wynja/Monrovia Nursery; Steve Aitken
Sources
The following mail-order plant sellers offer the widest selection of hostas featured: