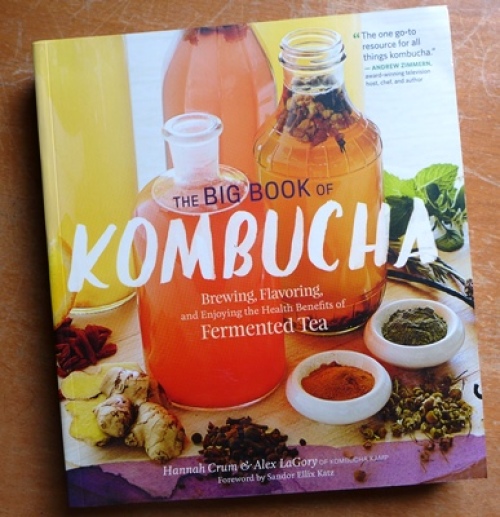 When I sat down before one of Hannah Crum's kombucha demonstration workshops at a Mother Earth News Fair, I wasn't sure what to expect. I just wished I would've gotten to the auditorium earlier. The place was packed with hundreds of people waiting to hear what she had to say about kombucha. 
For those unfamiliar with the term, kombucha is a different way to enjoy tea, because it's fermented and tastes a bit like a tangy-sweet-vinegary drink. It's safe to say, kombucha is tied to the growing interest in all kinds of fermenting, although fermentation is an ancient preservation method.
During her entertaining and enlightening presentation, she was able to mix together a little bit of history with a little bit of how-to. Her goal: "To change the world one gut at a time."
That's because kombucha is a drink that "restores balance in the digestion, rejuvenates the immune system, and revitalizes the mind" according to a note in the beginning of Hannah Crum and Alex LaGory's new book called The Big Book of Kombucha: Brewing, Flavoring and Enjoying the Health Benefits of Fermented Tea (Storey Publishing, 2016).
If there's a more comprehensive book on kombucha, I can't imagine it. This large, colorful edition contains almost 400 pages of information, images and inspiration for getting started on a new kind of tasty adventure.
The one important take away from Hannah's presentation is that the process to make kombucha takes time and patience. Having this book would be a big help, too.
The book begins with a nice, reassuring Foreward written by Sandor Ellix Katz, author of The Art of Fermentation and Wild Fermentation. "The Big Book of Kombucha will certainly alleviate any fears you might have about making your own kombucha," he writes. 
The book is divided into five parts that takes readers on the kombucha journey from "Getting Started" to "Just Brew It!"
You'll learn that kombucha is more than just a health drink, how to cook with it and how it all got started.
The authors make it all sound so easy – -and it is. The basics include boiling water with tea and sugar. Then adding the SCOBY or kombucha culture similar to a sourdough starter, waiting for it to ferment, drinking it and repeating the process.
There's no one right way to enjoy the drink either. You can drink it on an empty stomach in the morning, take a few ounces throughout the day and even dilute it with water. You can enjoy kombucha smoothies, sodas, spritzers or "kocktails." The recipes are included or you can create your own concoctions once you get the hang of it.
If you're not convinced kombucha or other fermented foods are for you, consider that one-third of all food that humans consume have been fermented before we consume them. If you like vanilla, wine or beer, you're probably going to love kombucha, too.
(Storey Publishing provided a complimentary copy of The Big Book of Kombucha for this review. Opinions are my own.)