At JMMDS we love using our app to help people design their home landscapes. We created the Home Outside Palette app for homeowners to try out new possibilities for their properties, and also to help design professionals (like us!) communicate design ideas to clients.
With the Ask an Expert feature, Home Outside Palette app users send us their designs for some expert revisions. Sometimes they tell us what they're hoping to achieve, and other times they just leave it up to us.
Here, we share three before-&-after designs, along with some notes on how we improved or developed the designs.
1. Deck on the Angle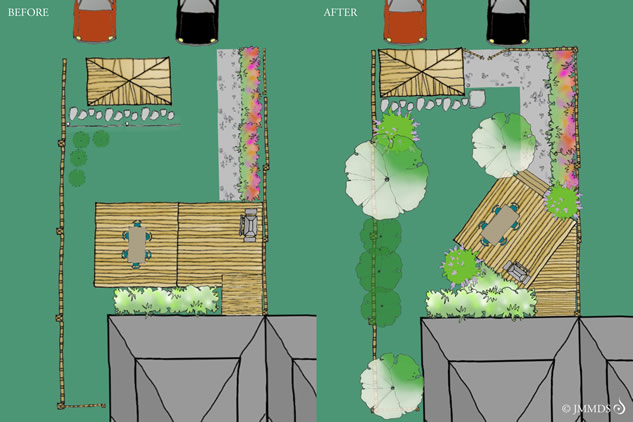 This user gave us free rein to organize the space however we liked. We suggested the following small changes to make a big difference.
Try orienting the deck towards the longest view of the yard. Designing on an angle makes the space feel larger.
Remove the fence panels in front of the shed. Rather than fence it, make your shed an attractive focal point–give it a great paint job or plant tall flowering plants along the side that faces the yard.
Use the "rule of three" with the plant material: Setting 3 flowering shrubs at long distances from each other expands the space and unifies a design.
Trees add a vertical layer, again making the space feel larger. Flowering trees add seasonal interest (flowers, leaf cover, dappled shade, fruit, fall foliage) and provides screening from the parking area and neighbors.
2. Outdoor Rooms for a Pool Terrace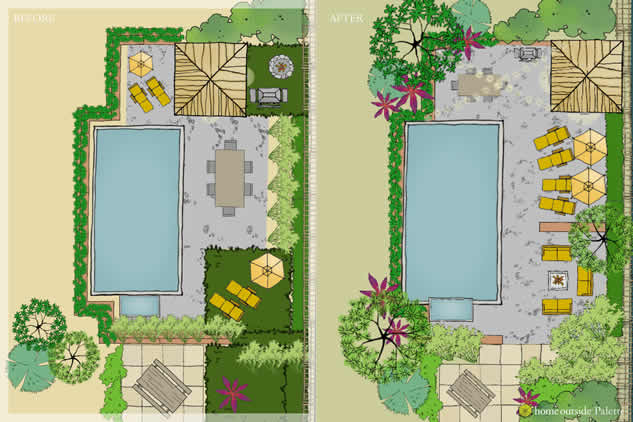 To put our spin on this great pool terrace design, we organized it into a series of rooms—dining, lounging, and warming. Our recommendations:
A dining terrace and barbecue are most convenient when located next to the cabana. Greenery and overhead string lights add movement, dappled shade, and a little twinkle at night. Even if there is a grand view to be seen beyond the terrace, plants in the foreground help to frame the view.
Sunbathers can relax in their lounging area set back from the pool, then venture toward the warming area to sit in the hot tub or gather around the fire once the sun goes down.
For a more relaxed feel in informal spaces, cluster plants in the corners and let them grow as groups and groves with a variety of color, height and texture.
3. A Dreamy White Garden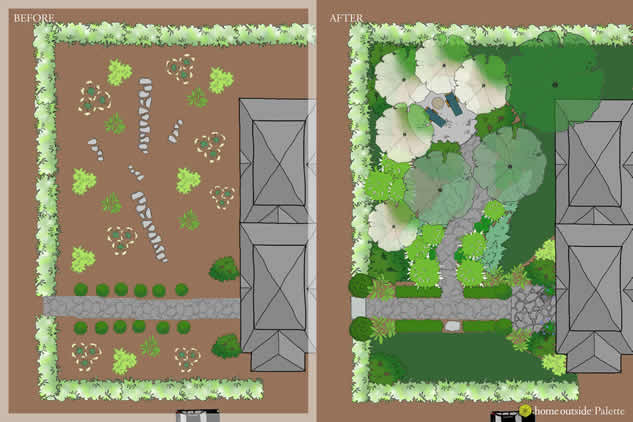 This user asked for nothing more than a wandering white garden. What fun it was to design this magical space!
The images shown here were all created using the Home Outside Palette app; the 'before' images were submitted by app users to the design team at JMMDS, who created the 'after' images. The app is available for free for your iOS or Android device in the Google Play or iTunes app store.