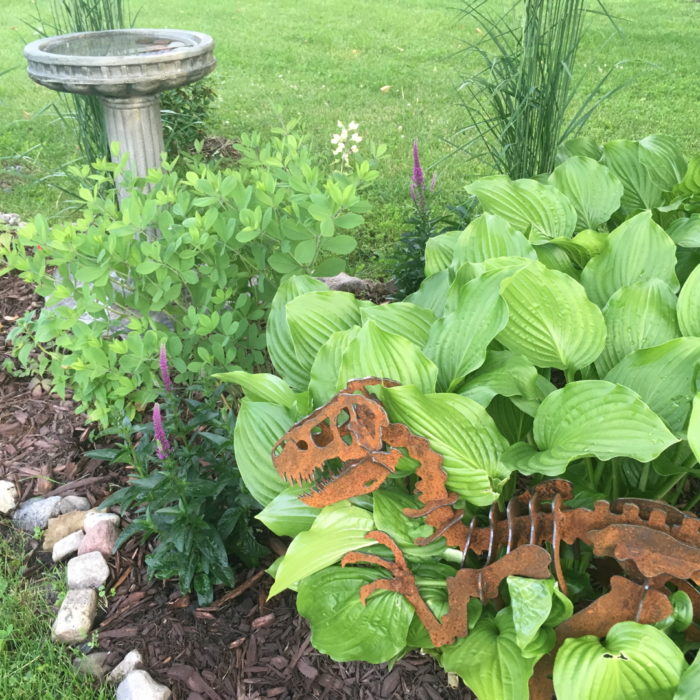 My name is Kat, and I've been gardening for two years in a small town in Ontario, Canada. Our village is in a rural area, and I'm very lucky to have a backyard with farmland soil that has the consistency of chocolate cake—digging is actually fun. I've been expanding existing beds and making new ones, with a goal of choosing plants that will survive periods of summer drought with minimal water and attract wildlife and pollinators to our yard. Whenever I can, I incorporate purple and blue blooms—our daughters' favorite colors.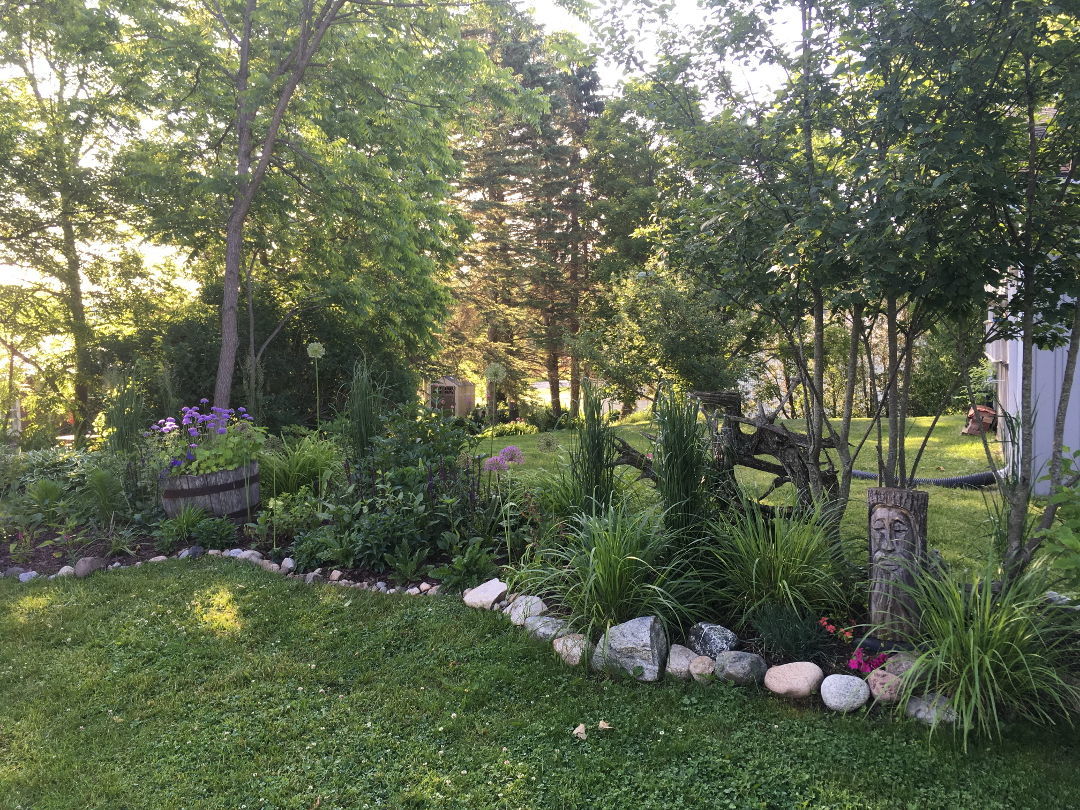 We live in an area of town where none of the yards are fenced in. We back on to our neighbor's slope, which is lined with mature evergreens and walnut trees, and our perennial garden is a skip and a jump from our other neighbor's abundant raised vegetable beds and wildflower patches. Children, cats, bees, and butterflies drift freely through our connected spaces.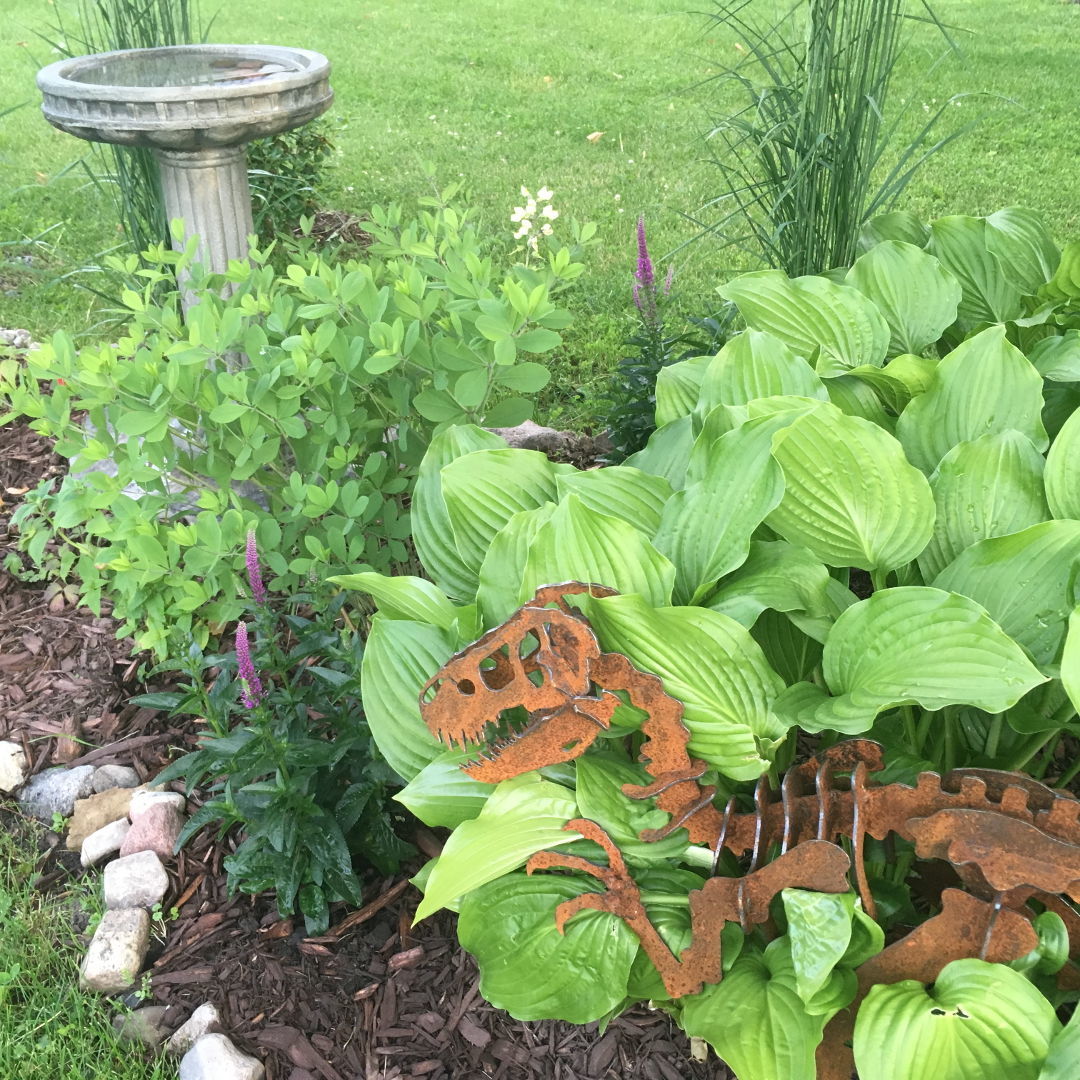 I turned 40 this year, and my family gave me garden-related presents, including a velociraptor done in metalwork and a garden arch. These lush hostas are a perfect cover for my dinosaur to stake out the birdbath for unsuspecting robins. This cracks me up every time I look at it.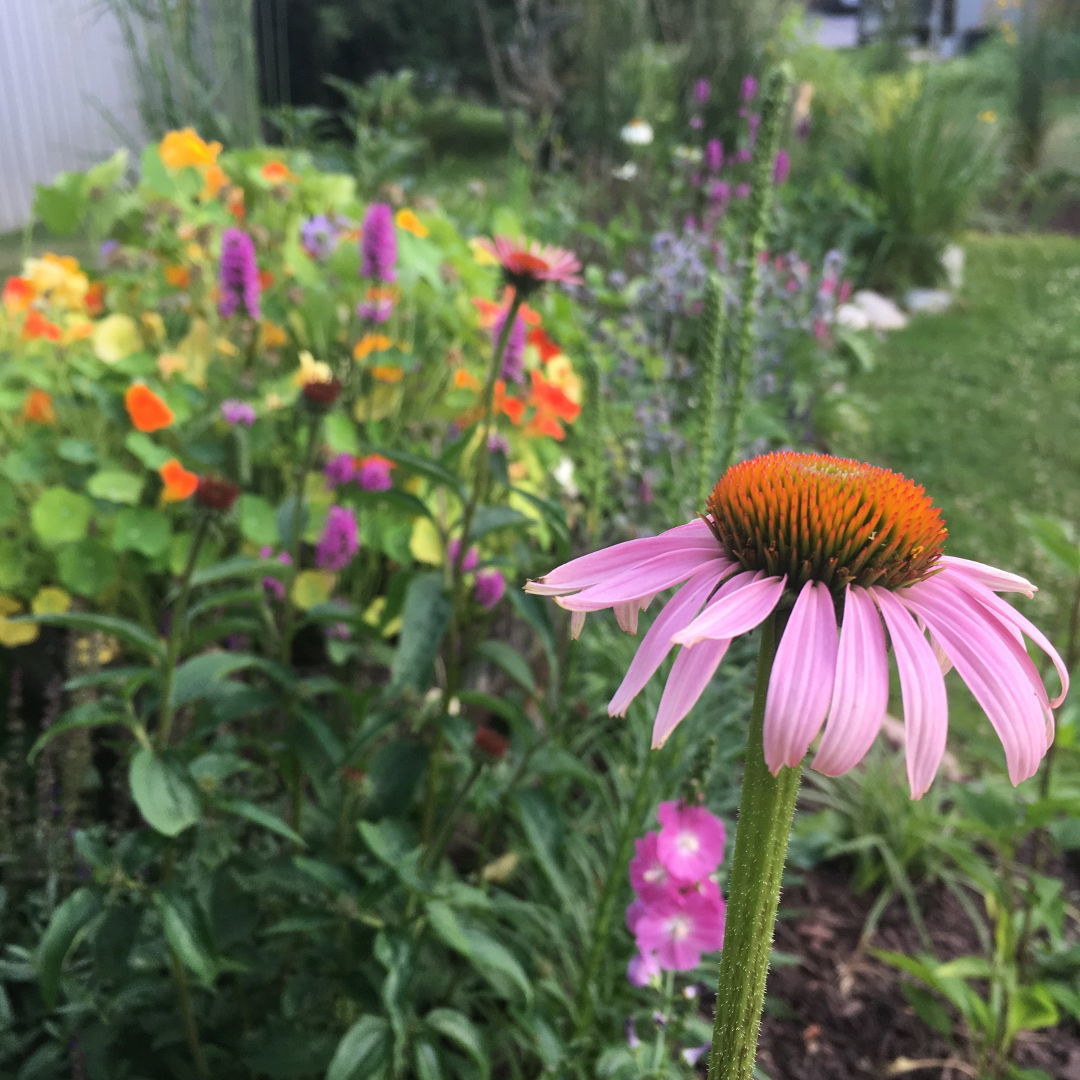 I spent the winter planning my planting, and I couldn't read enough about the work of Piet Oudolf, Nigel Dunnett, and Jinny Blom. This image is an ode to their design style.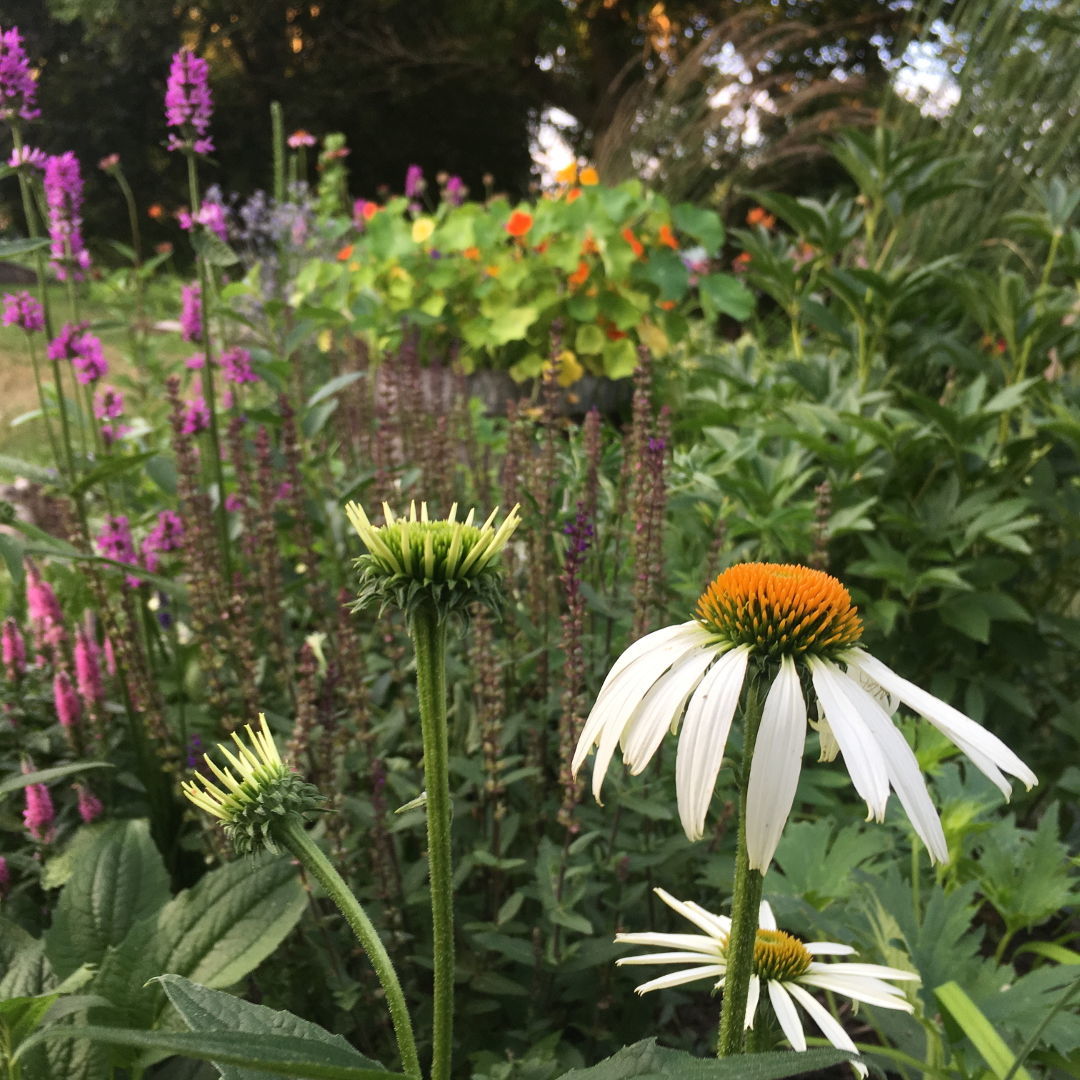 Another planting inspired by these important designers.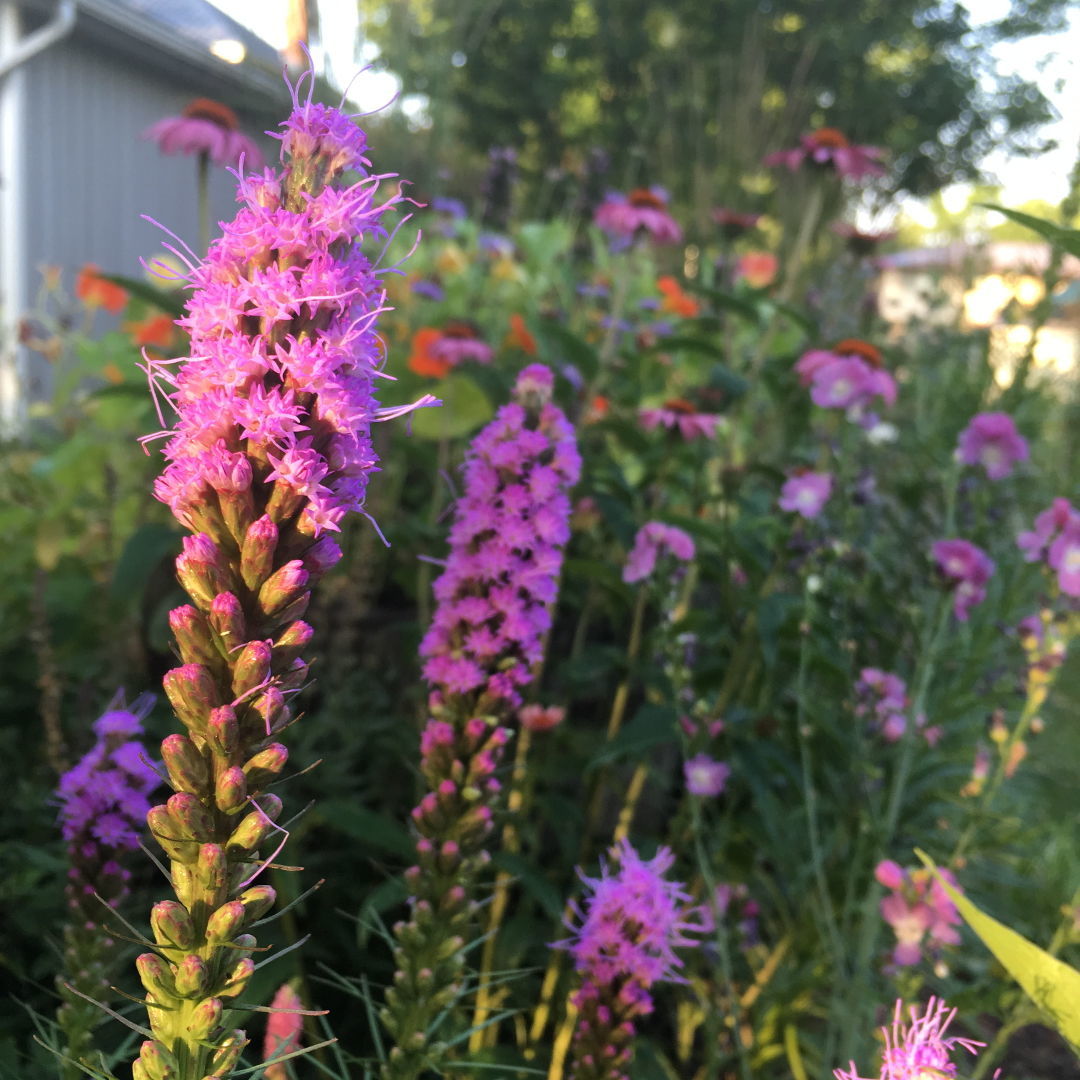 And one more.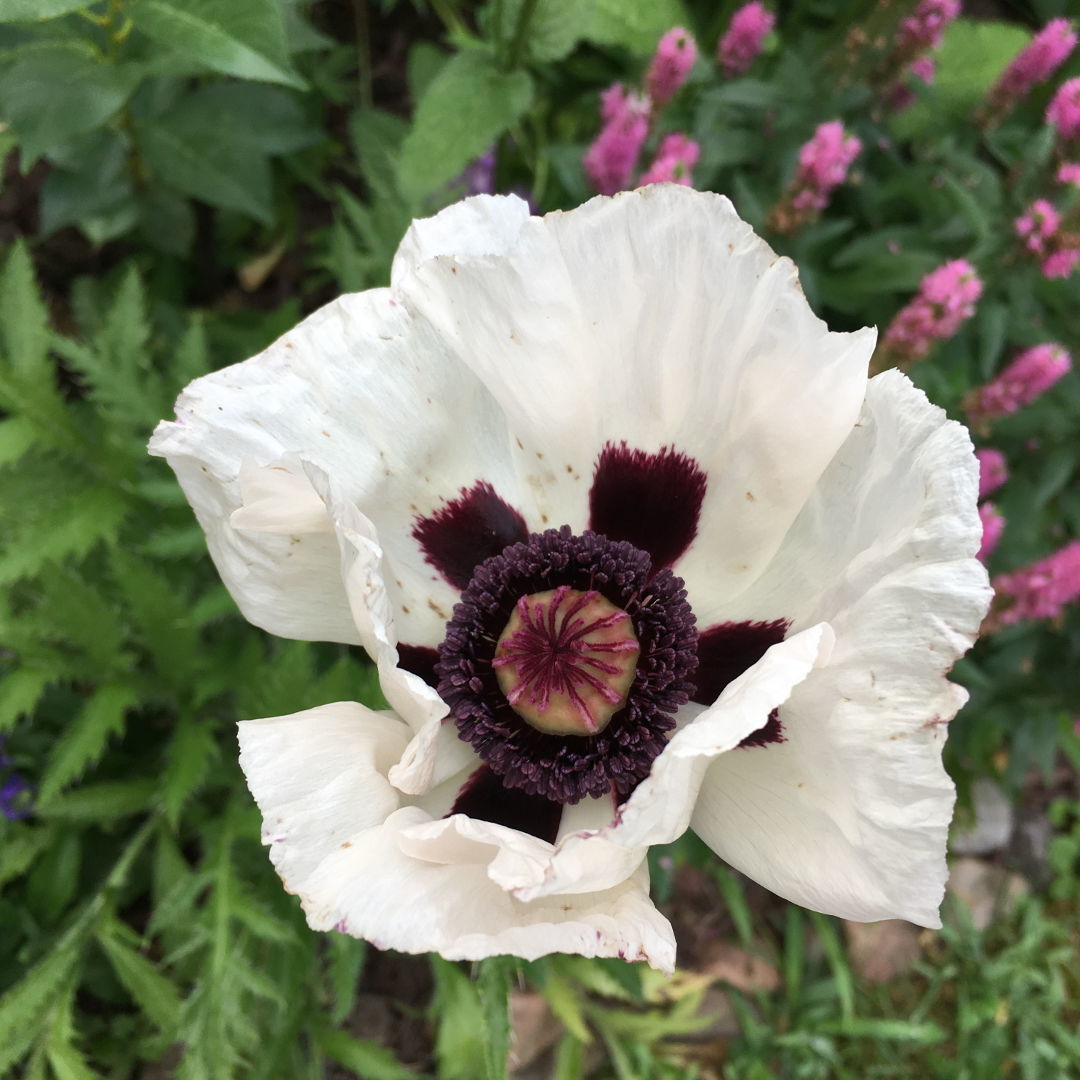 This 'Royal Wedding' poppy (Papaver orientalis 'Royal Wedding', Zones 3–7) really doesn't belong at the very front of the garden bed, and it only survived for a day, but I knew my youngest would love it for being so huge and so very purple. At least I got a photo before the petals floated away in the warm summer breeze.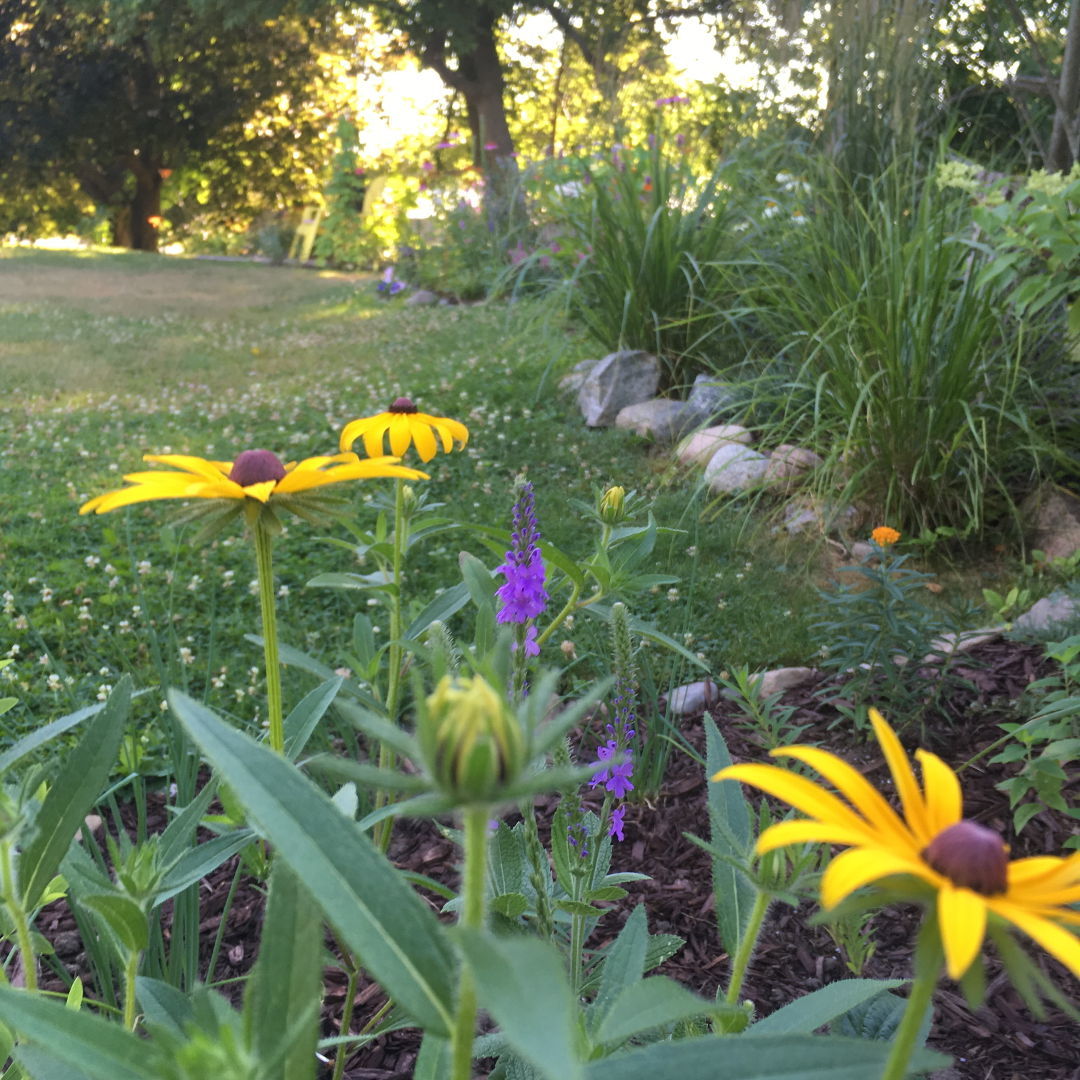 Our local conservation authority offered wildflower kits for pre-order, with an assortment of native plants that would require no watering after their first year. This photo shows the black-eyed Susan (Rudbeckia), hoary vervain (Verbena stricta, Zones 4–7), and one bloom of butterfly weed (Asclepias tuberosa, Zones 3–9) at the front. From these kits I am also growing wild chives, wild bergamot, columbine, lupines, Liatris spicata, and bee balm, and I have added my own plantings of false indigo in the same beds (not local to our region as far as I know but not too far away, and the taproots make them entirely self-sufficient even when we haven't seen rain in weeks). These beds are still filling in, but the plants are doing well and always have airborne visitors.
My garden is just beginning, and I am already mapping out a new section for next year. I really enjoy getting up early before everyone else and heading outside with a cup of coffee to spend time in the garden. I might weed, I might read, or I might just sit and look at it and feel grateful for what's growing.
Have a garden you'd like to share?
Have photos to share? We'd love to see your garden, a particular collection of plants you love, or a wonderful garden you had the chance to visit!
To submit, send 5-10 photos to [email protected] along with some information about the plants in the pictures and where you took the photos. We'd love to hear where you are located, how long you've been gardening, successes you are proud of, failures you learned from, hopes for the future, favorite plants, or funny stories from your garden.
If you want to send photos in separate emails to the GPOD email box that is just fine.
Have a mobile phone? Tag your photos on Facebook, Instagram or Twitter with #FineGardening!
You don't have to be a professional garden photographer – check out our garden photography tips!
Do you receive the GPOD by email yet? Sign up here.