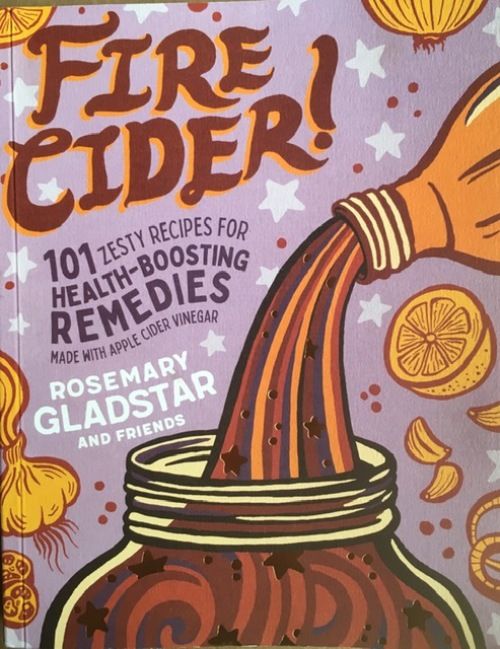 This book, Fire Cider!, is hot off the presses, published by Storey Books. There are 101 zesty recipes for health-boosting remedies made with apple cider vinegar by Rosemary Gladstar and friends.
If you are not familiar with fire cider, or the recent controversy and trial, you can read about it at www.freefirecider.com. Basically, five years ago, an herb company trademarked the term "fire cider", which herbalists have been making since the 1980s, inspired by Rosemary Gladstar's recipe. All of a sudden, herbalists selling their fire cider on the internet were informed that they had to remove their products and were no longer allowed to use the name "fire cider". Well needless to say this didn't bode well for those of us who have been making fire cider for over 20 years. And how could one own a gerneric name like fire cider? If this were so, then folks could start trademarking products like calendula salve, elderberry shrub, rootbeer and so on and on…
After five years, much work, travel, expense, raising funds, angst and finally a trial, the decision was recently announced that fire cider is a generic term and sets a precedent for further misuse of trademarking. Yes! Let's keep herbs free for the people who use them! Read more about the details of the trial, etc. at freefirecider.com or https://www.facebook.com/Tradition-Not-Trademark-311341798991086/
The book can be purchased from www.storeybooks.com and local bookstores–it is selling like hotcakes–and helps support all of the costs of the recent trial. I have sold a few cases at recent events; the book is full of great recipes–and I am honored to have three recipes and two photos included.
There are many variations in the book, however the basic recipe includes fresh horseradish root, gingerroot, garlic, onion and cayenne peppers infused in organic apple cider vinegar. There are many different adaptations–the version on The Free Fire Cider Web site includes lemons, oranges, rosemary and turmeric. In the past, I have added elderberries for an additional boost for the immune system–it does make it a darker color.
Here is a link to an article I wrote back in 2014 when the controversy first began; it includes a basic recipe for fire cider. /item/16506/fire-cider-vinegar