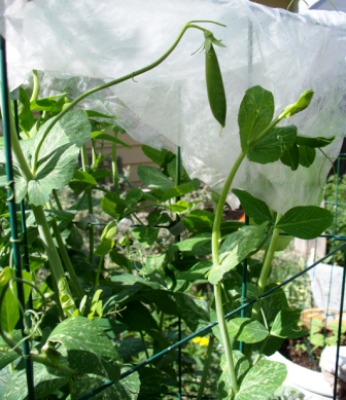 Gardens Expand with Success
When it comes to gardening, I'm more like Michelle Obama than I thought. At the recent White House spring garden planting event she said, "There's nothing like watching tiny seeds grow into something amazing."
That's exactly how I feel each and every spring.
Something else we have in common is that after a successful gardening season, I want to expand the garden and grow even more, too.
Last year 1,000 pounds of food were harvested from the White House kitchen garden and the fresh produce fed White House guests and people at Washington, D.C., homeless shelters. This year the garden is adding 400 square feet to accommodate even more vegetables, including bok choy, cauliflower, artichokes and mustard greens.
My vegetable garden is considerably smaller than the 1500 square foot White House garden, but I'm planning to add a few new vegetables to my plot, too. I'm also going to donate the extra produce to a food bank in my community as part of the Plant a Row for the Hungry effort.
Even though Mrs. Obama will have many more hands helping her in the garden, we still have one more thing in common: It's fun to be outside and it's good getting dirt under your nails.
Spring Garden Vegetables
In addition to the four new vegetables being added to the White House garden, there's a nice variety of spring greens, onions and peas.
Red Romaine lettuce
Geen Oak Leaf lettuce
Spinach
Sugar Snap Pea
Butterhead lettuce
Fennel
Red Oak Leaf lettuce
Radishes
Shallot
Shell peas
Broccoli
Onion
Chard
Kale
Collards
Carrots
Rhubarb
Spring Garden Herbs
The White House gardeners have a large bed reserved for perennial and annual herbs. They wisely planted the mint in a bed all of its own and away from the main garden. They must know how easy it is for mint to take over an entire garden.
Perennial Herbs
Sorrel
Thyme
Oregano
Sage
Rosemary
Marjoram
Chives
Chamomile
Garlic chives
Hyssop
Annual Herbs
Dill
Cilantro
Parsley
Garden Flowers
Flowers are used as edging plants along both sides of the pathway that winds through the garden. Not only do flowers give the garden a finished look, they'll also attract bees and butterflies, and some will help fend off insect pests.
Nasturtium
Marigold
Zinnia
Plant a Garden, Grow a Gardener
At the White House planting, Mrs. Obama mentioned she wasn't a gardener before planting the garden last year, but she enjoyed the entire process. "No matter where you live or what age you are, you can grow stuff," she said.
And I totally agree.