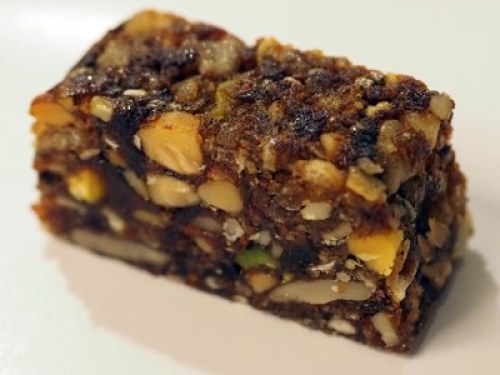 As a long-time vegetable gardener, I know I've eaten more than a few bugs by accident. Perhaps it was an insect hitchhiking on the lettuce, something buggy hiding in the spinach or a fruit fly landing in my wine just as I took a sip.
But last week I ate a tasty confection made with crickets (on purpose) and it was delicious. It tasted a little like a date bar with nuts.
The cricket confection, made by Hopper Foods, was served for dessert as part of the annual Denver County Fair press luncheon. This year the fair has invited Little Herds to be part of the festivities by giving fairgoers a sample of a different kind of fair food, August 1-3.
The nonprofit organization, based in Austin, Texas, is all about educating folks on the environmental and nutritional benefits of edible insects.
"Little Herds is excited to be the first edible insect presenter at the Denver County Fair," says Wendy Lu McGill, one of the organization's advisory board members. "Eating bugs fits in with the fair's mission to promote sustainable agriculture in a fun and accessible way."
Eating insects, also known as entomophagy, is healthy, cost-efficient, eco-friendly and tasty. According to Little Herds, insects have low levels of cholesterol and fat and high levels of protein, essential amino acids, iron, calcium and other vitamins and minerals.
The three bug eating contests will prove that growing vegetables for competition isn't the only way gardeners can have fun at the fair. Competitors will be given a bowl of beetle larvae and the first to eat them all will get the blue ribbon. 
During the pancake breakfast (August 2) crickets and mealworms will be included as pancake toppings and some pancakes will be made with cricket flour.
"Intrepid X-Treme pancake breakfast goers can add some sustainable and healthy protein to their pancakes," Wendy says.
Crickets and mealworms will also be featured as toppings during the X-Treme Burrito Breakfast on August 3.
The Denver County Fair is just one stop in a lineup of summer events in Colorado. Little Herds is also bringing bugs for sampling to the Butterfly Pavilion in Westminster, Colo., a tasting hosted with Denver Urban Gardens at the Posner Center for International Development and a cooking demonstration as part of the Food: Our Global Kitchen exhibit at the History Colorado museum.