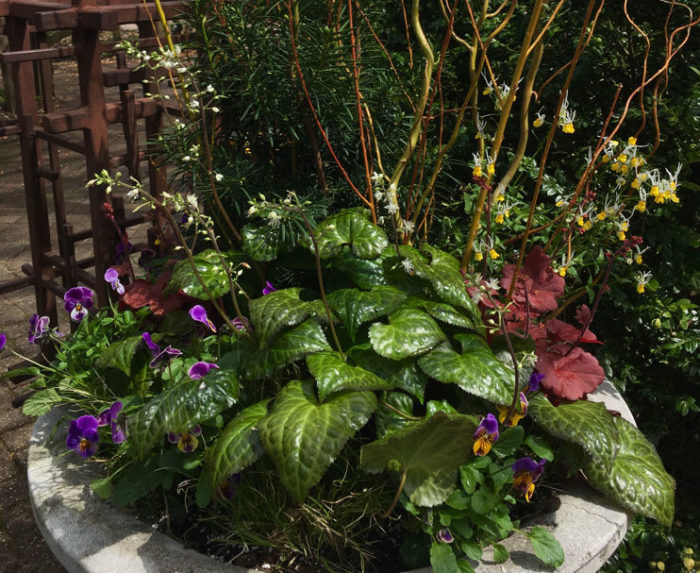 Pansies (Viola x wittrockiana, annual) and other cold-hardy flowers arrive at garden centers in April, putting color-starved gardeners in the mood to start arranging their first annual containers. The jewel-like flowers just need a striking companion, the "thriller" in container designs, but options for substantive cool season annuals are few. Thankfully, there's a solution: a small tree or shrub.
Incorporating small trees and shrubs into container plantings diversifies the options for gardeners seeking low-care, dynamic combinations. A well-selected woody plant eases transitions between seasonal container updates; exchanging spring pansies for summer flowers, adding a flowering kale in fall, and dressing up your container with some winter evergreen boughs is easier and less expensive with a woody plant offering four-season interest at the core of your design.
Here in Wisconsin, we've found some super hardy options for woody plants that seem happy to spend their winter outside in a container. Cold-hardiness is key, and giving a little extra protection by nestling a container vignette into a protected corner in winter and perhaps wrapping with a cozy burlap blanket can be helpful. Keep your container well watered as freezing temperatures arrive and use a container that won't be damaged by frost, and next spring you'll be kicking off the growing season with a lovely woody plant ready to break bud and complement the freshest annual offerings. Here are my top picks for woodies in Midwestern containers.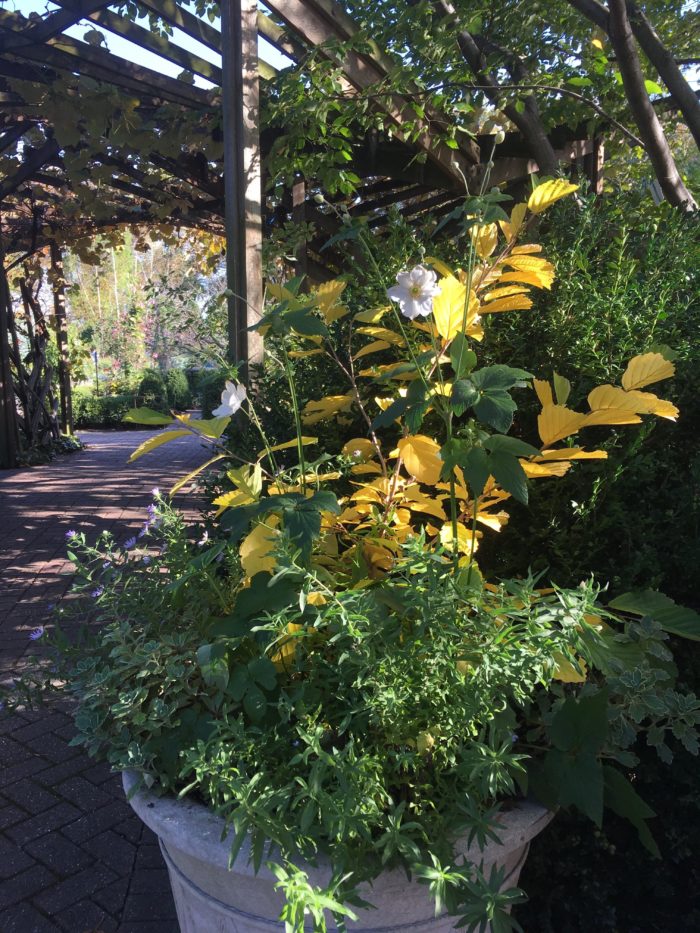 Witch hazel (Hamamelis spp. and cvs., Zones 2–9)
Witch hazels offer pops of yellow, orange, and red at unexpected times of the year when our eyes thirst for color; in Wisconsin, common witch hazel (H. virginiana, Zones 3–8) flowers into November, and vernal witch hazel (H. vernalis, Zones 4–8) flowers appear around March. The spidery blooms are best appreciated at close range, and the plants' pleasing vaselike shape, smooth gray bark, and brilliant yellow fall color make witch hazel eye-catching throughout the year.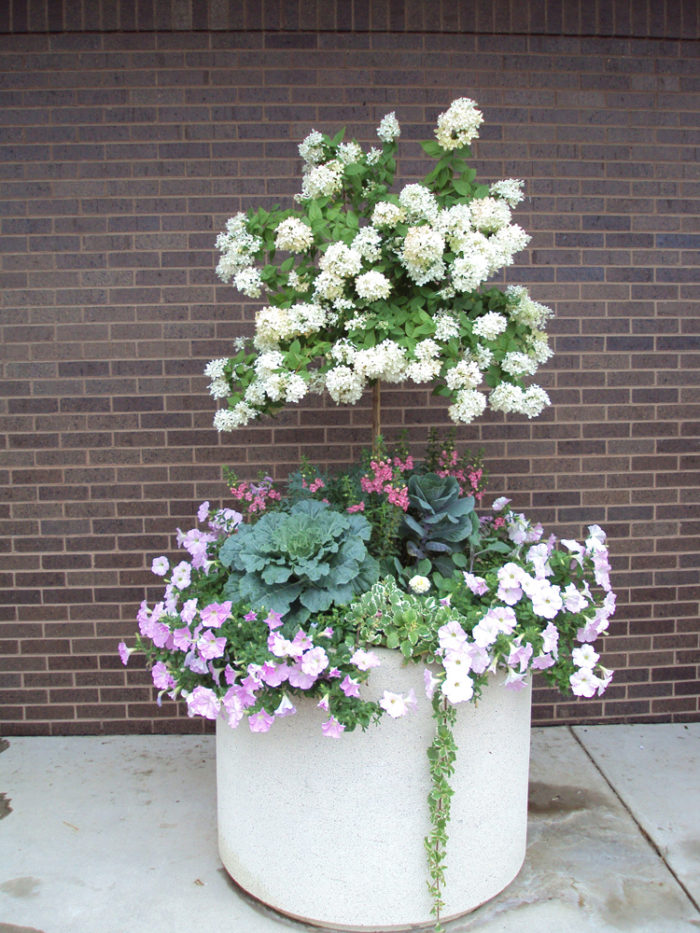 Panicle hydrangea (Hydrangea paniculata and cvs., Zones 3–9)
The superb hardiness of panicle hydrangeas and their long floral show—most cultivars start blooming white or pinkish in July and turn gorgeous shades of lime, burgundy, rose, and finally tan before winter—make them great container plants. Try Little Lime® (H. paniculata 'Jane') for its tight, conical, lime green flowers in a formal setting, or Quickfire® (H. paniculata 'SMHPLQF') for its loosely formed flowers and more casual grace. Since panicle hydrangea blooms on new wood, a hard pruning in spring makes it easy to keep it in scale with its container.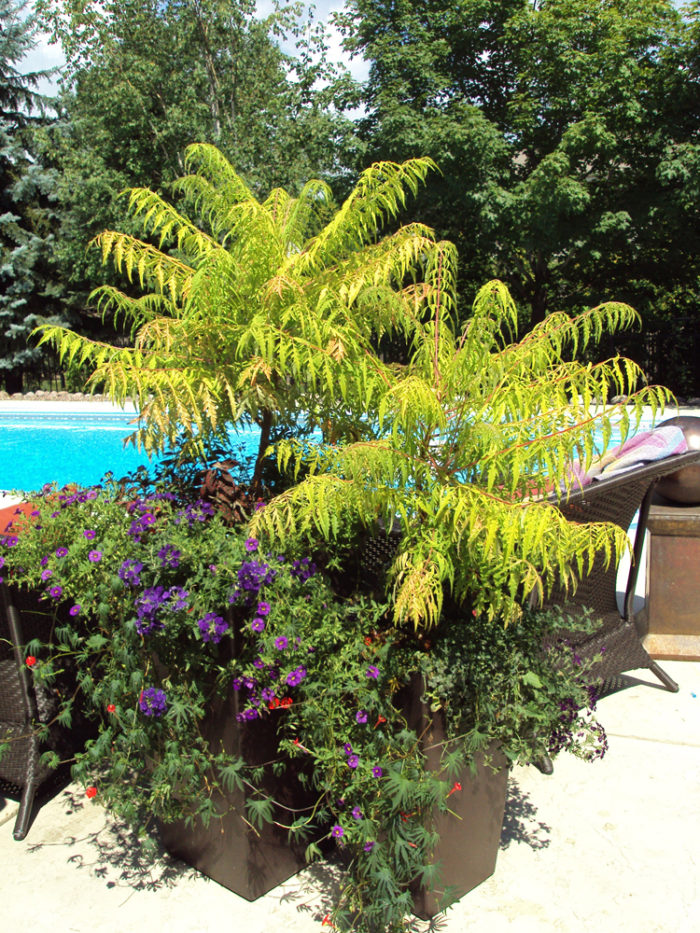 Tiger Eyes® staghorn sumac (Rhus typhina 'Bailtiger', Zones 4–8)
The finely dissected lime green leaves of Tiger Eyes® lend a touch of the tropics to sunny containers. As cooler temperatures arrive, streaks of hot orange and red in the leaves highlight other fall plants. Keep the tropical theme going by pairing it with spring standouts such as brilliant Swiss chard or the orange and red-striped blooms of the 'Tiger Eye' viola series. Sumac's fuzzy brown stems add an interesting textural highlight in the winter too.
Hick's yew (Taxus × media 'Hicksii', Zones 4–8)
Evergreens create a variety of different effects in containers. If you're in slightly warmer parts of the Midwest, you might experiment with varieties of false cypress (Chamaecyparis spp. and cvs., Zones 5–9). But if you're farther north, stick with hardier options. Yews are an affordable and superhardy option for sun and shade, with fun lime green new growth on the branch tips in the spring, fading to handsome dark green as a backdrop to other flowers throughout the year. One of my favorite varieties is Hick's yew, a tightly growing, columnar option that stays narrow enough to share in a container.
Erin Presley is a horticulturist at Olbrich Botanical Gardens in Madison, Wisconsin.