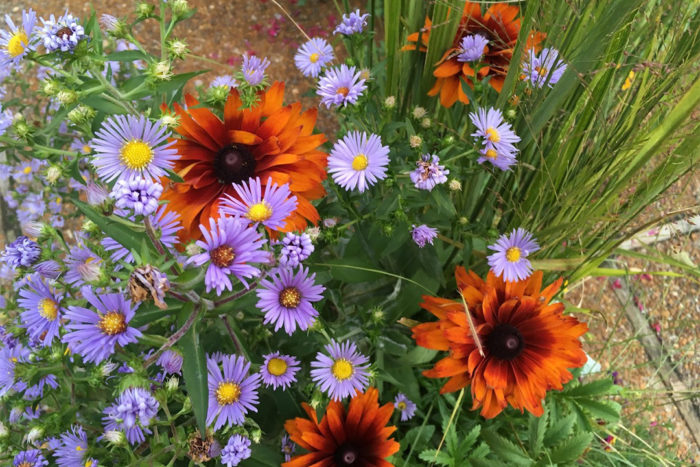 By late August, garden containers (and sometimes their gardeners) can look a little worse for wear. These containers may have been through a lot since springtime—the plants may have been dried out, undernourished, or attacked by insects and disease. September does not have to be the end of enjoying beautiful container designs, though. With a little savvy decision-making, tender love and care, and some plant pick-me-ups, you can give your worn containers a late summer makeover for continued color through the first frosts.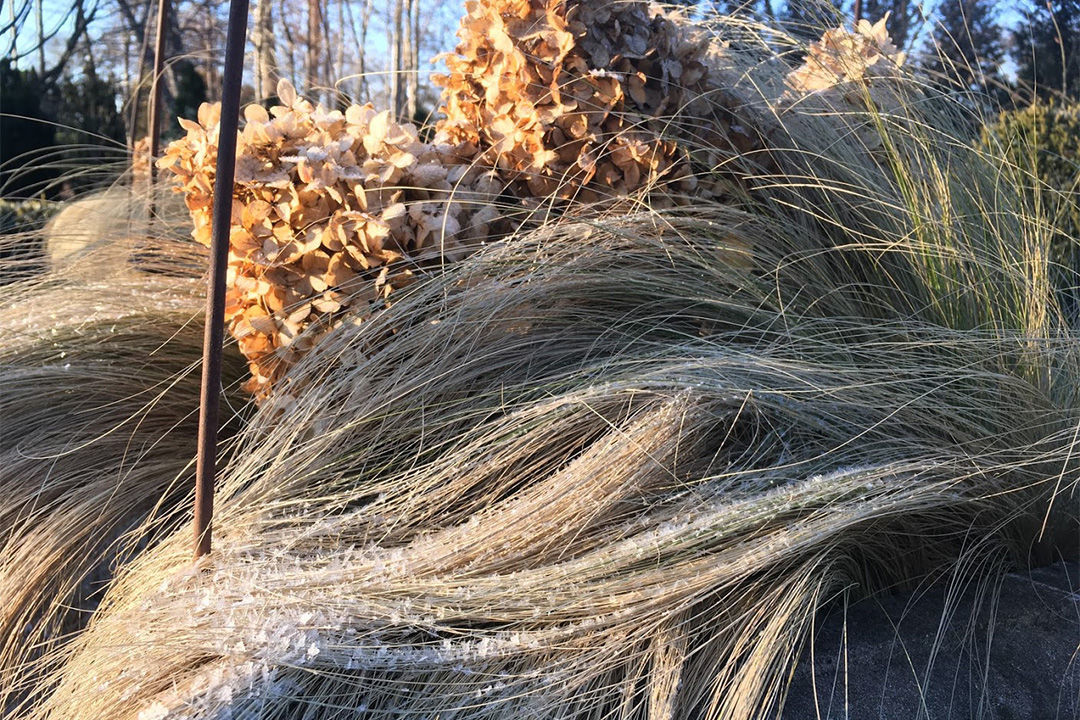 Ornamental grasses such as this Mexican feather grass (Nassella tenuissima, Zones 7–10) look beautiful even in death, with their silky threads catching the frost. Photo: Erin Presley.Decide what will stay and what will go. Plants that were affected by disease or severely underwatered can get unsightly fast, so remove them first to freshen up your container. Heat-loving impatiens (Impatiens walleriana, annual) and coleus (Plectranthus scutellarioides, Zones 10–11) decline as temperatures drop, so consider removing these. Look for structural and cold-tolerant plants to retain as elements of your revamped container going into fall. Fuchsia (Fuchsia spp. and cvs., Zones 10–11) and snapdragons (Angelonia angustifolia, annual) perform surprisingly well on cooler days but show frost damage quickly. Zinnias (Zinnia elegans, annual) and marigolds (Tagetes spp. and cvs., annual) bloom well through cool temperatures and can weather some light frost. In the Midwest, many tender salvias (Salvia spp. and cvs., Zones 7–10) just start looking their best in late summer, and annual ornamental grasses look interesting even after turning a ghostly tan when hit by hard frost. Keep your containers well watered as new plants establish and through hot dry days in September and October.
Put some time into plant grooming. After including container plants that have potential to go into fall, give them some affection. With faded plants gone, it's easier to see and address cultural conditions. Remove dead or diseased stems and foliage, as well as flower and plant debris that has accumulated on the soil surface. Cut back lanky plants by a third to spur fresh growth during September's mild days.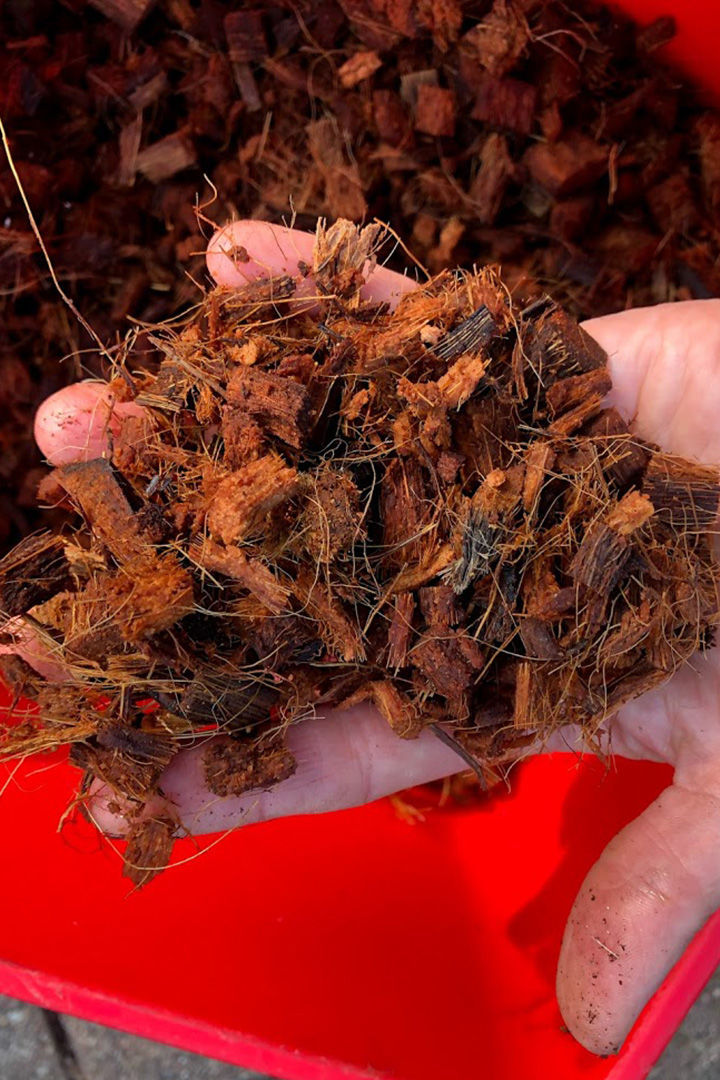 Recondition your potting soil. Renew water penetration to the interior of severely pot-bound containers by scratching up the soil surface between plants where it feels crusted and tight. Consider incorporating a dose of slow-release fertilizer or additional potting soil. My favorite fall soil amendment is coir chips, found at garden centers that focus on houseplants and indoor growing systems. Coir, the fibrous covering of a coconut, is superabsorbent, and the chips can be worked down into the soil to act as sponges and boost water retention and absorption into fall's dry days.
Add some fall color with frost-hardy fillers. Selections can be limited at garden centers in late summer, but consider the following perennial, home-grown, or easy-to-find plants to provide welcome color.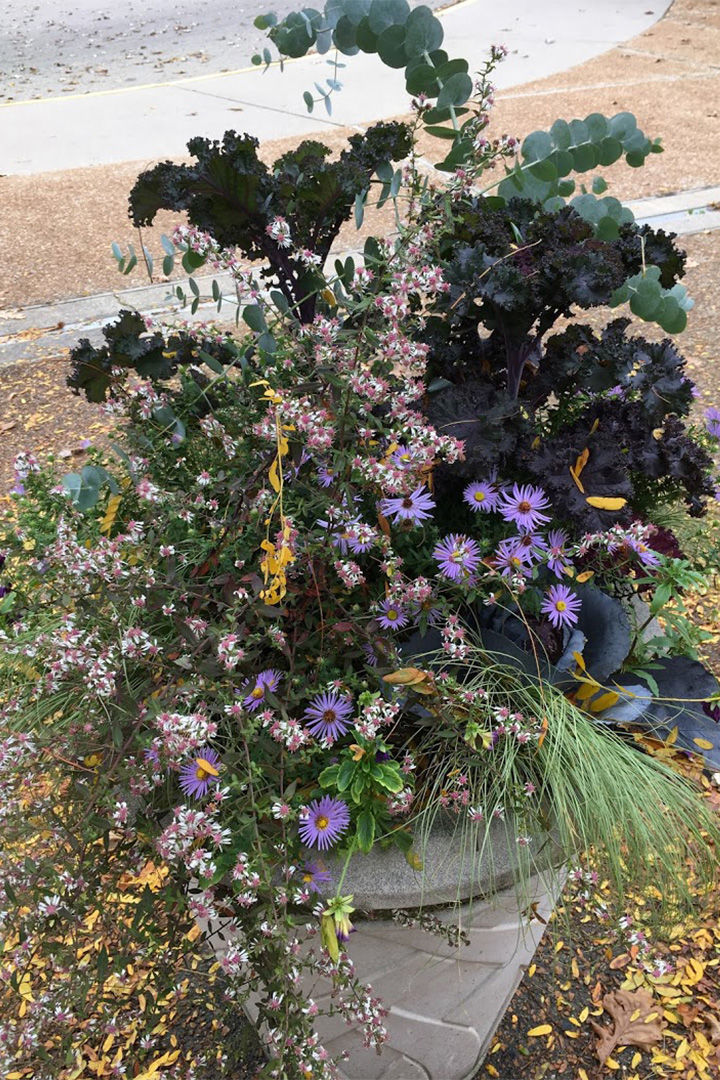 Asters
Many garden centers showcase a variety of asters (Aster spp. and cvs., Symphyotrichum spp. and cvs., and Eurybia spp. and cvs., Zones 4–8) to add color to their fall perennial lineups. With an abundance of small flowers, asters are long blooming and provide nectar for pollinators into November. 'Lady in Black' calico aster (Symphyotrichum lateriflorum 'Lady in Black', Zones 4–8) has an interesting cascading habit and dark foliage that complements fall's warm tones. Also, most asters are very hardy and can successfully be planted out as late as November to fill gaps in perennial plantings.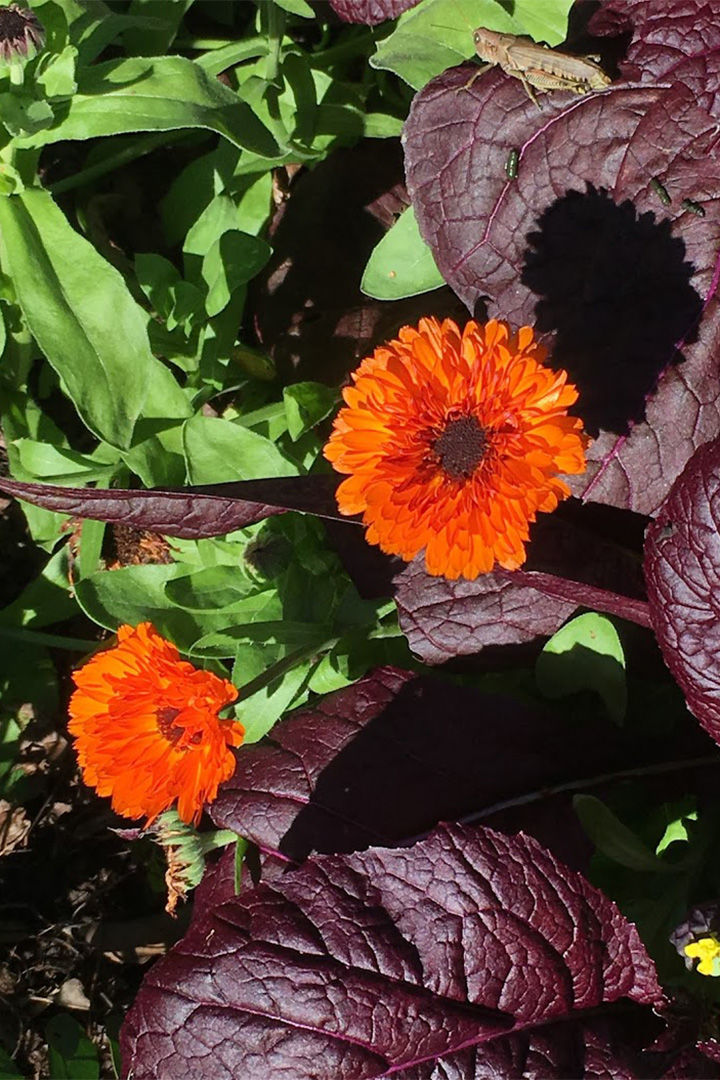 Mustard greens
Lettuces and kale tolerate frost well, but my favorite showy fall edible is mustard greens. Sow mustard greens in a garden bed in late August, and transplant into containers in September. Sizing up quickly, they benefit from decreased insect pressure in cool temperatures. 'Garnet Giant' has substantial, glossy burgundy leaves with great impact in the container and in the kitchen.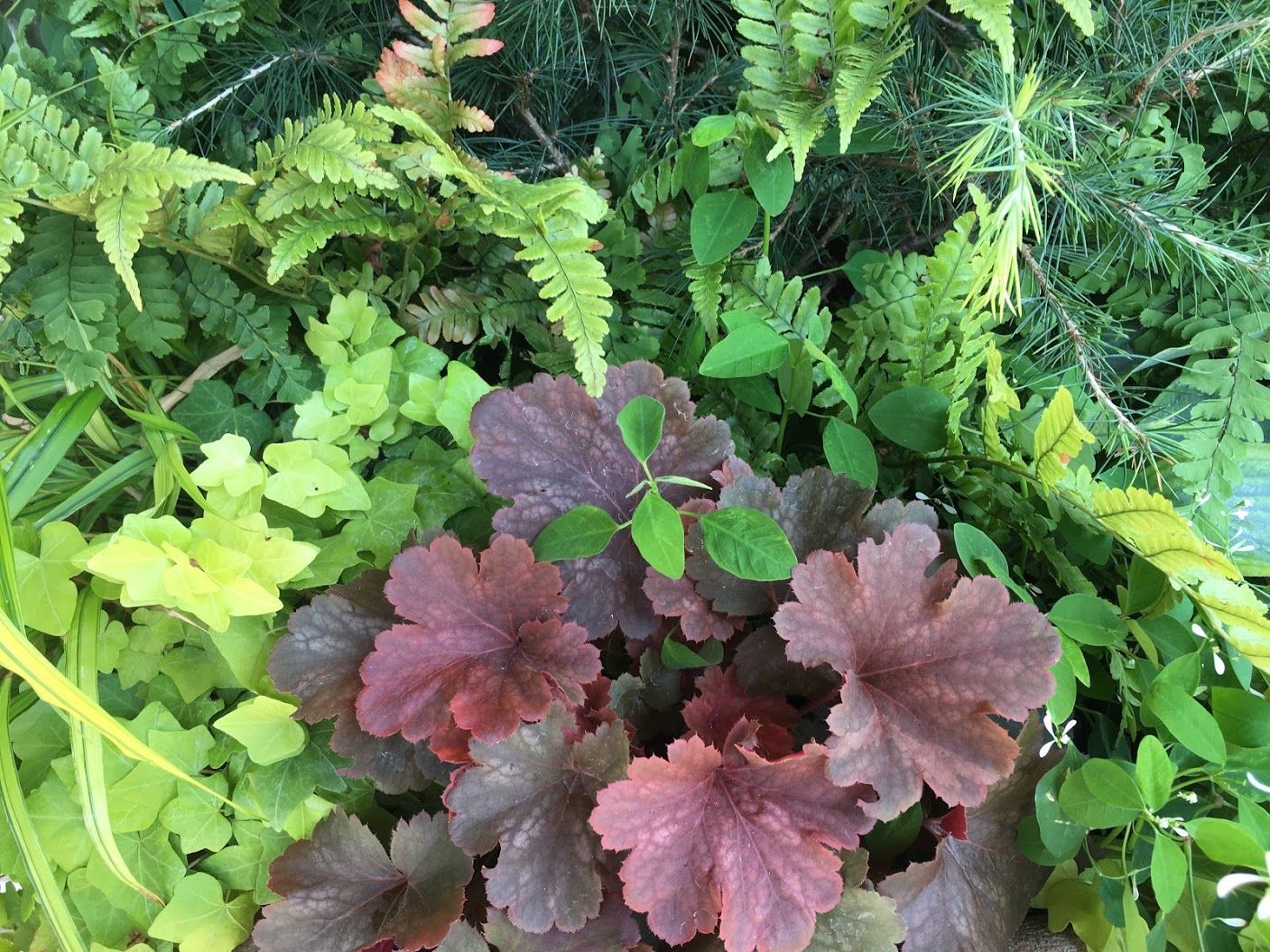 Heucheras
Heucheras (Heucheras spp. and cvs., Zones 3–8) can be found in a rainbow of colors to complement any color scheme, and their tidy mounded habit can anchor an otherwise gangly fall container. Most heucheras are semi-evergreen and showcase lovely color changes into November.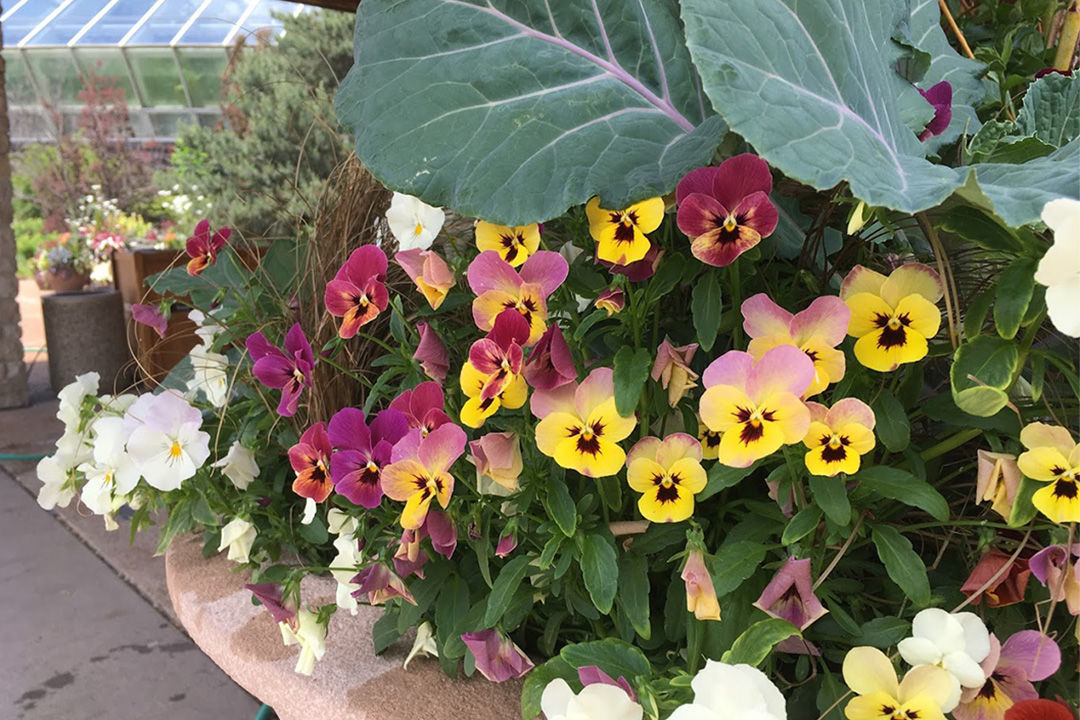 Violets
With their numerous dainty flowers, violas (Viola cornuta, Zones 5–9) perform better as temperatures cool off than their larger-flowered cousins, pansies (Viola × wittrockiana, Zones 5–9). The variety of color combinations and nuances available in the world of violas is enough to harmonize any color palette. Sorbet® violas are a favorite for their nonstop blooms despite weather vagaries, and they come in every shade under the sun.
Container gardens and gardeners alike benefit from a late-summer makeover. Like pairing your comfiest worn jeans with a spunky new sweater, the nicest fall containers retain the heartiest of the summer's plantings with some colorful new additions. And with decreased humidity and plenty of sunshine, containers and gardeners alike can both look their best going into fall.
Erin Presley is a horticulturist at Olbrich Botanical Gardens in Madison, Wisconsin.