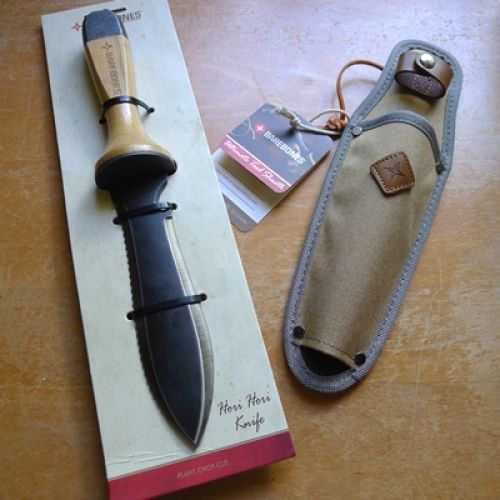 All the gardeners I know are always looking for a way to make gardening tasks either easier or faster. I've said that so many times that my friends and family members are always on the lookout for new tools to give me that do just that. Vegetable gardening is a great hobby, but it can be a lot of work, too.
So as Father's Day approaches (on June 19 to be exact), here are three of my favorite new tools that just might make dad happy, too.
A Hori Hori knife is a heavy-duty soil and weeding knife that can take care of any jungle of weeds. With its serrated steel blade, the Hori Hori (translates to Dig Dig) is the ultimate multi-tool for gardening. The blade can be used for digging, sawing, cutting, trimming and planting. The Hori Hori I received is from Barebones Living and the designers thought of everything for this version. It has a beautiful sustainable bamboo handle, double edged rust resistant blade, handy inch marks on the blade for measuring/planting, and the really thoughtful bottle opener for when gardening's done for the day. (Sheath is sold separately.)
Garden Bandit weeding tool is the simplest of tools, but it works so well. This light-weight weeder looks funny, but its thin blade slices through weeds without needing much effort. I like this weeder because it doesn't displace soil in the vegetable garden. Keeping soil in place is especially important in the garden once plants start growing to prevent damaging delicate root systems. Tested and approved by the National Home Gardening Club, the Garden Bandit is easy to use in small spaces, like planters and window boxes, too. The plastic handle makes the tool especially lightweight to keep hands, wrists and arms from getting tired. The thin blade is designed to stay sharp after years of use.
Corona Tools are known for high-quality hand tools that are meant to stand up to heavy use. A new addition to my tool bag is a pair of stainless steel grape snips. What makes these snips special are the 2-inch curved blades that make it easy to get into tight spots. These snips are designed for harvesting grapes, but they can be used fo picking all kinds of other fruits and vegetables, too. The sharp blades connect to lightweight and non-slip grip handles. I really like the easy close locking feature that is a double-sided thumb lock. 
Toss these tools into a new gardening carry-all to ensure a Happy Father's Day and plenty of happy days spent digging, cutting, weeding and clipping in the vegetable garden.