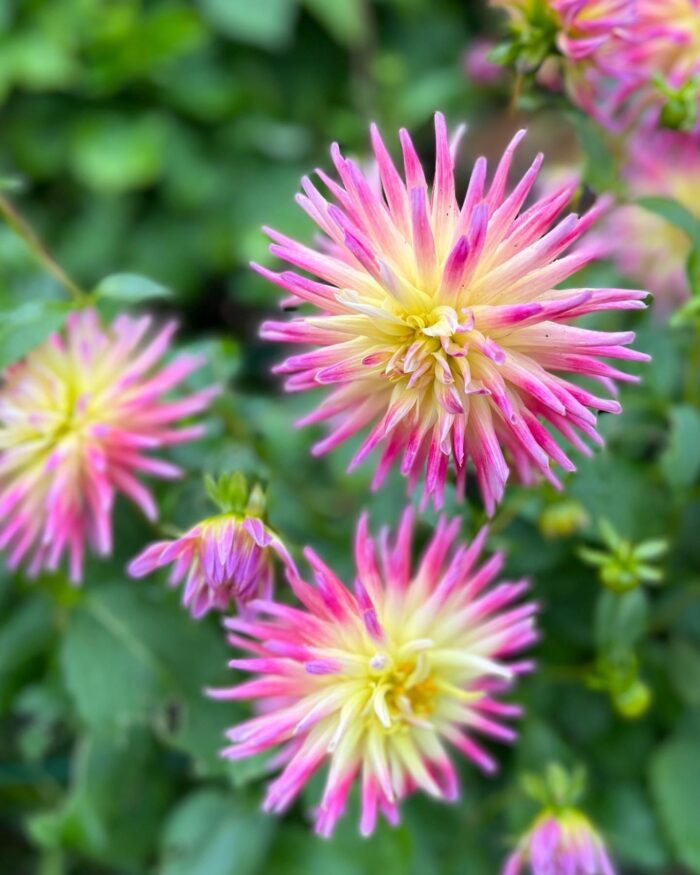 Today we're going on the road with Cherry Ong to check out some incredible dahlias at Butchart Gardens in Victoria, British Columbia, from last summer. So forget the cold and snow outside; remember the warmth of late summer, and enjoy these beautiful flowers.
It is a good time to look at dahlia blooms because now is a great time to order dahlia tubers for planting in the spring. Native to Mexico, dahlias were long cultivated by Native Americans primarily to use the tubers as food and the long, hollow stems of some species as water pipes, as well as for their beautiful flowers. Europeans focused more on the flowers, hybridizing a few species in the genus Dahlia to create the modern hybrid dahlias we enjoy today. The roots are hardy in the ground at around Zone 8 or 9, but everyone else can dig them in the fall and store them in a cool spot during the winter before replanting in the spring. Bloom starts in summer and often peaks at the end of summer, just before the first frost cuts them down. Taller, long-stemmed varieties are superlative cut flowers, while shorter ones are excellent additions to the landscape. Really, there is no wrong way to grow and enjoy a dahlia!
Unfortunately, there are no variety names to go with these photos, and the sheer number of dahlia cultivars makes it pretty difficult to figure out what cultivar they might be, but if you see one you love, you should be able to find similar varieties for sale from nurseries specializing in these wonderful plants.
We love seeing your visits to public gardens, especially in the winter when so many of us are waiting for spring to come. If you've got photos from gardens you've visited in the past, I hope you'll send them in for our GPOD On the Road series!