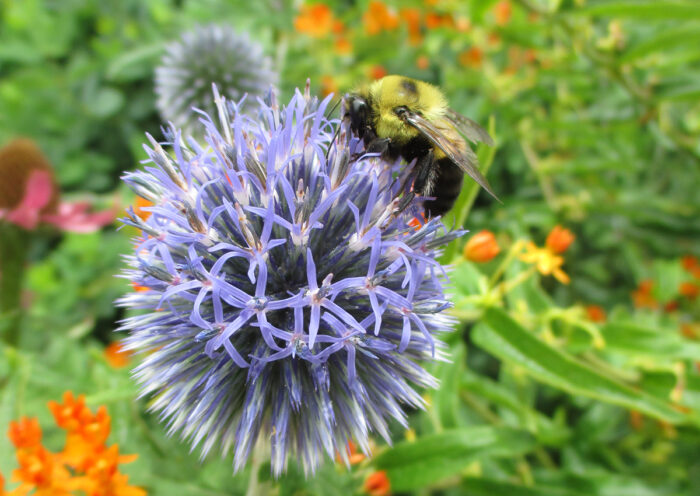 Summer gardening offers an amazing array of flower colors and textures to choose from. When combining plants for a progression of blooms, gardeners like to focus on color combinations that they prefer. While this certainly makes sense, flower architecture can add additional interest to any plant combination or landscape scene. Flower architecture refers to the shape of the flower, which can run the gamut from daisy-like and trumpet-shaped to spiraling or spherical. All these shapes, aside from the color they provide, create additional interest in the garden.
Spherical flowers in particular offer strong textural interest and tend to draw the eye to pause in a composition where they are prominent or perhaps repeated throughout the space. These flowers are typically comprised of inflorescences arranged in a spherical format. Globe-shaped flowers, with their strong symmetry, become quite prominent at peak bloom and look striking near contrasting flower shapes like spires and daisies. Three excellent plants that feature spherical summer flowers are featured below, but there are many more opportunities among annuals, perennials, trees, and shrubs.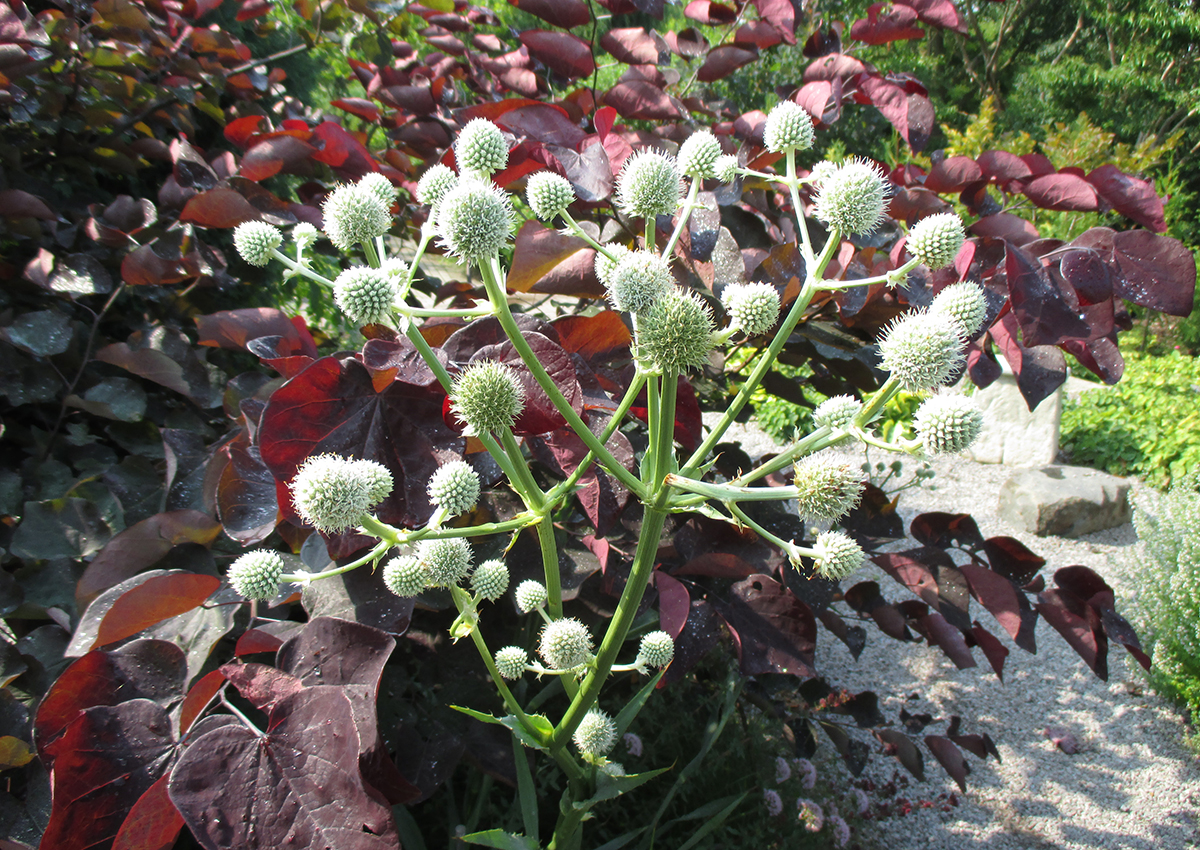 Rattlesnake master
Eryngium yuccifolium, Zones 3–8
This North American native prefers leaner soils that are on the dry side and is quite drought tolerant once established. In fact, you should avoid overly rich soils or shade, as it will become too tall and floppy. The 1-inch-diameter flowers appear in summer clusters above yucca-like, blue-green foliage. Plant height is typically between 4 to 6 feet, although the variety 'Prairie Moon' tops out at 3 feet tall. These flowers have significant pollinator value. Rattlesnake master is perfect for mixed perennial plantings and native meadows.
Globe thistle
Echinops spp. and cvs., Zones 3–8
The golf ball–size flower heads of globe thistle float above silvery-gray foliage in summer. Extremely drought tolerant, it develops a taproot and is slow to recover if moved or divided. Avoid overly rich soil, and be prepared for possible staking to support the hovering flower spheres. The most commonly available species may be southern globe thistle (E. ritro, Zones 3–8), whose height maxes out at 3 to 4 feet tall when in bloom. Globe thistle includes many different species and hybrids, with flowers ranging from white to all shades of blue. Make sure to note the mature height of the one you are considering. Regardless of which one you pick, globe thistle's seemingly floating flower spheres are striking.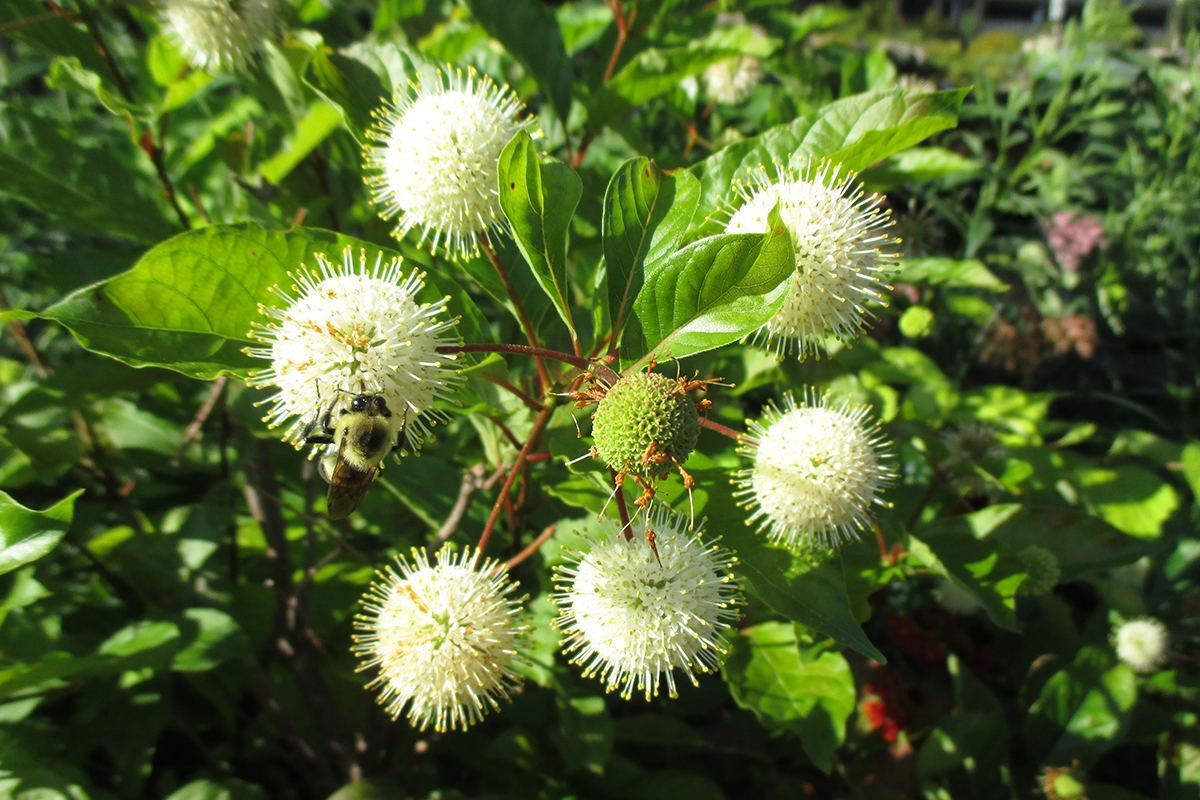 Buttonbush
Cephalanthus occidentalis, Zones 5–9
This native shrub is becoming more popular and is available for landscape use. Buttonbush prefers moist soil and can tolerate very wet conditions as well as average garden soil. The native species gets around 12 feet tall or taller and is categorized as a large shrub. However, many compact varieties are now available that reach between 5 to 8 feet in height. Preferring full sun to partial shade, this shrub blooms in summer with fragrant, spherical flower heads that have a pincushion-like appearance. Buttonbush flowers poorly in both full shade or dry soil. Many pollinators and other wildlife are fans of this plant, which also has very few insect or disease problems.
—Mark Dwyer, former director of horticulture at Rotary Botanical Gardens in Janesville, Wisconsin, operates Landscape Prescriptions by MD.