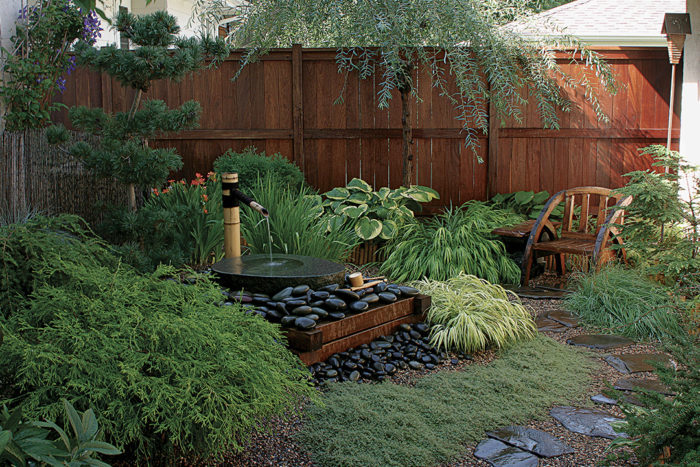 There are a number of reasons why one would add a fence to the garden. Usually it's to block a view or keep the family pooch contained. But what about adding a fence for aesthetic reasons? It may seem odd, but fences can add one-of-a-kind interest to a space while also serving a utilitarian function. The best fences are multipurpose. They should be not only a barrier but also a focal point, a backdrop for architectural plantings, or a way to unite your landscape and your home. It's time for gardeners to stop thinking of fences as stumbling blocks that impede one's design style. Although the classic image of a fence is a boring, solid-wood wall, it doesn't have to be. Fences can be amazing garden structures. Even if you don't need a fence for privacy, you might decide to add one for looks alone after seeing these examples.
Frame an Outdoor Room
The clean lines of this redwood fence provide the perfect backdrop for a private, Japanese-inspired seating area. The fence's linear design and consistent height give the boundary line of the property more interest, too, and add to the orderly feel of the space.
Create a Physical—not a Visual—Barrier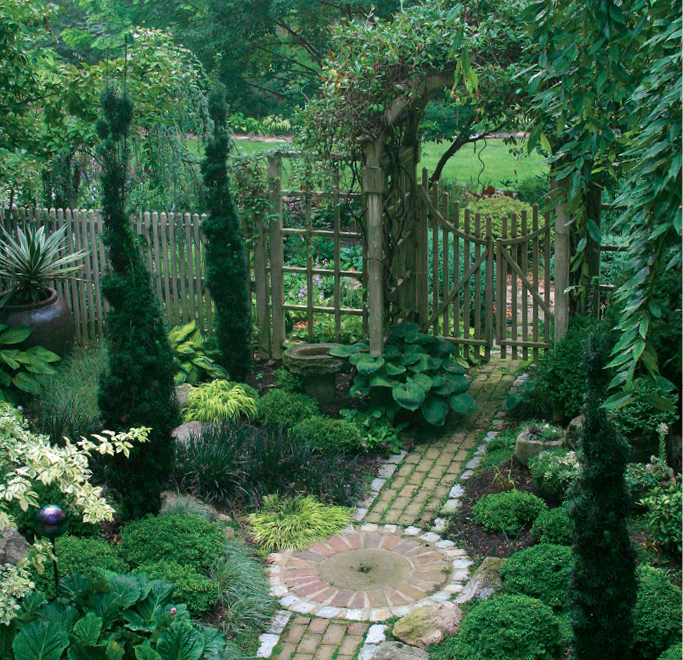 In deer-ridden areas, growing hostas (Hosta spp. and cvs., USDA Hardiness Zones 3–9) would be impossible without a fence. The open wood slats of this fence allow onlookers to see what's inside the courtyard and the garden beyond, while keeping unwanted pests at bay.
Give the Illusion of More Space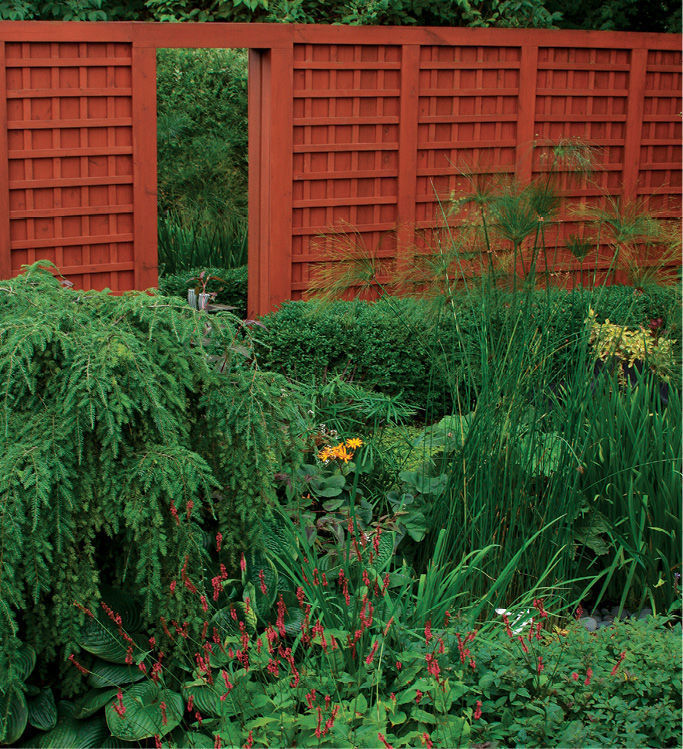 Walls can make a small area seem cramped and closed in, so this gardener decided to use a mirror in place of one of the wooden fence panels to make the space feel bigger. At first glance, it seems like the beautiful garden extends through the fence and beyond—which, of course, it does not.
Blend It into the Landscape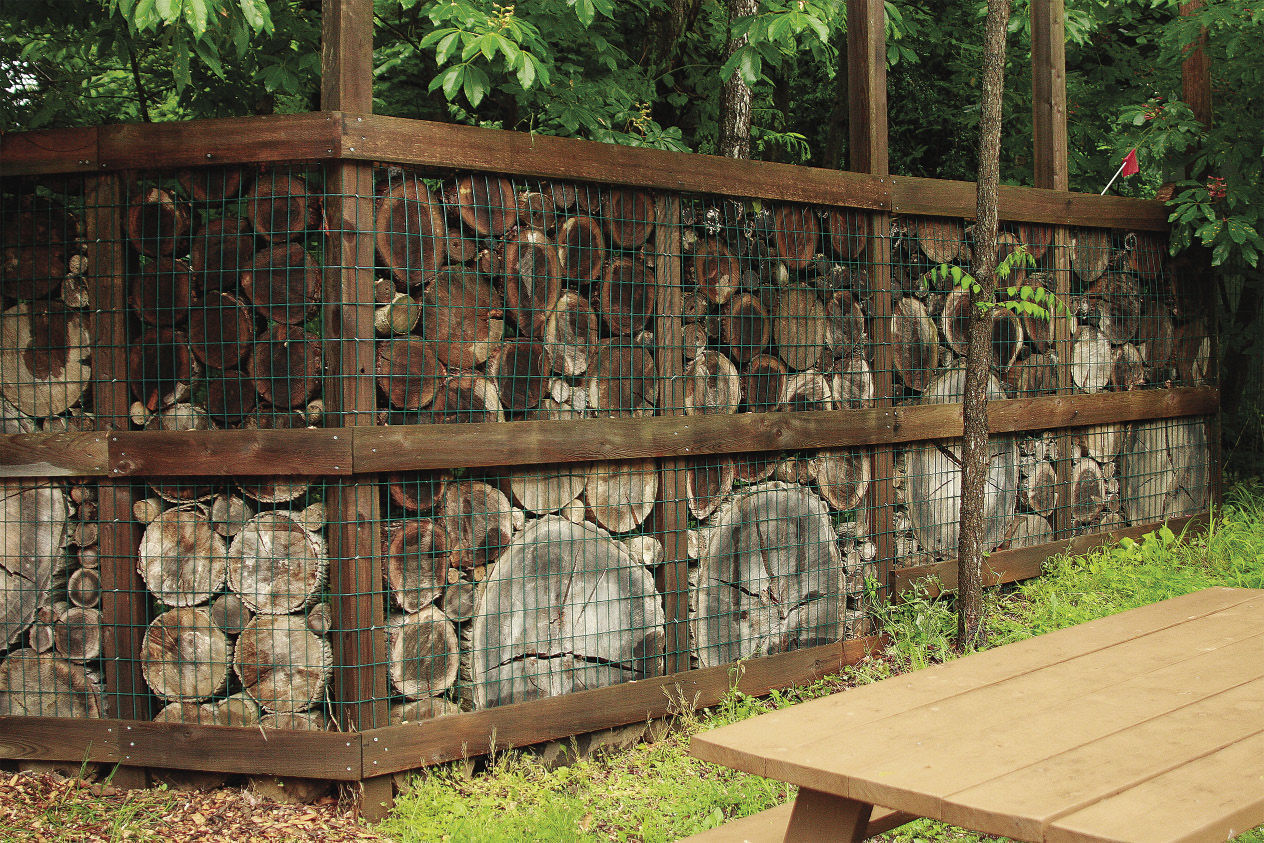 Sometimes all you need is a chain saw to create a barrier that blends seamlessly into the landscape. For the woodland edge, the staff of the Tyler Arboretum in Media, Pennsylvania, created an optical illusion of a woodpile within a frame, but in reality, the log slices are only a couple of inches thick.
Add Definition with a Special Feature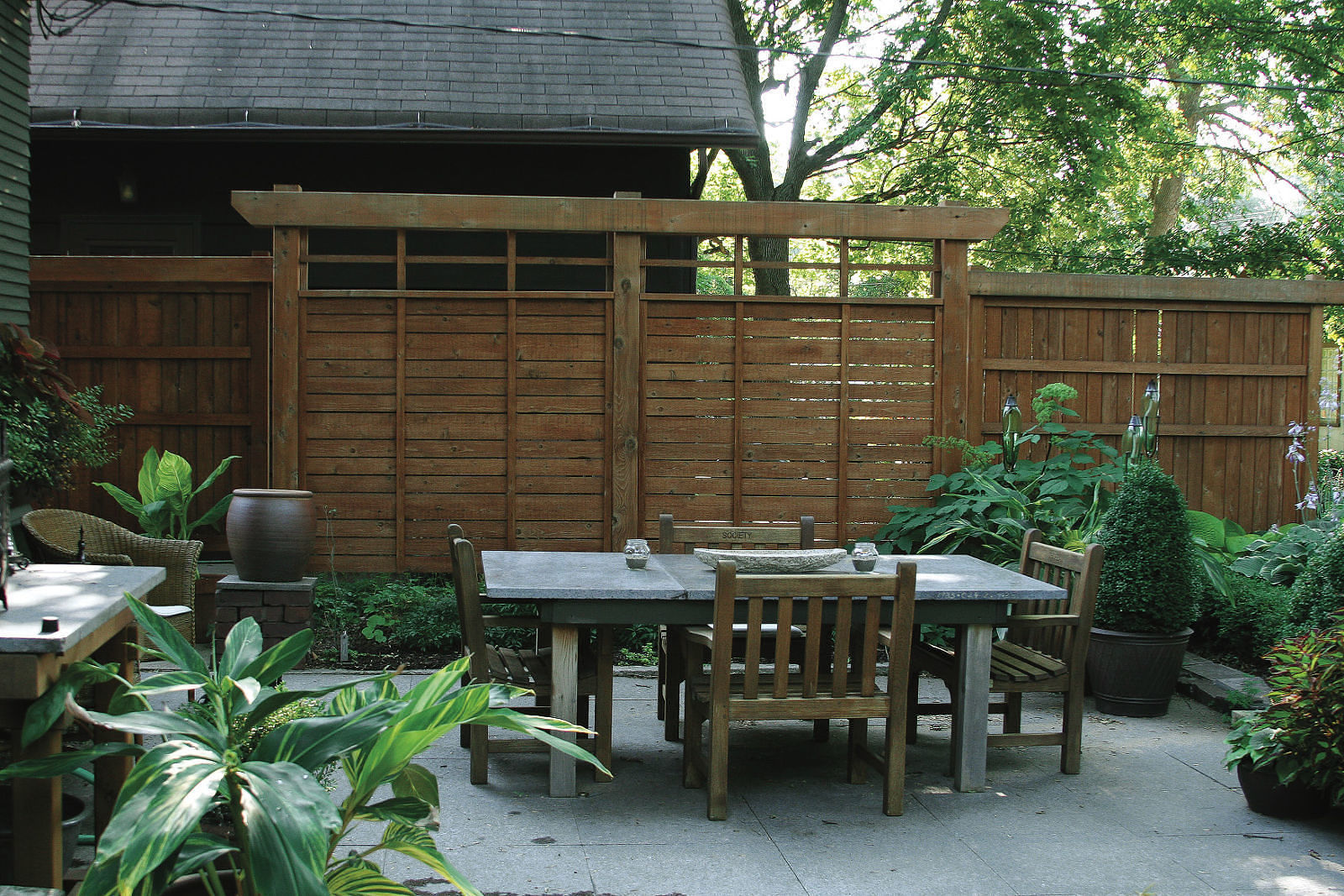 A fence naturally defines a space, but when a section of that fence is just a bit more special than the rest, it's a signal that the area means more. In this case, a long, taller panel with Asian flair graces the edge of a serene and shady dining area.
Give an Eyesore a Face-Lift
When faced with an unattractive but functional wire fence, this gardener interplanted the panels with an evergreen vine. Some light pruning is needed to keep the greenery in check, but the result is an intriguing, living wall that doesn't fade into the background.
Enhance Structural Plants with Steel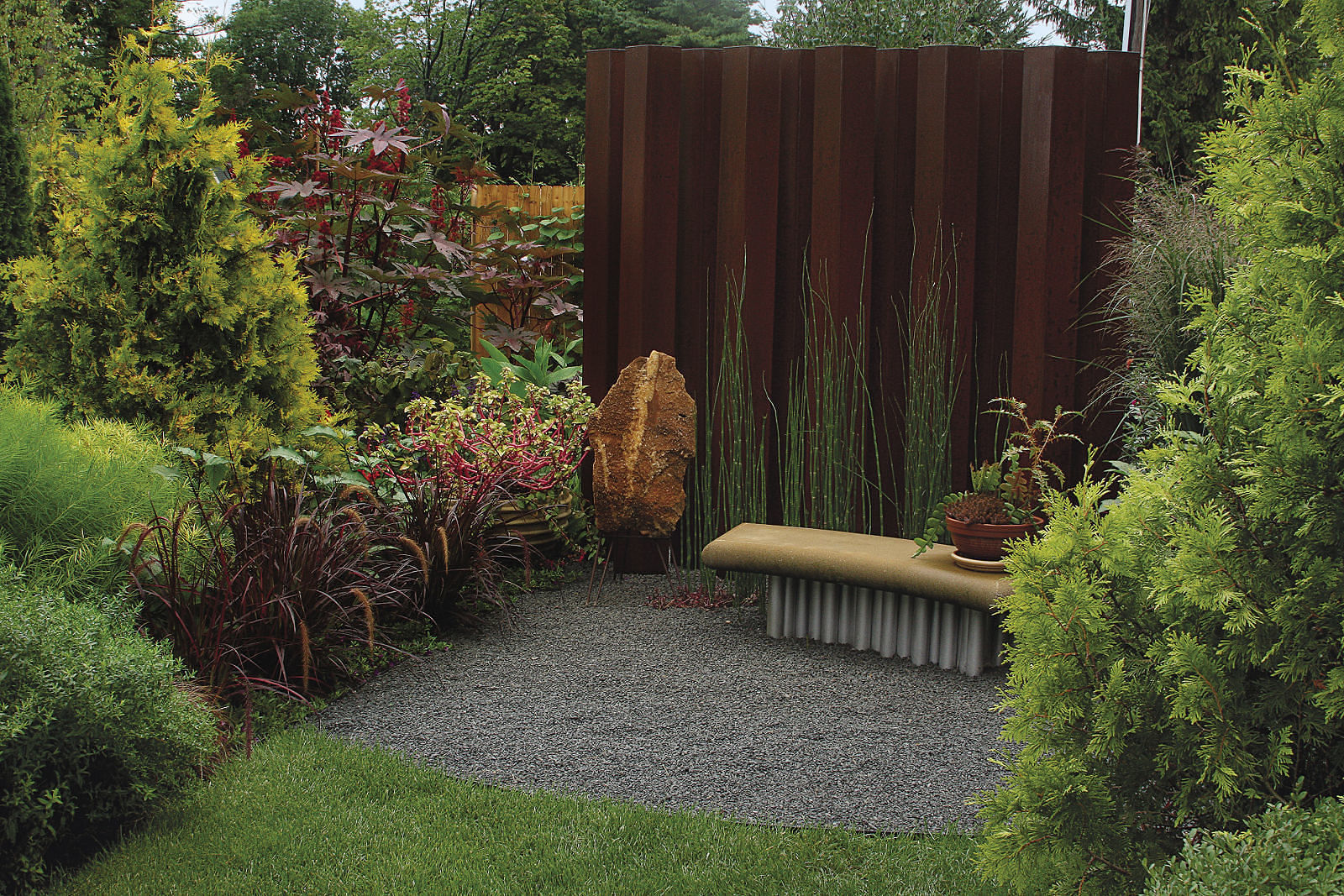 Industrial metal, bent to form a geometric pattern, is the perfect fencing material for a garden with architectural plants, like this horsetail rush (Equisetum hyemale, Zones 3–11).
Build a Sense of Security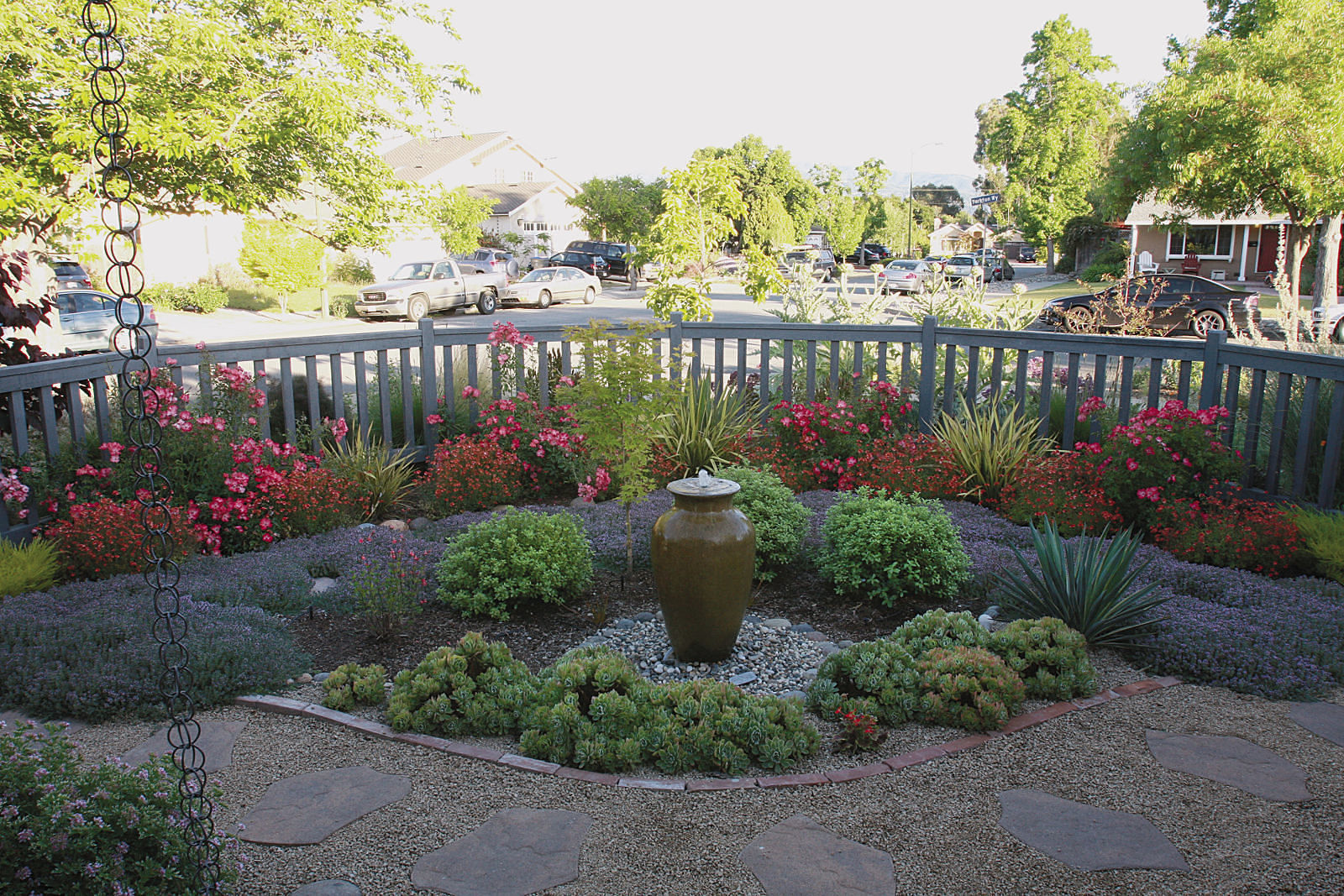 This corner-lot front yard is exposed to traffic and passersby on two sides. A low, curved fence, set back from the lines of the sidewalk, rounds out the corner and makes the space feel embraced and secure. It also provides a backdrop for imaginative plantings on both sides. A bubbling fountain serves as the focal point and goes a long way toward masking traffic noise.
---
Which Way to Preserve Wood for Outdoor Use?
Not all fences are made of wood, but a great many are. So it's important to seal these structures properly with products designed for exterior use so that they will last for years to come. Here are the three common options.
Exterior Paint

Pros:
Limitless color options
Easy to apply
Low odor and cost
Cons:
Touch-ups needed after just a few years
Peeling and chipping are common
Deck Sealant 

Pros:
Long lasting (five to seven years)
Clear coat highlights wood's natural characteristics
Cons:
Multiple coats needed
Some higher-quality brands are expensive
Fumes can be caustic
Outdoor Stain 

Pros:
Easy wipe-on/rub-off application
Low cost
Longest-lasting preservative (seven to 10 years)
Highlights wood's natural characteristics
Cons:
Limited color options
Fading in full-sunlight exposure is common
Streaking can occur after reapplication
---
Michelle Gervais and Danielle Sherry are editors who wish they had room in their gardens for more fences.
Photos: Brittany Leandra; Brandi Spade; Danielle Sherry; Michelle Gervais