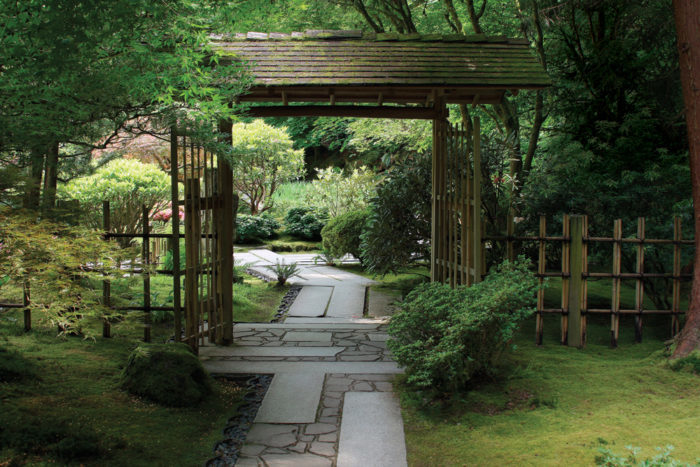 The most basic reason for a garden gate is to keep people, pests, or pets in or out, but a gate can be so much more than just a boundary or doorway. It sets the scene for a garden experience and creates a bit of mystery. What will you find after you open the door and walk through? What will happen next? A gate's design holds a multitude of clues. Here are a few gorgeous gates and what they say about their gardens and their creators.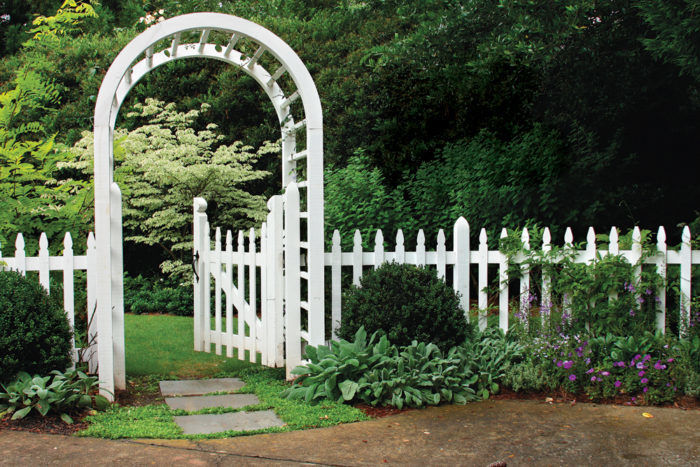 Traditional charm
One can't help but feel welcomed by a white picket fence. This classic gate, archway, and fence lend the garden a dose of nostalgic appeal and provide a beautiful contrast to the deep green woodland backdrop.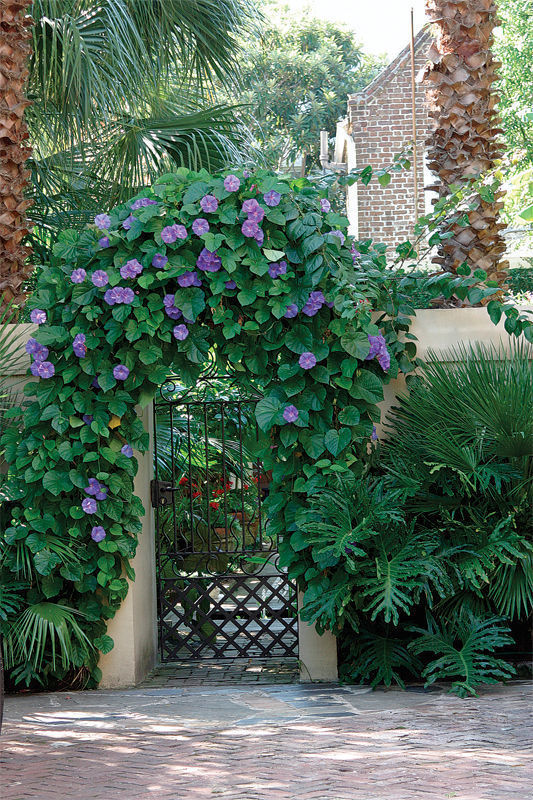 Need in-town security?
This archway and gate in historic downtown Charleston, South Carolina, is appropriate for a busy tourist area. It's secure, so no one wanders in off the street, but it allows curious passersby a glimpse into the beautiful garden beyond. Exuberant morning glories soften the hard metal and stucco, making this doorway even more wel­coming and pretty.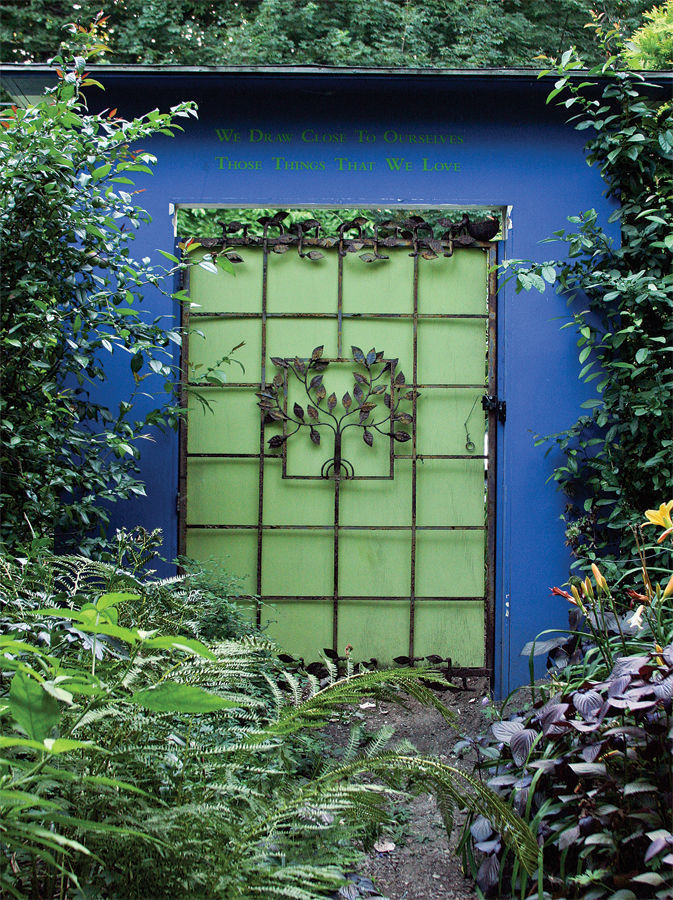 A solid wall provides total privacy
While the owner of this garden loves visitors, she lives on a busy road and needs to block the view and deaden the sound of passing traffic. A massive wall with an inset door does the trick, and it also provides a canvas for decorative metalwork. The inscription above the door reads, "We Draw Close to Ourselves Those Things That We Love."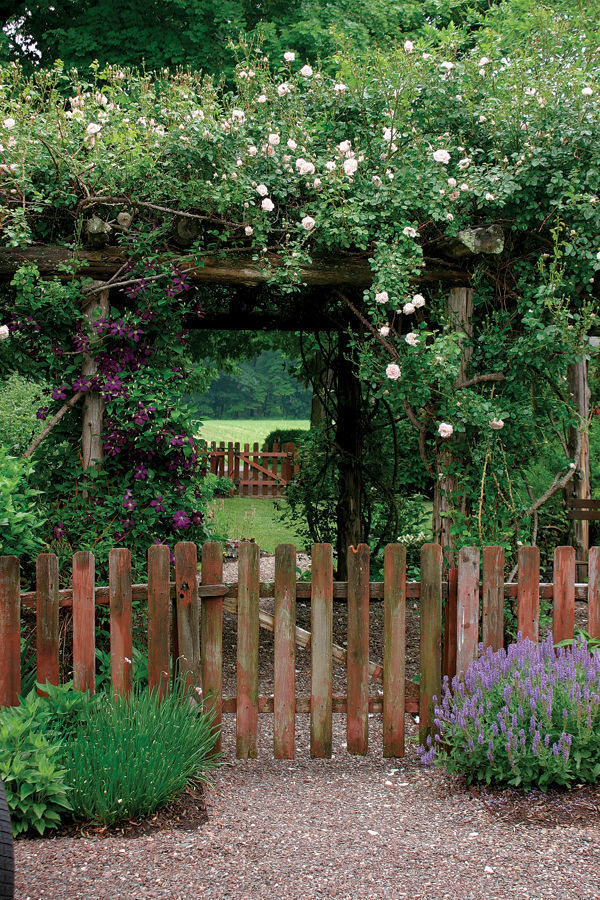 Line them up to show the way
The large rose-covered rustic arbor beyond this weathered fence helps visitors find the gate, which blends in with the rest of the fence for a seamless look. Lining up a second gate with a first one gives visitors a clear path through the garden, even if a physical path isn't present.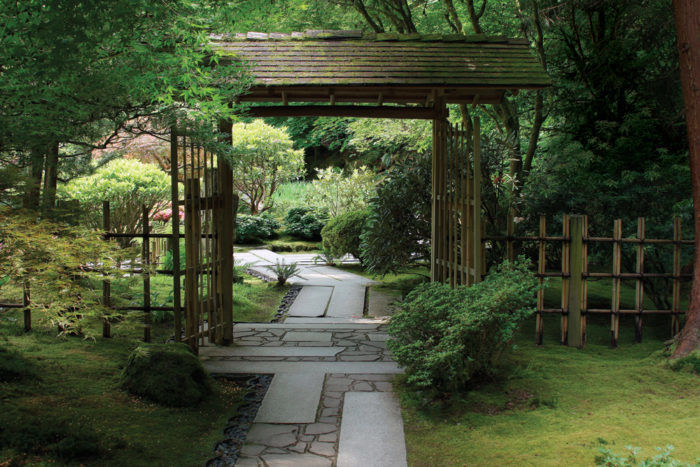 Take cues from a garden's style
This entryway may be delicate and understated, but it's obvious that, after you pass through, you'll be enjoying an Asian-inspired space that's peaceful and contemplative. Bamboo and unfinished wood combine for a natural look, which is in keeping with the garden's earthy feel. A broadening of the stone walkway under the roofline signals a substantial transition.
Questions to ask when adding a gate to your garden
1. Door or no door? If you don't have a dog to keep confined or herds of marauding deer, you might not even need a gate in your gateway. A threshold alone can signal a transition almost as strongly as a gate. Try a freestanding arbor or a pair of substantial pillars.
2. See-through or opaque? If you live on a busy street or need more privacy, opaque is the way to go. It will help lower the noise level in your garden and keep prying eyes at bay. But if you like mingling with your neighbors, keep things open and breezy.
3. Short or tall? A tall gate feels more like a structural door than a short gate and creates an increased sense of privacy and structure. This might be preferable on a busy pedestrian street. Shorter gates are more approachable and allow you to chat over them.
4. Formal or informal? Nearby architecture usually influences this decision, but if you want your formal house to look a little less imposing or your casual house to seem more pulled-together, experiment with the opposite style (photo, right).
5. Skinny or wide? If you anticipate having to drive vehicles into your yard (perhaps for that yearly truckload delivery of mulch), plan accordingly. You might not need to install an extrawide gate, however; an adjacent removable fence panel would suffice.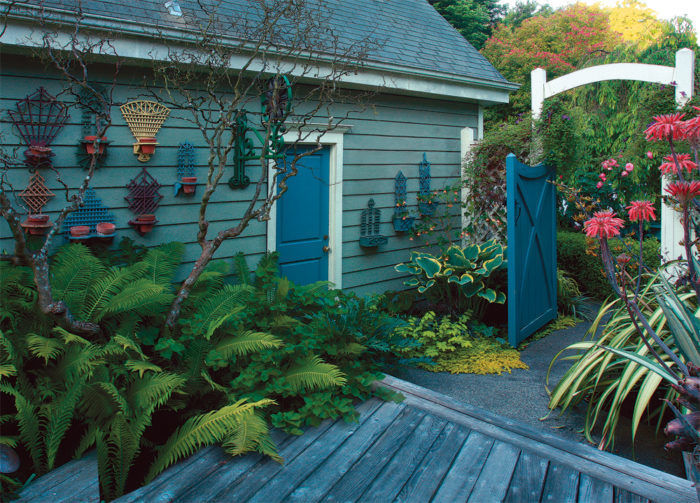 Matched doorways pull things together
These home owners matched the color of their back gate to that of their garage's side door and also added handmade decorative items in a similar hue. This turned a utilitarian pass-through into a private, cohesive courtyard, which beckons them to linger a while before moving indoors.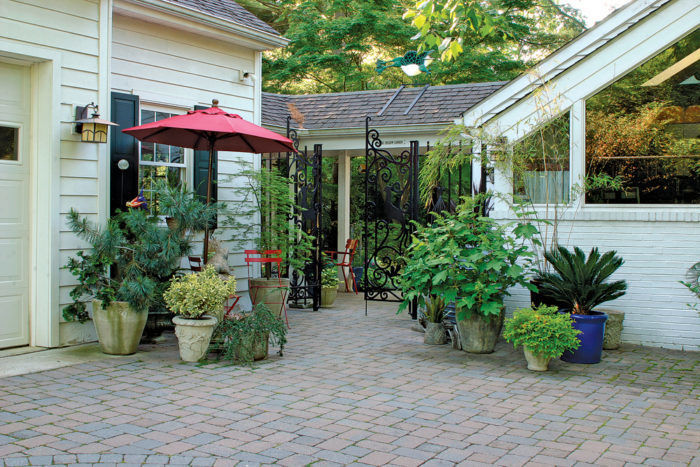 Elevate the status of a space
The area between the garage on the left and the house on the right is more than just a passageway between the two structures; it's the entrance to a spectacular garden just beyond. The stately wrought-iron gate makes it clear that you are about to experience something special.
Michelle Gervais is a senior editor. She gardens on a semiurban half acre in New Milford, Connecticut, and is the editor of the Garden Photo of the Day blog at FineGardening.com.
Photos: Michelle Gervais; Ann E. Stratton; Jennifer Benner