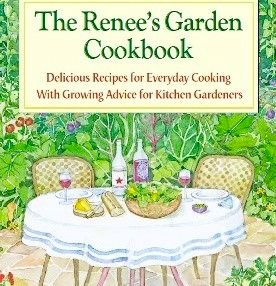 No matter how long we've been gardening, vegetable gardeners are always on the lookout for new ways to use our fresh, homegrown fruits, vegetables and herbs. Renee Shepherd understands this better than most, and it shows in her new cookbook. 
The Renee's Garden Cookbook, by Renee Shepherd and Fran Raboff (Shepherd Publishing, 2014) is a must-have for every gardener who likes to cook or every cook who likes to garden. The tagline says it all: "Delicious Recipes for Everyday Cooking with Growing Advice for Kitchen Gardeners."
The 300 mouthwatering recipes are just one reason to add this cookbook to your collection. The watercolors that illustrate the pages are another. These images are by Mimi Osborne, the artist whose work is featured on Renee's Garden seed packets.
What I really appreciate about this cookbook is the recipes are organized alphabetically by the starring ingredient. Turn to the pages labeled "Kale" and you'll get a brief introduction on the nutritional benefits of kale, general information on how to use kale in cooking, a sidebar on how to grow kale, and several creative takes on preparing kale. 
Vegetable gardeners will appreciate the variety of recipes that cover about 30 of the most popular vegetables we grow. There may even be a few new-to-you vegetables that you'll want to plant, like bulbing fennel, because the images, recipes and descriptions are so inviting. 
As a jalapeño pepper lover, I'm especially looking forward to trying the "Super Simple Jalapeño Poppers" recipe found in the Chile Peppers section. "D.W. Pearce's Hot Sauce" sounds like another recipe I'll have to try simply because blended whiskey is listed as an (optional) ingredient.
The section called Savory and Sweet herbs is also especially appealing. I admit to growing a lot of herbs that I use either fresh or dried, but I know I'm not using them to their full advantage. My kitchen creativity is sure to change once I plant some cinnamon basil for the "Alsatian Apple Cake." This dessert layers apples with buttered cookie crumbs and cinnamon basil seasoning. 
In the cookbook's introduction, Renee writes the goal of the book is to provide easy recipes that show off all the colors and flavors of garden-fresh vegetables and herbs. Her recipe for "Fresh Kale Salad with Peanut and Lime Dressing," reprinted here with Renee's permission, is one example of how "the lively dressing showcases nutritious, crunchy fresh kale in an especially tasty and colorful salad. A surefire crowd pleaser!"
FRESH KALE SALAD WITH PEANUT & LIME DRESSING
1 large bunch kale, ribs removed, cut in thin ribbons
1 red, yellow or orange bell pepper cut in 1/2 inch dice
4 to 6 whole scallions, thinly sliced
1 large red apple, cut in julienne strips
1 cup chopped fresh cilantro
Dressing:
1 tablespoon peanut butter, chunky or smooth
4 tablespoons seasoned rice vinegar (the "seasoned" kind is slightly sweetened)
8 tablespoons peanut, olive or canola oil
3/4 teaspoon toasted sesame oil
1 clove garlic, finely minced
1/2 teaspoon sugar
1 large fresh lime, juiced
1/4 teaspoon each, salt and freshly ground pepper
Garnish:
1/2 cup roasted peanuts, coarsely chopped
Instructions:
Combine dressing ingredients in a jar with a lid.  Shake thoroughly.
In a large salad bowl, combine greens, bell pepper, scallions, apple, cilantro.
Toss with dressing, sprinkle with nuts and serve.
Serves 6
(Renee Shepherd provided a complimentary copy of The Renee's Garden Cookbook for this review; opinions are always my own.)