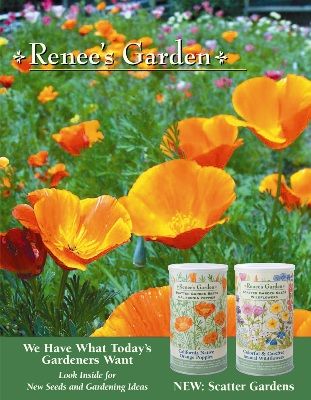 Starting from Seed
When I first heard about Renee's Garden a few years ago I imagined that a gifted gardener named Renee had started a business selling specialty seeds she'd grown in her own garden.
It turns out that wasn't too far from the truth.
Renee's Garden was founded in 1997 by Renee Shepherd, a well-known seed expert and author. Renee has more than 25 years of experience finding exceptional seeds to sell through her company's online catalog. Seeds are also available at independent garden centers.
Renee is involved in every aspect of the business from searching for unusual varieties to trialing them in her own garden. She also writes the detailed information that's included on every seed packet. A unique feature of Renee's packets is the extra flap that includes colorful descriptions of each variety to help gardeners find the perfect spot for planting.
The Renee's Garden catalog includes heirlooms, international hybrids and open-pollinated varieties of culinary herbs, rainbow vegetables and flowers. Because her mission is to help gardeners of all levels enjoy their gardening experience, she selects seeds that are easy to grow in all areas of the country.
As an organic gardener, I appreciate that Renee's Garden has signed the Safe Seed Pledge developed by the Council for Responsible Genetics.
New Offerings for 2011
Renee's Garden has added 10 new veggie varieties and leafy greens to its 2011 catalog and it seems there's a little something to match the taste of every gardener.
The pint-sized baby cabbage called "Pixie" is geared to grow in small spaces. Renee says these small cabbages are just the right size for an everyday meal. Add the fun seed mix of three colorful carrots (white, bright orange, and purple) from "Circus Circus", to make a beautiful coleslaw.
Another new addition to the catalog is an early white corn called "Sugar Pearls" for those who garden in short seasons or who prefer an early harvest.
For gardeners wanting to plant some different kinds of greens, try the "Mild Mustard Mix" of four different mustards, the "Wine Country Mesclun" that features eight different sweet lettuces, or "Garden Ferns" an heirloom looseleaf lettuce.
Tea lovers may want to grow and dry their own Hibiscus to brew pots of herbal tea.
Renee's also offers many container varieties of dwarf-size plants that grow full-size fruit and flowers. "Sweetie Baby Romaine" is a container romaine specially bred for its petite vase-shaped heads and crisp texture.
In addition to the full catalog, Renee's Garden website offers ideas, photos, planting and growing information, Renee's blog and a forum for feedback. Gardeners can also sign up to receive a monthly e-newsletter. The website is easy to navigate and offers a complete Gardener's Resources page.
One of my favorite spots on the website is the Cookbooks and Recipes page. Renee happily shares recipes that use garden-fresh ingredients—grown from her seeds—like Chocolate Carrot Cake, Zucchini Rellenos and Cherry Tomato Stir Fry.