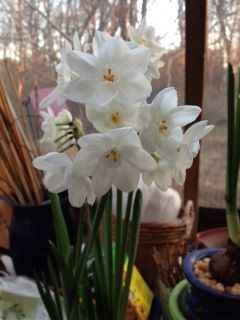 Winter is upon us–and for many it has been fiercely cold–or you've had lots of precipitation from inches of rain to feet of snow. Don't let the cold and grey days get you down, instead, get inspired. Attend a conference or symposium, learn something new; research something you have always wanted to know more about and sign up for a class; spend a day dreaming of this year's garden, looking at the plethora of seed catalogs and order some seeds; sprout some sprouts; better yet, plant some lettuce or spinach in a seed flat; wash and fertilize some neglected house plants; clean up the greenhouse; start some bulbs or root cuttings; or spend some time with a gardening pal or a good garden book.
I have just returned from the Illinois Specialty Crops, Agritourism, and Organic Conference in Springfield, Illinois, where the weather was gloomy, grey, cold and wet. Yet, over 200 farmers and gardeners showed up for the conference and the trade show vendor space was sold out! There were six tracks going on throughout the day: Agritourism & Marketing, Fruits, Vegetables, Herbs, Organics and Emerging Issues & Opportunities. I gave two lectures for the herb track–one on "Tarragon: Cooking with the Queen of Herbs", celebrating Artemisia, Herb of the Year 2014 and the other "Beating the Winter Blahs with Herbs". I had a pretty full classroom and we had lots of fun and tastings in both.
The classes that I sat in on, the booths I visited, the dedicated growers, farmers and educators whom I met, seeing herbal pals, and the keynote speaker, Eliot Coleman, all inspired me, not to mention lifted my spirits from the dreary weather outside. "Nothing is Impossible: Creating a Thriving Farm on a Rocky Maine Peninsula" was the title of Eliot's lecture and he held the audience in rapt attention. Although he is slight in size and seems a bit reserved, once he starts to speak, his passion for growing and creating makes his eyes sparkle and he becomes animated as he shares his experiences, ideas, thoughts and inventions; he is a consummate storyteller. During his program, Eliot told us about life on his Four Season Farm and showed how years of organic soil building has created highly productive soil, which is the envy of growers in the northern U.S. He harvests coolweather crops throughout the winter and using unheated, moveable greenhouses, he cultivates tender crops like ginger and artichokes.
Eliot Coleman wrote The New Organic Grower: A Master's Manual of Tools and Techniques for the Home and Market Gardener (Chelsea Green Publishing Company) in 1989 and it is every bit as current and sound information now as it was then. His latest book, The Winter Harvest Handbook: Year-Round Vegetable Production Using Deep Organic Tecniques and Unheated Greenhouses features Eliot's inspiration, growing techniques, his mobile greenhouses, crops he grows, soil preparation, pest management, tools he uses, winter and summer crops, a yearly schedule, and much more. I recommend all of Eliot Coleman's books (www.chelseagreen.com) as well as his wife's books, Barbara Damrosch, who is also a wonderful garden writer.
At the tradeshow, vendors sold tools, seeds, packaging for every type of produce, greenhouse and growers' supplies, and gave out lots of free information from organic growing to permaculture and pest control to marketing your crops. I tasted a superb apple cider slushy, midwest popcorn, corn-on-the-cob, salsa, pickles and elderberry syrup and cordial while wending my way through displays of baskets, plants, books, equipment and a box of bees as beneficial insects.
I returned home a bit travel weary (inevitable delays in Chicago due to weather) though motivated–my head is full of new ideas, as well as future gardens and plants to grow. In the greeenhouse, my forced narcissus bulbs welcomed me with heady fragrant blooms and as I watered in there today, I see new green growth and plants that need my attention. So much to do–spring is just around the corner!