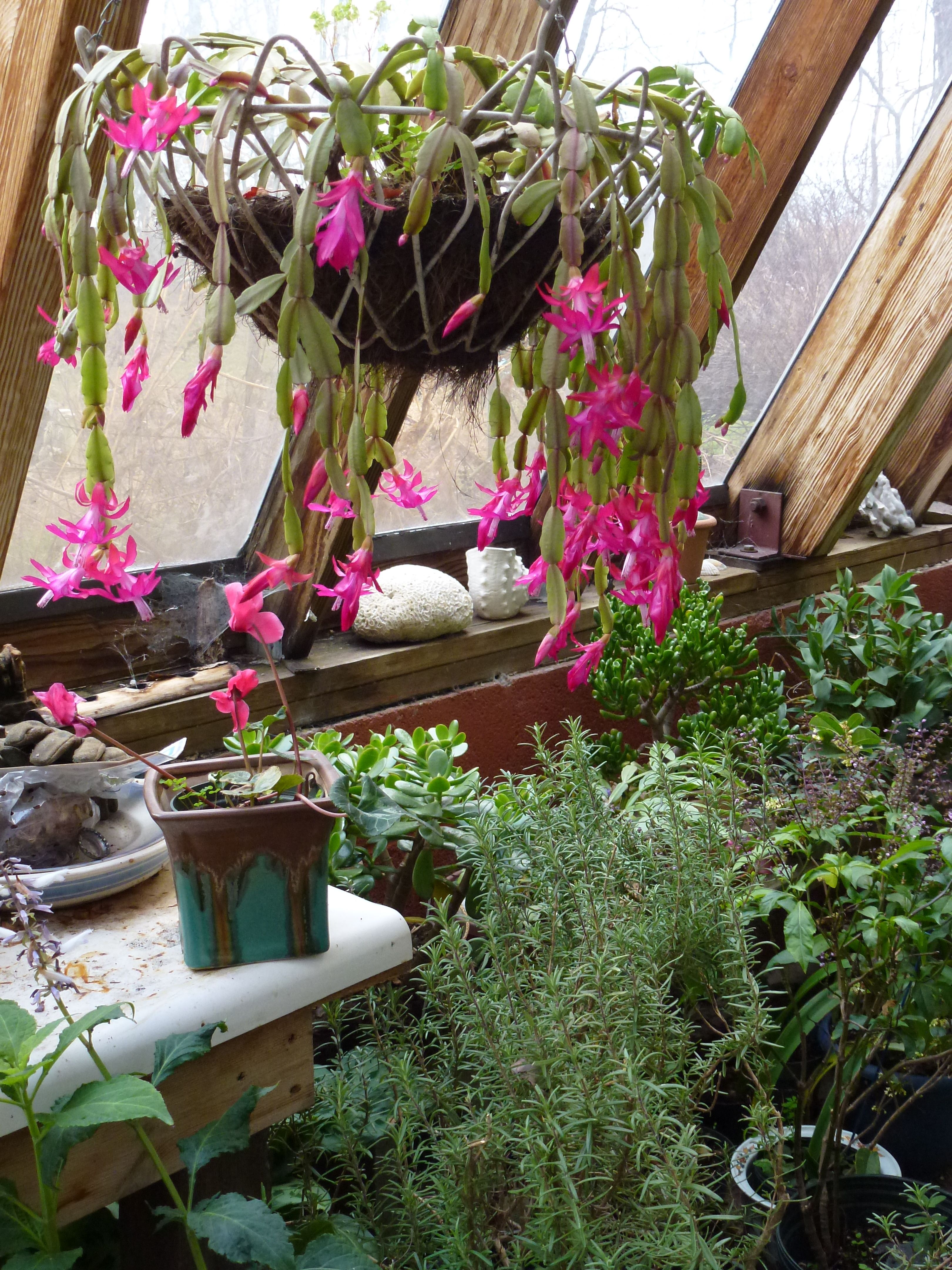 First off, happy new year! The holiday hubbub has passed. We celebrated the solstice and now the slow demise of winter as the days are growing longer, slowly yet surely. Although the winter weather is upon us, and we have a few more months to go with possible freezing temperatures, for us gardeners, the 2013 gardening season is beginning.
I still go out to the garden almost everyday… well the woodpile is right next to it, so I have to. It has been fairly tidied up with dead plants and stakes removed, as well as the tomato cages stacked. The "garden people", our three scarecrows still startle me occasionally, when I catch them out of the corner of my eye, however, they don't seem to deter the herd of deer, which wander the woods and fields looking for something green to eat. Fortunately, they are not interested in the fall-planted garlic, which is 2-to 3-inches tall. Which reminds me–that I need to go out and surround the little plants in the row with mulch–now that they are up and showing.
Believe it or not, I still have some greens growing under my rows of little hoops covered with garden fabric. The snow did weigh it down so that it was laying right on the plants, so we removed them to shake off the snow. There is still lettuce, collards, kale, parsley, cilantro (though tinged a little purplish-brown), Wasabi arugula, beets with greens and we pulled the last of the carrots for supper night before last. Oh they were soooo sweet and crunchy! These late-harvest veggies are not only a delight–it is inspiring this gardener to think about building a hoop house big enough to walk in. Eliot Coleman's books are an inspiration for having a hoophouse in the winter.
The south side of our passive-solar home is a 24 x 8-foot greenhouse. It mostly houses my houseplants, cacti and succulents and tender perennials like rosemary, bay, eucalyptus, pelargoniums, hibiscus, lemongrass, guava, jasmine, palms, banana tree, etc. This does not allow much room for flats for growing seedlings. I do have a few of them going with salad greens like lettuce, arugula and spinach. This light-filled room full of plants exchanging oxygen and carbon dioxide with we humans, gives me great joy during the winter months. Harvesting herbs and salad and eating them within the hour is true garden-to-kitchen wealth.
Another practice this time of year–although I do it throughout the year–is growing sprouts right on the kitchen counter. I have been grwoing sprouts for decades and have used a quart, canning jar with a piece of screen over the end. A few years back, I got a three-level sprouter and I can grow three kinds of sprouts at the same time. It is near the sink so I think to water it a few times each day, and voila, fresh green sprouts in just two-to-three days! Although I like alfalfa and mungo beans, my favorite is the spicy radish and mustard mix, and of course, the sunflower seeds are so nutty-good. This is so easy and the food is living and fresh; I encourage you to sprout too!
I receive many of the catalogs mentioned in recent blog posts, as well as the ones on Ruth Dobsevage's older list, A Bumper Crop of Seed Catalogs. Three that are not on those lists, that I go to for herbs (and more) and you would enjoy are: Horizon Herbs (Oregon) at www.horizonherbs.com; Richters (Canada) at www.richters.com; DeBaggio Herb Farm and Nursery (Virginia–no mail order–you must go visit) at www.debaggioherbs.com.
The International Herb Association has chosen Elder as Herb of the Year for 2013. (www.iherb.org) Their new book will be released this month and I will post details as soon as it is off the presses. Meanwhile, I will post info and a recipe or two, both culinary and medicinal, in my upcoming blogs to celebrate this ancient plant. I will be traveling about the country to give lectures on Elder, so stay tuned.
Last, though, not least, for those of you in the Baltimore-Washington area, you are in luck! I have upcoming classes at the Creative Alliance in Baltimore in January and February. I will be teaching a repeat, two-part class with mixologist, Connor Rasmussen from Woodberry Kitchen, on using and making aromatic bitters. https://www.creativealliance.org/events/2012/bitters-truth-aromatic-adventure
We are also offering a class on making spirit infusions, shrubs and cordials. https://www.creativealliance.org/events/2013/spirit-infusions-shrubs-and-cordials
And for those of you who need to shake off the winter doldrums, come to my Cabin Fever Class! https://www.creativealliance.org/events/2013/cabin-fever-cocktails
Cheers to a happy, healthy and herbal 2013!