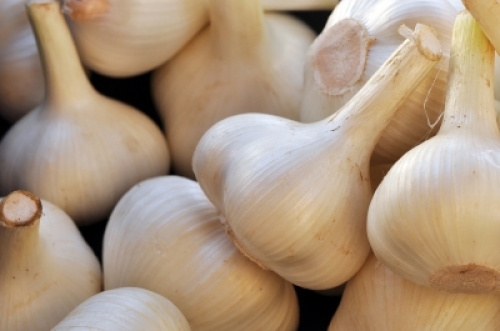 I've just knocked down the garlic (Allium sativum) in my Northern California garden. The leaves were over 60% brown, and now it's time for them to cure for a few weeks before I store them. I planted only heirloom garlic varieties this year. I'm smitten with their differences and can't wait to use them in the kitchen.
I planted both softneck and hardneck garlic bulbs. The softnecks are the type you'll generally find in the produce aisle of the grocery store. They're best planted in zones where the winters are mild, as they aren't particularly cold hardy. Softneck garlic has a spicier flavor than the hardneck types. Their leaves are especially nice if you like to braid your bulbs for storing.
The hardneck garlic varieties grow well in cold climates. This type of garlic has a central stem that's firm and stiff, and the garlic cloves grow as a single ring around that stem. Hardnecks have a scape that curls into a coil at the top of the stalk as it matures. The scapes are delicious.
The last type of garlic is elephant garlic, and isn't really a garlic at all. It's botanical name is Allium ampeloprasum, and it's closer to a leek than a garlic botanically speaking. While it may not be the real McCoy, it does offer the same flavor as its authentic cousins and is used the same way in the kitchen. Elephant garlic produces four to six large cloves that are milder in flavor than true garlic.
Tip: If you find yourself face to face with a vampire (and you certainly don't want to be), all garlic works equally well in this situation.