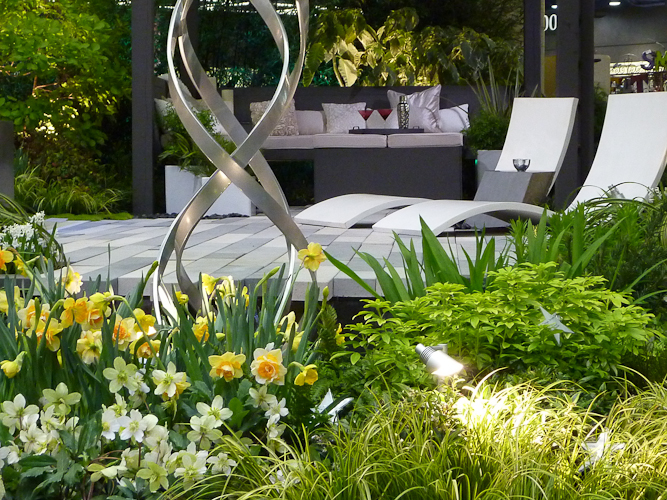 Lights! Action! Flowers!
It didn't take long to get into the Hollywood vibe at the kick-off of the 2013 Northwest Flower & Garden Show this week. From the moment arriving visitors stepped into the Washington State Convention Center, they were treated to a riotous display of color right off the Technicolor screen of the Wizard of Oz, The Hobbit, Roman Holiday and dozens of silver screen-themed exhibition gardens.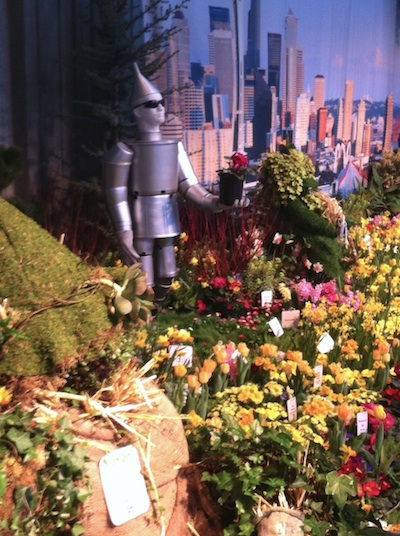 I started my Seattle adventure Tuesday evening, literally sprinting from the light rail to the opening night gala benefit for the Arboretum Foundation. My San Francisco connection was socked in, I arrive four hours later than planned, my luggage hadn't followed me and I was dressed in jeans and Crocs. Inappropriate wardrobe aside, it was my privilege to act as an interpretive docent for the patron and benefactor-level donors, giving them take-home design tips directly from the display gardens at the show.
Aside from the honor of appearing at the gala, my primary reason for this visit was a chance to deliver a couple of talks to the folks attending the dozens of great seminars that run throughout the week. The speaker line-up is mind-boggling, featuring rock stars like Fine Gardening's own Amy Stewart, Amanda "Kiss My Aster" Thomsen, Andrew Keys, Rebecca Sweet, Susan Morrison and whole lot of friends I've probably insulted by leaving them out.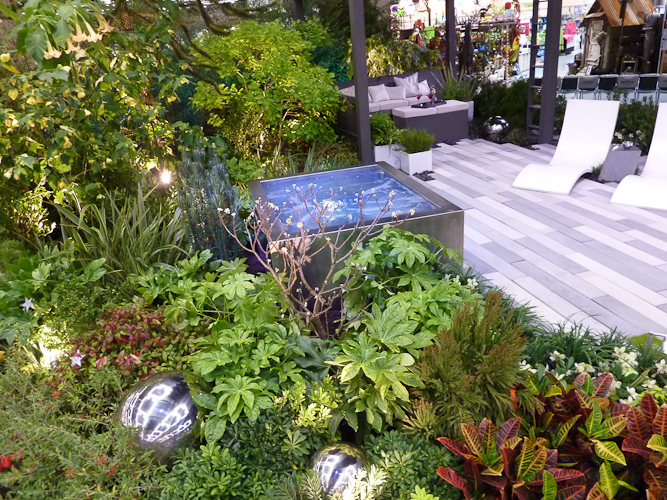 This glamorous lounging patio, underlaid with varying shades of gray precast concrete pavers, features a pair of sleek uber-modern chaise lounges for catching some SoCal rays, a subtly lit helix sculpture arising from pool fed by a softly whooshing waterfall, and a stainless steel hot tub with a soothing blue interior (and me without my Speedos!). Wednesday was my "Design Like a Pro" talk to a packed house, followed by my first signing for my new book (happy to say they sold out!). Before I leave on Friday, I'll regale the crowd with a "Crimes Against Horticulture" presentation, tickling their funny bone (that's why they call it the humerus) while stealthily injecting a message about sustainable landscaping.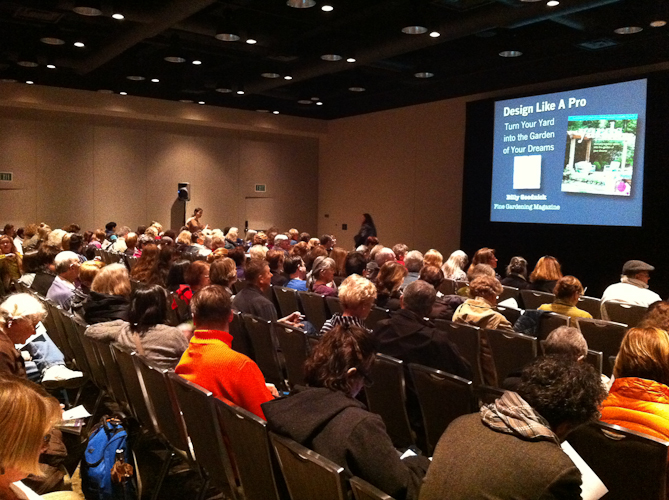 Back at the show, memories of my harrowing arrival evaporated when I beheld the creativity and craftsmanship of the designers, horticulturists and builders featured in the vastness of the hall. One standout garden was gold medal winner "Living Amongst the Stars", created for the Washington State Nursery & Landscape Association. Designed by Heidi Skievaski, of Sublime Garden Design (Snohomish, WA, sublimegardendesign.com), it's a study in elegance, restraint, subtle beauty and functionality.
As much as I enjoy designing with plants, my first rule of design is assuring that the space supports the owner's lifestyle, and that's right where this talented designer's attention to detail caught my eye. The garden looked like just the place where a Hollywood star might escape with their significant other after a long day in front of the cameras.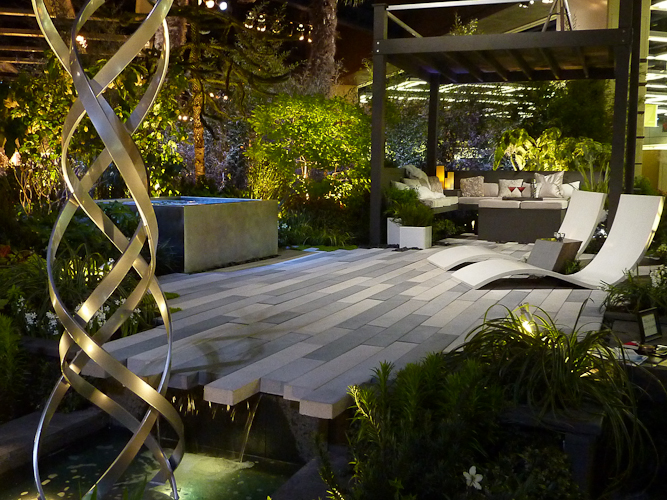 The photo above was taken when the show was dramatically lit on opening night, and I was charmed by slowly shifting lights emanating from under the background shrubs, changing from deep purple through shades of blue and green.
The cabana doubled as a shade structure and an observatory, with a ladder leading to a telescope for viewing the real stars. Below, the outdoor living room was furnished with cushy white and accented pillows and the table was set for cocktail hour.
The plants were not the showstoppers in this garden, playing a supporting role in the plot. But that's not to say they weren't handled masterfully. With only a few sprinklings of flowering plants, the story was all about foliage and form.
Skievaski got the fundamentals right: Muscular masses of shrubs and small trees delineated one border of the garden, perhaps to foil the prying lenses of paparazzi. This emphatic edge gradually tapered to a visual treat composed of varying foliage colors, textures and forms.
The bold leaves of Japanese aralia (Fatsia japonica) held their own against the geometric form of the hot tub. Sensuous red and yellow variegated croton, echoed in the new burgundy growth of heavenly bamboo (Nandina domestica), smoldered in the beds.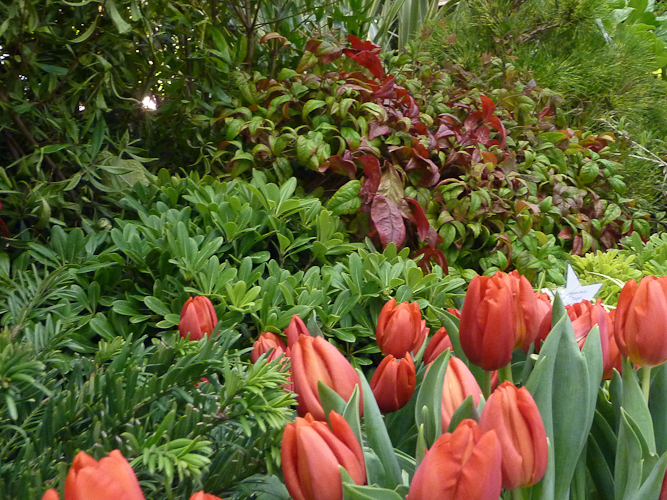 Right where their colorful impact would have the greatest effect were passionate red tulips flirting with nearby red foliage.
And in a sophisticated display of her command of color, Skievaski took advantage of the sculpture that was softly bathed in golden light. She accented the adjacent bed with harmonious yellow daffodils and chartreuse-foliage Choysia and Acorus, with white hellebores as frosting.
As I watched thousands of visitors stroll past vendor booths carrying every sort of garden gewgaw, tool and accessory, I sensed their excitement and passion for their gardens. Others oohed and ahhed over the vast palette of plants and furnishings, finding inspiration in the work of professional designers. What about you? Have you been to any shows this year or in the past? Have you picked up useful tips you've brought home to your own garden? Please share…