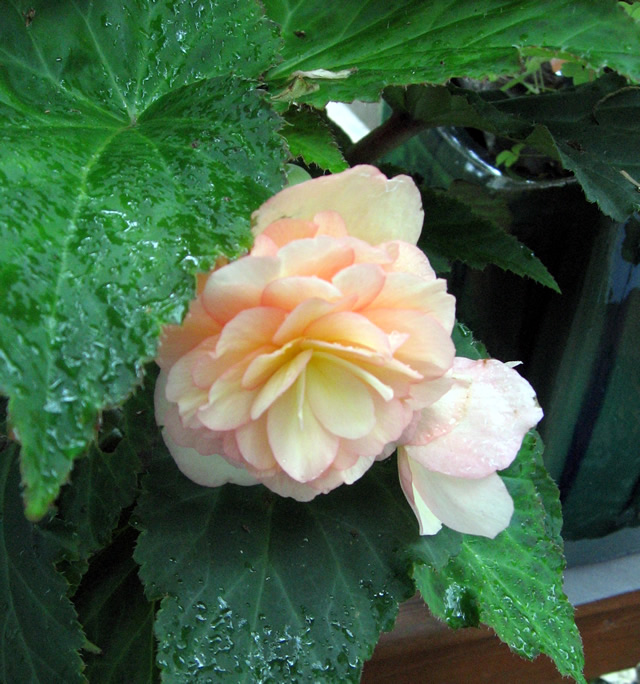 Marge Hebblethwaite and her husband Chris have overcome the challenges of clay soil and shade, creating a garden with unique foliage as the focal point.
"My husband and I garden in Zone 5B in central New York, where the winters are long, but the growing season is worth waiting for. We've been living in our home for 20 years and have learned a lot about what works and what doesn't in our amended clay soil. I'm a plant geek and love playing with interesting foliage both in the garden and in the many containers I pot up every year.
Our back shade garden is very challenging because we have standing water there in winter and spring, and a large tree that sucks up the moisture in the summer. This year we lost one of the larger shrubs along the fence (and are losing our Viburnum as well) so we filled in the spot with this pot grouping featuring a Red Abyssinian Banana plant."
A note to the GPOD Community: As you may have noticed, we switched to a new email template this week. This template allows us to showcase a larger opening photo on our daily blog posts. We will now be looking to use photos with a very high resolution, so that we can allow this image to shine. This means there is no need to reduce photo sizing before sending. Simply point, shoot and send the photos our way–easy! Additionally, sending photos in separate emails to the GPOD email box, is just fine if needed.
We look forward to seeing more beautiful gardens as we round out the summer season! Happy Gardening! Kim
Have a garden you'd like to share? Email 5-10 photos and a brief story about your garden to [email protected]. Please include where you are located!
Have a mobile phone? Tag your photos on Instagram or Twitter with #FineGardening!
You don't have to be a professional garden photographer – check out our garden photography tips!
Do you receive the GPOD by email yet? Sign up here.
Follow us: @finegardening on Twitter | FineGardeningMagazine on Facebook | @finegardening on Instagram