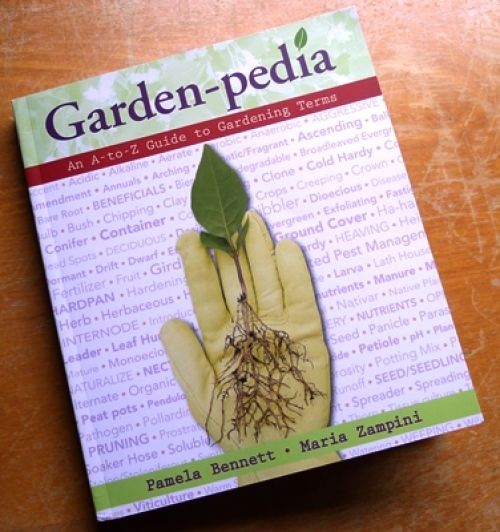 When a fellow gardener told me I needed a "dibbler" to make it easier to plant my vegetable garden, I didn't know what he meant. Instead of asking him to explain the term, I pretended I knew and answered with a simple, "That's a great idea."
I wouldn't have had to fake it if I had a copy of the new guide to gardening terms called Garden-pedia (St. Lynn's Press, 2015). This new little gem of a reference defines more than 300 common gardening terms in a way that's sure to save many other gardeners from a similar situation.
The book's small size (6 inches x 7 inches) belies the vast amount of useful gardening information contained within its pages. The authors of this colorful text, Pamela Bennett and Maria Zampini, have used their combined 77 years of horticultural knowledge and experience to create a book that's informative and also a lot of fun to read. Who knew reading gardening definitions could be so entertaining?
All the terms are defined in simple, easy-to-digest language. Most of the definitions are expanded to include examples and additional information to put them into context for gardeners of every skill level. The images illustrate exactly what they're talking about. Even the most confusing terms are made crystal clear.
For example, the entry for fungi/fungus gives a simple definition, a short paragraph for how fungi spread, the damage the spores cause, and some common diseases. The photo of powdery mildew on squash leaves brings the point home. 
The "A-to-Z Guide" includes general gardening terms, but many of the terms will help vegetable gardeners. As the entry for "Bolting" explains, "This does not mean that plants are going to pick up and run, as one new gardener thought!"
Other vegetable gardening terms include succinct descriptions of crop rotation, direct sow, frost tolerant, sidedress, open-pollinated and much more.
Garden-pedia is such a complete reference, I'd recommend it for every gardener, from beginner to Master Gardener volunteer; from horticultural industry professional to anyone who needs to communicate clearly and concisely about gardening.
Apparently I'm not the book's only fan. Garden-pedia includes 25 glowing endorsements from well-known gardening authors, garden association directors, Extension horticulturists, garden bloggers, and media personalities. I'm sure it will be my go-to reference whenever I struggle for a simple way to explan a complicated gardening concept. Like dibbler.
(St. Lynn's Press provided a complimentary copy of Garden-pedia for this review; opinions are always my own.)