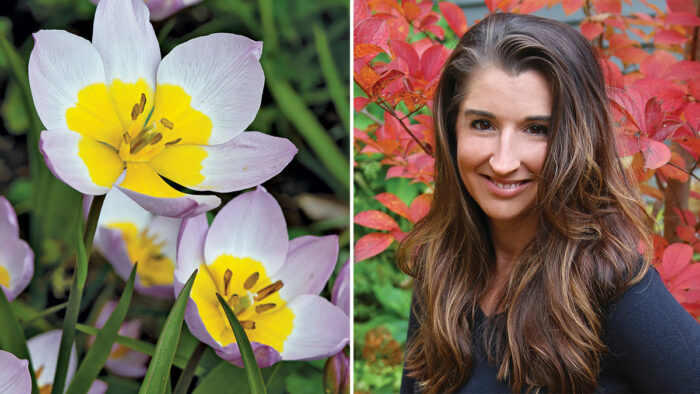 Voles and bulbs do not mix well. When I first planted my garden over a decade ago, I didn't have a vole problem. But in more recent years, my property has become the Las Vegas Strip of rodents. I don't know what I did to anger the garden gods, but it must have been bad because this plague of furry pseudo-hamsters has been epic. One of the first tip-offs I had voles was that my tulips started to disappear.
My limited tulip collection was concentrated in an area close to the house (and away from the deer's prying eyes), so it was fairly obvious when one year the tulips simply evaporated. Then the veronica in the same area started looking peaked, and I discovered that its entire root system had been sheared off. I've tried various strategies over the years to populate this particular stretch of vole superhighway, such as planting new bulbs with pea gravel or encasing bigger plants in metal mesh bags. The only thing that worked was planting vole-resistant things like euphorbia and grape hyacinth. But I really miss my tulips.
A few years ago when the vole population seemed to be declining a bit, I decided to roll the dice again and invest in some species tulips. I told myself that perhaps these wild versions were tougher and better able to withstand an onslaught from the vole army. And you know something? They were. Now this is likely a complete fluke, and I did take some prevention measures, such as planting the new bulbs with crushed oyster shells (as Tovah Martin suggests in her article "Get to Know Species Tulips,") and siting them among a sea of euphorbia. But whatever the reason, I got to enjoy a tulip show for the first time in years. It would be wishful thinking (or false advertising) to say that species tulips are more rodent resistant than their hybrid counterparts. However, I thought my story might serve as inspiration for anyone out there who thinks they are out of the tulip game completely because of their garden pest problems. Sometimes gardening is a gamble. In my case, I placed a $10 bet on bulbs and this time the house—I mean the voles—lost.
—Danielle Sherry, executive editor
From Fine Gardening #204
More on spring blooms
A Dozen Dazzling Shrubs for Early Spring Color