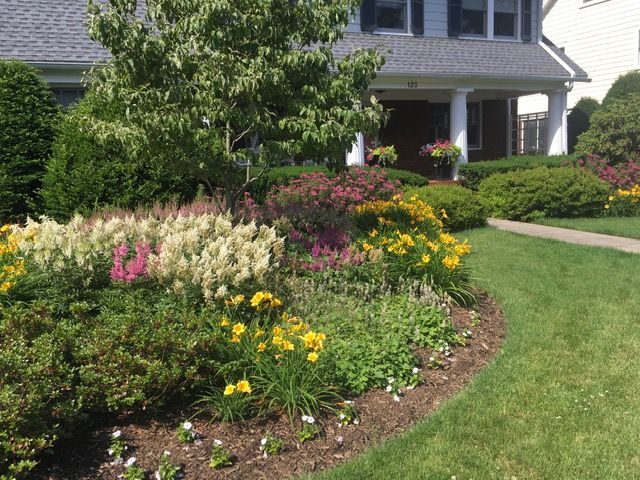 Mark Serock sent in these photos of the garden he has created with his wife, Rita.
Rita provides me a lot of suggestions on plants and plant placement. She is the one with the eye for details. I provide the labor and decide when we are going to rip up a section of garden and try something else. We work well as a team.
We live in Montclair, New Jersey, and we have always had a nice garden during our 20+ years at our present location, but we have spent a lot of time in the garden since my retirement eight years ago. We have learned many lessons over the years. When we moved to Montclair from a city life over 35 years ago, I had to ask someone how to mow my grass. That sounds embarrassing now. I can also remember our first garden, that first year in our new house. We went to a nursery and picked out one of each of about 15 different plants with no consideration given to sun conditions, height, or bloom time. They just looked pretty. Needless to say, that area soon became a nice place for my children to play in, as the plants did not survive very long.
Nevertheless, we kept gardening over the years and have learned a lot and are learning more with each season.
Thank you for sharing your readers' gardens in your daily blog. They are beautiful and provide me with ideas on my next restructuring of sections of my garden.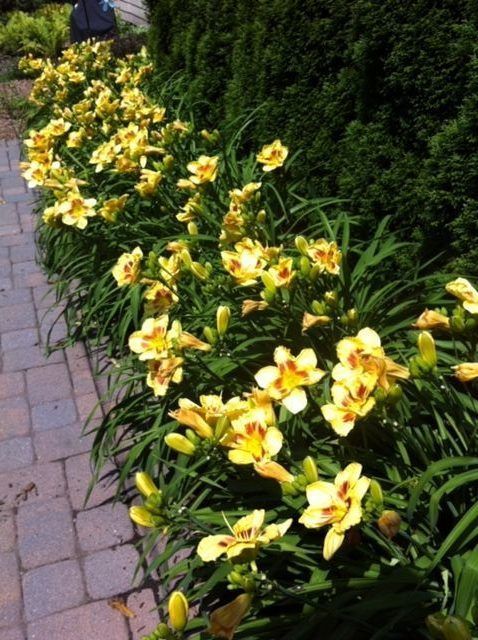 A beautiful row of daylilies (Hemerocallis hybrid, Zones 3–9) lines a walkway. Mark and Rita sure have come a long way from buying 15 different plants with no plan! Massing together groups of the same plant is a great way to elevate a garden's design.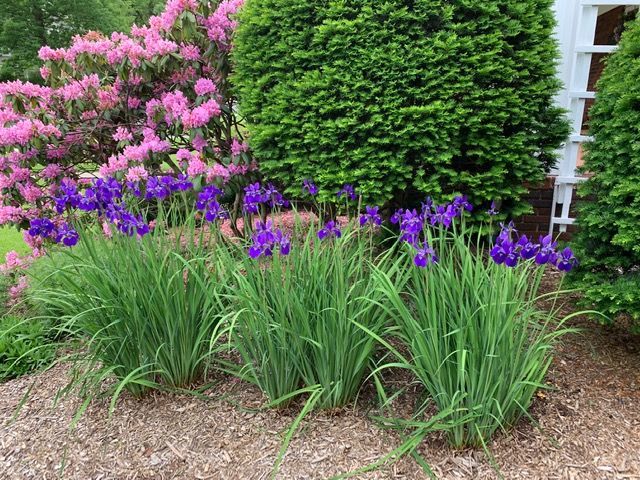 Purple Siberian iris (Iris siberica, Zones 2–9) with a wall of rhododendron flowers behind.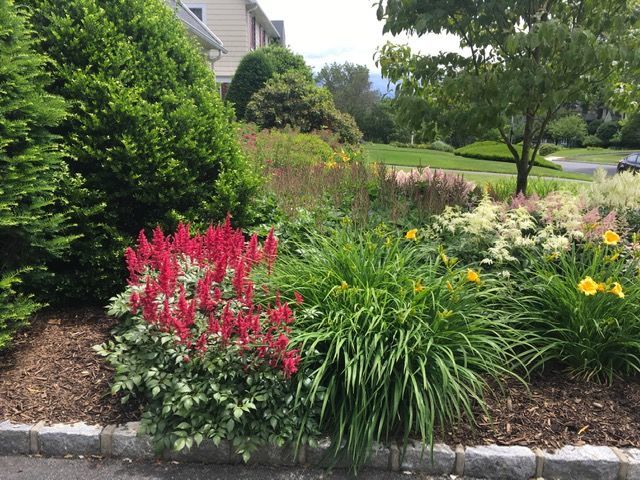 Various varieties of Astilbe strutting their stuff.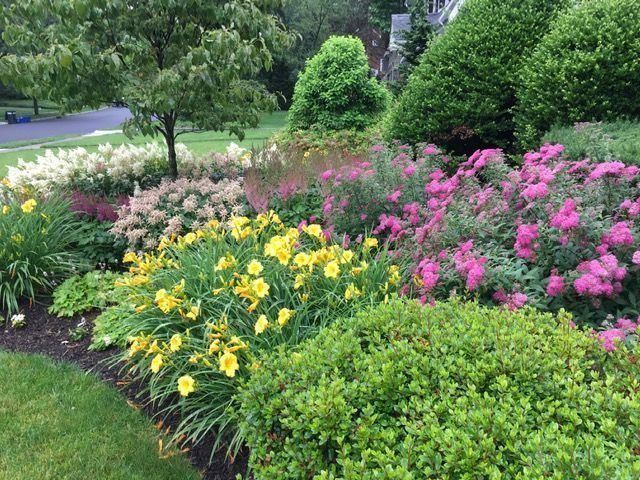 When they moved here 35 years ago, these gardeners didn't know how to mow the grass—and look at what they've created now! Everyone can learn to garden, no matter how much or how little experience they start with.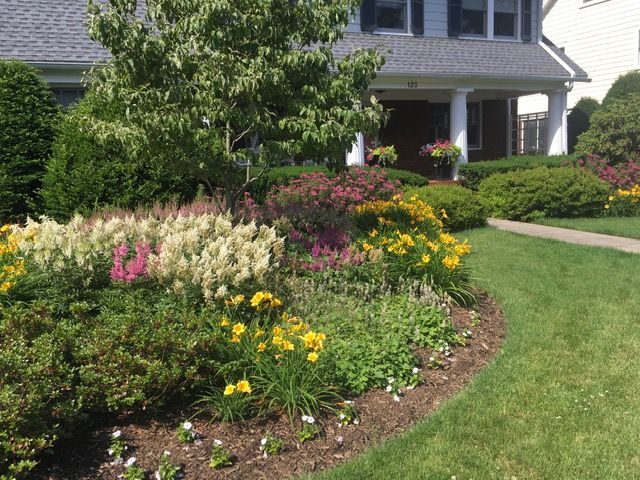 The plantings in front of the house create a welcoming entrance.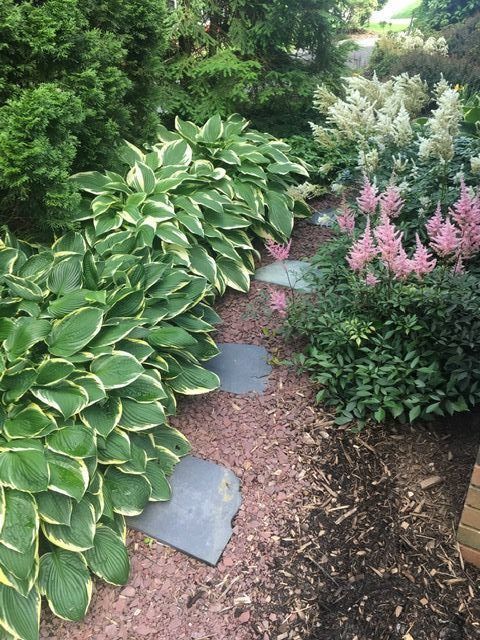 Hostas and astilbe are a classic combination. They both thrive in shade, and the broad, bold leaves of the hostas contrast beautifully with the fine-textured, airy flowers of astilbe.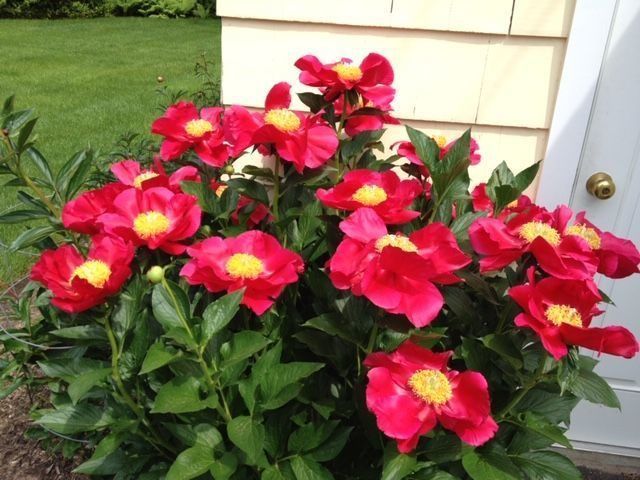 A spectacular peony (Paeonia hybrid, Zones 3–8)! This is a single-flowered form, with a ring of bright red petals around the central mass of yellow stamens. Double-flowered peonies, with many layer of petals, are often more common in gardens, but single forms like this are more likely to be able to stand up without staking, and the contrast between the color of the petals and the stamens in the center is pretty dramatic.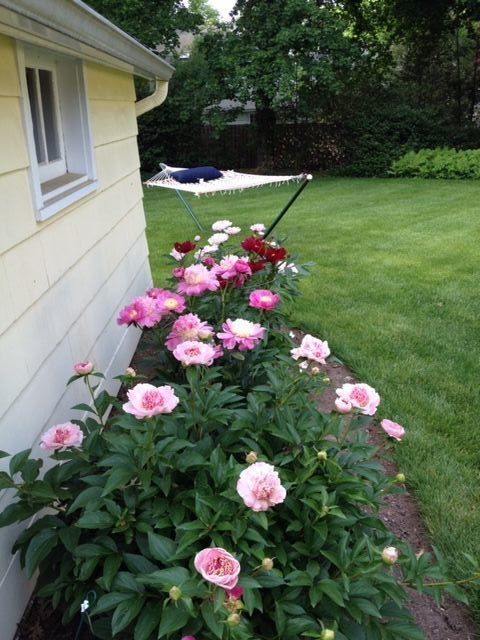 A row of peonies shows some of the diversity of these wonderful plants. Peonies are best planted in the fall, and as long as you give them plenty of sun and some support to help them hold up their heavy flowers, they'll repay you with huge numbers of beautiful flowers for decades.
Have a garden you'd like to share?
Have photos to share? We'd love to see your garden, a particular collection of plants you love, or a wonderful garden you had the chance to visit!
To submit, send 5-10 photos to [email protected] along with some information about the plants in the pictures and where you took the photos. We'd love to hear where you are located, how long you've been gardening, successes you are proud of, failures you learned from, hopes for the future, favorite plants, or funny stories from your garden.
If you want to send photos in separate emails to the GPOD email box that is just fine.
Have a mobile phone? Tag your photos on Facebook, Instagram or Twitter with #FineGardening!
You don't have to be a professional garden photographer – check out our garden photography tips!
Do you receive the GPOD by email yet? Sign up here.