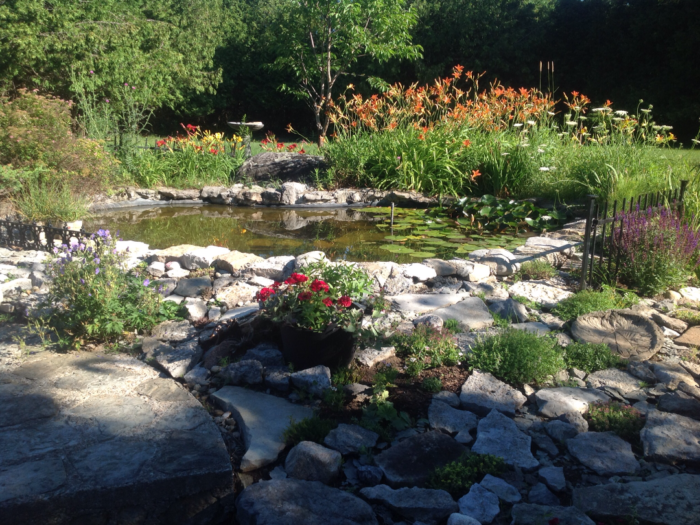 Today we're visiting Anne's garden on the outskirts of Ottawa, Ontario.
Our garden is a happy mix of cultivated and naturalized plants situated on alvarlike terrain in a rural development about 35 km west of our nation's capital, Ottawa. An alvar is a limestone flats–based environment that is very cold and wet in fall, winter, and spring, and dry in summer. It supports a large variety of indigenous flora and fauna. Not far from our property, the Burnt Lands Alvar is actually protected as a provincial park because of its delicate ecosystem properties: grassland, shrubby trees, native plants, birds, insects. The neighborhood we live in is built on the edge of the alvar, and we benefit from many prominent and stunning limestone outcroppings in the area. In prehistoric times, this was the site of the Champlain Sea, and vestiges of its former life are evident as plant and animal fossils all over our limestone patio and outcroppings.
Gardening is a challenge because the soil layer is thin and lightly acidic. The area is naturally covered with cedars, sumac, burr oak, and ironwood. It is very beautiful. Our garden is centered mainly around the house, with its load of original builder's topsoil as host to mostly cultivated perennials interspersed with natural wildflowers left in beds to attract pollinators. As you radiate outward on this two-acre lot, the garden blends into the natural landscape.
The pictures below provide a look at our summer garden, which incorporates the types of plants that can withstand and thrive in the fairly harsh conditions here: daylilies, sedums, hydrangea, rudbeckia, hosta, echinacea, phlox, etc. Our lawn is a naturalized mix of fescue, clover, thyme, ajuga, and other indigenous ground covers, all blending into the perfect mix that even during the dry summer season still provides a covering of green at the same time that lawns covered in brown, crispy grass are entering dormancy.
I hope you enjoy these as an example of what can be done in a northerly garden.
Sedum 'Autumn Joy' (Zones 3–9) is a reliable perennial in a wide range of conditions and is beloved by pollinators.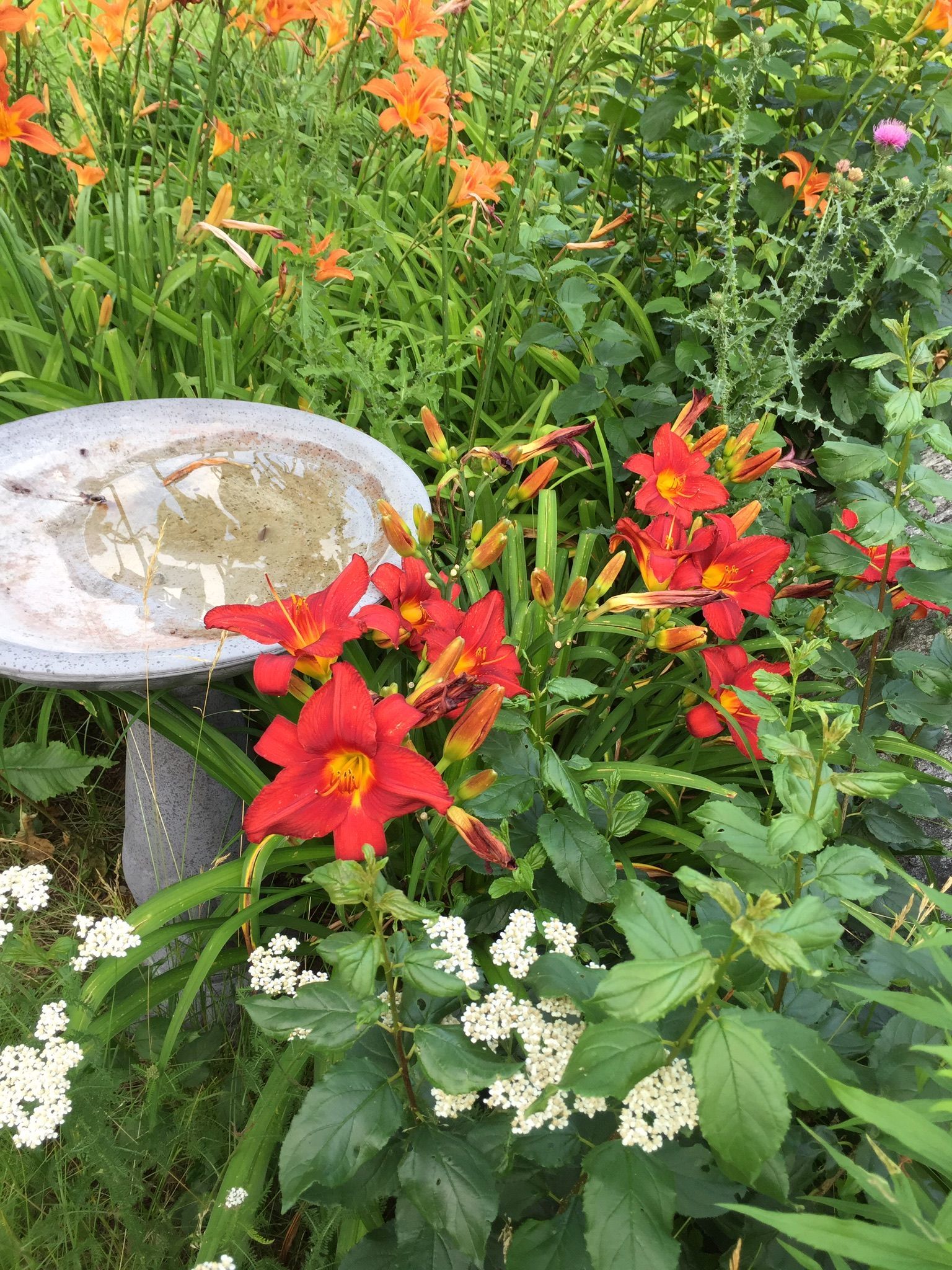 Daylilies (Hemerocallis hybrids) put on a colorful summer show.
Hydrangea paniculata (Zones 3–9) shows off behind blooming perennials.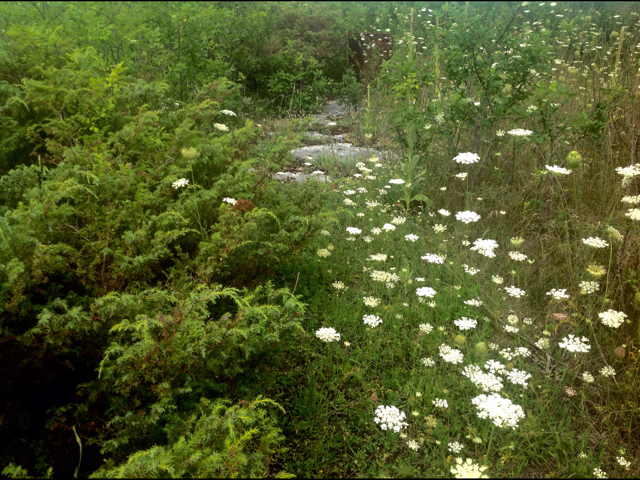 Uncultivated areas can still be beautiful, with Queen Anne's lace (Daucus carota, Zones 3–9) blooming happily.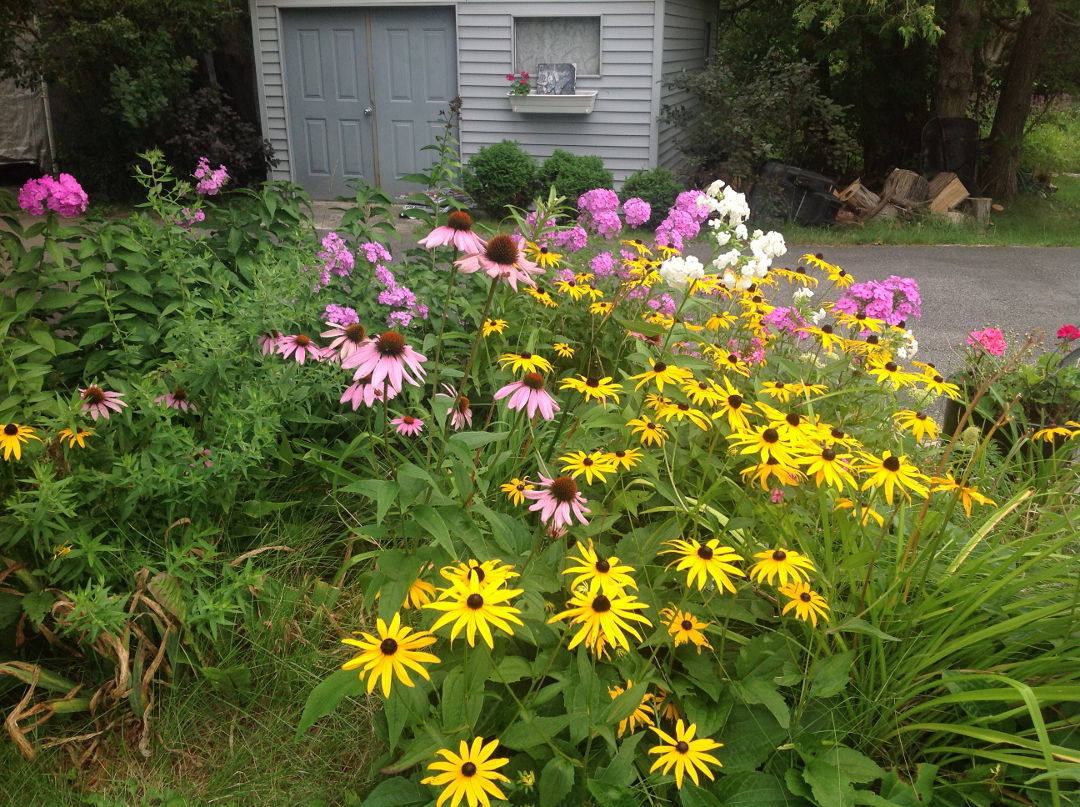 Bright yellow black-eyed Susan (Rudbeckia fulgida, Zones 4–9).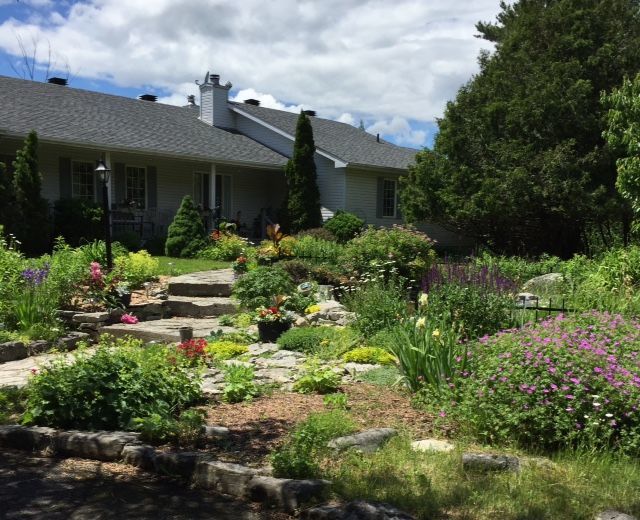 The hardscaping features around the garden incorporate the same limestone as the base of the bedrock.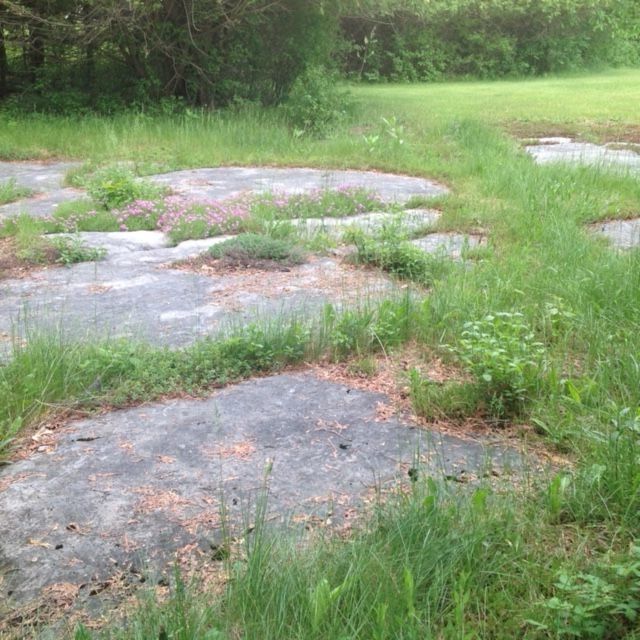 The garden blends into the natural areas around it, which feature the limestone bedrock of the alvar.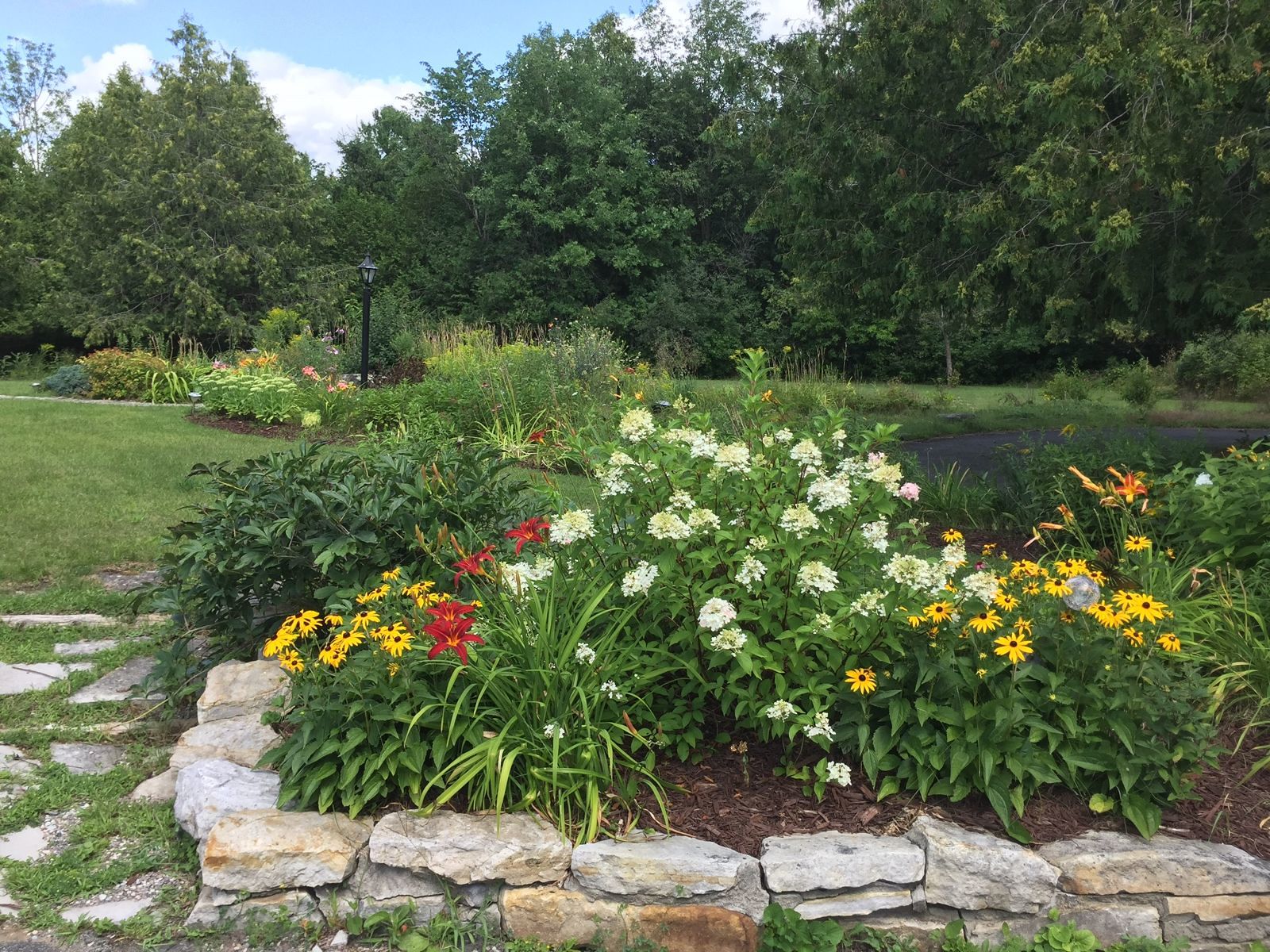 Using limestone in the hardscaping helps the garden complement the natural landscape.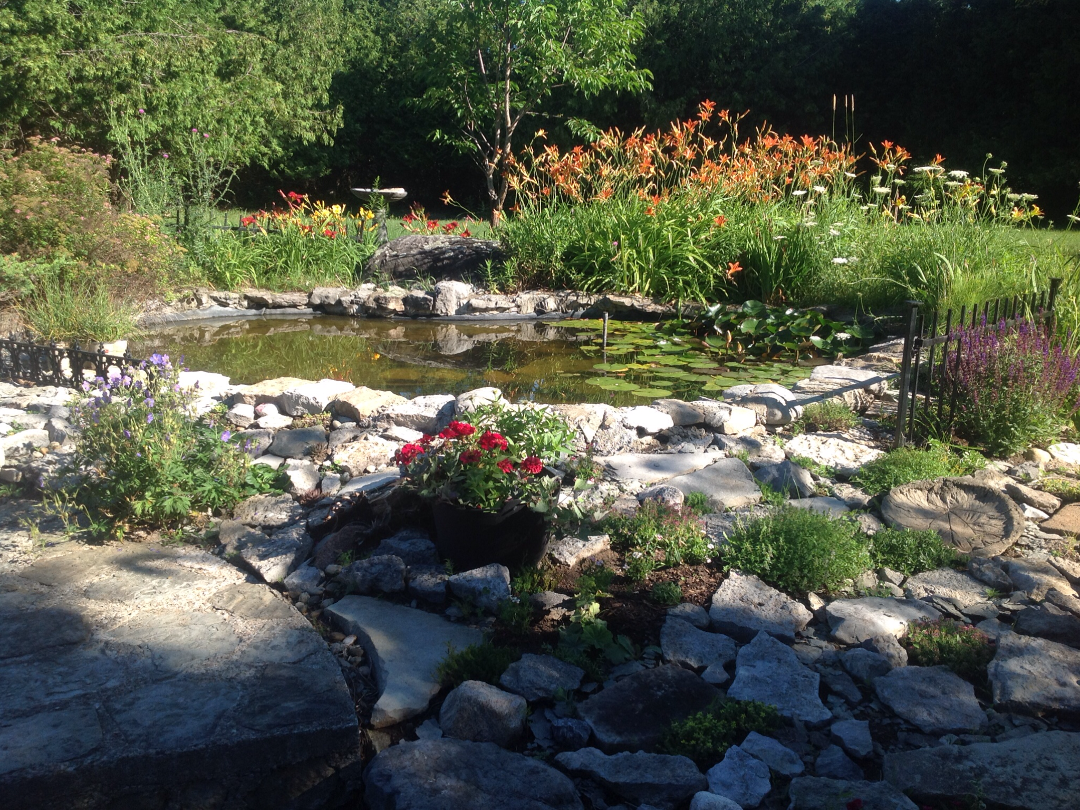 More local limestone surrounds the pond.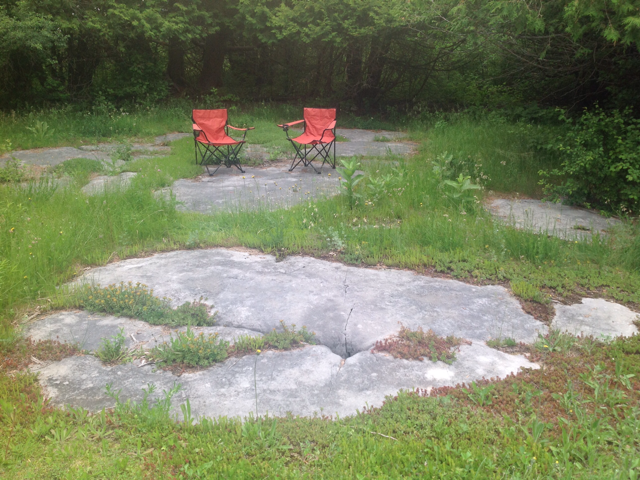 A peaceful spot to sit and enjoy the natural beauty.
Have a garden you'd like to share?
Have photos to share? We'd love to see your garden, a particular collection of plants you love, or a wonderful garden you had the chance to visit!
To submit, send 5-10 photos to [email protected] along with some information about the plants in the pictures and where you took the photos. We'd love to hear where you are located, how long you've been gardening, successes you are proud of, failures you learned from, hopes for the future, favorite plants, or funny stories from your garden.
If you want to send photos in separate emails to the GPOD email box that is just fine.
Have a mobile phone? Tag your photos on Facebook, Instagram or Twitter with #FineGardening!
You don't have to be a professional garden photographer – check out our garden photography tips!
Do you receive the GPOD by email yet? Sign up here.