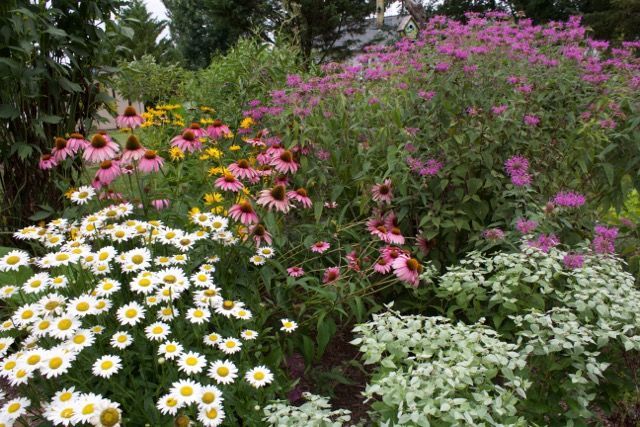 My name is Barb Mrgich. I am a Master Gardener in Adams County, Pennsylvania, which is in Zone 6a.
My husband and I bought our 3/8-acre lot in 1989. The lot was nearly barren of even weeds. After we built the house, I started planting and have virtually never stopped. I am a strong believer in organic gardening. I make a lot of compost, and we never bag our grass or leaves. My garden is certified as a wildlife habitat by the National Wildlife Association, and as pollinator friendly by Penn State. I use as many native plants as I can but do not restrict myself to them.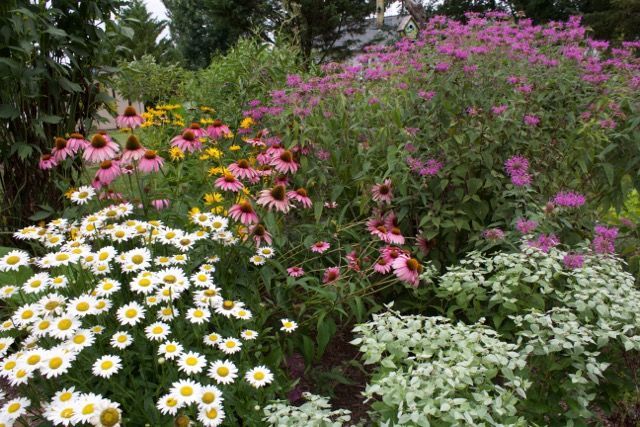 This picture shows part of my pollinator garden. A large swath of Monarda (bee balm) dominates this area. Echinacea purpurea (purple coneflower), a yellow perennial Helianthus (sunflower), white Shasta daisies 'Becky' (Leucanthemum × superbum 'Becky' Zones 5–9), and a variety of native mountain mint (Pycnanthemum muticum, Zones 4–8) fill in a good bit of real estate. Behind the bee balm, a swamp milkweed (Asclepias incarnata, Zones 3–6) has just finished blooming.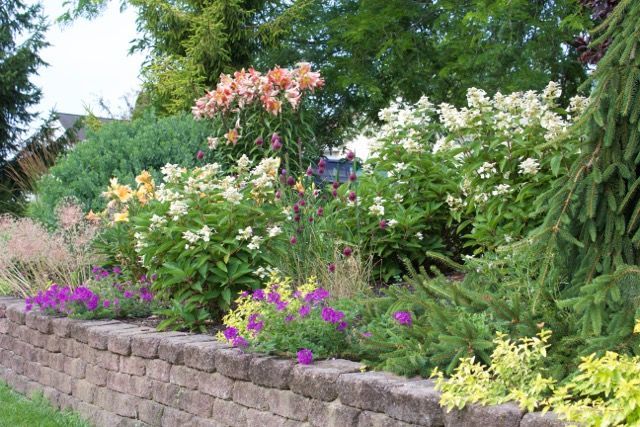 Our entire property slopes toward the street. In order to stop stormwater runoff, and to solve a dangerous mowing situation, I built this retaining wall 17 years ago. Starting to the left is a purple baptisia (Baptisia australis, Zones 4–8) that has just finished blooming and now looks like a large shrub. It is a native plant. I bought it at a community center yard sale, and the helpful Boy Scouts had labeled it as a Purple Baptist! The small-sized Hydrangea paniculata 'Dhruma' (Zones 3–7) were difficult to find. They are now at their mature height of 3 to 4 feet. The small yellow bushes are Caryopteris 'Sunshine Blue' (Zones 5–9) and will cover themselves with blue flowers in August. The tall "tree lilies" are beautiful, but they don't last too long.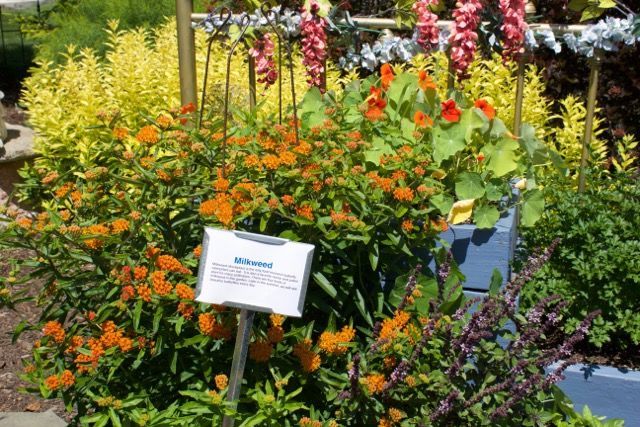 In early June our garden was featured on a garden tour, and we had about 150 people come through. In addition to small ID labels on most of my plants, I used 10 of these signs to describe what was going on in the bed. This is a native milkweed (Asclepius tuberosa, Zones 3–9) that the monarchs love along with many other pollinators. Strutting its stuff behind the brass headboard is Deutzia 'Chardonnay Pearls' (Zones 5–8), which remains bright yellow all season.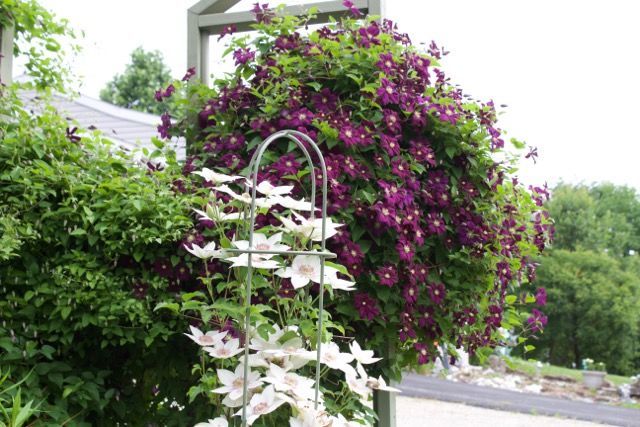 Clematis is always a popular vine. The big ones create privacy on a large trellis. Here the purple 'Jackmanii' contrasts nicely with the white 'Corinne', which I chose for its color and short size.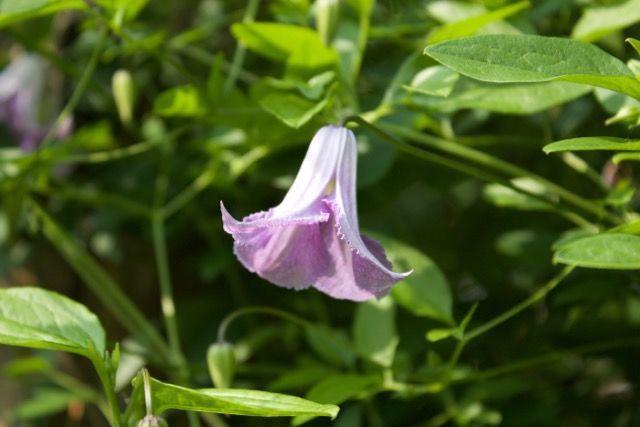 Another favorite clematis, 'Betty Corning', blooms all summer if you keep it watered.
More of the Deutzia 'Chardonnay Pearls' contrasting nicely with nine bark 'Summer Wine' (Physocarpus opulifolius, Zones 2–9).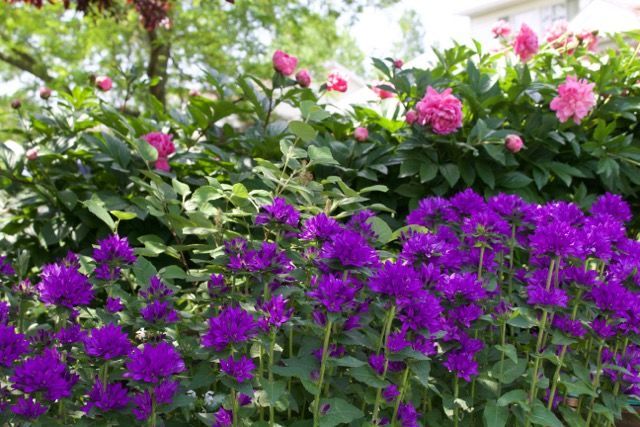 A lovely combination: bellflowers (Campanula glomerata 'Superba', Zones 3–8) beside old-fashioned peonies.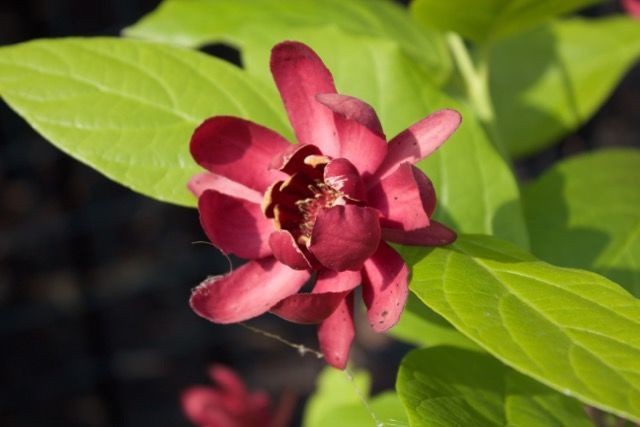 The beautiful and interesting flower of the eastern sweetshrub (Calycanthus floridus, Zones 4–9), a shrub native to the eastern United States.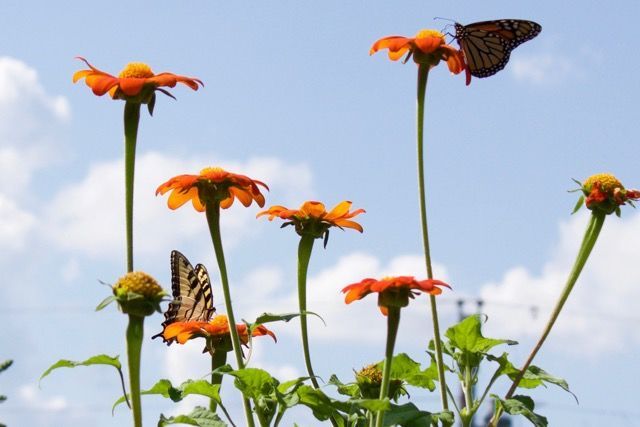 A monarch and an eastern swallowtail butterfly in the same picture. The plant that draws them is Tithonia (Mexican sunflower, annual).
Have a garden you'd like to share?
Have photos to share? We'd love to see your garden, a particular collection of plants you love, or a wonderful garden you had the chance to visit!
To submit, send 5-10 photos to [email protected] along with some information about the plants in the pictures and where you took the photos. We'd love to hear where you are located, how long you've been gardening, successes you are proud of, failures you learned from, hopes for the future, favorite plants, or funny stories from your garden.
If you want to send photos in separate emails to the GPOD email box that is just fine.
Have a mobile phone? Tag your photos on Facebook, Instagram or Twitter with #FineGardening!
You don't have to be a professional garden photographer – check out our garden photography tips!
Do you receive the GPOD by email yet? Sign up here.