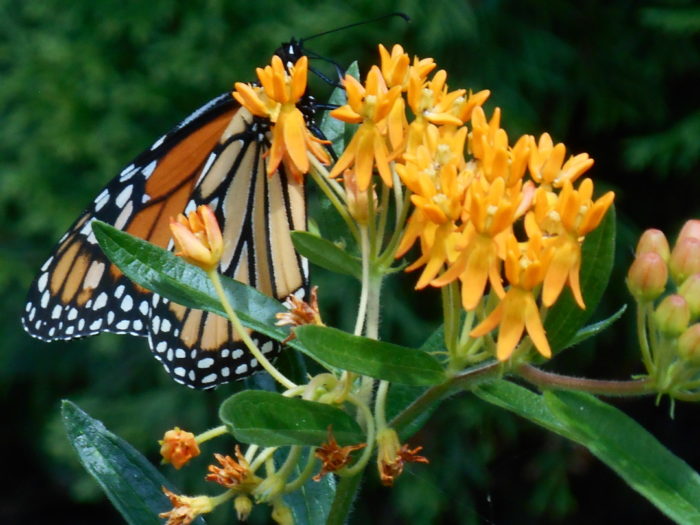 Today we're visiting Lynn DeSantis's garden, where she has a lot of flowers that attract the attention of humans and butterflies.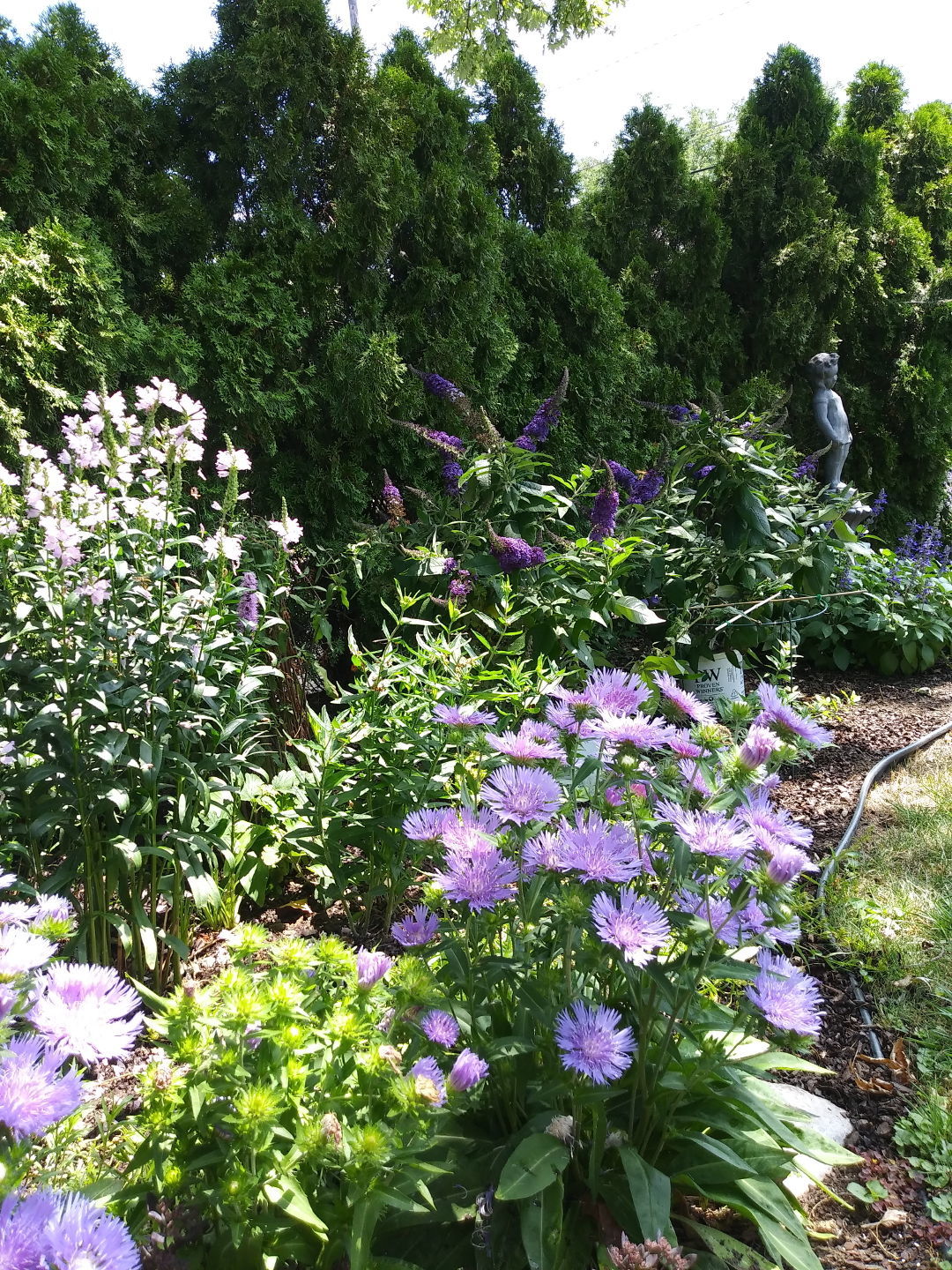 Stokes aster (Stokesia laevis, Zones 5–9), obedient plant (Physostegia virginiana, Zones 3–9), and buddleia (Buddleia davidii, Zones 5–9) by the patio. This planting makes use of a very simple design technique: choose plants with flowers in a similar color range, and it really makes the garden look more cohesive and intentional.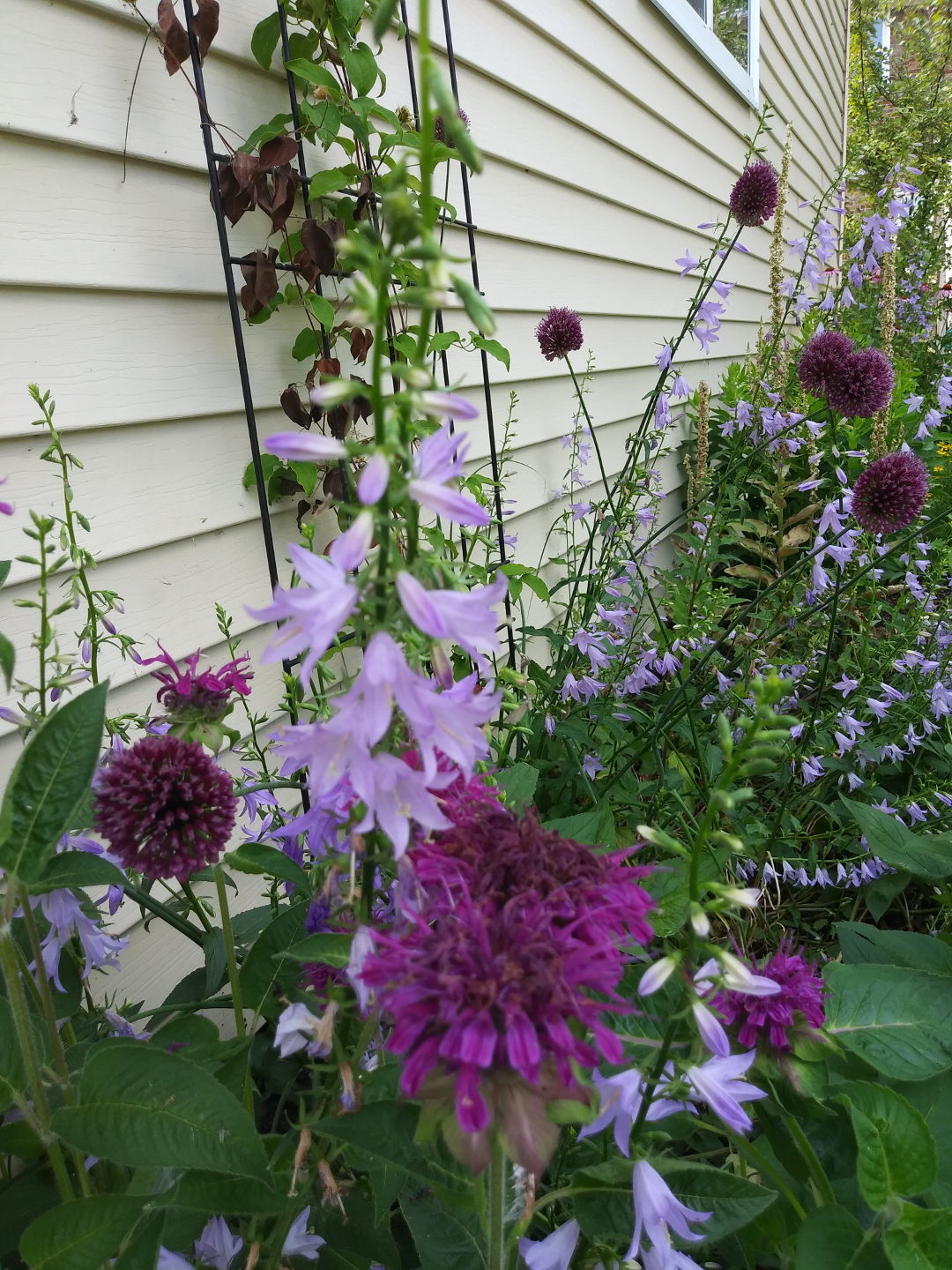 Another great combination of colors. Dark burgundy drumstick allium (Allium sphaerocephalon, Zones 4–8) combined with a soft lavender bellflower (possibly Campanula rapunculoides, Zones 3–9) and a purple bee balm (Monarda sp.) that echoes the color of the allium, but in a lighter shade that ties in the bellflower.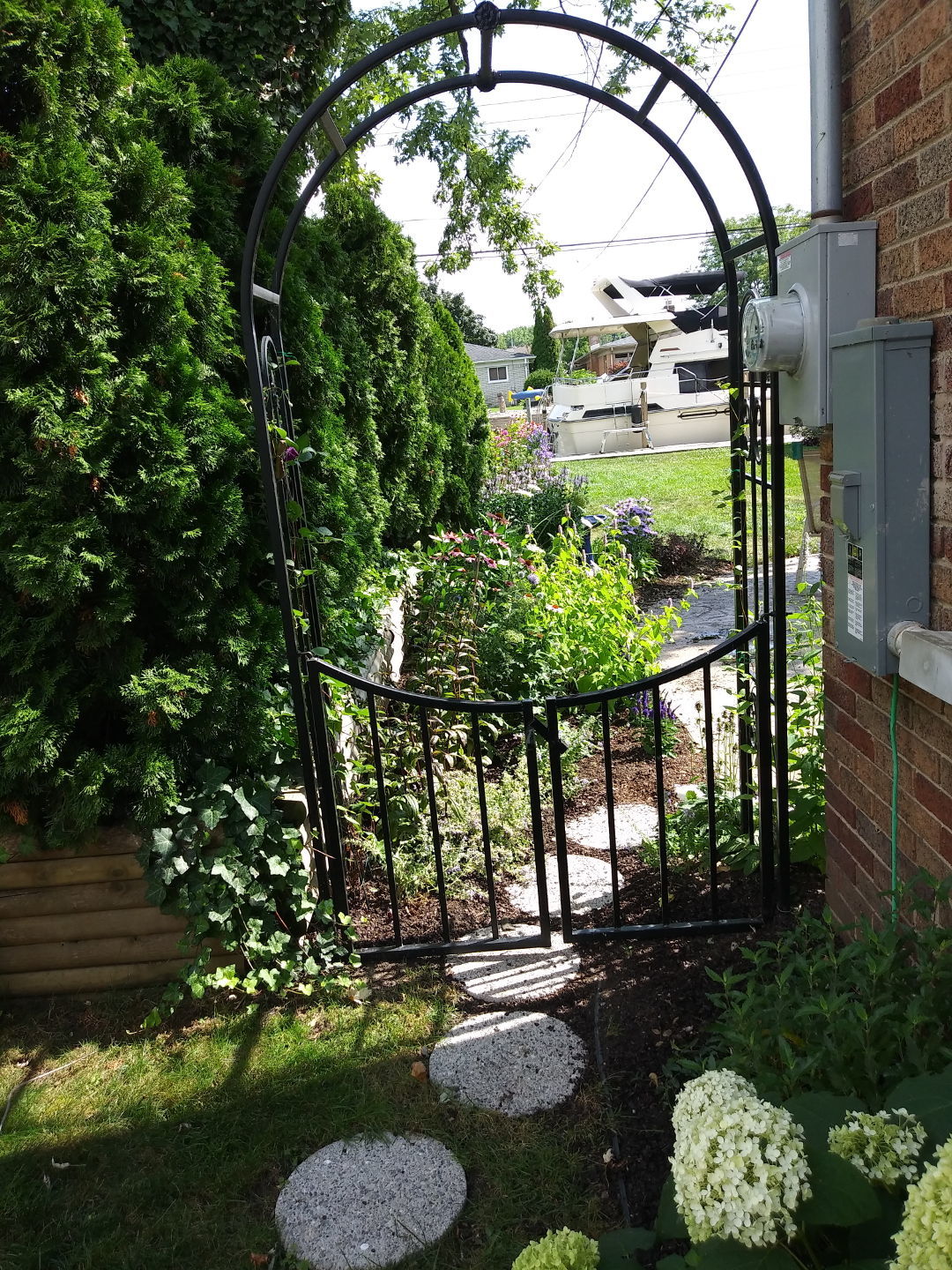 The walkway leads through the gate to the patio and the garden beside it.
A black swallowtail butterfly feeding on a purple coneflower (Echinacea purpurea, Zones 3–8). This beautiful butterfly feeds on the nectar from a wide range of different flowers as an adult. If you want more of them in your garden, make sure to plant food for the caterpillars as well. They love many plants in the carrot family, including Queen Anne's lace, carrots, celery, dill, fennel, and parsley.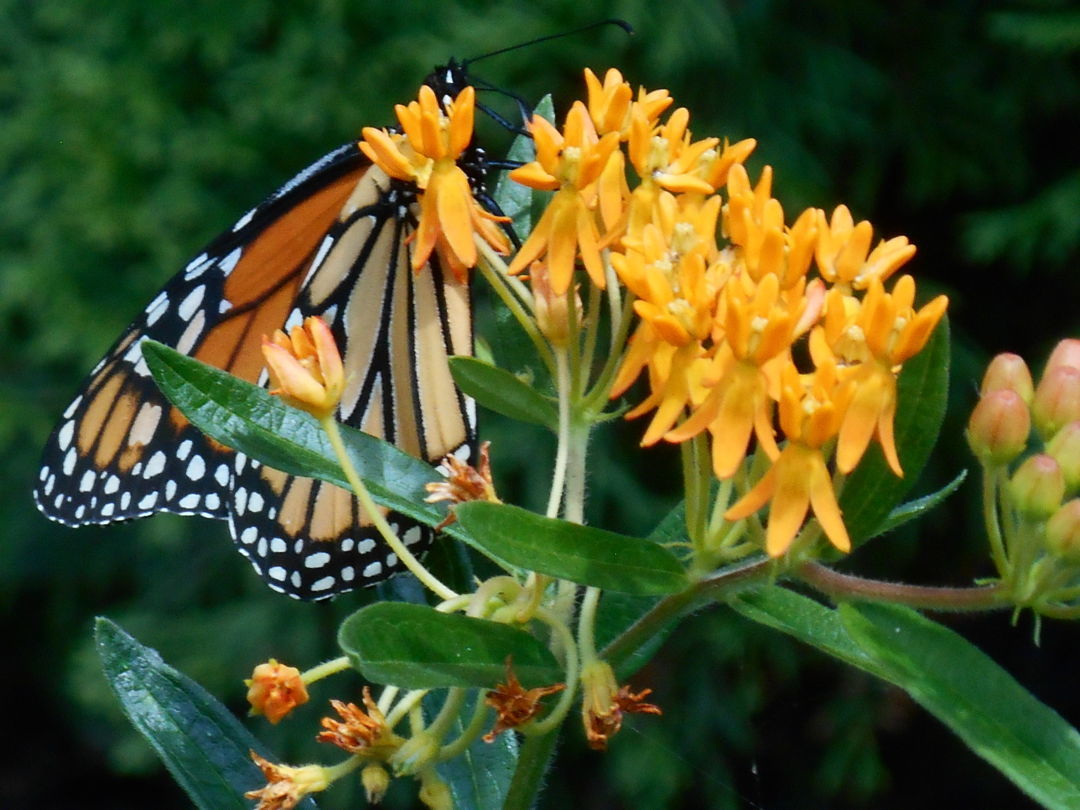 A monarch feeding on the bright orange flowers of the butterfly weed (Asclepias tuberosa, Zones 3–9). Monarch caterpillars only feed on the leaves of plants in the milkweed genus, Asclepias. This plant is a beautiful one that pleases human and insect visitors alike.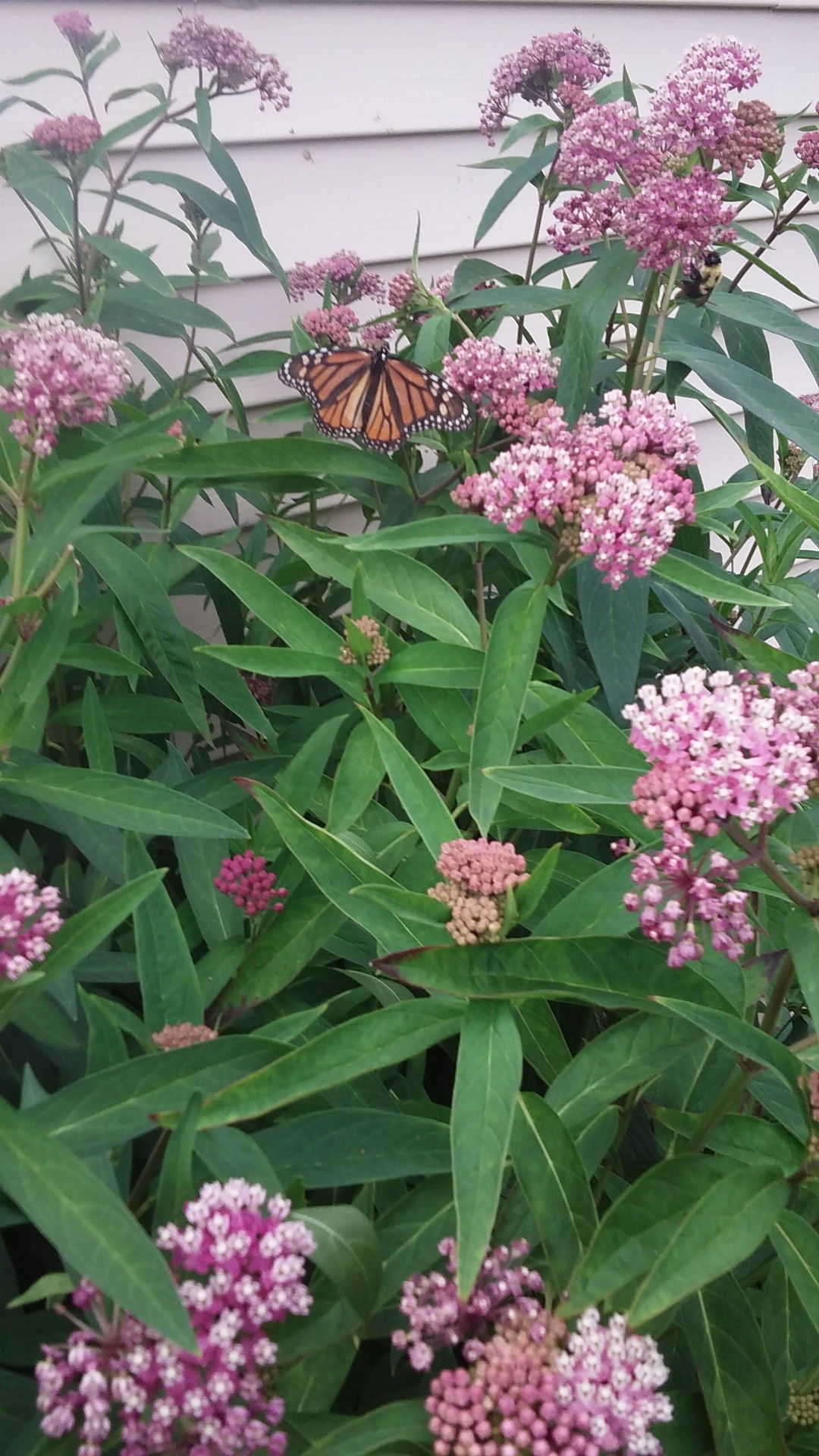 Swamp milkweed (Asclepias incarnata, Zones 3–8) is another beautiful milkweed that is great for gardeners as well as monarch butterflies. As the name implies, this species is a good choice if you have consistently wet soil, though it will thrive in normal, well-drained garden soil as well.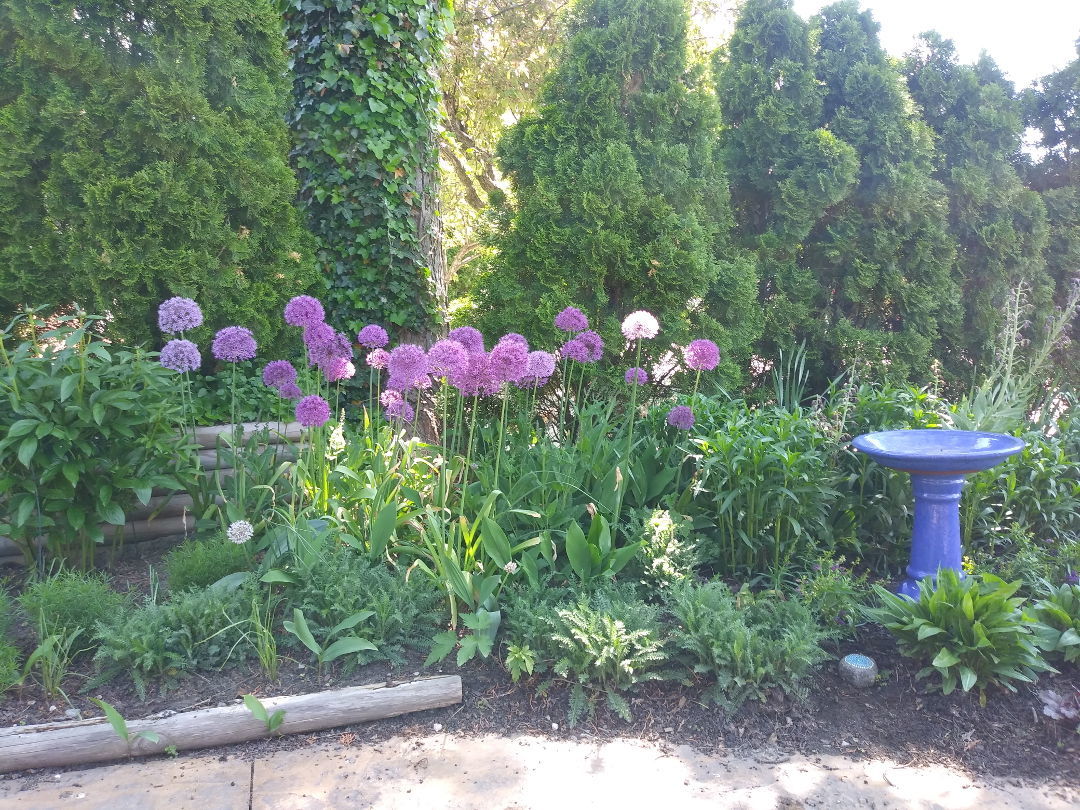 A cloud of 'Purple Sensation' ornamental onions (Allium 'Purple Sensation', Zones 4–7).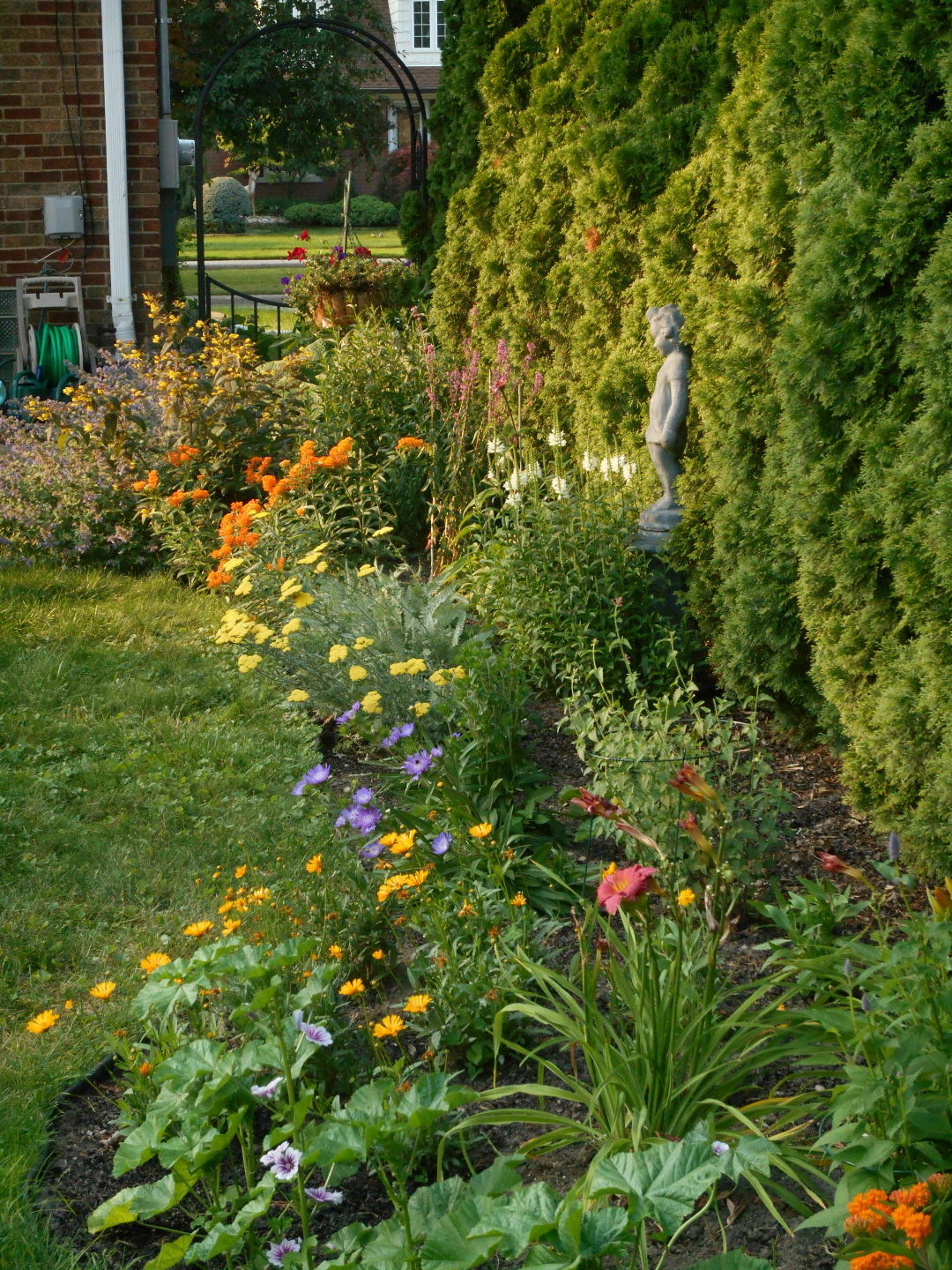 A final view of the garden.
Have a garden you'd like to share?
Have photos to share? We'd love to see your garden, a particular collection of plants you love, or a wonderful garden you had the chance to visit!
To submit, send 5-10 photos to [email protected] along with some information about the plants in the pictures and where you took the photos. We'd love to hear where you are located, how long you've been gardening, successes you are proud of, failures you learned from, hopes for the future, favorite plants, or funny stories from your garden.
If you want to send photos in separate emails to the GPOD email box that is just fine.
Have a mobile phone? Tag your photos on Facebook, Instagram or Twitter with #FineGardening!
You don't have to be a professional garden photographer – check out our garden photography tips!
Do you receive the GPOD by email yet? Sign up here.