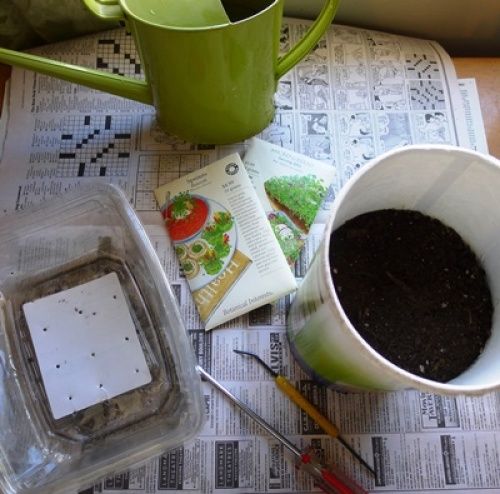 While I'm waiting for the weather to decide it really is spring, I decided to plant a container of windowsill micro greens. I just had to satisfy my green thumb that's been itching to get planting for months.
Would you like to grow along with me?
I've grown micro greens outside before, but iffy weather can make a simple two-week process take much longer. 
If you plant your micro greens with me, we should be harvesting fresh greens in about two weeks. Are you ready to get started?
Materials
1 packet micro green seed mix or sprouting seeds, such as broccoli or pea
1 shallow plastic container (like a clear lettuce or spinach container, minus its lid)
1 tray or second container (without holes) to catch any excess water
Several inches of loose, well-draining seed starting mix or potting soil
Instructions
Punch holes in the bottom of the shallow container for drainage; place on tray or second container.
Fill planting container with several inches of soil (about 2 or 3 inches).
Moisten the soil and allow excess water to drain. Recycle water for houseplants.
Scatter seeds over the top of the soil; cover with a thin layer of soil.
Water gently to keep seeds from moving around in the soil.
Place container on a sunny windowsill or under grow lights placed several inches above the top of the container. 
Keep soil evenly moist, but not overly saturated; don't let seeds dry out.
Watch for seedlings to sprout with their first leaves in about a week. 
When plants are about 2 inches tall and have one or two more sets of leaves, use scissors to clip greens. Rinse and add to salads, use instead of lettuce in sandwiches, sprinkle into stir fry dishes, add to omelets or create your own special recipe.
Please let me know how your micro greens grow!