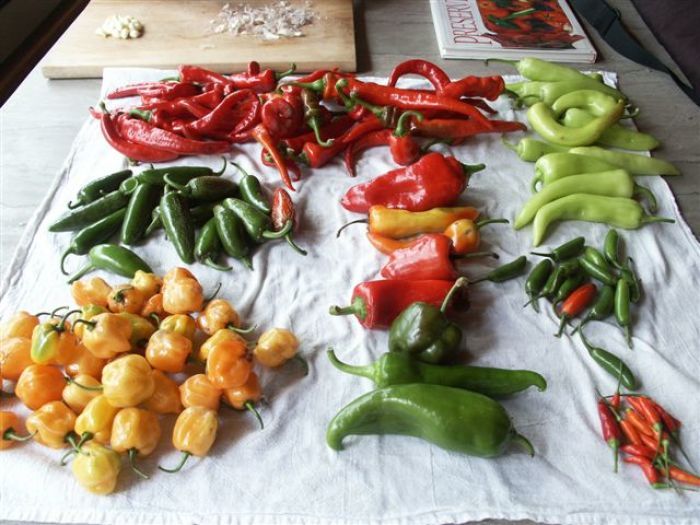 Gone are the bright blue skies of autumn, when one looks up through a dazzling palette of colored leaves against the sky. Lime green, bright yellow, golden, orange, red, mahogany, and brown leaves drifting down around us as we sit outside and contemplate the changing of the seasons. We no longer hear and feel the friendly scuffle of the leaves as we walk through them.
The last of the serrano harvest waiting to be picked.
The rain has changed all of those delights of the fall season. Five days ago, it turned grey and cold and the rains began. I ran out to pick the last of the ripe chile peppers and bring in the rest of the winter squash that were still in the garden. It's a good thing that I did since the rain hasn't let up–it has been raining day and night–and the earth is saturated. Sure don't want to walk in the garden when it is this wet! A gardener always welcomes rain, even though it doesn't always fit within our plans. The precipitation replenishes our water table and nourishes all living things. It can be inconvenient when we are waiting to sow seeds, or even more so, when it is harvest time and we aren't able to get in our crops.
Just harvested chiles.
This rain is a cold rain and I have been scrambling about outside in my bog boots and raingear gathering all of my potted plants. They need to be moved indoors for the winter, so right now they are all waiting on the back porch, except for the hardy rosemary plants which I leave out until the night temps are going to be 30º F or below. These resinous evergreens are really happier outside than in. Most of the plants in pots are herbs, and of course, some favorite houseplants, and a few large hibiscus, lemon eucalyptus, night-blooming jasmine, allspice, and a very large lemon tree, which I cannot lift by myself.
So when I bring plants into my greenhouse for the winter, first I prune them back, remove dead or yellowed leaves and inspect them for insects and egg cases, slugs, etc. Next, now that they are undercover, I will spray them with my chile garlic spray, which will make any leftover varmints head for the hills.
Recipe: Chile Garlic Insecticidal Spray
Pickled peppers in waterbath.
Dealing with the Last of the Chiles
In the meantime, I have had a surplus of chiles to deal with. My daughter Lucie and her boyfriend, Bret, who is a chef (fortunately for me!) spent an afternoon with rubber gloves on, preparing chiles for canning. After removing any blemished or bad spots, we stemmed and seeded them—except for the whole chiles—which we pierced with a knife to allow the pickling liquid to totally surround them. We pickled whole chiles, sliced chiles, and we made chile pepper relish. Now we will have the heat of summer, whenever we open a jar of our home-canned peppers. See the recipe for pickling chiles in a simple brine.