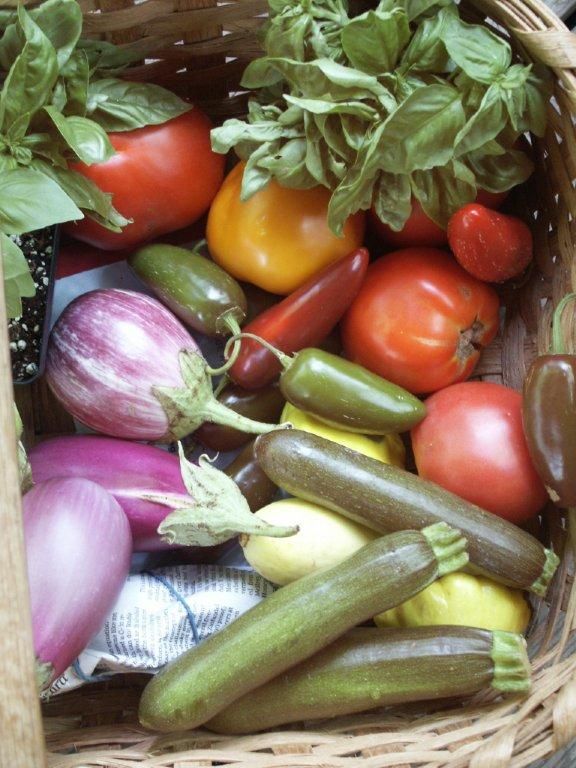 The past week or so the unbearable heat of summer has diminished and the mornings and evenings are cooler. Fall is in the air. This is the seasonal rhythm that we go through every year; the end of summer allows us to say farewell to hot weather and welcome fresh air and cooler temps. It also signals the slow down of garden produce—it is a time to be thankful for a bountiful harvest—and make ready for the cold weather to come.
Across the nation, folks are bringing in the last of the garden harvest—and preserving it by canning, drying and freezing. We are supporting our farmers' markets, going to farms and savoring the last of our seasonal wealth of garden-fresh produce.
My most favorite foods that I have been and am savoring daily and will surely miss are: tomatoes, peaches, corn, eggplant, chiles and basil. There is still time to enjoy this produce and I am thinking of ways to put them up so that I can enjoy them during the months of cold weather. Although I love the bounty of every season—there is nothing like these summertime favorites—and the reason for that is is that we can only have them for a few short months. So get cooking and eat all of these right now before they are no longer available!
Tomatoes I will miss the most; I am spoiled by the variety of flavors one gets from the heirlooms. The citrus and tart flavors, the sweet luscious meaty flesh, and the juice and the tang are what makes my mouth water. Eating them sliced alongside just about anything and on tomato sandwiches are my two most favorite ways. However, I make a lot of salsas, fresh tomato sauces and use tomatoes with other summer vegetables in a saute or vegetable medley. On the grill or baked is a quick and easy way to enjoy a tomato. Now is the time to cook them down into sauce and can some summertime salsa.
A juicy ripe peach is as good as a tomato, only different. I like my peeled and sliced, however I do eat a large number of them over the sink, out of hand. I like them with cottage cheese and/or Greek-style yogurt for breakfast. Sometimes I grill them, they make a great salsa, and of course, pie, cobbler, crumble, crisp, ice cream, and on and on. Can or freeze them for a winter treat. See my blog post Peachy Keen for peach recipes.
Corn has been wonderful this summer and I have eaten it nearly everyday. I like it cooked briefly, eaten from the cob, no need for butter or salt. I do make calabacitas and corn relish, pudding and corn bread too. It is easy to blanch, cut from the cob and freeze for the cold months ahead.
I have a real fondness for eggplant. I like it on the grill, brushed simply with olive oil, though a good marinade is tasty too. I bake it, saute it, roast it over the flame and make baba ghanoush.
A confessed chilehead, this is the time of year for chiles! I eat them everyday raw, roasted, sauteed or grilled. I make salsa every few days, so I always have it on hand, though I cut them up and sprinle them on everything from sandwiches and pizza to sautes, eggs and pasta. Make salsa now so you will have it to brighten your cold weather dishes. I have pans of them drying in the oven right this minute.
Last yet not least, basil is the sine qua non of summer herbs. It is just right on any summer vegetable. Check out my videos on harvesting herbs and making aromatic herbal pastes.
Savor the last of these seasonal favorites–and stock up!