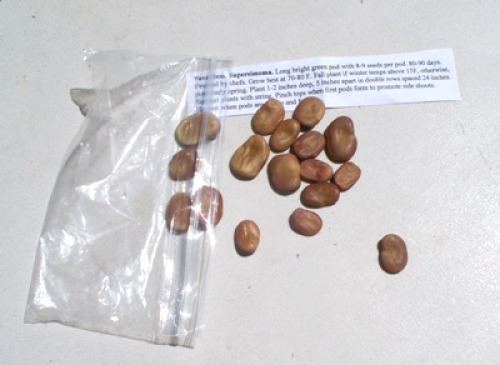 I like to think of my backyard as a laboratory and everything I plant as part of an ongoing experiment. I've always been curious to learn what works—and what doesn't work when gardening.
Many times I'm surprised by the successes, like strawberries planted in a bushel basket that survived sub-zero winter temperatures or baby carrots that grew beautifully in a patio container. Failures are also surprising like the cumin seeds I babied into small plants this spring only to have them melt right after planting.
One of my experiments this season is testing the determination of a packet of home-grown fava bean seeds to sprout and grow. One of my friends gave me this packet of seeds earlier in the year and I finally found time to plant them in the middle of June.
Fava beans, also known as broad beans or horse beans, should be planted about the same time as peas because they need a long, cool growing season. Unfortunately, hot summer weather is already underway.
Fava bean 'Supersimonia' is a vigorous Italian variety that grows long, bright green pods, each containing 8 or 9 seeds. I planted each large brown seed about 1-2 inches deep and about 5 inches apart in a large container (the second part of the experiment).
The instructions say to pinch the tops of the plants when the first pods form to promote side shoots. The pods are harvested when they are plump and full.
Like any good scientist, I'll keep track of the time it takes to sprout and count the days until harvest. Ninety days to maturity is cutting it close in my short-season garden.
Even if I'm not able to gather any mature seeds from this crop, I won't consider my experiment a failure. I've read the plant's flowers and leaves are edible and that the immature pods can be cooked and eaten like sugar-snap peas.