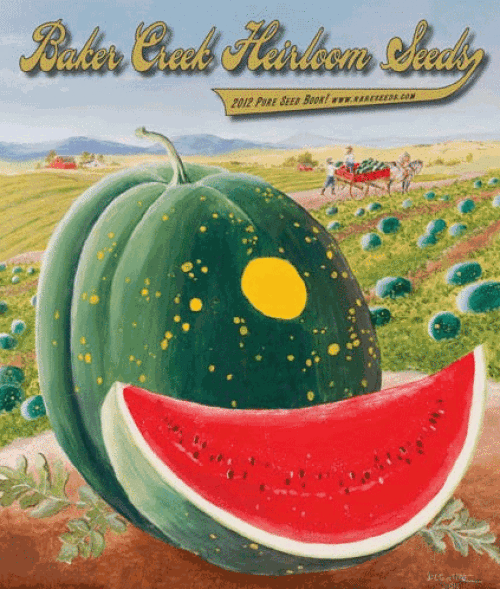 If you can't remember if you've seen one or not, then I'm certain that you haven't. Baker Creek Heirloom Seeds has hands-down the most fantastic collection of vegetable pictures I've ever seen anywhere—much less in a catalog.
These images are nothing short of gorgeous and they do their job; they make me want to order every vegetable variety between their over-sized pages. While armchair gardening, I'm literally pulling out pages to frame for my office.
You won't find any hybrids in this catalog. Their seeds are open-pollinated and are free of any genetic altering. At Baker Creek, their goal isn't simply to sell vegetable and flower seeds, but to promote and educate gardeners on the vast amount of heirlooms available to home gardeners.
Baker Creek Heirloom Seeds
2278 Baker Creek Road
Mansfield, MO 65704
417-924-8887
or
Baker Creek Seed Bank
199 Petaluma Blvd. N.
Petaluma, CA 94952
707-509-5171
https://rareseeds.com
Baker Creek has bragging rights to offering more melon varieties than any other seed catalog in the United States. This heirloom seed company is located in south central Missouri and offers over 1400 varieties of vegetable and flower seeds that originate from 66 countries. The Baker Creek Catalog is truly for the adventurous gardeners who's like to give some heritage vegetables a try in their own gardens.
Lucky for me, now the West Coast has over 1,200 heirloom seed varieties to choose from in their recent addition of a seed bank store in Petaluma, California. These varieties include 190 tomatoes varieties, 100 melons, and 150 squash varieties. These vegetables have found their way here from 70 countries. Inside the beautiful building in downtown historic Petaluma, the Seed Bank is also stocked with goods such as organically produced items, garden books, garden-themed artwork, and locally-made garden tools.
If you really get hooked on Baker Creek Heirloom Seeds, you can subscribe to their quarterly print magazine, The Heirloom Gardener. This magazine has the valuable growing information written by the people who know vegetables best; heirloom farmers and gardeners.
For me, one of the pleasures that come from becoming involved in heirloom plants is the interesting ways many varieties arrived here in America, as well as the wonderful stories of how they obtained their names. Still, the most popular reason to grow heirloom vegetables is due to their heritage flavor. Most modern hybrids simply can't compete in the taste bud department.
Order a Baker Creek Heirloom Seed Catalog for the pictures; enjoy the stories and the heritage. Then become hooked on the incredible flavor of heirlooms and become a part of their history by growing them.