Welcome to the very first episode of Fine Gardening's first podcast, Garden Confidential: Stories at the intersection of people and plants. I'm Andrew Keys, and I'll be your host here each month.
Last month marked the 10th anniversary of the events of September 11, 2001. When I read about the dedication this year of the first phase of the Flight 93 National Memorial near Shanksville, Pennsylvania, I wondered: When gardening is supposedly less popular now than in the past, why is it that, all across America, we still turn to gardens as memorials?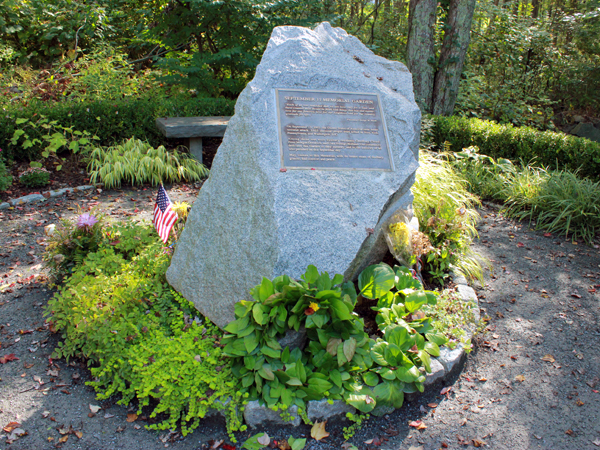 In this episode, I talk with Beth Farrell, chair of the committee that built the September 11 Memorial Garden in the town of Sudbury, Massachusetts (pictured).
"We wanted a place for the families to be able to come to," she says. "But what we've found over the nine years of commemorations [was] the whole town needs to heal."
Naomi Sachs, founder of the Therapeutic Landscapes Network, offers a scientific perspective. "When a small community can plant a grove of trees or a community garden and have that be also a way to remember people and events, it can be powerful," she says. Sachs discusses Maya Lin's Vietnam Veterans Memorial in Washington, D.C.; cemeteries as the original garden memorials; and our metaphysical connection to planted spaces.
"Memorials are places of healing. They're catalysts for people not just to remember- but also often to grieve," she explains. "Sometimes that's a solitary act, sometimes it's for a family, visiting a gravesite, and sometimes it's for a whole community or a whole country."
"A garden is symbolic of a whole life cycle," Farrell says. "Plants die, but…[they] come back again…What makes this garden so special is that it really was a labor of love from all walks of life across Sudbury…It's an amazing garden that way. It belongs to everyone in town."
For more information on September 11 memorials, including those in your area, visit the USDA Forest Service's Living Memorials Project and Voices of September 11th.
Music from this podcast by ccMixter users mactonite and Gurdonark. Sound effects by freesound project users 3bagbrew and dobroide.