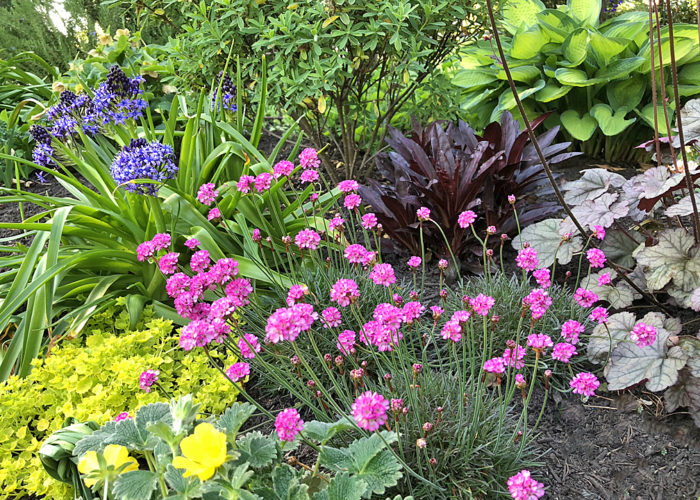 With spring soon arriving, graphic designer/writer and amateur gardener Jeff Fisher and his husband, law firm executive director Ed Cunningham, are looking forward to the return of the vibrant colors of their zone 8b plantings in what has become known as the Fishingham Garden. The garden—on a 50-foot by 100-foot lot in Portland, Oregon—begins its 20th year this season, having originally been planned by garden designer John Caine, with hardscape and planting installation by Joy Creek Nursery.
Over the years, the flower beds have become more of a personal statement of Jeff's, who has an appreciation for vibrant colors. A garden industry professional once told him that "it looked as if color had barfed all over his garden." Ed's practical side is put to use in maintaining the raised vegetable beds and using the harvested results in his cooking.
With the evolution of the garden has come the removal of all lawn. It its place are patio "rooms" in the front and back of the home, a raised deck with French doors off the main floor bedroom, and gravel/stone paths and paver-stone steps providing circulation and easy gardening access—all serviced by a multizone irrigation system. Over 40 colorful patio, deck, and porch containers are watered by a smartphone-controlled drip-irrigation system.
In 2016, the 1929 bungalow home, garage, and garden shed were repainted green, with the trim colors of deep purple, cream, and purplish gray. The makeover provided an entirely new backdrop for the garden. A complementary color palette for plantings—of greens, purples, oranges, whites, blues, some reds, and a few pinks—has developed and is enhanced by the paint selections. Garden furniture and art pieces have been selected in the same hues. Glass art pieces by Portland artist Andrew Holmberg and a unique fire bowl by Hudson Valley, New York, sculptor John T. Unger are major features.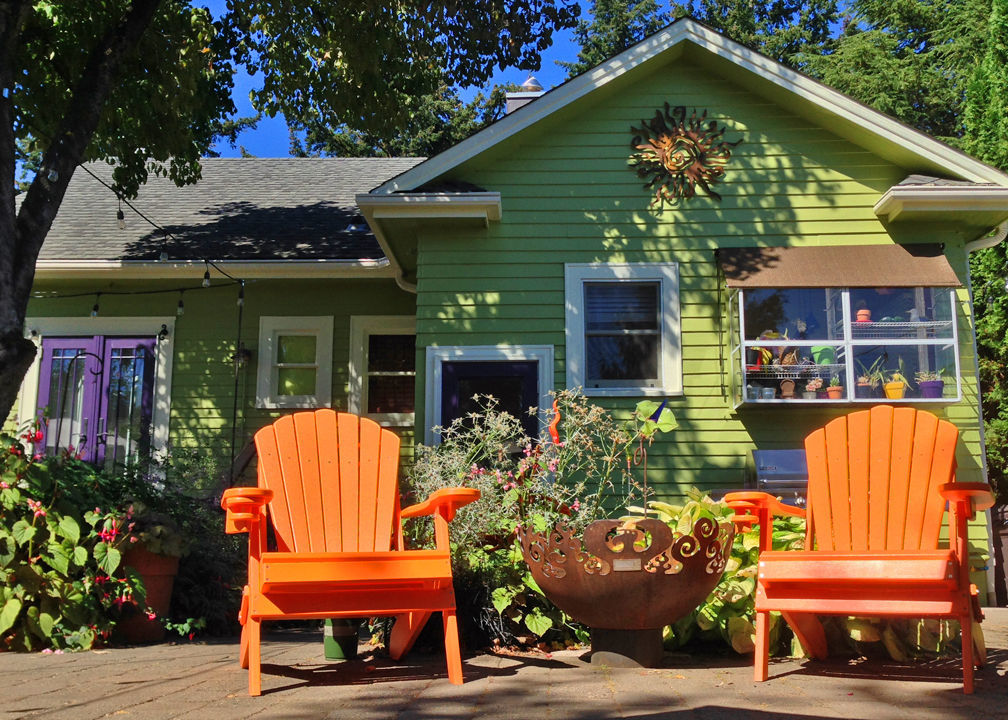 Fuchsias, hostas, begonias, and an ornamental thistle border the back patio seating area around the John T. Unger fire bowl.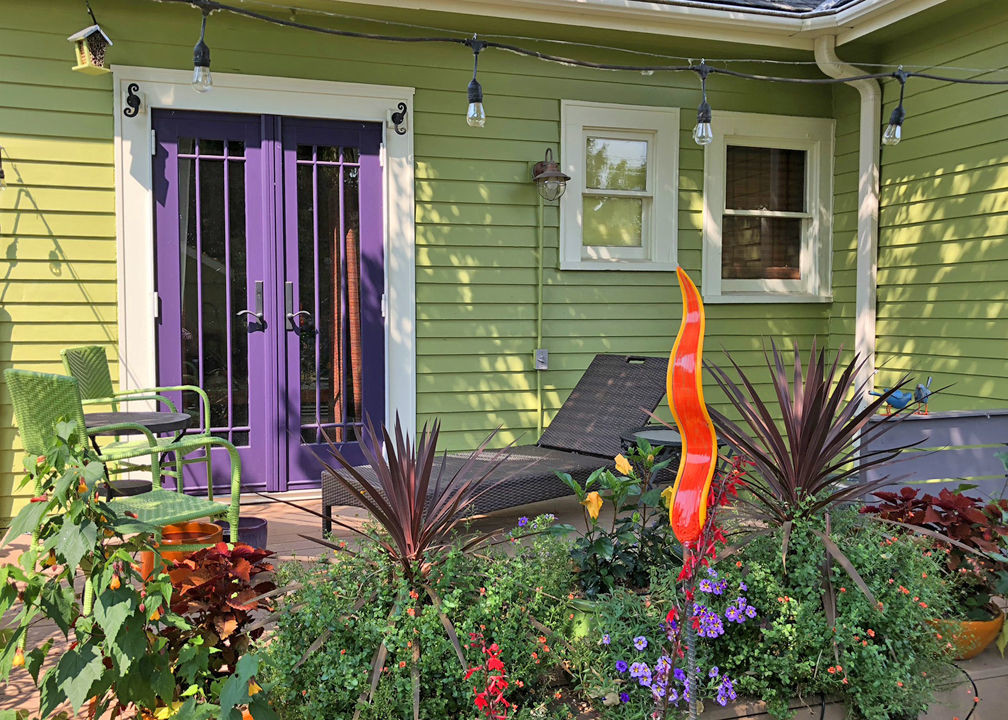 Containers planted with abutilons, coleuses, cordylines, bidens, calibrachoa, and a hibiscus line the edge of the deck off the bedroom. The glass art piece is by Andrew Holmberg.
Colorful containers and a garden bed next to the back patio project a wide variety of colors and textures in perennials and annuals.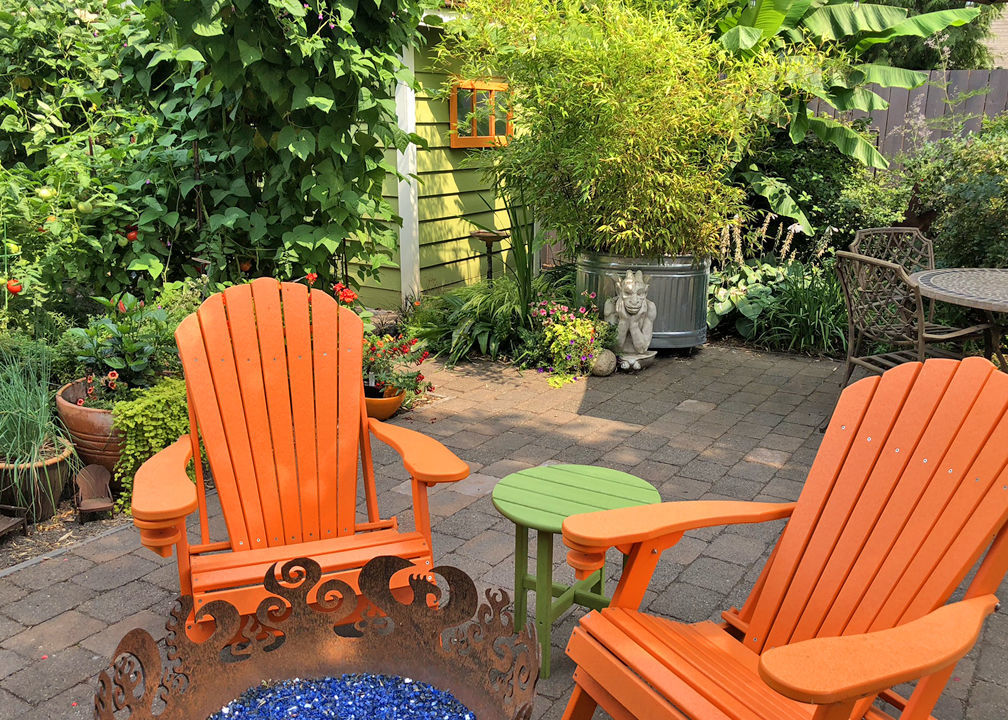 Bamboo, bananas, hostas, tomatoes, an Italian climbing bean, and more frame the garden shed in the background.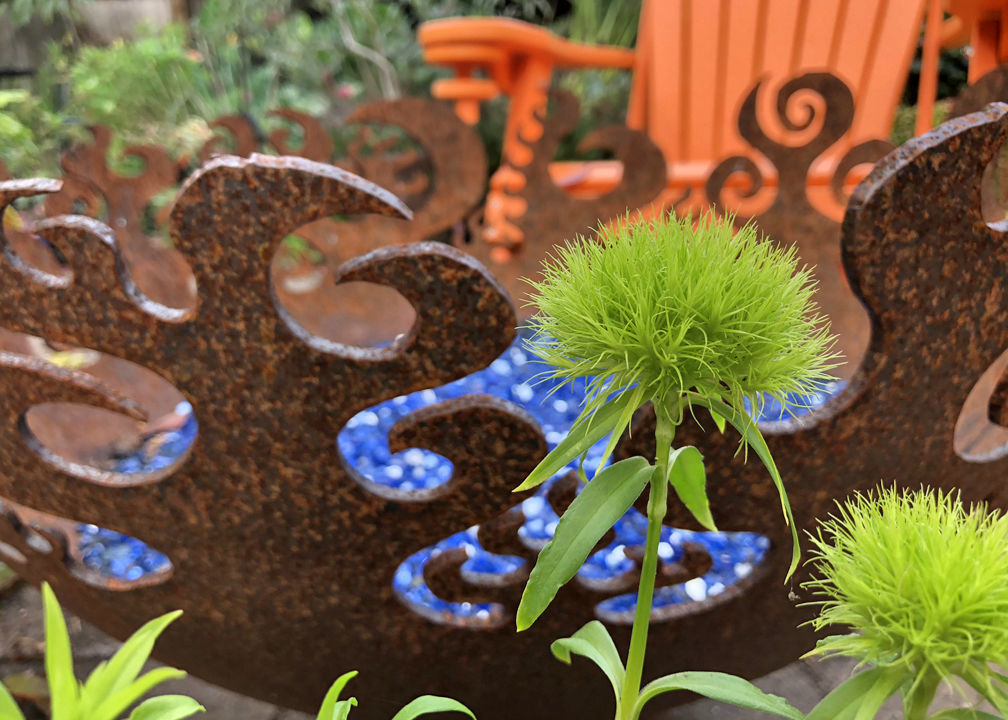 Dianthus 'Green Ball' (Dianthus barbatus 'Green Ball', annual), in a patio container, adds another shade of green as well as a Seussian quality to the garden.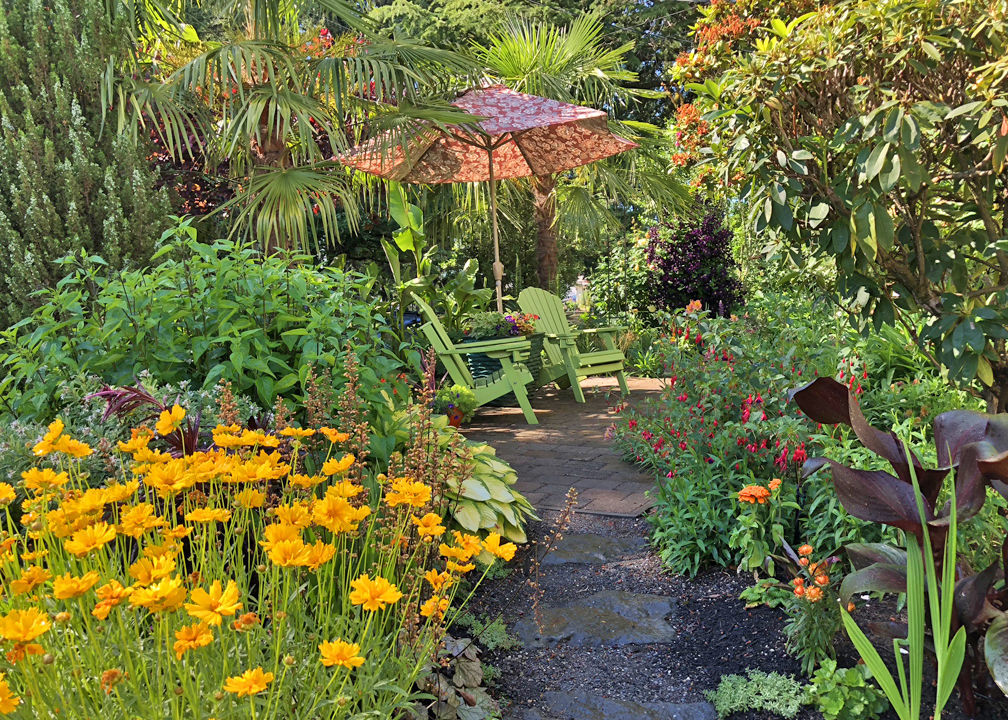 A garden path leads through coreopsis, heuchera, hostas, salvia, canna, fuchsia, and zinnias to a front patio seating area shaded by palms and bananas.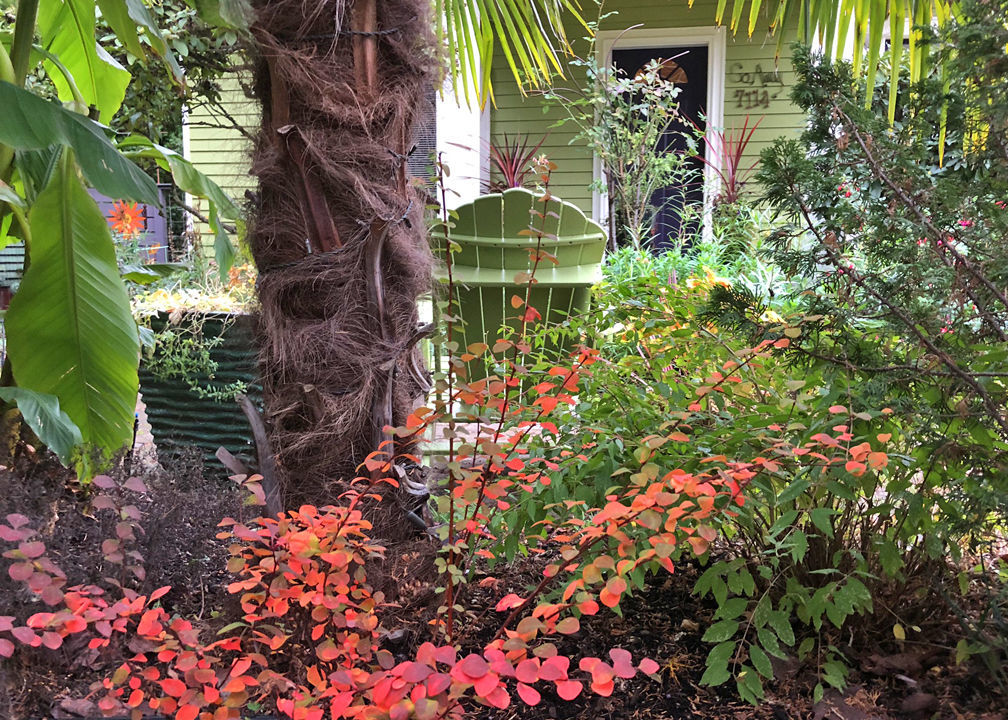 An 'Orange Rocket' Barberry (Berberis thunbergii 'Orange Rocket, Zones 4–9), planted at the base of a banana and palm, adds a shot of color to the front patio.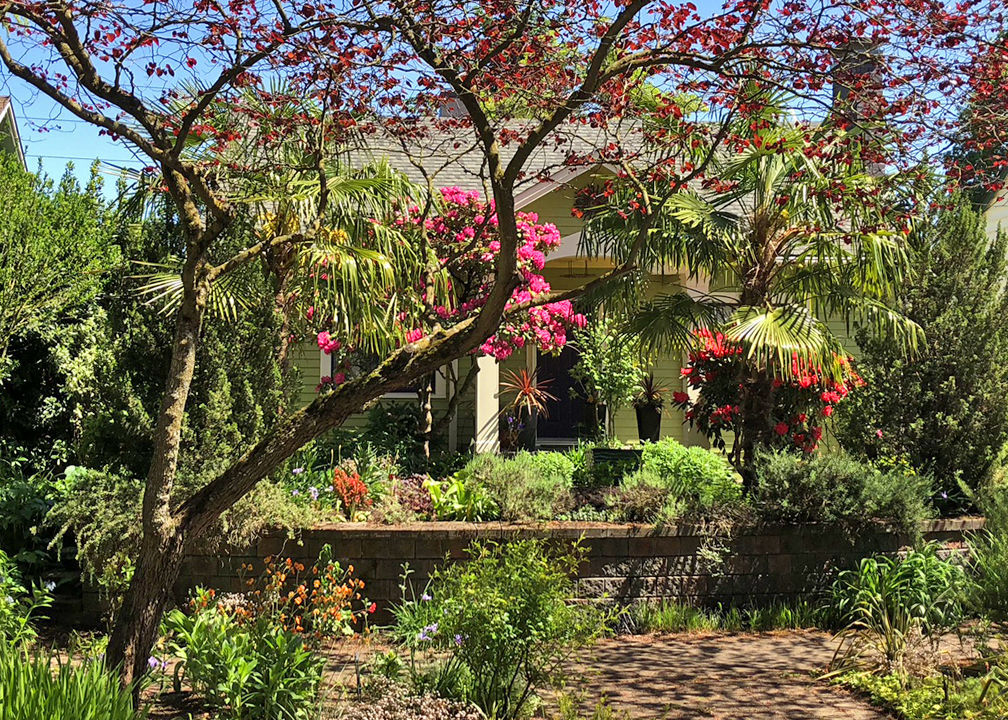 Redbud 'Forest Pansy' (Cercis canadensis 'Forest Pansy' Zones 5–9), planted in the hellstrip, buds out prior to the bananas coming in and screening the front patio.
Eryngium bourgatii (Mediterranean sea holly, Zones 5–8) was placed in a front garden bed with no memory that callas had been planted previously, resulting in a surprising combination of shapes, colors, and textures.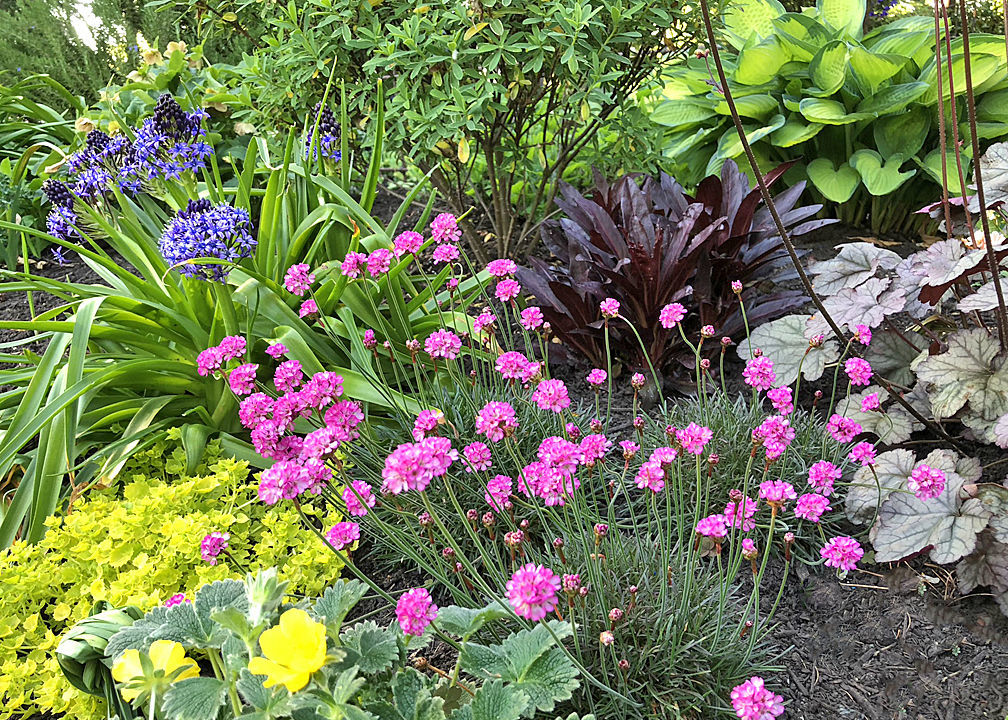 Hellebore, Peruvian lily (Alstromeria sp.), campanula 'Dickson's Gold' (Campanula garganica 'Dickson's Gold' Zones 3–8), Armeria maritima 'Rubrifolia' (red leaf sea thrift, Zones 4–8), Lobelia cardinalis 'Queen Victoria' (Queen Victoria cardinal flower, Zones 4–9), Daphne × transatlantica 'Summer Ice' ('Summer Ice' daphne, Zones 5–9), hosta, heuchera, potentilla, and more make up a colorful front garden border.
Have a garden you'd like to share?
Have photos to share? We'd love to see your garden, a particular collection of plants you love, or a wonderful garden you had the chance to visit!
To submit, send 5-10 photos to [email protected] along with some information about the plants in the pictures and where you took the photos. We'd love to hear where you are located, how long you've been gardening, successes you are proud of, failures you learned from, hopes for the future, favorite plants, or funny stories from your garden.
If you want to send photos in separate emails to the GPOD email box that is just fine.
Have a mobile phone? Tag your photos on Facebook, Instagram or Twitter with #FineGardening!
You don't have to be a professional garden photographer – check out our garden photography tips!
Do you receive the GPOD by email yet? Sign up here.