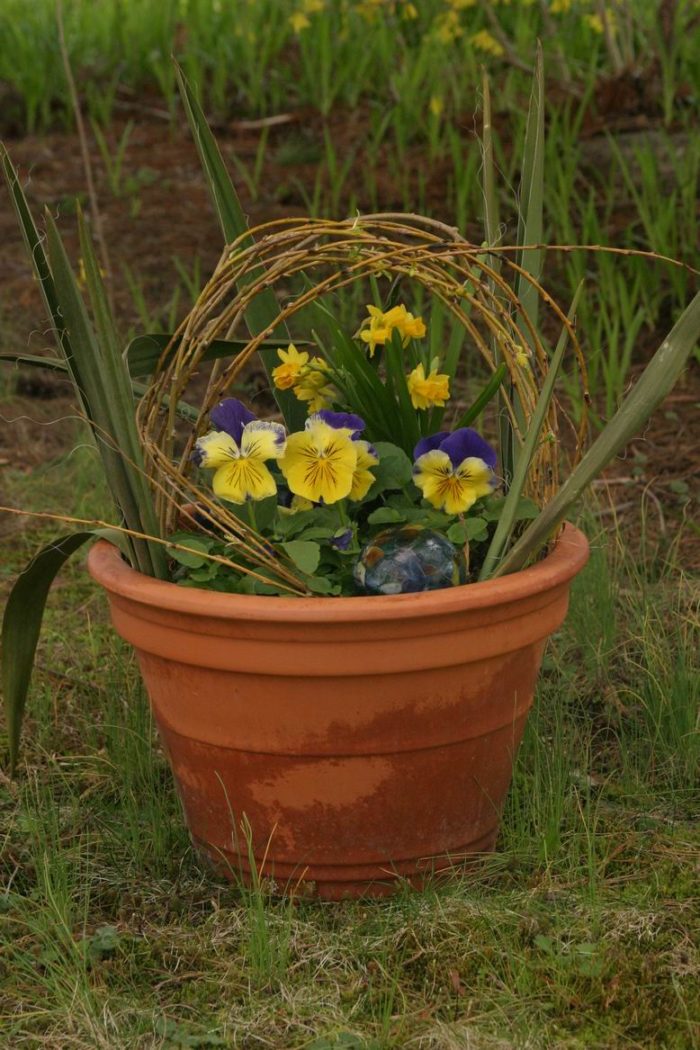 Today's photo is from Danielle Sherry, one of FG's Associate Editors. She says: "There's not much to choose from at the nurseries in early spring–especially when it comes to container gardening plants. Bored with just sticking pansies in my pots, I decided to turn them into Easter baskets. The weeping willow tree in our yard was just started to bud out, so I trimmed a few branches and stuck both ends into the soil, creating a handle of sorts. Then, to add a little "grass" to the basket, I cut off some leaves from a yucca plant and stuck those in too. Every proper Easter basket needs some eggs, so I threw in one or two of my glass garden baubles to top off the effect. The pots turned out pretty cute–I'm sure the Easter Bunny will approve." Thanks, Danielle!
Welcome to the Fine Gardening Garden Photo of the Day blog! Every weekday we post a new photo of a great garden, a spectacular plant, a stunning plant combination, or any number of other subjects. Think of it as your morning jolt of green.
Sign up to get new posts delivered to your inbox each morning, so you'll always remember to take a look. We look forward to sharing our garden travels with you.
If you think you have a photo that we should share on the Garden Photo of the day, email us. Send hi-res images to [email protected] with GPOD in the subject line. We'll only respond if we plan to use your photo.