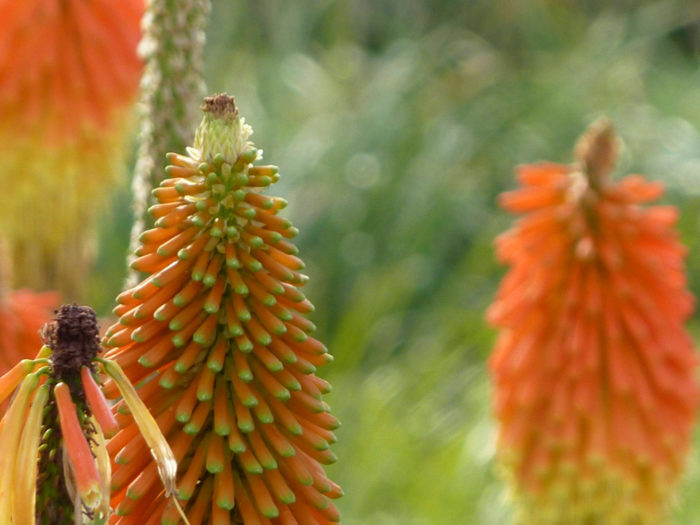 I just finished a Facebook chat with a dear gardening friend who moved from Arkansas to the Colorado Rockies a few weeks ago. Talk about your climate change! As Steph was preparing to turn in – her electric mattress pad set on "snuggly" — her local weather dude uttered something about 12-below. He's GOT to be kidding.
It's nearly winter in Santa Barbara too, but you wouldn't know it from all of the hot stuff in bloom right now. Our landscapes are bursting with vibrant colors while poinsettias (Euphorbia species from Mexico) add their scorching red heat to the mix.
The locals threaten me from time to time. "Billy," they admonish, "DO NOT show the snow dwellers our warm, Mediterranean-climate plants, lest they jump on big silver bird and invade our golden beaches." (My friends watch a lot of old cowboy movies.)
But, hey, I might as well share the wealth. Here's what's kicking butt right now. All these pics were snapped here in my Pacific paradise.
South American Vacation, On The Cheap

How's this for starting a warm glow? I'd love to see more Bougainvillea 'California Gold' planted in Santa Barbara gardens. It blends delightfully with our ubiquitous red tile roofs and stands out against whitewashed walls. For all its exotic South American beauty, bougies are a cinch to grow — low water needs, tolerant of a wide range of soils and no pest problems–very sustainable!
On the downside, they are armed with viscious hooks, cleverly camouflaged in green leaves and clouds of colorful bracts. And as lovely as they appear, bougainvilleas are frequent subjects of "wishful thinking." Too many gardeners shoehorn these 15-foot wide ramblers into too-tiny spaces. As a result, the hapless plant gets hacked back to Hackensack to keep if from swallowing up parked cars. Unfortunately, the severe pruning results in few tip-borne flowers, the primary attraction for planting these riotous vines.
Fire In The Hole!

Would you believe me if I told you that the lusty red flowers of the firewheel tree were the result of a high school graphic arts project gone awry? No? That's okay.
The firewheel tree (Stenocarpus sinuatus), a native of the rainier parts of Australia, is a member of the sometimes-otherworldly Protea family (Proteaceae). Judging by the shape of the flowers, I'm guessing there wasn't a lot of debate when selecting its common name.
| | |
| --- | --- |
| Stenocarpus sinuatus. Photo/Illustration: Billy Goodnick | Stenocarpus sinuatus. Photo/Illustration: Billy Goodnick |
This is one of my go-to trees, because even when it isn't flowering, the shiny, leathery deep green leaves enhance any garden. Another good reason to invite this tree into your landscape: Its narrow growth habit makes it perfect for small lots and narrow parkways.
Let The Sun Shine In
Now showing at selected gardens, the Mexican marigold! When the last of summer's sunflower petals have been mixed into the compost pile and the nights get chilly, the Mexican Marigold steps up. As clouds blew in and the sky darkened for the first good drenching of our rainy season, Tagetes lemmonii was revving up its generator, ready to burst in a light show of golden blooms.
Give it room! Left unpruned and allowed to grow in its natural form, expect a five-foot high by eight-foot wide mound.
Garden Tip: My favorite spot for these guys is at the west end of a garden where late afternoon sun sets it ablaze.
Halloween Has Passed, But Candy Corn Plant Is Still Tasty

I spotted these bright yellow and orange Cuphea micropetala while stalking the rows San Marcos Growers. As I whipped out my camera, a squadron of hummingbirds divebombed, choreographing a frenetic aerial ballet and then stalling just long enough to suck up the glistening, sugary nectar oozing from the cylindrical flowers.
In the spirit of full disclosure, I have not yet used this brightly colored native of Mexico in one of my designs, but I have seen it thriving in a handful of local gardens. It appears well behaved, growing to about three feet high and slowly spreading by rhizomes.
Garden tip: Easy on the water.
South Africa's Give to SoCal Landscapes

Here are more hot colors to warm a western winter garden. An imaginary scene from the Huntington Library and Gardens in San Marino, CA:
"Let's see," said the leader of the Plant Name Bestowing Committee. "It's beginning to look a lot like Christmas and this oddball poker plant is still blooming. I think we'll call it Christmas Cheer!"
Works for me, given the range of mangled pronounciations I've heard for the genus Kniphofia.
Another star player in my sustainable plant palette, I frequently assign poker plants to outlying, infrequently irrigated beds. That's in keeping with the South African origins of these tough plants that can withstand winter low temperatures around 15 degrees F.
Design tip: Once the flowers are gone, the grasslike foliage can look like a bad hair day. Consider spotting it in the second rank of your border and then planting a few mounding groundcovers or perennials to act as screening.
I hope I've brought you a little warmth on a cold day. You can get in on the conversation by telling me what excites you about YOUR garden in these winter months? Drop a comment and share your thoughts.