I'm pretty sure I was Japanese in a past life. It's not just because I love Godzilla movies and sipping hot sake in my Hello Kitty pink slippers on a cold winter night. More likely, it has to do with falling head over heels in love with the exquisite art of bonsai while I was still a wild and crazy Hollywood drummer. Those miniature representations of raw nature were the gateway drug that led me to Japanese gardens. From there, it was a quick trip to immersing myself in gardens of all kinds, eventually becoming a designer.
I can't explain the sensation that washes over me when I'm in the presence of masterfully design Japanese gardens or contemplating the lines of a lovingly, patiently trained Shimpaku juniper. Perhaps it's my appreciation for how the human mind can look at an actual tree or natural landscape, find its essence and distill it into living art.
I was sorting through my photos this week, looking for images for my upcoming book (see my shameless, self-promoting plug at the end of this story) and found these pics. I found this collection of Japanese gardens. There are lessons to be learned and applied to any garden style. I hope a few resonate for you and your yard.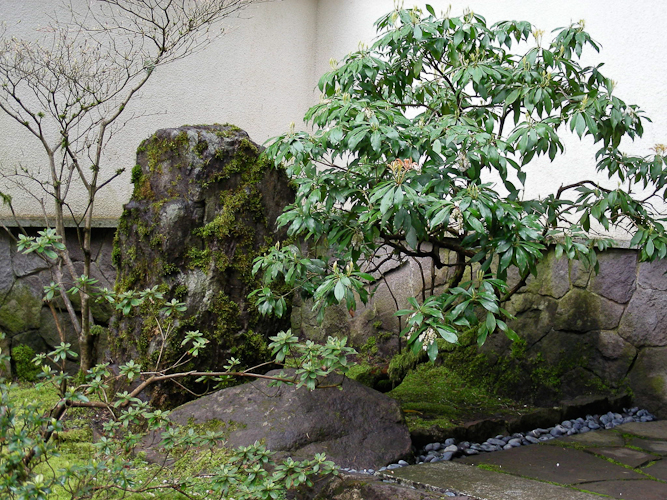 Lesson: If you're placing stones as natural elements in your garden, first observe how they appear in nature. Unless they've been tumbled down a river or stream, they generally appear to be rising out of the ground, not plunked down atop it.This tableau was photographed at the Portland Japanese Garden. Notice how the stones appear stable and at rest, buried with much of their mass hidden below the soil. The tall stone points heavenward, while a slanted stone at the base carries the eye to the right.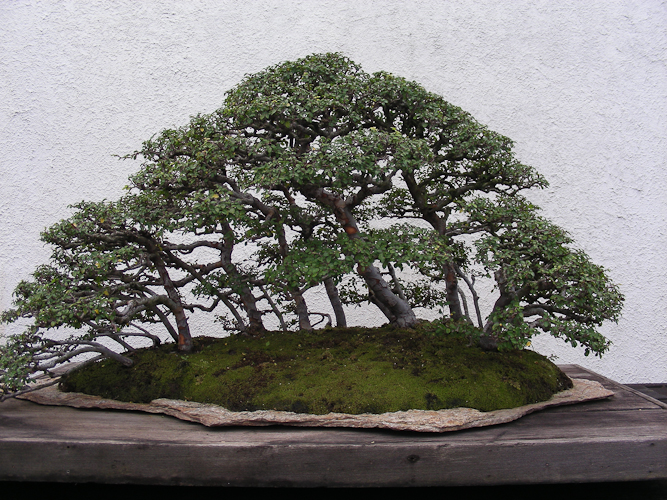 Lesson: If the reason you garden is to bring a bit of nature to your yard, put away the power tools, take time to look at the natural world and bring that spirit to your own landscape.Move in close to this forest-style bonsai arrangement and you're in the midst of a knoll-top grove. The outline is a study in imperfection, with small irregularities – a branch poking out here and there, and as my bonsai master John Naka would say, "room for the birds." Whoever crafted this slice of heaven(photographed at the National Arboretum) made it look easy. What do you strive for when you pick up your pruning tools?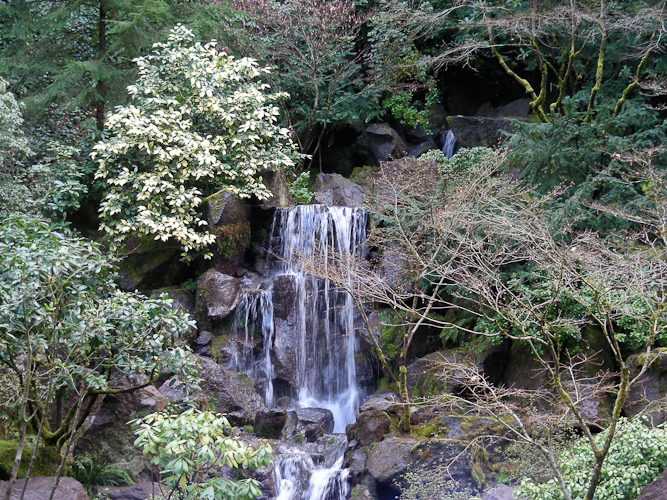 Water enlivens any garden, regardless of how it's expressed. Water can be exuberant and powerful, like this rugged waterfall. It creates an emphatic vertical punctuation mark and fills the garden with sound and mist. The golden foliage of the tree is perfectly placed to emphasize the focal point.
Lesson: Not every yard has a dramatic elevation change (or hard working pumps) to accommodate this scale of water feature, but there's always a way to introduce water as another natural element. When you do, don't let the water do all the work on its own – combine it with eye-catching plants that say, "Psst, look over here!"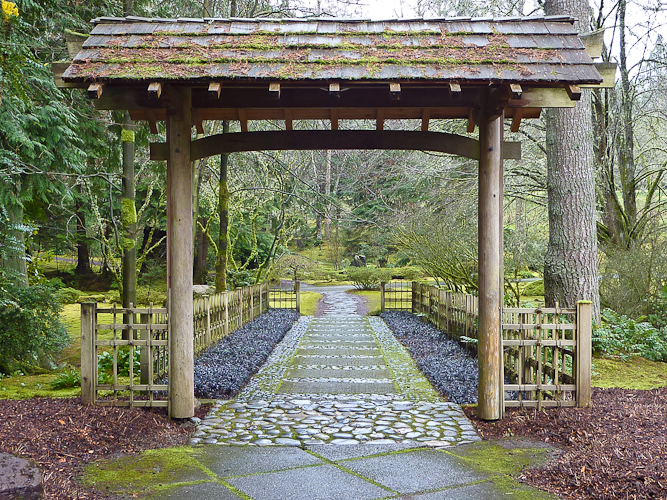 Even in a naturalistic setting like the Bloedel Reserve on Bainbridge Island, Washington, there's a place for right angles. The grassy transition between the enframed Zen rock garden and the soft curves of the border is hopscotched with uniform rectangular slabs. Like visible Morse code, they send a message to look toward the distant gate. They're arranged in families of twos and threes, with an occasional loner.Lesson: Don't fear straight lines and geometric shapes, even in a natural garden scheme. The contrast of manmade elements and organic forms can play nicely together.A closer look at the Bloedel gate reveals a sequence of ground plane treatments that keep it interesting: natural cobbles, wood, our old friend the rectangular slab – some laid along the axis, some on the diagonal – and a crisp border of black Mondo grass (Ophiopogon planiscapus 'Nigrescens'). The supporting poles focus attention toward the forest beyond, mimicked by the returning wings of the distant fence.Lesson: To reinforce transitions between garden "rooms", establish gateways and boundaries that define the borders. And because these portals stand prominently in the landscape, lavish extra attention on their detailing.
Speaking of details, here's the zoomed in view of the walkway and border. Who needs tempting tulips or perky pansies? A subtle interplay of black and gray unify the composition. At the same time, the visual textures of three distinctly different materials provide contrast. The pebbles leak into the spaces between the slabs, acting as a bridge. And by fully committing to just one plant type, there's clarity of purpose in the design.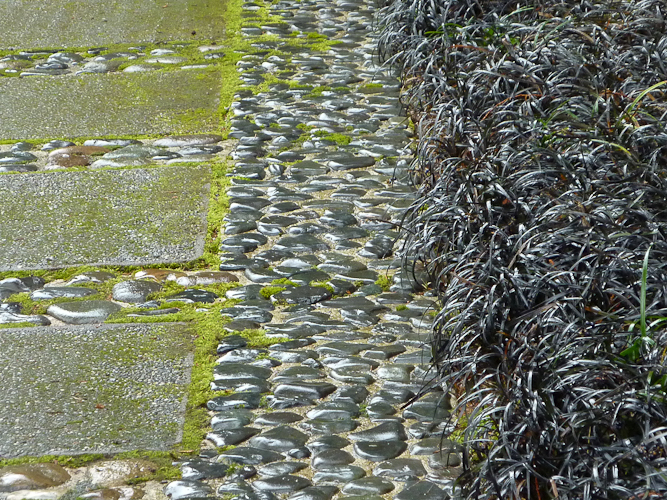 Lesson: Less is more (more or less). Just as a good public speaker knows when to crank up the energy and when a whisper will make her audience to lean in, so too can a garden command our attention with a minimum of effort.
So what have we learned? Next time you're poring over the pages of Fine Gardening magazine, or perusing dreamy pictures at this website, consider pausing long enough to dissect what's going on. Even if it's a garden style that doesn't fit your personal vision, there are always lessons to be learned.
:: :: :: :: :: ::
Billy is the author of  Yards: Turn Any Outdoor Space Into the Garden of Your Dreams, which is filled with insights like this article, his way of sharing three decades of design exploration with you, in hopes you can apply a few of them to your own garden. You can get Yards at Amazon.com, BarnesandNoble.com, IndieBound.com, or Powells.com.
Billy also frequently lectures and gives demonstrations. You can find out more about his upcoming speaking appearances at billygoodnick.com.