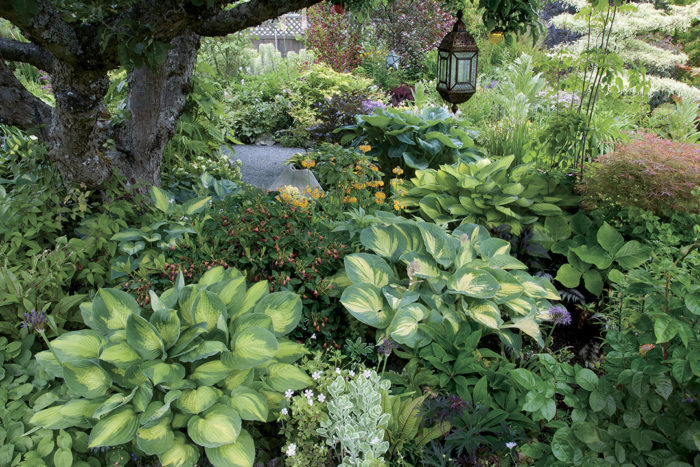 It is hard to find a genus that is as diverse, eye-catching, and easy to grow as Hosta (USDA Hardiness Zones 3–9), so it is no wonder that this is one of the most popular perennials—as long as you have a little shade and no deer. How do you use them so that you are getting the most from this garden workhorse? Paul Murphy, a garden designer in Victoria, British Columbia, uses hostas to great effect. Here is a little taste of what he does.
Play o

f

f their color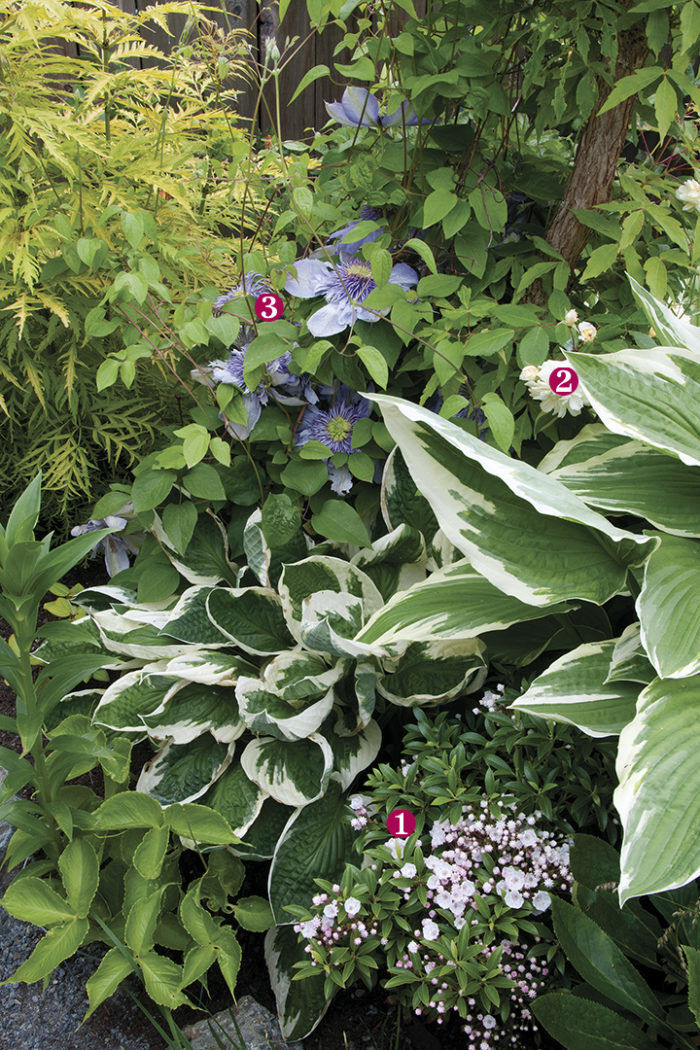 White-edged hostas pack a punch, so take advantage of that by accent­ing with more white. Be careful, though: Too much white will be too strong for the eye. Here, the little dabs of white from ❶ 'Elf' mountain laurel (Kalmia latifolia 'Elf', Zones 5–9) and ❷ 'Malvern Hills' rose (Rosa 'Malvern Hills', Zones 5–9) are just enough to establish a theme without making the combination garish. The lavender blooms of ❸ Blue Light® clematis (Clematis 'Vanso', Zones 4–9) provide a gentle contrast.
Let them be the backbone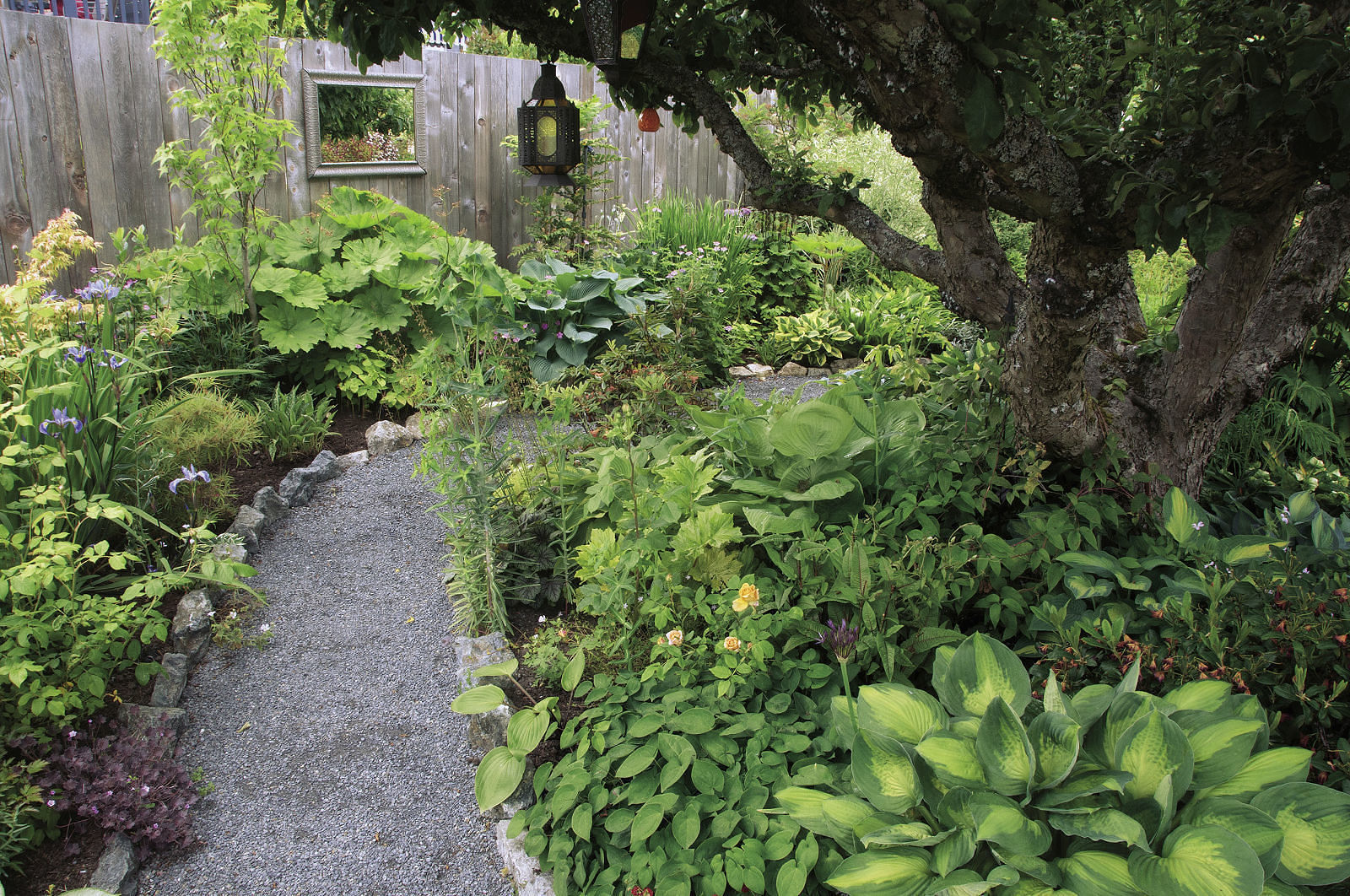 As such a reliable plant with so many options, hostas are a perfect choice to hold a garden together—especially if you have a wide variety of plants in your garden. The hostas running through this scene are all different, but their repetition provides unity and characteristics like color and leaf shape for the other plants to connect with.
Keep the boldness going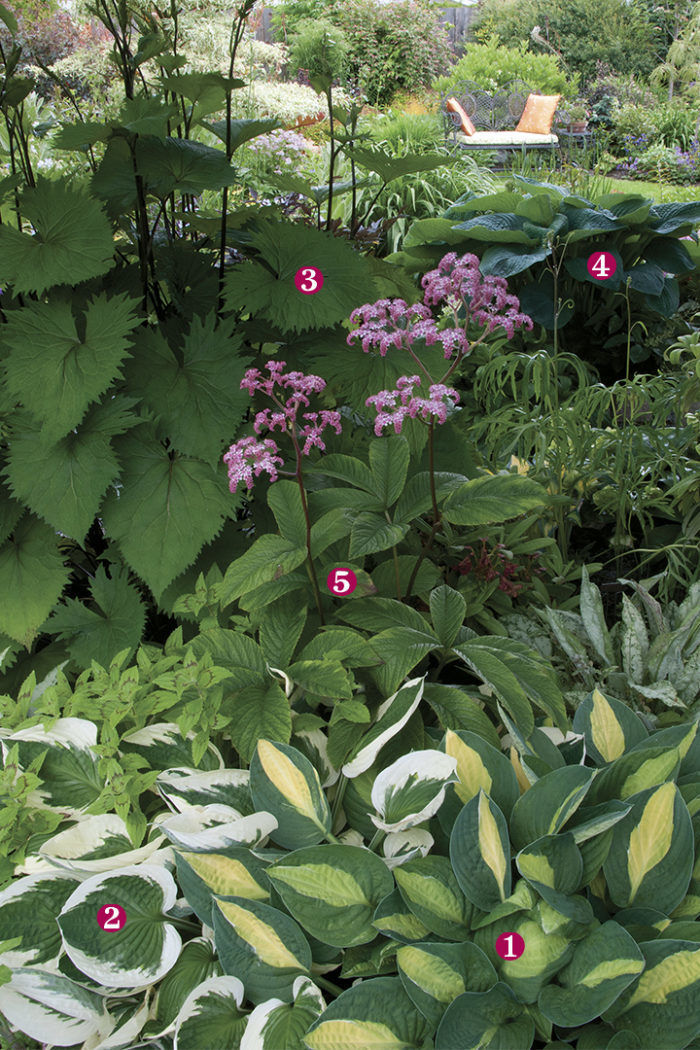 On a smaller scale, the yellow-variegated ❶ 'Gypsy Rose' hosta (Hosta 'Gypsy Rose') and its neighbor, ❷ 'Patriot' hosta (H. 'Patriot'), echo the bold, almost tropical feel created by the ❸ ligularia (Ligularia stenocephala 'The Rocket', Zones 4–8), the ❹ blue hosta (H. sieboldiana var. elegans), and the ❺ rodgersia (Rodgersia pinnata 'Chocolate Wing', Zones 5–9). 'Gypsy Rose' and 'Patriot' also provide a steady splash of color as the other perennials go in and out of bloom.
Use them as a transition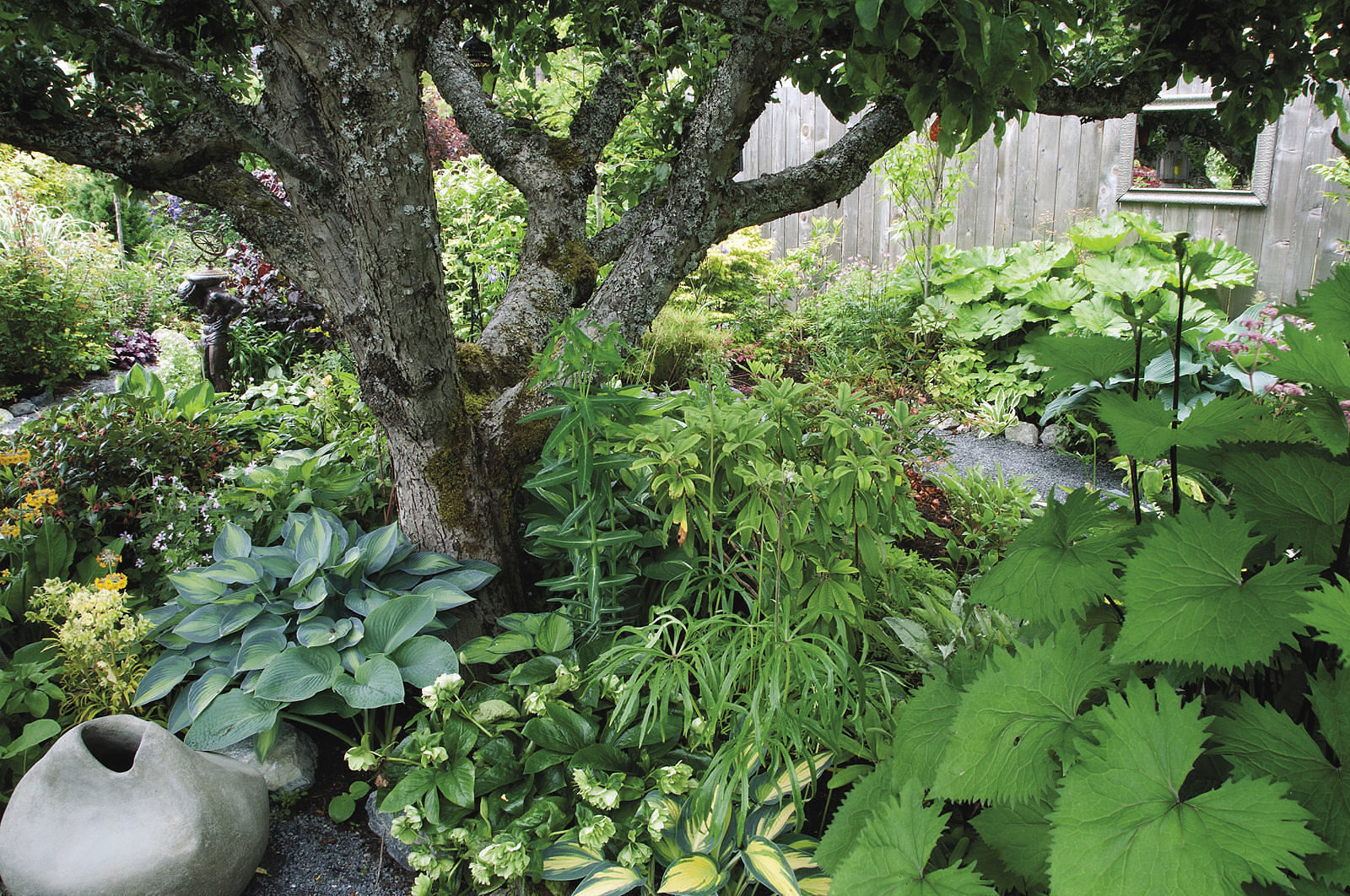 A hosta's distinct mound can be used to move the eye from vertical elements to lower-growing plants. This hosta blends the tree trunk into the planting and helps the tall perennials seem in keeping with the smaller plants at their feet.
---
Steve Aitken is the editor. He loves fall because he is a New England native and that is when the best plant sales are.
Photos: Allan Mandell