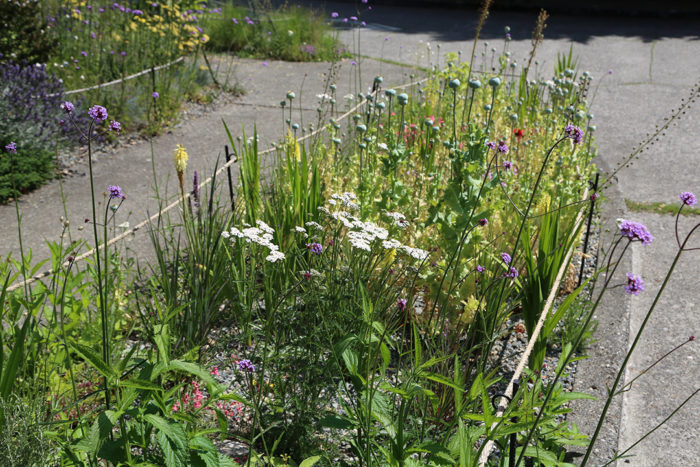 After reviewing the current state of my hellstrip, I'm happy with the progress that all the plants are making and with how many are thriving, self-seeding, and filling in the space. Watching and observing one's garden is an integral part of its success.
I recently expanded this area, and I'm very pleased with these new additions. As with previous plantings, I'm watering to establish the new plants during the first year and then letting them survive on seasonal rainwater thereafter. Also, my plant spacing is closer than is usually suggested because without supplemental watering and fertilizer, plants are typically smaller and less robust in the harsher environment of a hellstrip.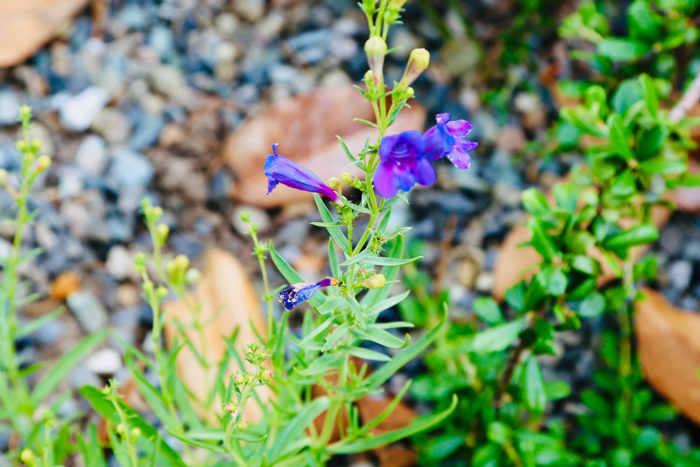 'Margarita BOP' foothill penstemon (Penstemon heterophyllus 'Margarita BOP', Zones 6–10) is a tough, long-blooming perennial. It has beautiful green leaves and bright blue flowers that bloom all summer long with light deadheading. Penstemons are typically drought tolerant once established. I'm watering this plant once a week until late summer, then twice per week to ensure it gets well established for next year when it will receive no supplemental water. There are of course many other penstemons available, and I have had great success with them in other parts of my summer-dry garden. The hellstrip will be a great test of their hardiness. Also, they resent fall cleanup, so I will leave all foliage to help protect the crowns during the winter. A light cut back of 6 to 8 inches in spring after new growth starts should be enough. The rock stars of the hellstrip are plants in the mint family, Lamiaceae. Their nectar is a surefire attractor of hummingbirds and other pollinators. In my garden, these plants are always swimming with honeybees, small native bees, and bumblebees.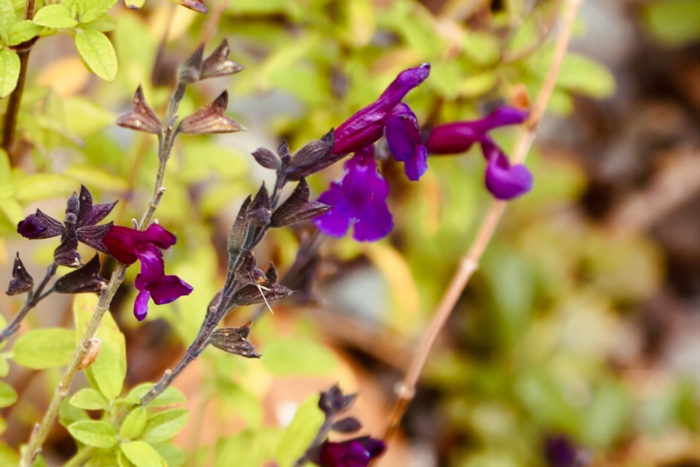 VIBE® Ignition Purple salvia (Salvia × jamensis 'Ignition Purple', Zones 7–11) is a semi-woody perennial saliva with beautiful dark purple-lipped flowers that are a real standout in a summer-dry garden. This is a naturally occurring hybrid of mountain sage (Salvia microphylla, Zones 7–10) and autumn sage (Salvia greggii, Zones 6–9). I've grown other types of salvia—the well-known 'Hot Lips' mountain sage (Salvia microphylla 'Hot Lips', Zones 7–10), for instance—but I was looking for a different color to complement my pale yellow pincushion flowers (Scabiosa spp. and cvs., Zones 3–9). This saliva has brittle branches, so it does better in the center of the hellstrip rather than the edges, where passers-by could inadvertently break some of the branches.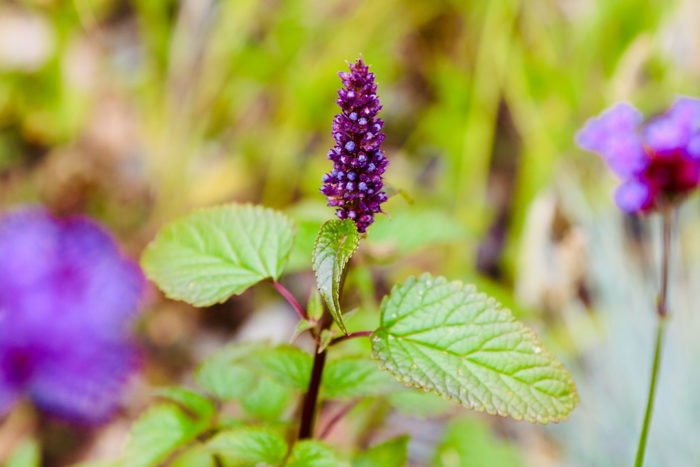 'Heronswood Mist' hummingbird mint (Agastache rugosa 'Heronswood Mist', Zones 7–10) is a wonder for the hellstrip. These plants come in a rainbow of colors to suit your garden's color palette. This cultivar has amazing dark purple flower spikes that will flower all summer in a watered garden but in a hellstrip will have only one flush and then light reblooming through the summer. This hummingbird mint does like more water than California and Mexico-originating agastaches, as it is originally from Asia. I've planned this plant to be in a shadier section of my hellstrip. I have others that are very successful in other parts of my garden, and I love trying to experiment with new cultivars. These wonderfully aromatic, herbaceous plants are a great addition to any garden. Their leaves release a wonderful scent when brushed and release scented oils naturally during the heat of late summer. As the common name indicates, they are a nonstop hummingbird attractor.
I hope this and previous hellstrip planting suggestions encourage you to experiment with this style of gardening. Designing a low-maintenance hellstrip without supplemental water does seem to be contrary to what we have all learned about gardening. It is a leap of faith, but one that is well worth experimenting with.
Jason Jorgensen is a landscape designer in Seattle, Washington.