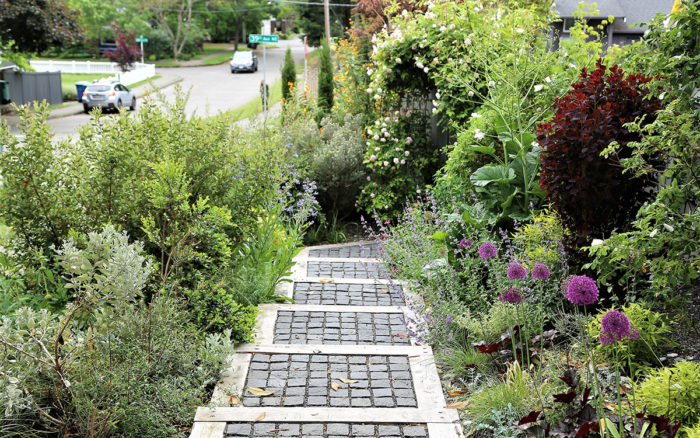 The summer heat is really upon us now in the Pacific Northwest. July and August represent the hottest times of the year. It's when we often have a few days in the 90s or even higher, with low humidity and scant rainfall. This is the time I really like to take stock of how my summer-dry garden is handling the highest temperatures of the year. My garden takes inspiration from a few sources: the methods that Beth Chatto used (see my previous report on her garden), the expertise of one my clients who has a summer-dry garden that is over 17 years old, and the maintenance and establishing methods I have used over the last six years in that garden.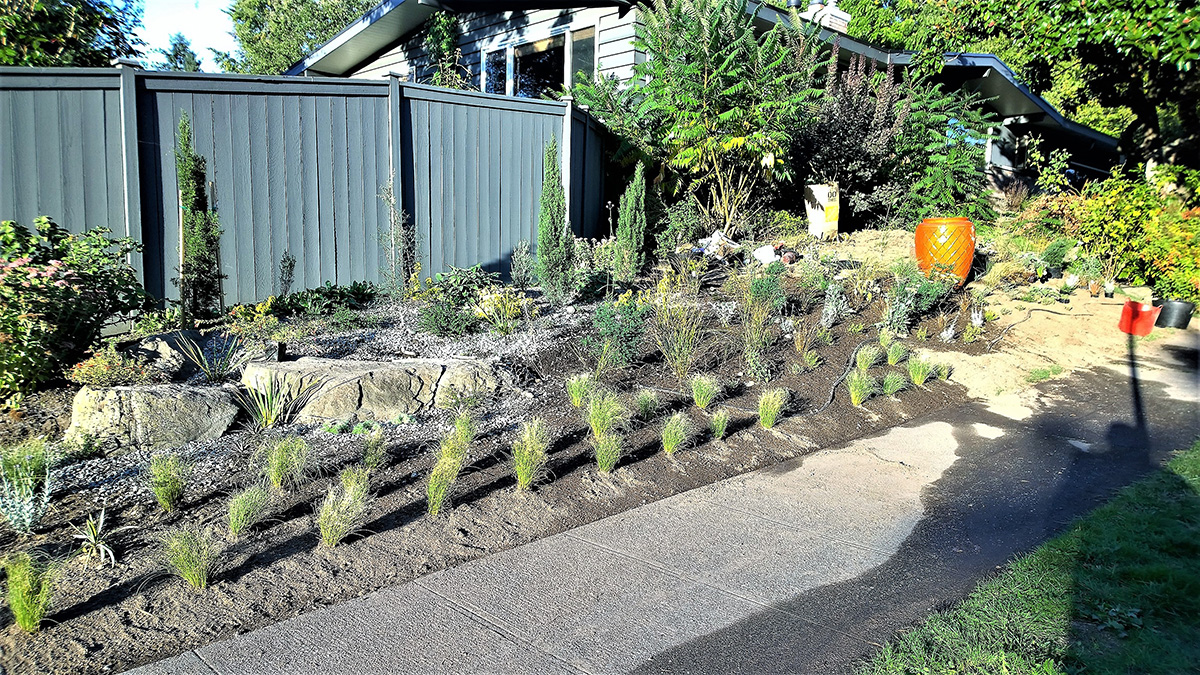 Deciding where to start
After many years of being inspired by these gardens, I was ready to take on the challenge and tackle my own front garden with my newfound knowledge. My garden was a typical Seattle suburban front garden with island beds and a large lawn that would brown-out every summer. Letting a lawn go dormant in summer is a particular phenomenon of the Northwest. Perhaps having one of the most expensive water costs in the nation is a contributing factor. I started by renting a sod cutter and started to remove my lawn. A word of caution: Those machines are heavy, and having help maneuvering them is essential. Luckily, I did have help.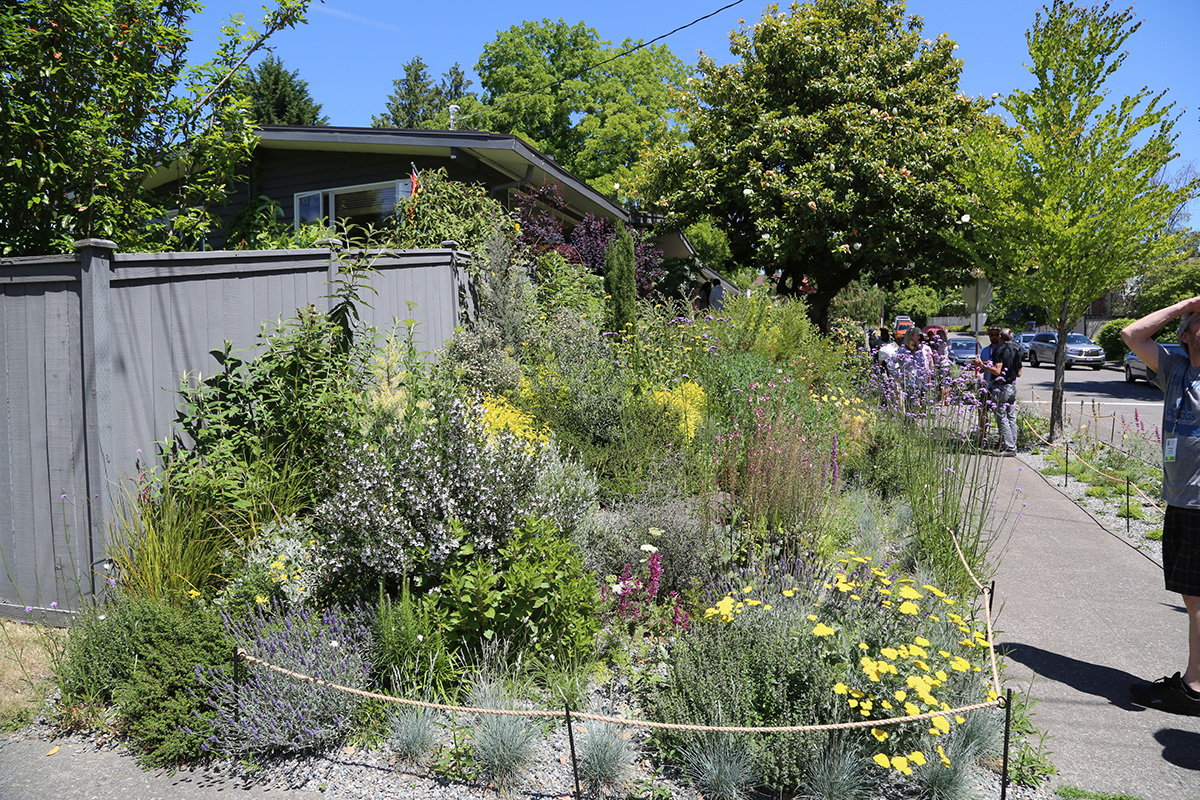 Grass and grasslike perennials weave through other plants
My plant selection was based on recommendations from Beth Chatto's book, my client's plant palette, and my interest in experimenting with tough grasses and other summer-dry perennials and self-seeding annuals. I found that 'Amazon Mist' leatherleaf sedge, 'Patrick's Point' red fescue, and Undaunted® ruby muhly grass planted from 4-inch pots are useful and sustain ground cover layers that allow spring bulbs and annuals to grow up through the blades of the forbs. A recent addition is 'Blonde Ambition' blue grama grass, which is performing well too. It has very cool caterpillar-looking panicles that last all season long.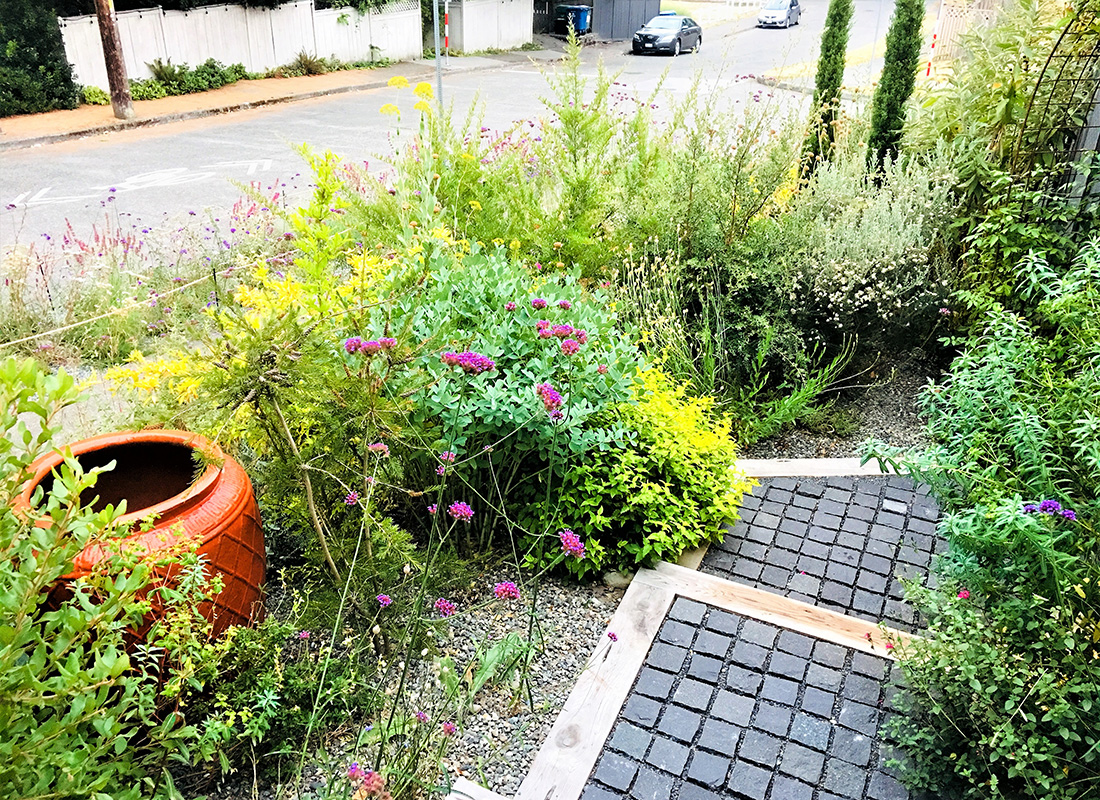 Evergreens provide texture and form
I also included many tough evergreen plants for year-round color, interest, and structure. Some of those include 'Mickie' rock rose for its lovely bright green and yellow leaves with bright white flowers, Italian cypress to help with vertical interest, and 'Murray Valley Queen' grevillea to attract and feed the year-round local Anna's hummingbirds. I am currently experimenting with manzanitas (Arctostaphylos spp. and cvs., Zones 2–10).
A dense yet relaxed design
One aspect of summer-dry gardening that I find particularly interesting is that it achieves a very naturalistic and immersive feeling. I love that all the plants grow and touch each other as they mature. A bonus is that the densely planted areas are virtually weed-free, although I do have my fair share of weeding and maintenance in other areas.
Return on investment
My garden was started in the fall of 2015 and has completely changed the look and feel of my corner lot. I love that amazing varieties of insects and wildlife, especially small birds, live in and enjoy my garden. I enjoy the benefits of plants that surround my house by the way they help buffer the noise and cool my house in summer. I also enjoy the community that this garden has created, with inquisitive neighbors asking me about my garden and small children always wanting to walk among the flowers. I hope this will inspire you to read up more on this great gardening technique and make the space to experiment in your own garden.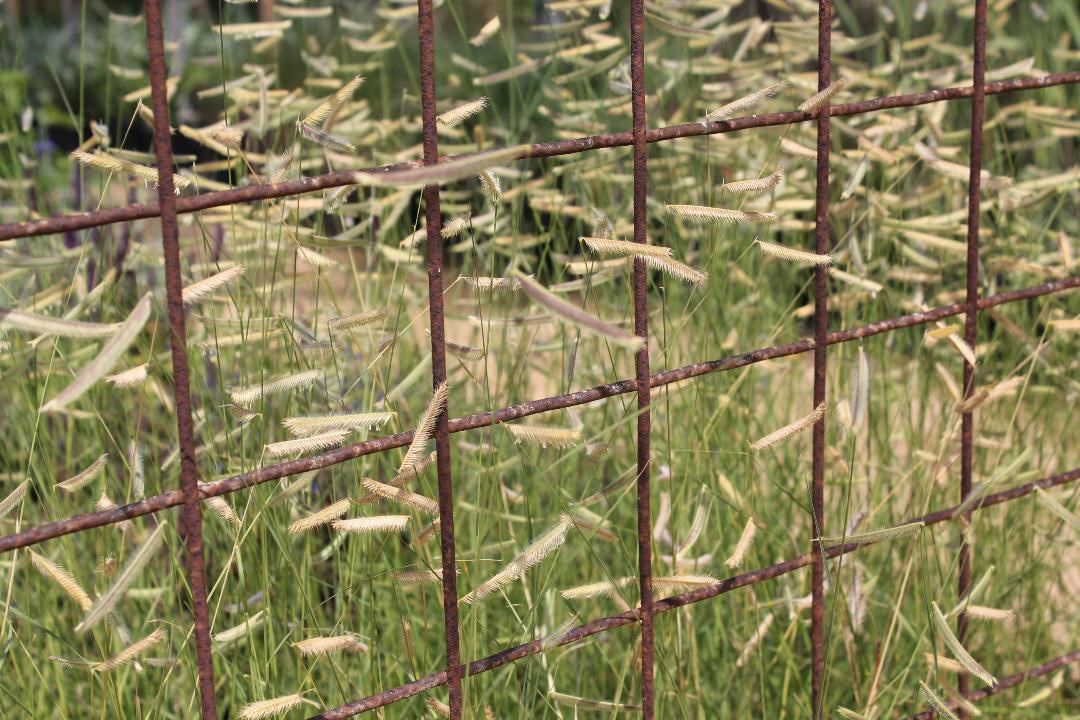 A small sampling of plants in my summer-dry garden
Italian cypress (Cupressus sempervirens, Zones 7–10)
Australian bush mint (Prostanthera cuenata, Zones 7–10)
Wall germander (Teucrium chamaedrys, Zones 5–9)
'Mickie' rock rose (Cistus × hybridus 'Mickie', Zones 7–10)
'Moonshine' yarrow (Achillea 'Moonshine', Zones 3–9)
'Silver Mist' lavender (Lavandula angustifolia 'Silver Mist', Zones 5–9)
'Amazon Mist' leatherleaf sedge (Carex comans 'Amazon Mist', Zones 6–10)
'Murray Valley Queen' grevillea (Grevillea victoriae 'Murray Valley Queen', Zones 7–10)
'Campo de Azul' autumn moor grass (Sesleria autumnalis 'Campo de Azul', Zones 5–10)
'Purple King' mountain plum pine (Podocarpus lawrencii 'Purple King', Zones 7–10)
Undaunted® ruby muhly grass (Muhlenbergia reverchonii 'PUND01S', Zones 5–10)
'Sunshine' daisy bush (Brachyglottis 'Sunshine', Zones 8–10)
Round leaf grevillea (Grevillea miqueliana var. moroka, Zones 7–10)
'Blonde Ambition' blue grama grass (Bouteloua gracilis 'Blonde Ambition', Zones 4–9)
'Edward Bowles' Jerusalem sage (Phlomis 'Edward Bowles', Zones 7–10)
Tall verbena (Verbena bonariensis, Zones 7–11)
'Patrick's Point' red fescue (Festuca rubra var. juncea 'Patrick's Point', Zones 5–10)
Evening primrose (Oenothera stricta, Zones 7–11)
—Jason Jorgensen is a landscape designer in Seattle.