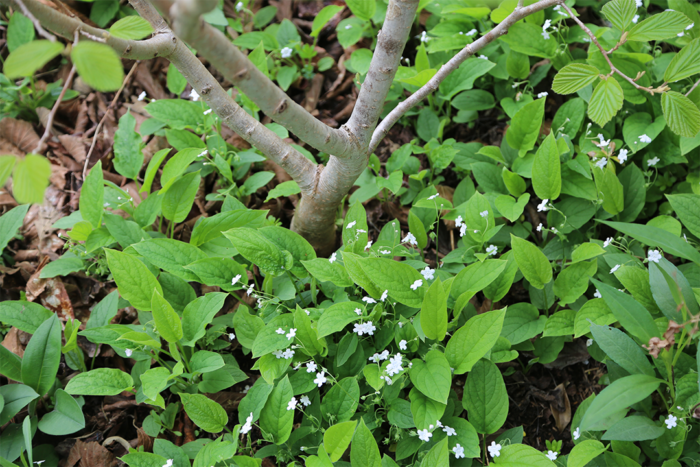 How often do you see beautiful trees and shrubs swimming in a sea of mulch and think something is wrong? Many gardeners often forget their ground-cover layer. Landscapes are complete and look better when an abundance of ground covers are planted underneath trees and groupings of shrubs. Bare soil planted with ground covers will help retain moisture and prevent weeds, something we all desire. Here are a few of my favorite ground covers for part-shade areas. Typically, I plant the following ground covers as 4-inch plants spaced 6 to 8 inches on center in a grid pattern.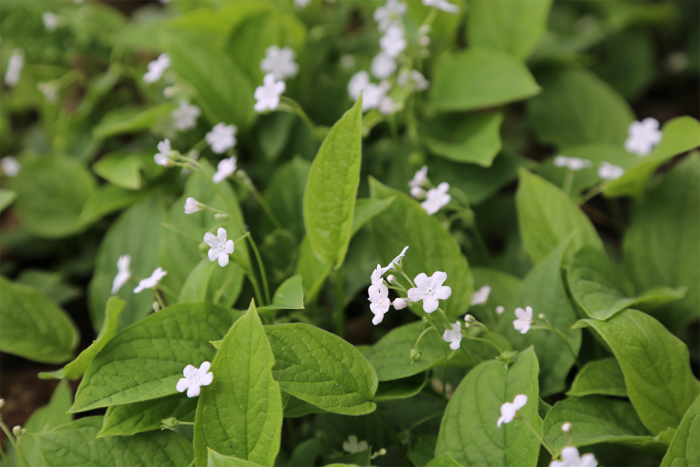 What a great way to spend time in your garden—navelwort gazing! 'Alba' creeping navelwort (Omphalodes verna 'Alba', Zones 5–9) creates a beautiful carpet of small, bright green leaves, a good fit for underneath small ornamental trees and shrubs.  After the leaves start to unfurl in spring, the green carpet is punctuated with masses of small, starry white flowers. Even after flowering is finished, the leaves will continue to grow and create a lovely dense ground cover. Bulbs and perennials can easily emerge. Navelwort is deciduous and dies back in fall and winter, but don't worry—it will be back next spring looking as lovely as ever. This ground cover will grow to 6 inches tall and 6 inches wide and continue to spread. Leaves of creeping navelwort, like other plants in this family, are quite tough when it comes to dealing with fall debris. It is often easier to let their leaves decompose in the fall rather than clear the leaves. If a tidier garden is required, then by all means clean up this wonderful ground cover.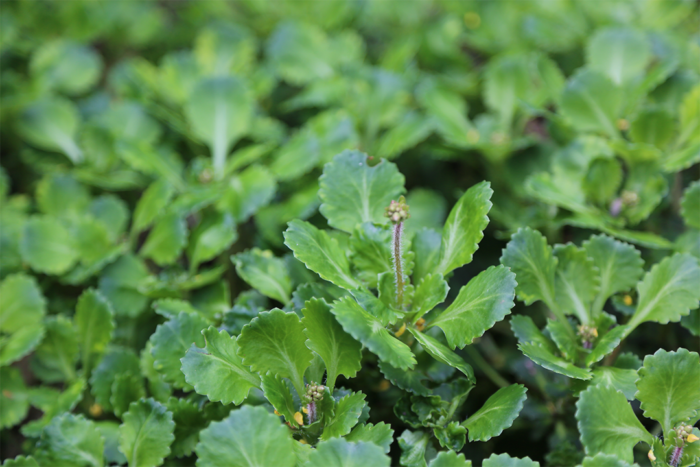 This evergreen plant has beautiful, variegated, succulent-like leaves that may look deceptively like sedum or hens-and-chicks. London pride (Saxifraga × urbium , Zones 6–8)  is one tough plant, hardy enough to compete with other ground covers while still allowing early spring bulbs to grow through it. In late spring, London pride will put out long, bare, wiry stems with pale pinkish white flowers. While this ground cover is generally maintenance free, make sure to remove fall leaf litter to ensure it doesn't succumb to winter rot. This plant will grow to 4 inches tall and 4 inches wide and continue to spread.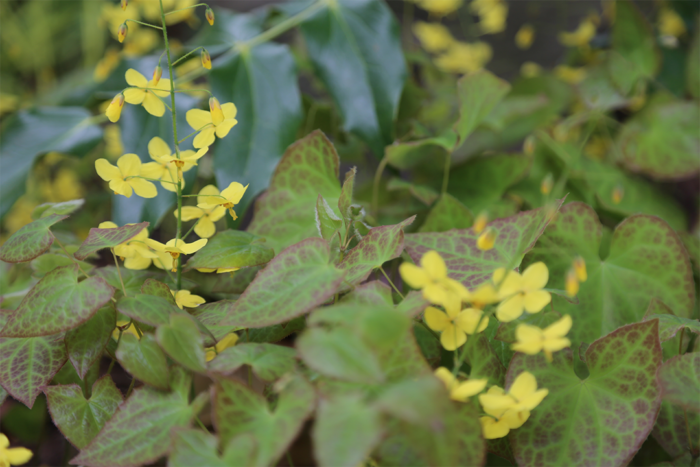 This spreading evergreen is an excellent choice under larger trees and in woodland-inspired gardens. The flowers are an amazing deep yellow on long wiry stems and bloom in early spring. After flowering, 'Frohnleiten' barrenwort (Epimedium perralchicum 'Frohnleiten', Zones 5–9) pushes out new beautiful red-veined leaves that mature to a glossy green. This plant can handle leaf litter and other debris, making it useful in lower-maintenance gardens. It also looks great interplanted with larger ferns to help complete a woodland landscape. A yearly or bi-yearly trimming of the previous year's growth in late winter will highlight spring flowers and new leaves. Barrenwort grows between 12 to 15 inches tall and 12 inches wide and spreads slowly.
Water these plants as you would any new addition to your gardens. The first year they should be watered frequently until established. All of these ground covers will grow more vigorously with weekly watering after the first year. Of course, depending on your own gardening conditions, ensure that plants are thriving before lowering the watering regimen.
I hope that this selection of ground covers gives you some inspiration for the part-shade areas of your own garden. By covering the bare soil in your garden, you too can create a landscape that is both dynamic and sustainable.
Jason Jorgensen is a landscape designer in Seattle, Washington.