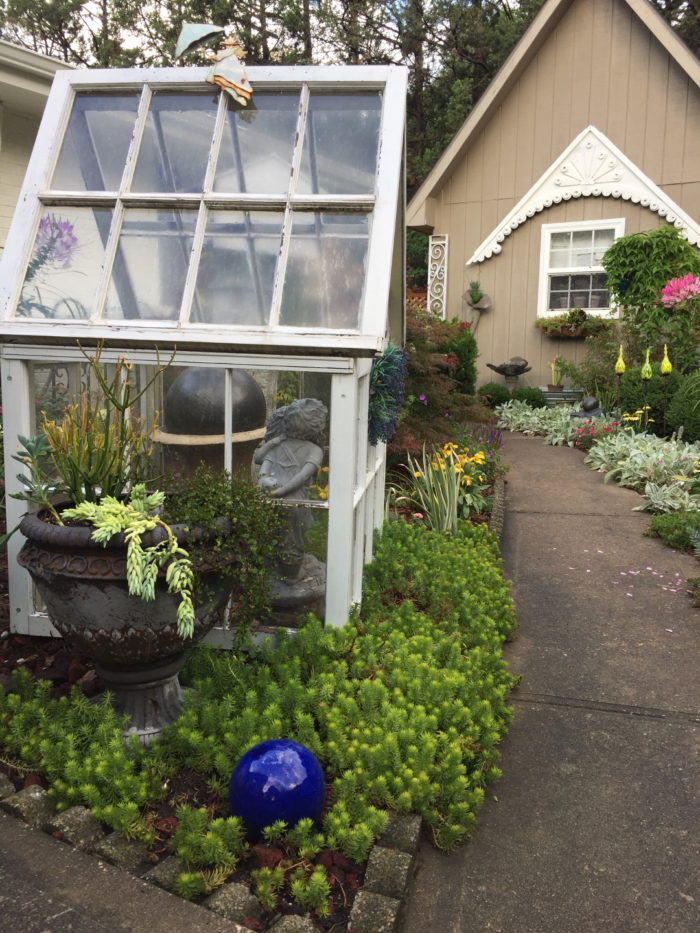 Today's photos come from Sharon Weiser of St. Joseph, Missouri.
Mine is a country garden at heart. In Zone 5, my garden is a mix of sun and shade, trees, shrubs, perennials, annuals, and bulbs. It includes a wooded garden, a vegetable garden, a cutting garden, and an herb garden on an urban lot. I have been gardening for close to 40 years but have had to leave a couple of beautiful gardens behind due to moving. This is a young, three-year-old garden. One of the reasons I bought this house was because the building was here and I knew it would make the perfect "she shed" to hold my antique garden collection.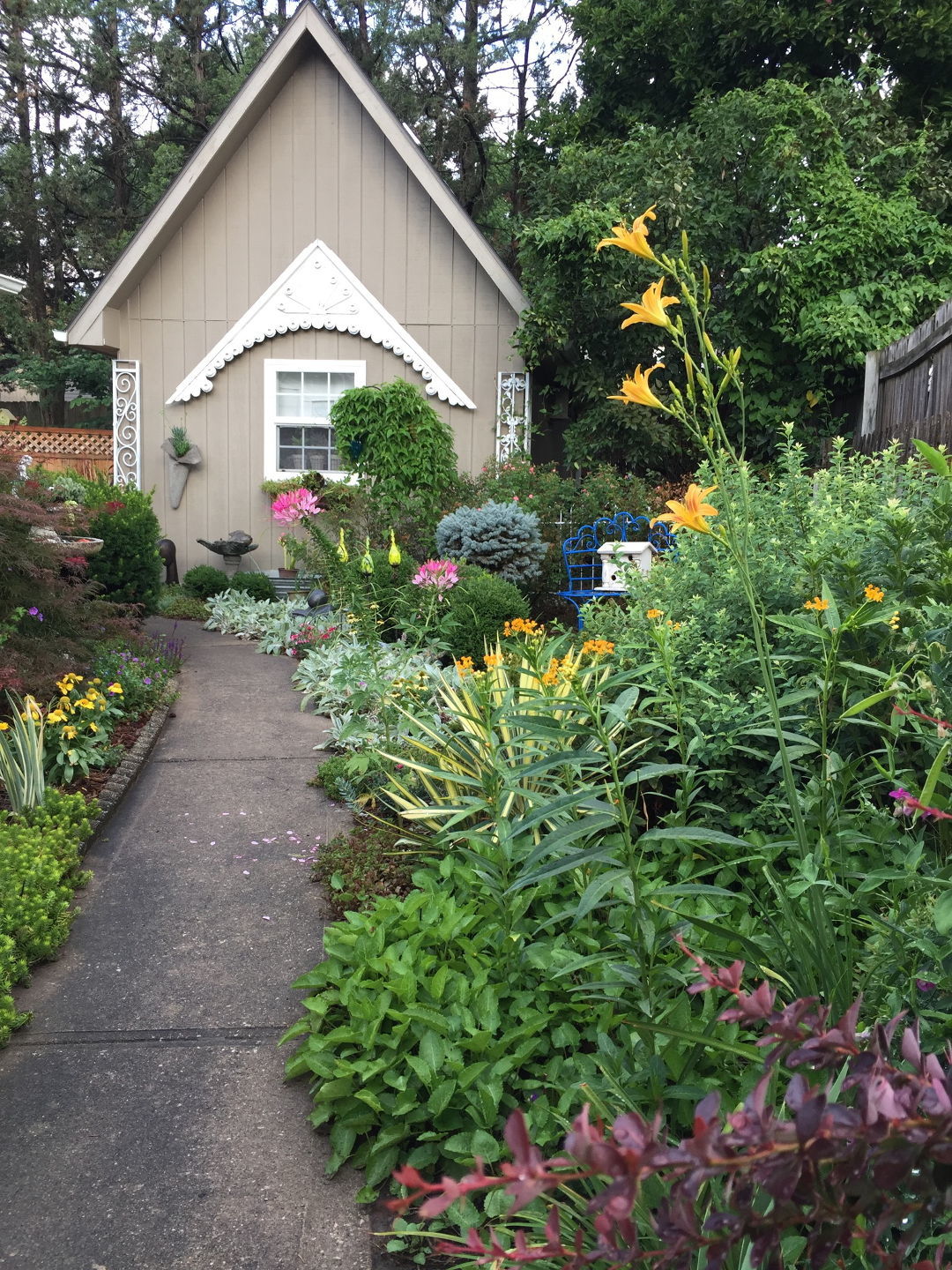 For the Garden Photo of the Day, I have decided to focus on two sides of my she shed. I have always been drawn to old architectural pieces. Notice the arch on the shed and the iron porch pieces at the corners. The walkway is lined with lamb's ears (Stachys byzantina, Zones 4–8), while the daylily 'Autumn Minaret' (Hemerocallis 'Autumn Minaret', Zones 3–9), yellow blooming tropical milkweed (Asclepias curassavica 'Silky Gold', Zones 8–11 or as annual), Yucca 'Color Guard' (Yucca filamentosa 'Color Guard', Zones 5–10), and globe blue spruce (Picea pungens 'Globosa', Zones 2–7) are highlights.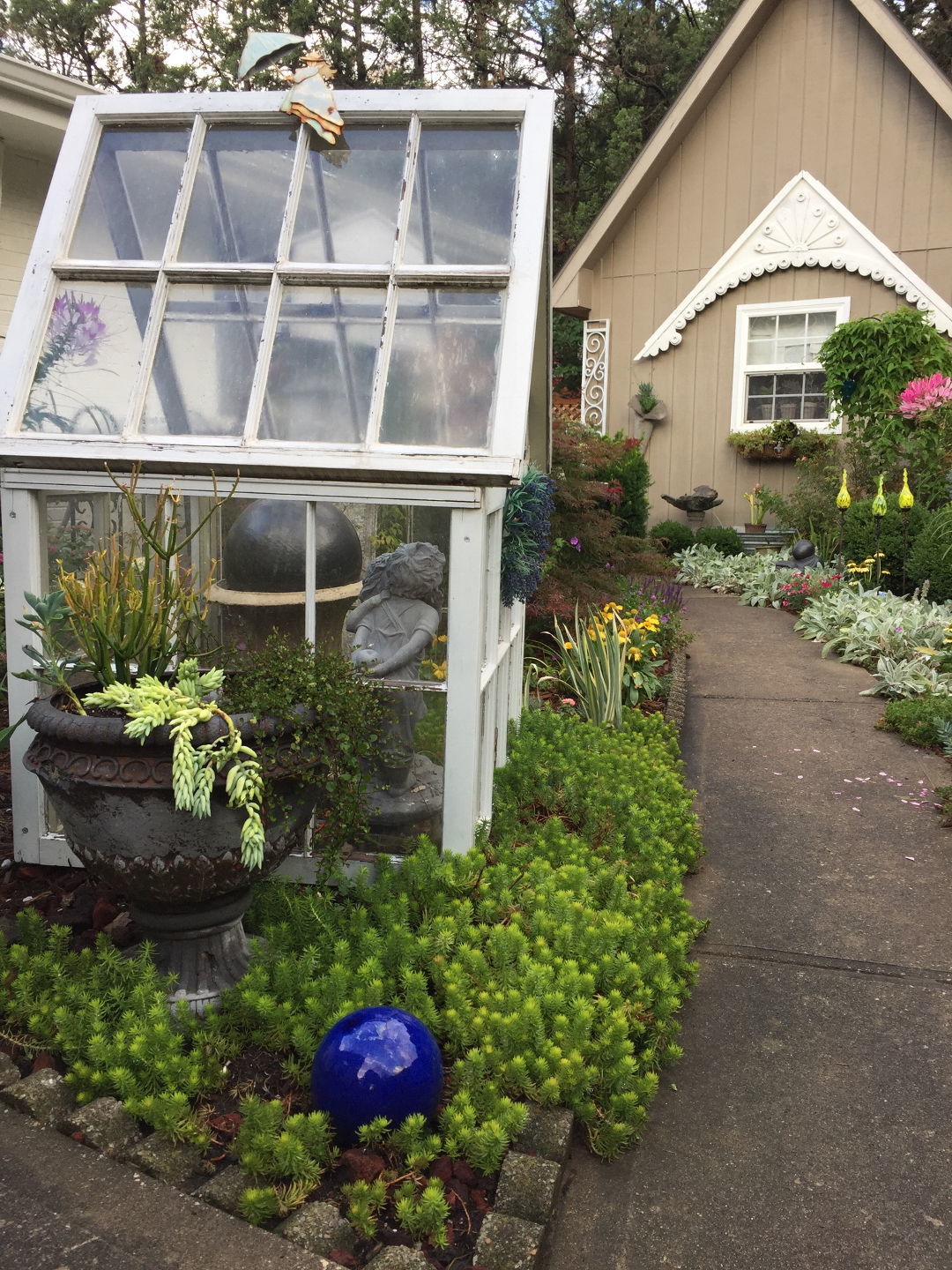 I also have a small greenhouse made of old windows, which is surrounded by 'Angelina' sedum (Sedum rupestre 'Angelina', Zones 5–9). In other areas of the garden, I use a variety of old grates as my stepping stones.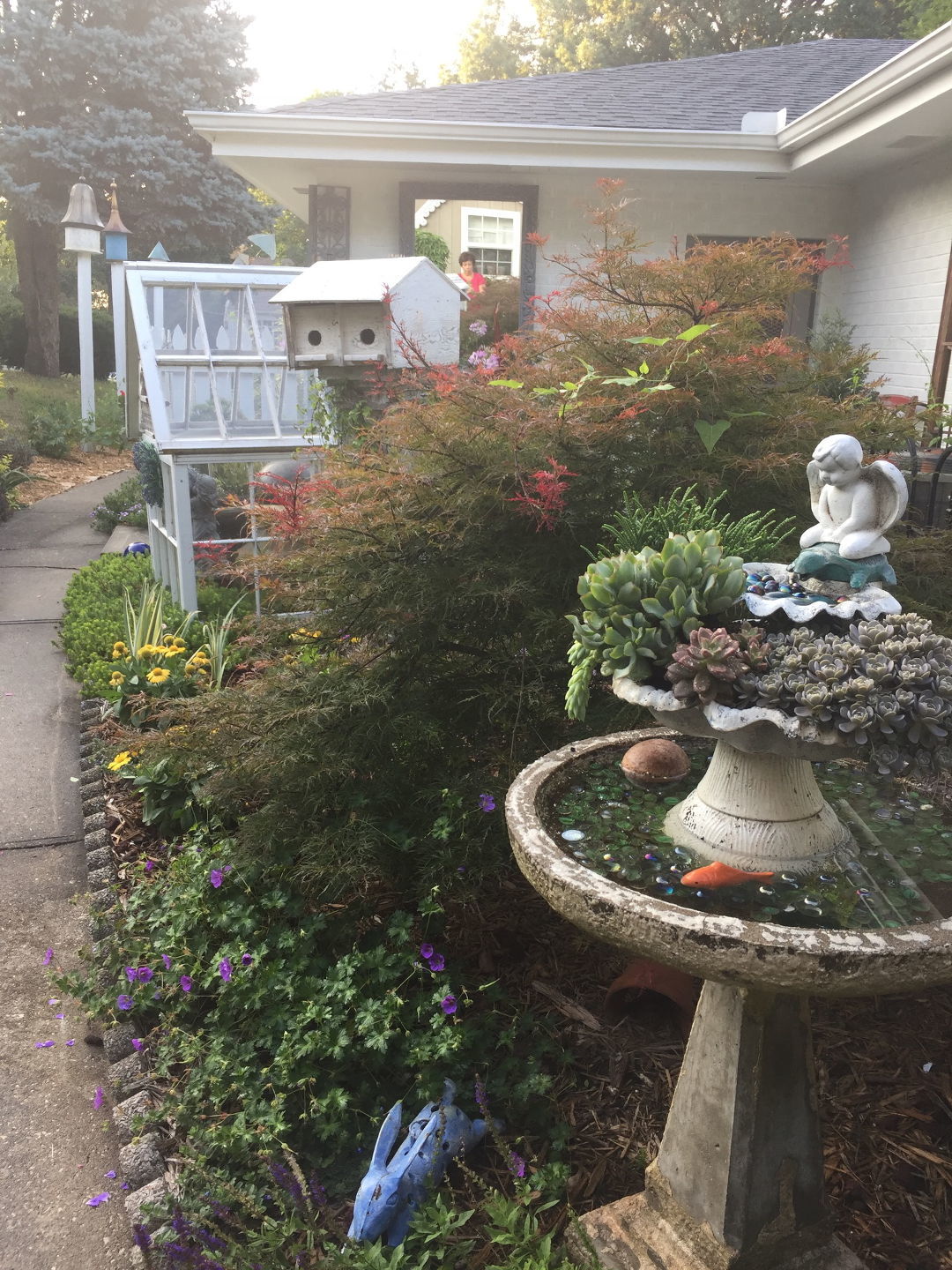 I believe one's personality should shine through in the garden. I hope my sense of humor is recognized in small touches such as the necklace on the Garden of Good and Evil statue (see bottom photo) and the "goldfish" in the birdbath (above).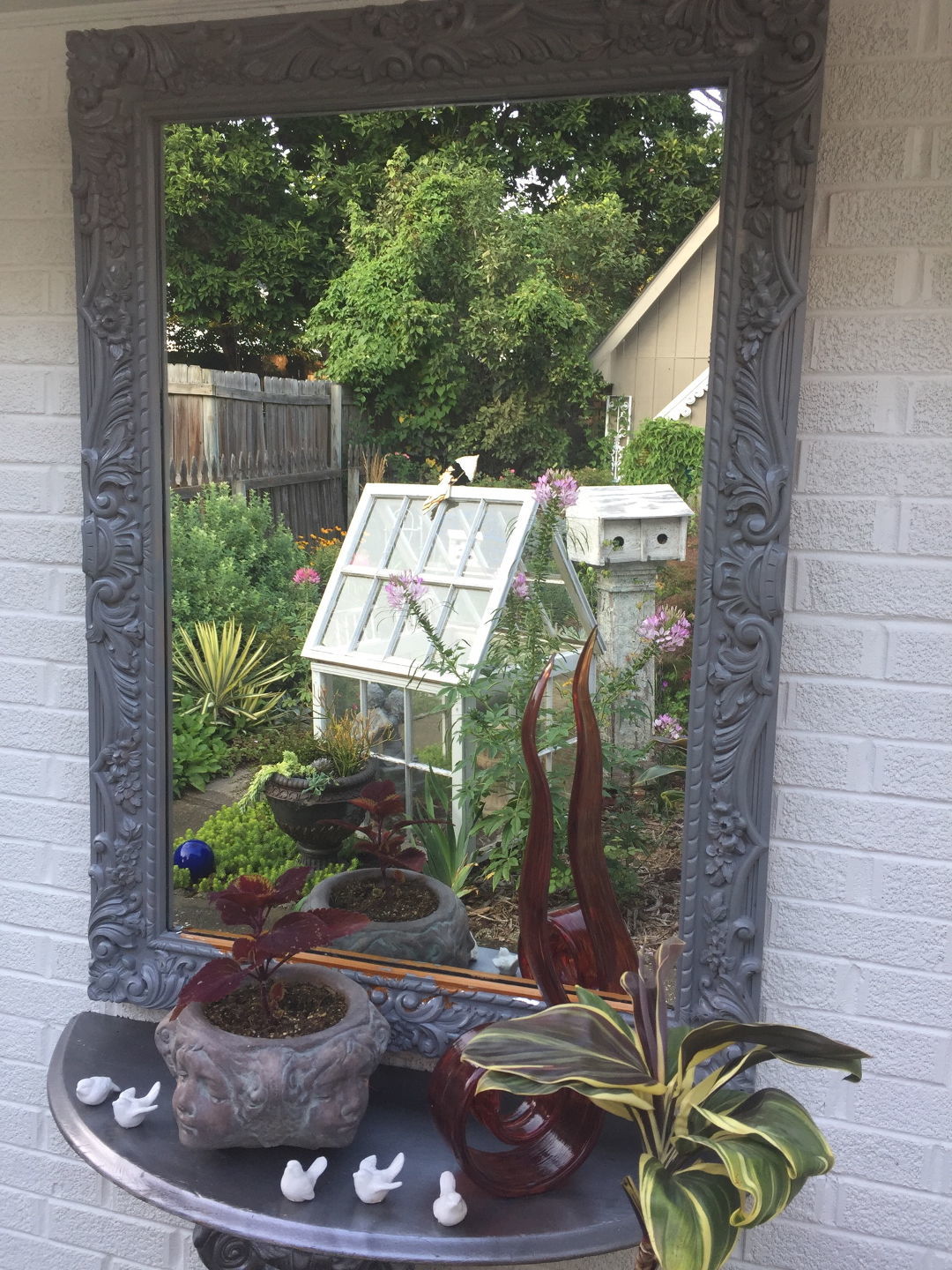 I love the fun of how the mirror reflects the garden back to me.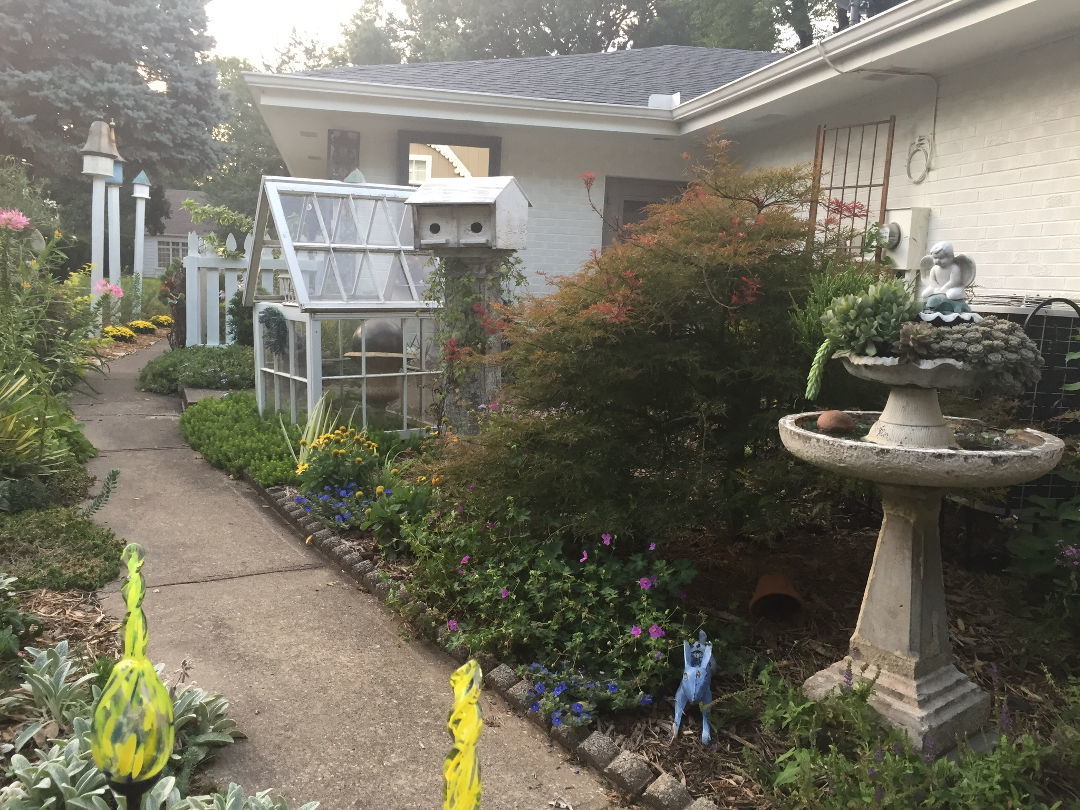 The east side of the walk to the she shed is anchored by a Japanese maple (Acer palmatum, Zones 6–8), with Geranium 'Rozanne' (Zones 4–8), gaillardia 'Mesa Yellow' (Gaillardia × grandiflora 'Mesa Yellow', Zones 4–9), and Evolvulus 'Blue My Mind' (Zones 9–11 or as an annual) at its feet. I find treasures such as the old bird bath and old birdhouse at garage sales and flea markets.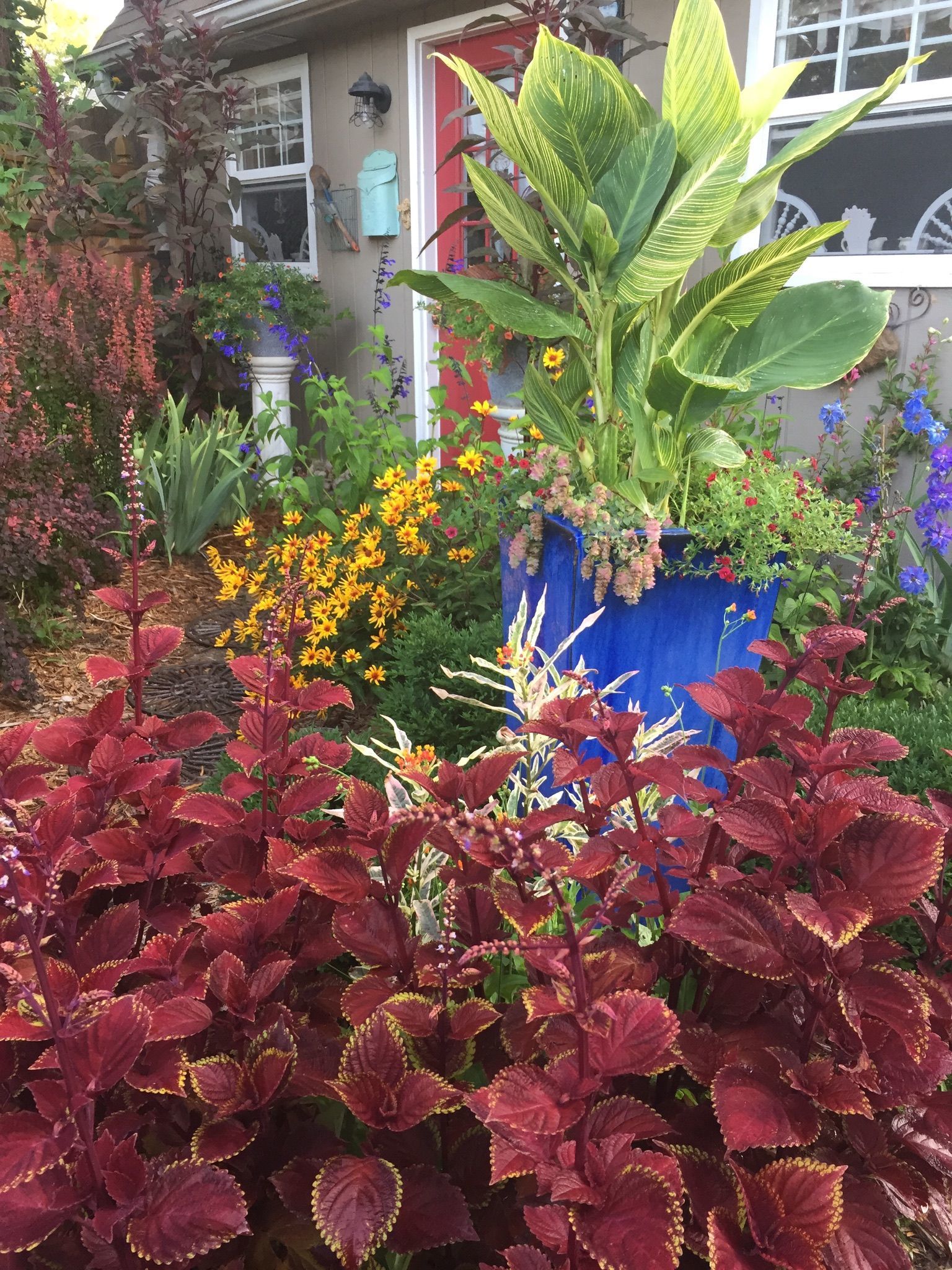 The entrance garden to the she shed has a large blue pot as a focal point. The pot is planted with canna 'Pretoria' (Zones 7–11), 'Kirigami' ornamental oregano (Origanum 'Kirigami', Zones 5–8), and Calibrachoa 'Superbells Red' (Zones 9–11 or as annual). Coleus 'Ruby Slipper' (Plectranthus scutellarioides 'Ruby Slipper', Zone 11 or as annual) and variegated tropical milkweed (Asclepias curassavica 'Monarch Promise', Zones 8–11 or as annual) surround the pot. The coleus picks up the hues of barberry 'Orange Rocket' (Berberis thunbergii 'Orange Rocket', Zones 4–8) on the opposite side of the walkway.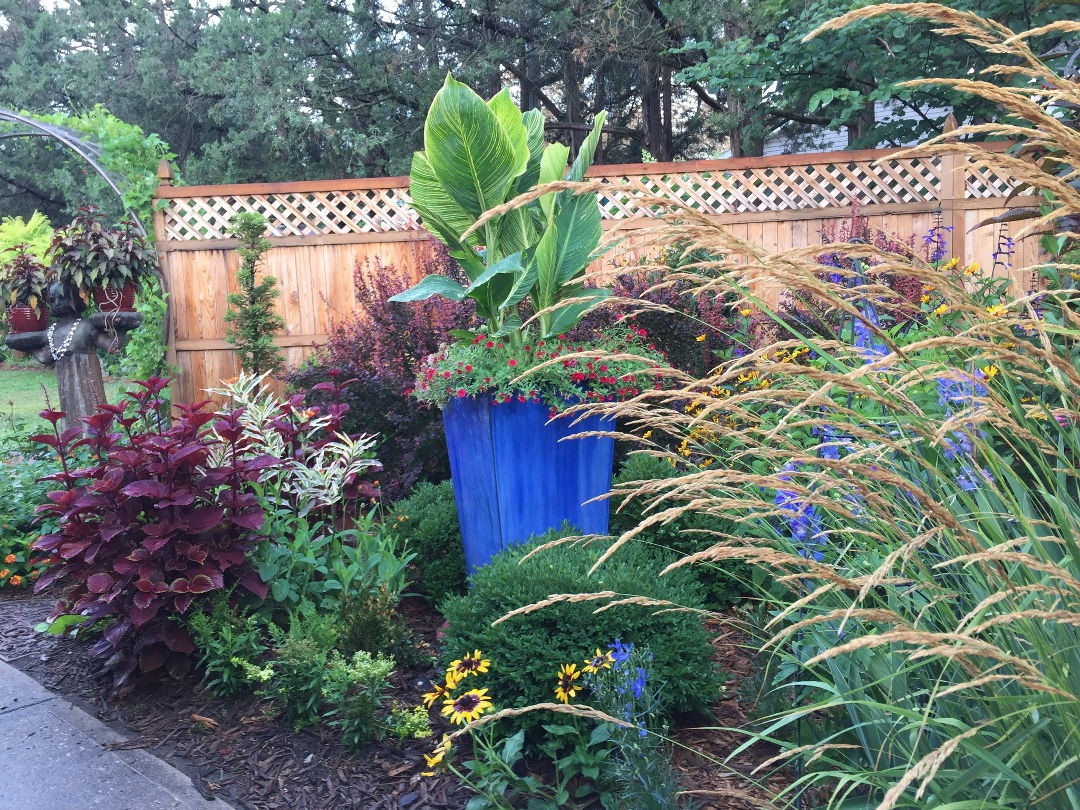 Salvia 'Black and Blue' (Salvia guaranitica 'Black and Blue', Zones 7–10), Siberian larkspur (Delphinium grandiflorum 'Diamonds Blue', Zones 4–7), and Pacific Giant delphinium 'Blue Bird' (Delphinium elatum 'Blue Bird', Zones 3–7) echo the blue of the pot; the perfect foil is heliopsis 'Burning Hearts' (Heliopsis helianthoides 'Burning Hearts', Zones 3–8). Other featured plants in this garden are feather reed grass 'Karl Foerster' (Calamagrostis × acutiflora 'Karl Foerster', Zones 5–9), Little Lemon goldenrod (Solidago 'Dansolitlem', Zones 5–8), and boxwood 'Green Velvet' (Buxus 'Green Velvet', Zones 5–8).
Have a garden you'd like to share?
Have photos to share? We'd love to see your garden, a particular collection of plants you love, or a wonderful garden you had the chance to visit!
To submit, send 5-10 photos to [email protected] along with some information about the plants in the pictures and where you took the photos. We'd love to hear where you are located, how long you've been gardening, successes you are proud of, failures you learned from, hopes for the future, favorite plants, or funny stories from your garden.
If you want to send photos in separate emails to the GPOD email box that is just fine.
Have a mobile phone? Tag your photos on Facebook, Instagram or Twitter with #FineGardening!
You don't have to be a professional garden photographer – check out our garden photography tips!
Do you receive the GPOD by email yet? Sign up here.