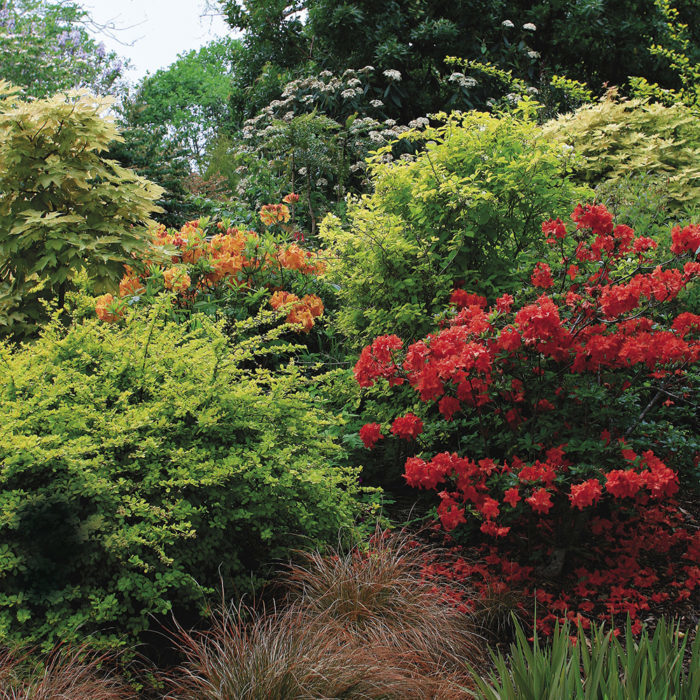 We've all heard it a million times before: Shrubs and small trees are the bones of our beds and borders. This is true, but they can be so much more. Twenty years ago, when I moved to a large lot in northern California, I decided to fill the landscape with an array of woody plants for several reasons. A garden designed primarily with shrubs is lower maintenance in the long run and allows you to get a mature look in a shorter amount of time. Don't get me wrong: I am not antiperennial—I have hundreds of them in my garden. But I use perennials as the backup singers in my beds. They fill in blank spaces while my newly planted shrubs size up, and they bridge the gaps between larger woody plants.
In my garden, the shrubs are the meat and pota­toes. Like many other gardeners, though, I was, at first, intimidated to base a design around these large, pricey plants. But I developed a plan that focused on using different habits to achieve a layered look and then relied on color to guide the selection of companion plants. The end result is a shrub-based landscape that is just as pretty (if not prettier) as any bed filled with mostly perennials.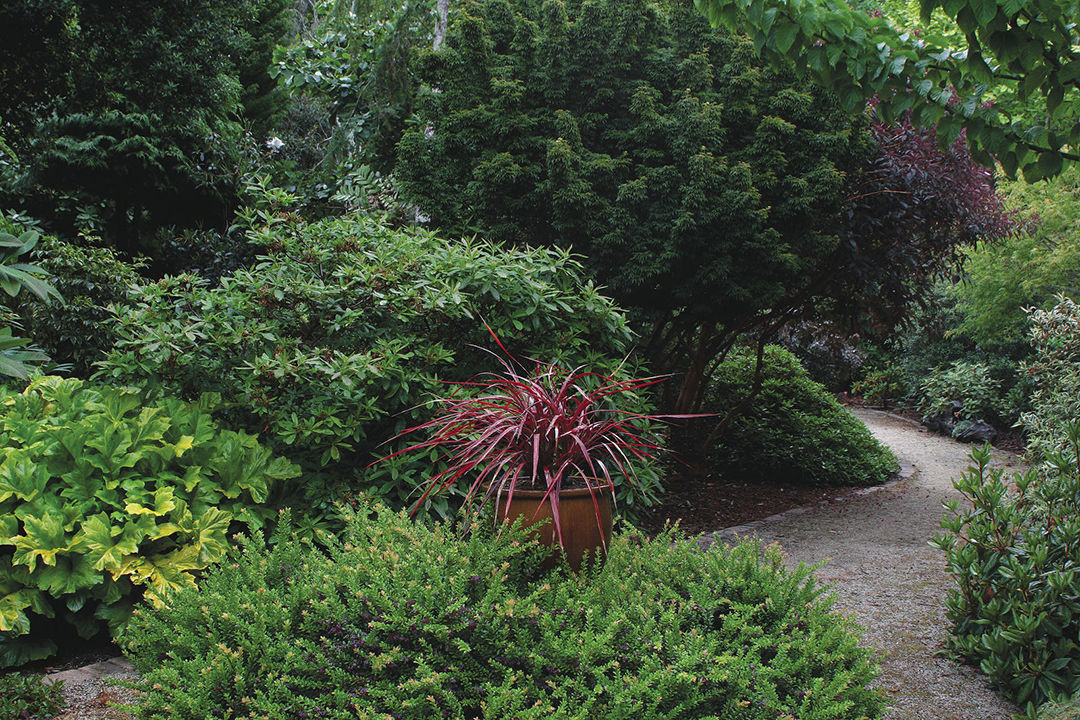 Focus on habit first to get a layered look
Gardens that have a layered look seem more full and lush. Many assume that, because shrubs take up a larger footprint than your average perennial, it is impossible to get a layered look without 10 acres of land. But if you use shrubs with an array of different forms in one area, you'll get that coveted layered effect in whatever space you have. I achieve this by thinking about how a forest exists in nature. I assess the area that I'm planting and determine the tallest a shrub can be to fit the scale of that area. Based on the form of that starter shrub (for example, vaselike, or large and round, or lollipop shaped), I select a shrub that has a slightly smaller and complementary—yet different—mature habit to fill in the middle ground. I find one last plant (that is smaller still, often prostrate in habit) to fill in the understory. I keep repeating this process until the selected area is filled in.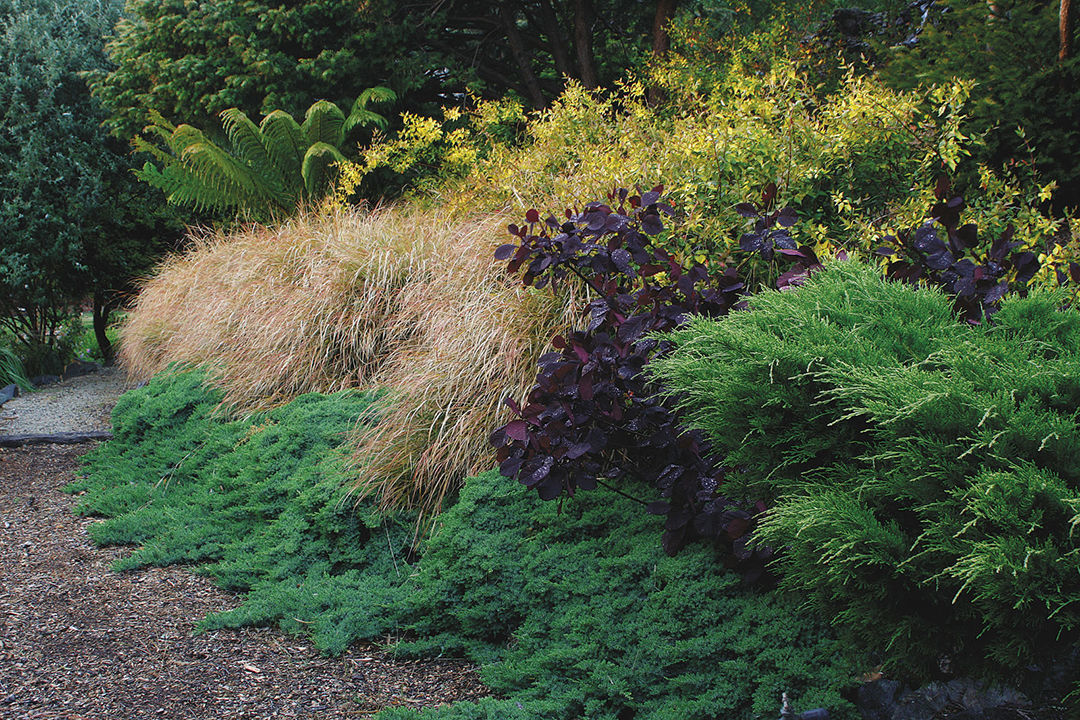 Be sure, though, to keep in mind the mature height and width of your shrubs when planting. Although this may leave temporary holes, you can fill in with smaller perennials. As the shrubs grow up, the perennials can either be moved to another location, or you may find that many will happily commingle with their bigger siblings. This planting plan works not only in a flat bed but also on a hillside, like the one at the front of my property. Although you may think it makes the most sense to cover an embankment with low-growing shrubs, I decided, instead, to place a few small trees and larger shrubs at the middle and rear of the hill and then used some medium-size selections at their feet, before filling in the base of the hill with low growers. The layered effect is the same and looks natural because it mimics what you would find if you were walking in the woods.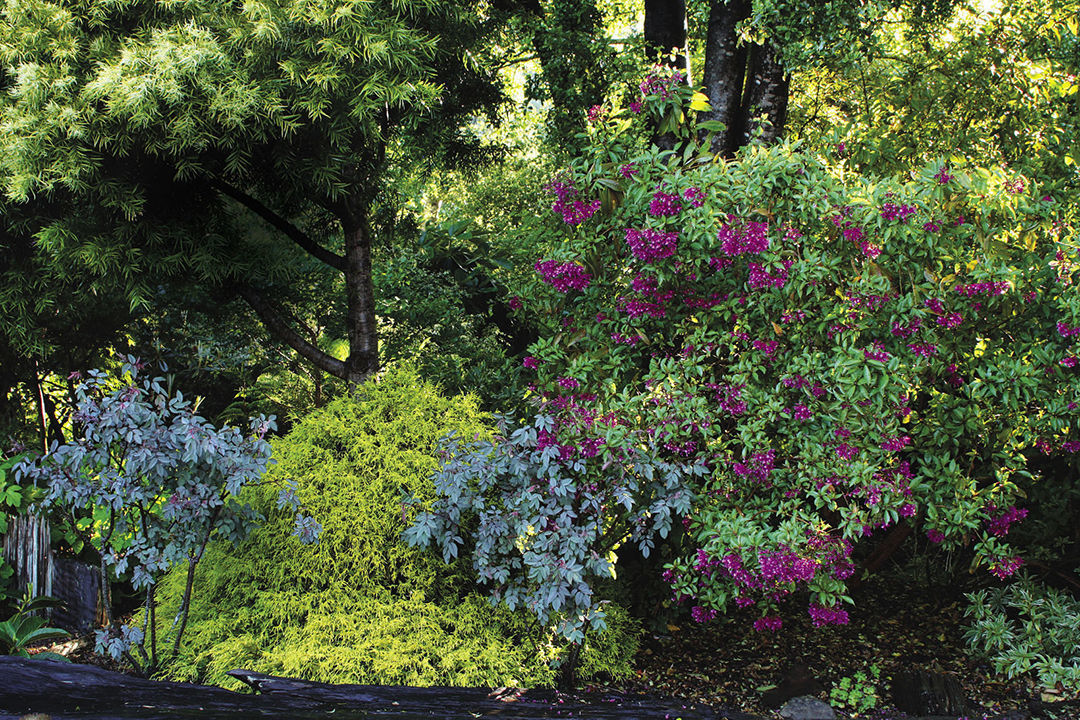 Pick a focal color to find natural companions
Because shrubs typically bloom for a shorter time than perennials, it's important to make sure they have the perfect stage to shine when they are in flower. I pair beautifully blooming shrubs with shrubs whose foliage is a similar color as the star's blossoms. I have a few different rhododendrons (Rhododendron spp. and cvs., Zones 5–9), for instance, that bloom in the orange-yellow range and are just ho-hum when not in bloom. To accentuate these blossoms, I paired the stars with shrubs that have yellow leaves, like 'Dart's Gold' ninebark (Physocarpus opulifolius 'Dart's Gold', Zones 3–7), golden Japanese barberry (Berberis thunbergii* 'Aurea', Zones 5–8), golden mock orange (Philadelphus coronarius 'Aureus', Zones 4–9), and Limemound™ spirea (Spiraea japonica* 'Monhub', Zones 3–9). To continue building off this color theme, I add some variegated shrubs as well as some shrubs with complementary colors. In this particular bed, I used the strikingly mottled 'Goshiki' false holly (Osmanthus heterophyllus 'Goshiki', Zones 7–9) and the dark, moody-looking 'Royal Purple' smoke bush (Cotinus coggygria 'Royal Purple', Zones 5–9). This color-blocking principle can also be used if the best attribute of your star shrub is its foliage or bark color. Simply identify the star and then accentuate its color. Before you know it, you've filled the bed with a pleasing combination of shrubs.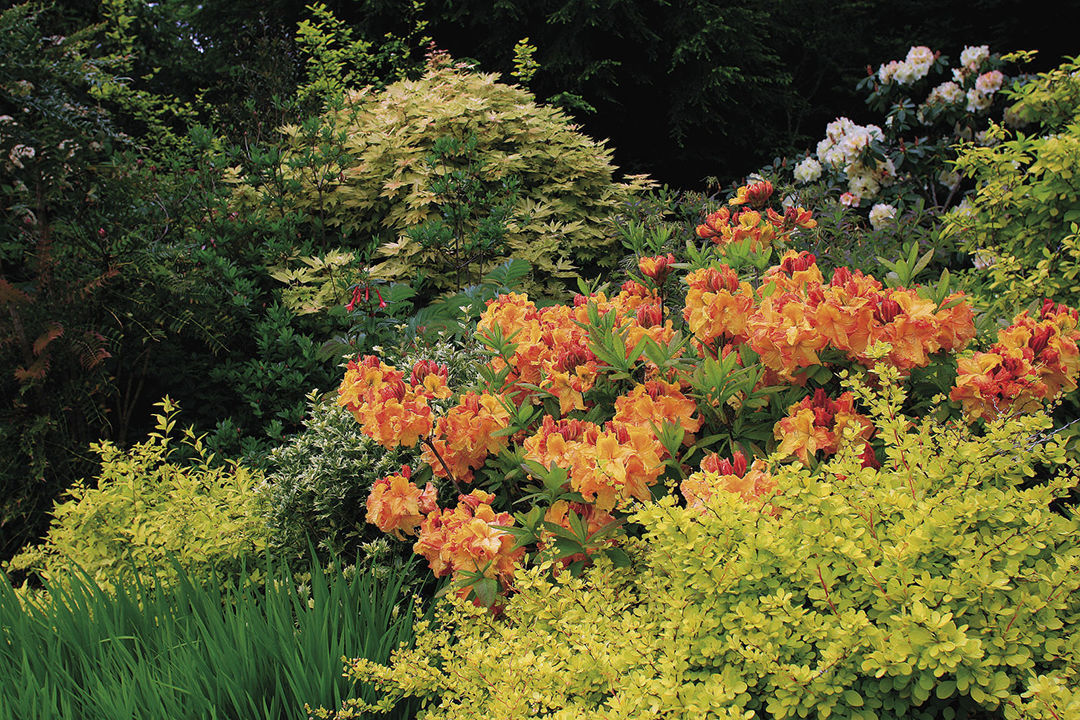 I have never considered myself a designer but, rather, just a gardener who has learned from years of trial and error. As my beds mature, I am still changing and adding to them to make things as good as they can be. As time goes by, however, and the amount of time, effort, weeding, and watering goes down, I have never once regretted the decision to fill my beds with shrubs.
Tip: Extend "blooming" with a perennial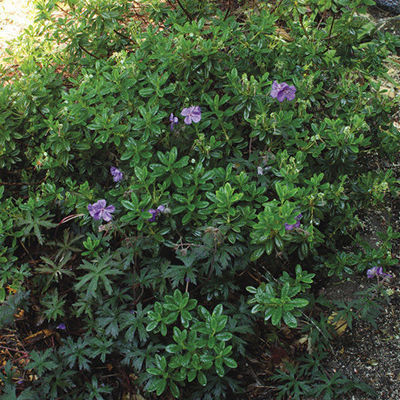 One perceived drawback of shrubs is that they have a shorter bloom time than perennials. I counteract this so-called deficiency by planting a rambling perennial at the base of many of my spring-blooming shrubs. 'Victor Reiter' geranium (Geranium pratense 'Victor Reiter', Zones 4–8) is one example of a perennial that flowers for a long time and tends to twine around nearby companions without strangling them. The pairing makes it look like a shrub is actually in bloom all summer long.
Cut your cleanup time in half
Although shrubs are less maintenance than perennials, that doesn't mean they are entirely care-free. In fall, I prune back small shrubs, like spirea, to encourage a better habit and bloom set the following spring. And then, of course, you need to cut back all of your filler perennials. To do this at lightning speed, I rely on these invaluable tools. After many years of cleanup, these are the three tools I would never be without.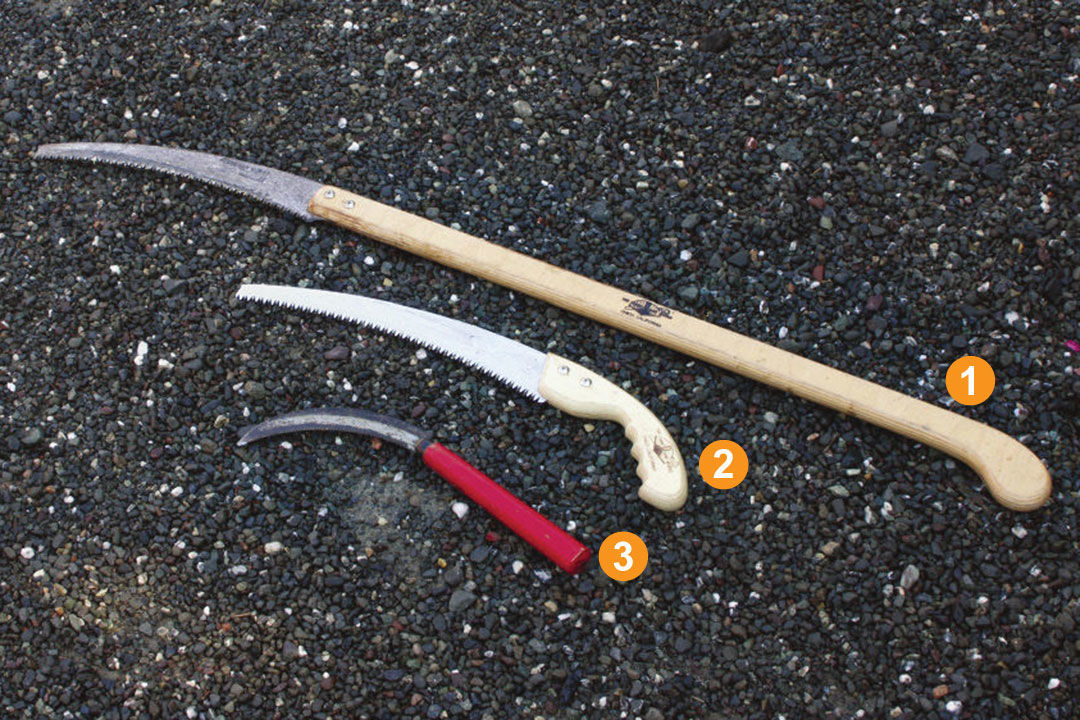 4-foot-long pruning saw

(fannosaw.com)
Tri-edged pruning saw, with a 13-inch-long cutting edge (fannosaw.com)
Japanese trim sickle (garretwade.com)
---
Mimic the woods for a full effect
You never go hiking in a forest and think, "Wow, all of these plants blend together seamlessly." That's because we come to expect that everything in nature fits together like puzzle pieces. To make your woody-based gardens achieve a similar effect, use a shape-layering approach.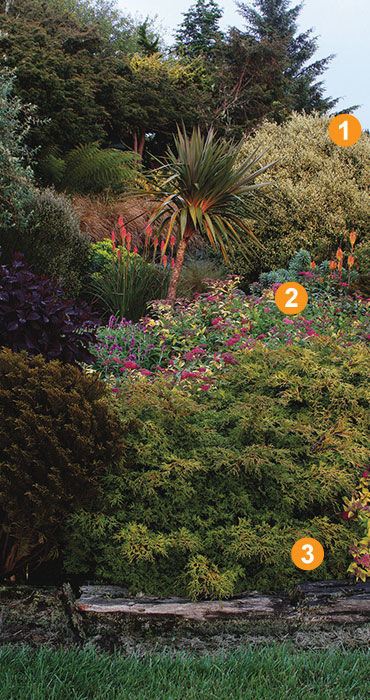 1. Large or de
f
ined shapes make ideal focal points
Place big shrubs, like this variegated corokia (Corokia × virgata 'Sunsplash', Zones 8–10), or shrubs with a taller, defined shape, like 'Sundance' cordyline (Cordyline australis 'Sundance', Zones 8–11), toward the rear of a planting so that they can produce the same effect that trees do in a woodland.
2. Medium-size meatballs nestle into the nooks
Depending on the shape of your largest shrubs, your midsize woodies, like smoke bush or this 'Goldflame' spirea (Spiraea japonica* 'Goldflame', Zones 4–9), should fit like puzzle pieces into the understory.
3. Creepers
f
ill in the ground-level gaps
In a forest, ferns and small saplings fill in the thicket at your feet. In a garden, ground-hugging shrubs, like this bronze pygmy Hinoki false cypress (Chamaecyparis obtusa 'Pygmaea Aurescens', Zones 4–8), play a similar role.
---
Patricia Wells has been gardening for more than 20 years on her 5-acre seaside property in Trinidad, California.
Photos, except where noted: Danielle Sherry