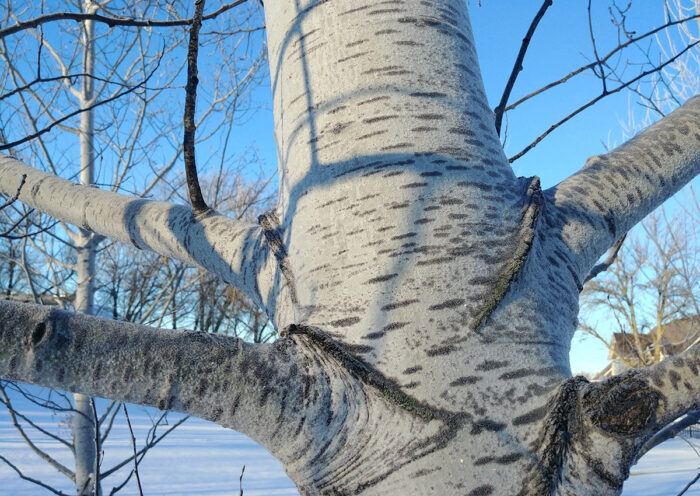 Winter in the Northern Plains brings an opportunity to appreciate the deciduous trees in our landscape for more than just the leaves and flowers they provide. Form and texture really stand out in a white winter garden, accentuating contrasts that may go unnoticed during the rest of the year. There are several standout deciduous trees to consider for winter interest in your Northern Plains garden.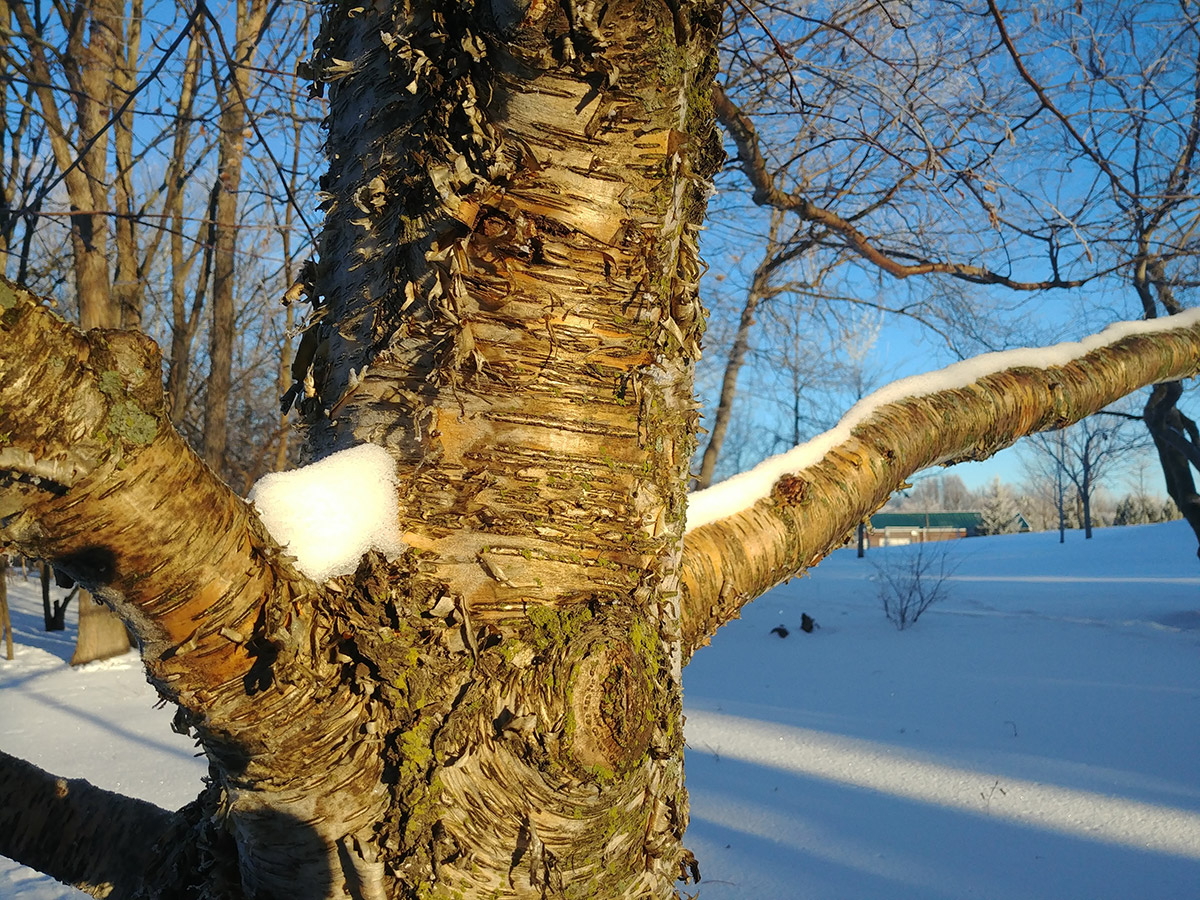 Yellow birch bark is highly textured, with layers that are many different shades of bronze
Birch trees (Betula spp. and cvs., Zones 2–7) are a common site in the landscape of the Northern Plains, especially in more newly developed areas. Most often you will see multistem paper birch (B. papyrifera, Zones 2–7) or river birch (B. nigra, Zones 4–8) gracing front yards. However, there are other, more underutilized members of the birch genus that also have winter appeal and can add a bit more diversity to your plant palette. Yellow birch (B. alleghaniensis, Zones 3–7) is often a multistemmed tree maturing to 40 to 50 feet tall and wide. It has striking bark, stems, and branches with a shiny, yellowish to bronze color and demands attention in the winter.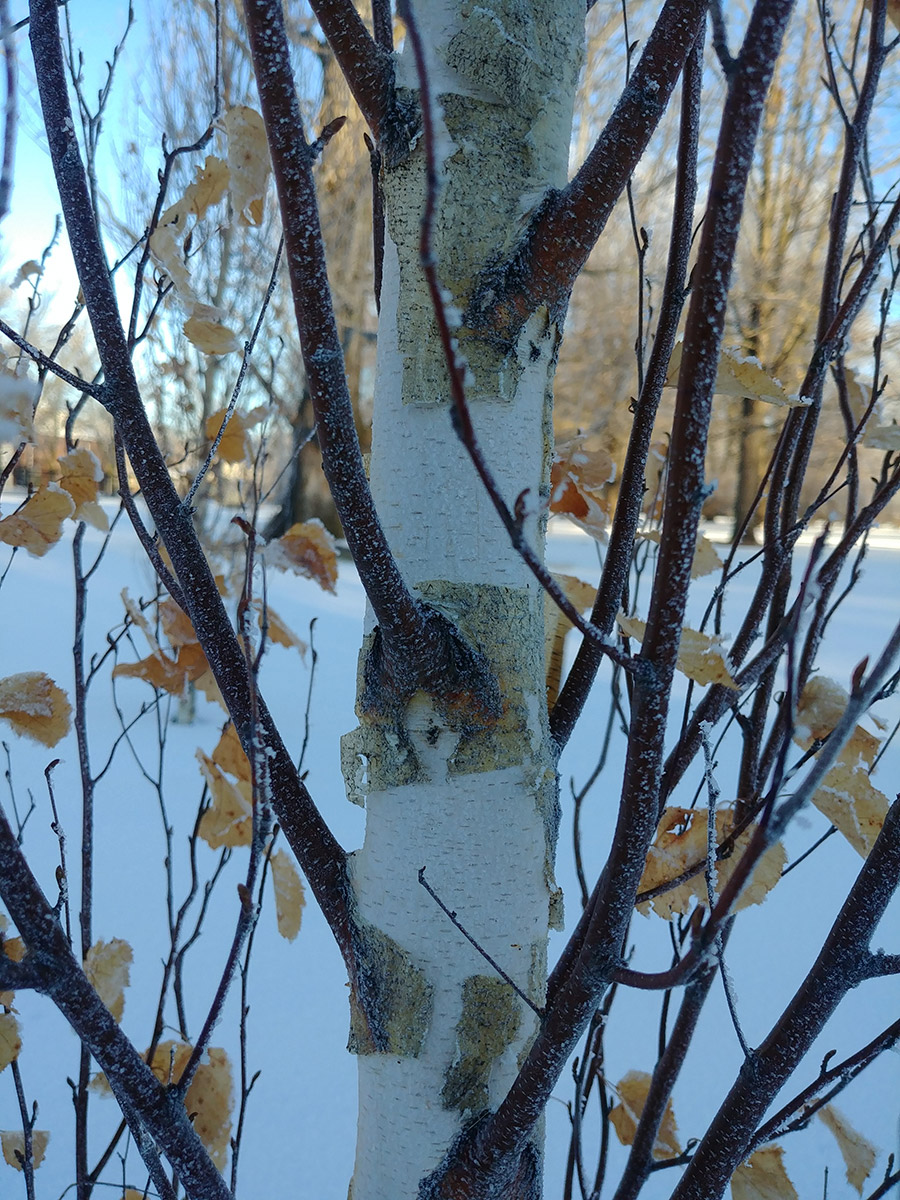 For white birches, consider recent introductions bred for our climate and pest concerns
If you are looking for something with pure white bark that is more resistant to bronze birch borer beetles than paper birch, also consider Asian white birch (B. platyphylla, Zones 3–7). A couple of recently released hardy cultivars from North Dakota State University include Dakota Pinnacle® (B. platyphylla 'Fargo', Zones 3–7), which has a narrow columnar form, and Prairie Vision™ (B. platyphylla 'VerDale', Zones 3–7), which has a pyramidal form. Both of these are highly resistant to bronze birch borer.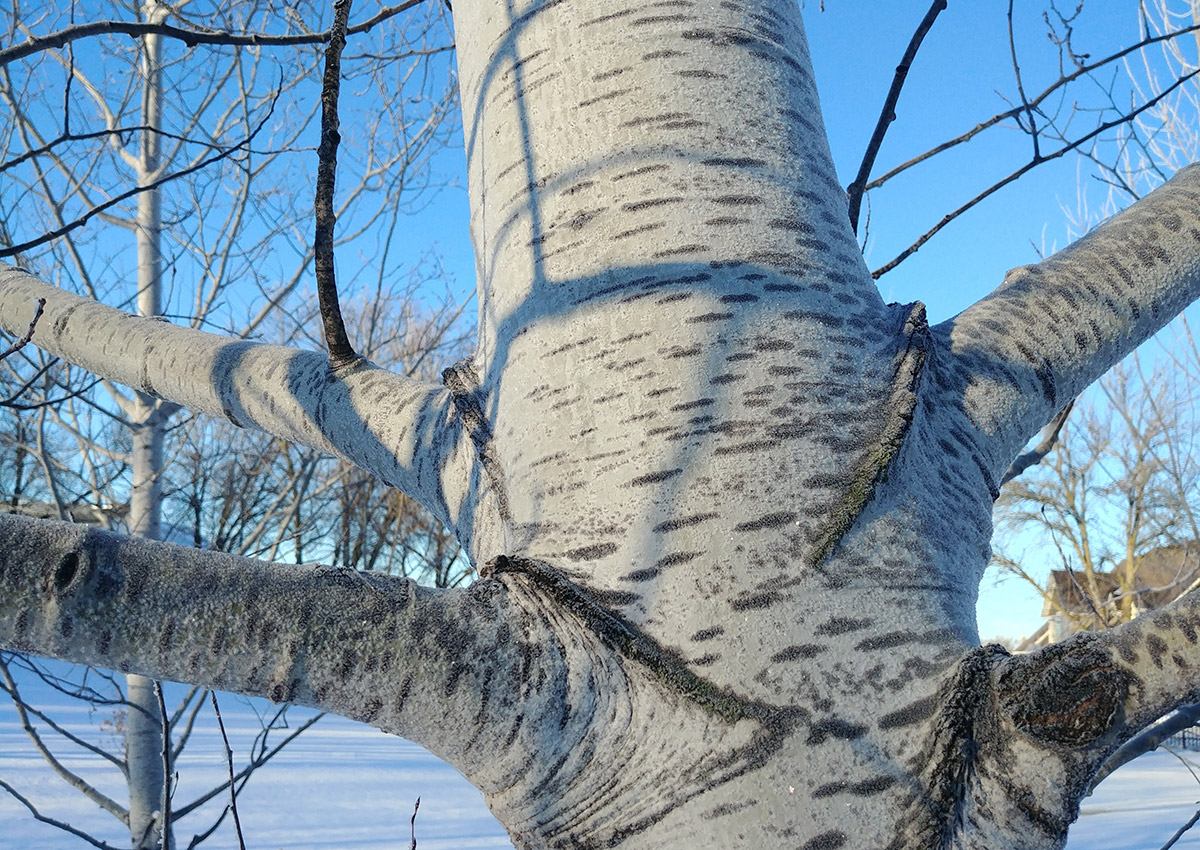 Turn to quaking aspen nativars for diverse habits and forms of an easy-to-grow and hardy tree
Quaking aspen (Populus tremuloides, Zones 2–6) is a very hardy tree with white-colored bark, a beautiful upright form, and even fewer pest problems than birches have. It is native to every area of the Northern Plains region, making it a great addition to our winter landscape. Reaching 40 feet tall and 20 feet wide in maturity, this tree has just one drawback: its tendency to want to colonize nearby areas and send up multiple suckers. There are a few standout cultivars available. Mountain Sentinel® (P. tremuloides 'JFS-Column', Zones 2–6) is a very narrow variety that matures to 35 feet tall and only 8 feet wide, making it perfect for tight spaces, while Prairie Gold® (P. tremuloides 'NE Arb', Zones 2–6) is a wonderful option that is adapted to the heat, drought, and humidity of the prairie states while still providing all the wonderful features of the species. It matures to 30 to 40 feet tall and 20 to 30 feet wide, with striking fall foliage that gives it its name.
It is no wonder these trees often find themselves as the focal point of the landscape, viewable out our picture windows where their winter dress can truly be appreciated and admired. Add one or all of these to your Northern Plains landscape.
—Chris Schlenker is horticulture and grounds manager of McCrory Gardens at South Dakota State University in Brookings, South Dakota.