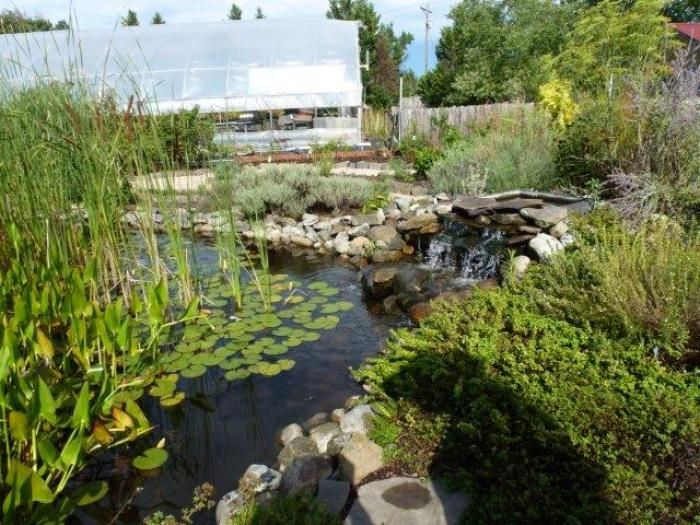 Last, though not least, I want to write about the final herb nursery that we visited on our IHA field trip, DeBaggio Herb Farm and Nursery. We were greeted by the smiling faces of Francesco DeBaggio (son of Thomas DeBaggio), his partner Tammy Boggs and his mom, Joyce DeBaggio as we hopped off the bus. Francesco and Tammy are the proprietors of the farm and nursery. Although they are closed for the season, they weeded their gardens and opened up for us to visit. It seems like being opened from just March to July isn't very long, however if you are a nursery of this size and turn over tens of thousands of plants in a season–you know that there is a lot that goes on behind the scenes for the rest of the year.
Right now, because we were incentive to make the gardens look good, Francesco and Tammy with other garden help, weeded, rebuilt and replanted many of the beds. I have to say it is the most weed-free that I have seen it in all my years of going there. (It's good to have company). It is very different to go to the farm, shop and greenhouses off season; the huge sales greenhouse was totally empty, scrubbed clean and awaiting the upcoming growing season. Usually there are thousands of plants oudoors from annual to perennial herbs and a huge variety of vegetable and flowering plants. So it looked a bit empty, however it is now tidy and ready to go for next season.
It's always great to see old friends and to reconnect–our visit was short yet sweet. A few folks on the bus went home with pots and plants. There's a lovely water feature in the center of the gardens and surrounding raised beds have herbs and flowers.
Francesco, in his father's footsteps, puts out a great catalog. I look forward to it every spring since it is chockablock full of plants for sale, not to mention growing tips and all kinds of great information about the plants. Last year's catalog was 48 pages; you can go online to sign up to receive it. https://www.debaggioherbs.com/
However, I must warn you, they do not ship plants. You have to go there and visit which is a wonderful sensory experience. Although they grow over 300 varieties of herbs, they are known for their collections/selections of rosemary, lavender, basil and scented geraniums. It is a lovely place to rub and sniff your way around and I always go home with more plants than I need. Beside herbs, they grow over 200 varieties of vegetable plants with a great selection chile peppers, heirloom tomatoes, eggplants and more.
Francesco's Web site shows photos of the farm and nursery in the height of the season, you can download the catalog, there's FAQs where you can have your questions answered, however my favorite section is growing tips. One can click on any one of numerous topics from blossom end rot to ranking the heat of chile peppers, great growing info on lavender and rosemary, how to transplant and prune herbs and more.
In season, DeBaggio Herb Farm and Nursery in Chantilly, Virginia is a destination location for herbies from the tristate area and beyond.