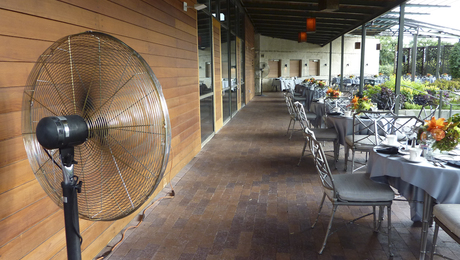 (You fill in the blank. This is a G-rated blog and I have a pretty vivid imagination.)
For all you folks who live where the summer norm is 90-plus temps and 2437.3% humidity, I am in awe of you. I've been back from the Garden Writers Association annual symposium in Dallas for a few weeks and I just don't know how y'all do it.
My raging souvenir cold has run its course, induced, no doubt, by slogging from the uber air conditioned hotel, to vegetable-crisper busses, to jungle-steamy-hot gardens best described as "air you can wear."
But rather than delve into the esoterica of what 600 garden writers do when they get together, I thought it would be informative to share some of the truly coolio products I ran across at the symposium's exhibit hall. The trade show gives nurseries, garden product sellers and professional organizations a chance to meet, greet and impress "garden communicators." Their hope is that we'll say nice things and create demand for their product. I'm game!
I didn't stop at every booth. I'm was sniffing out the products that fit my predisposition for the coolest, greenest, most sustainable ideas – or the ones lure me in with brimming bowls of handmade, Belgian dark chocolate.
So here's a digest of the offerings that made the biggest impression, the ones I hope you'll investigate further, and perhaps welcome into your own garden.
Lawns Minus the Bad Stuff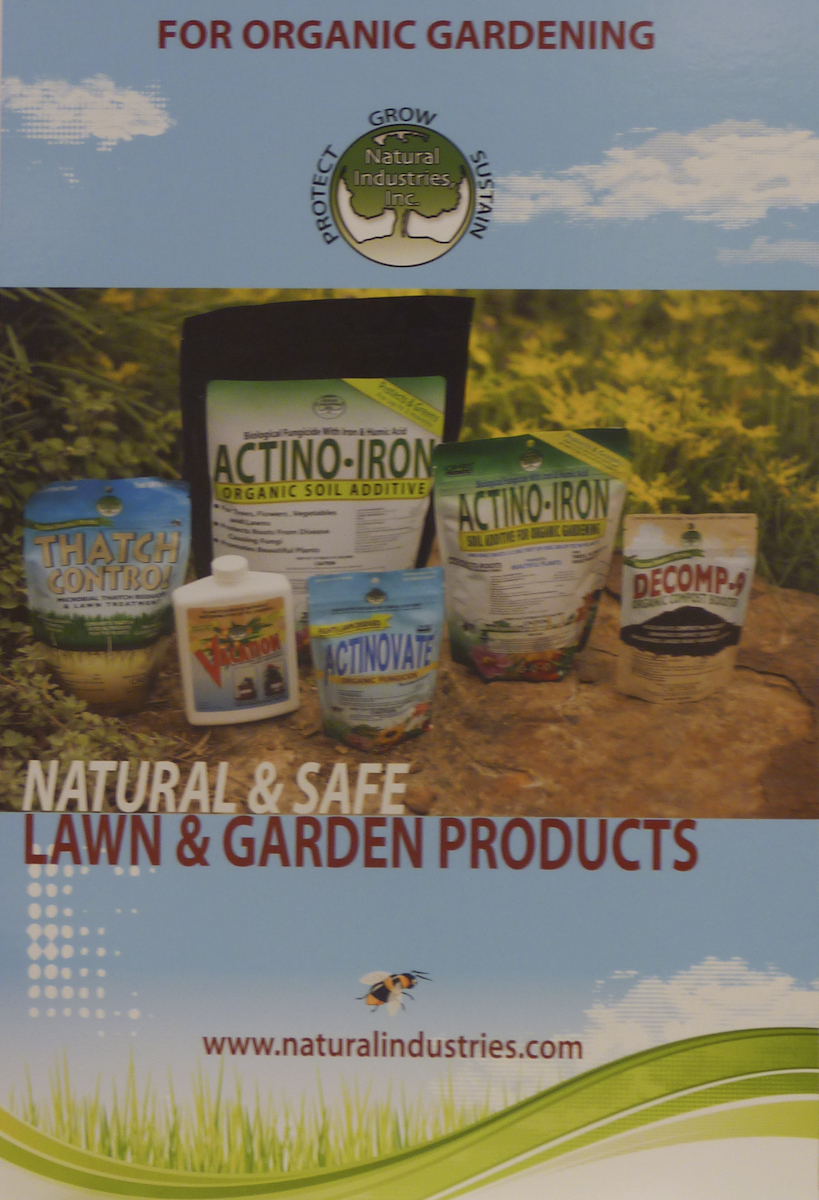 Since one of the reasons I'm so anti-lawn is the arsenal of toxic chemicals that people are led to believe are necessary to achieve turf-gasm, I'm relieved to see that the folks at Natural Industries, Inc. have come up with a natural solution to one of the vexing problems in lawn care: fungus diseases. Actino-Iron uses a patented microorganism (Streptomyces lydicus strain WYEC 108) to control common lawn diseases like brown patch, dollarspot and pythium blights. It's OMRI-listed, simple to use and safe around pets, people and the natural environment.
The active "ingredient" is a beneficial bacterium that attaches itself to the roots. According to the EPA, "No harm to humans or the environment is expected from the use of Streptomyces…as a pesticide active ingredient." I like that.

The Best Organic Company You've Never Heard Of
Neudorff works behind the scenes to supply safe, organic garden products to companies you have heard of. You're not likely to see bottles, cans or bags with their bright sunflower logo on the shelves of your local garden center, but their stuff is inside some very familiar products you're probably already be using, including Lilly Miller, Tanglefoot and Bonide.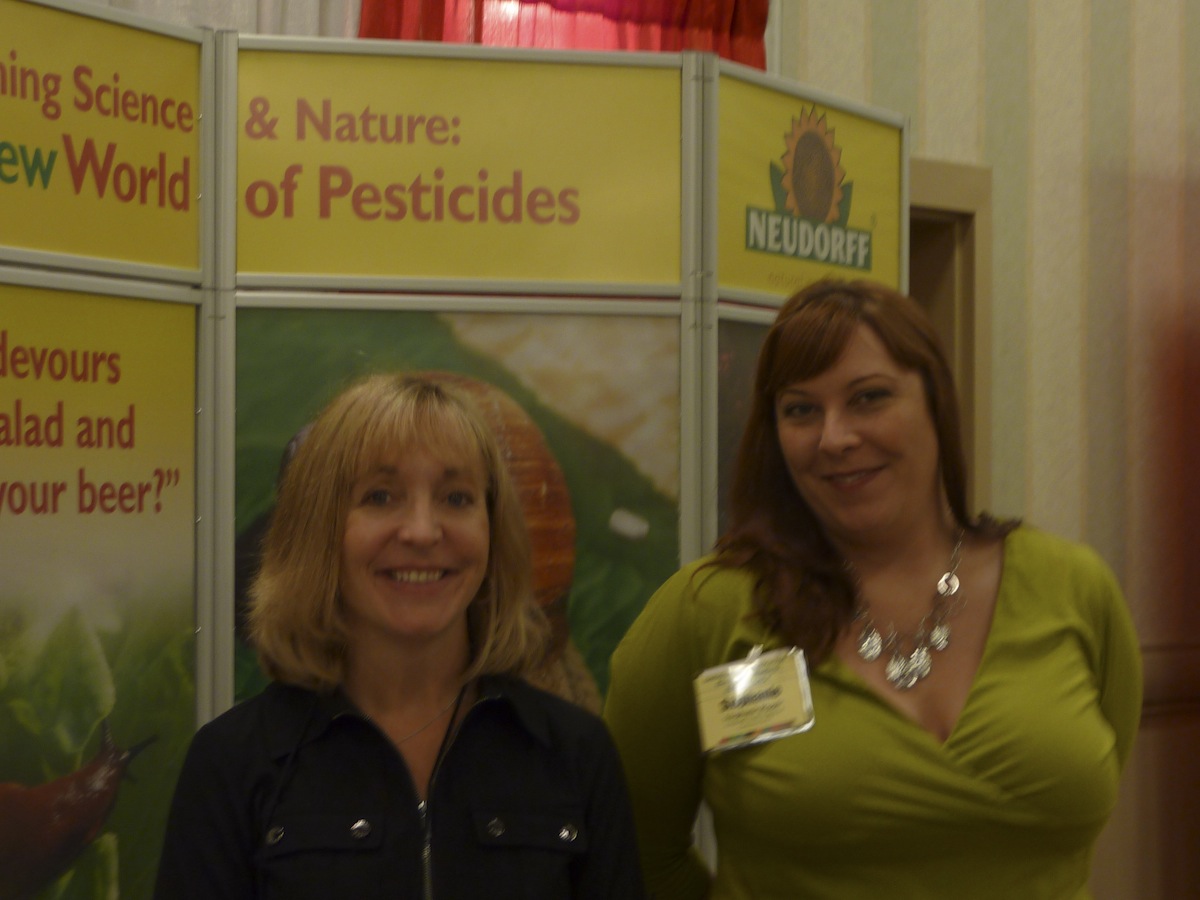 I got the lowdown from Stephanie Ripple and Jenny Adams, the sales reps who took the time to walk me through the Neudorff story, starting in Prussia in 1854. (I magnanimously overlooked the absence of chocolate at their exhibit space.)
If you grow vegetables at home, you might be interested in Bayer Advanced Natrio Multi-insect Control, which uses Neudorff's special formulation of canola oil to suffocate sucking pests like aphids, and also is effective on powdery mildew.
Espoma is another company whose line of natural Neudorff-manufactured products are finding their way onto local nursery shelves. Their Earth-tone Insecticidal Soap works on contact with many pests but doesn't burn most plants. Bonus points: It can be sprayed on fruits and veggies in the morning and you can harvest them the same day.
Back in the day, when I worked in retail nurseries, the only effective way to control slugs and snails (other than wearing flamenco boots and feeling the burn in my quadriceps) was dumping copious amounts of metaldehyde in the garden. The huge downside of that "solution" was the toxic effect on cats, dogs and wildlife. (Did you know that some slug species live up to 15 years and lay 400 eggs each year?)
When I discovered Sluggo a few years back, I felt like doing a few Happy Dance steps of my own. Sluggo is an iron-phosphate compound that's mega-effective on voracious, slimy little mollusks – it gives them a tummy ache and they stop eating – but breaks down to a harmless (actually, good for the garden) substance that's safe around your pooch, kitty or pot-bellied yak.
Now there's an even more effective bait called Sluggo Plus. In addition to controlling slugs and snails, the "plus" comes from Spinosad, making it effective against earwigs, cutworms, sow bugs and pill bugs.

New Fuel For Your Power Tool
It was hard to miss the Fiskars booth, with their signature public-works-orange-traffic-cone color scheme. Fiskars has been rethinking, reengineering, and redefining garden tools for some time. Their lightweight, easy-to-use, human powered Momentum reel mower has more cutting power than old-school push mowers, doesn't clog, stays sharp and is comfortable to use. No dependence of fossil fuels and all you smell is the sweet aroma of fresh cut grass.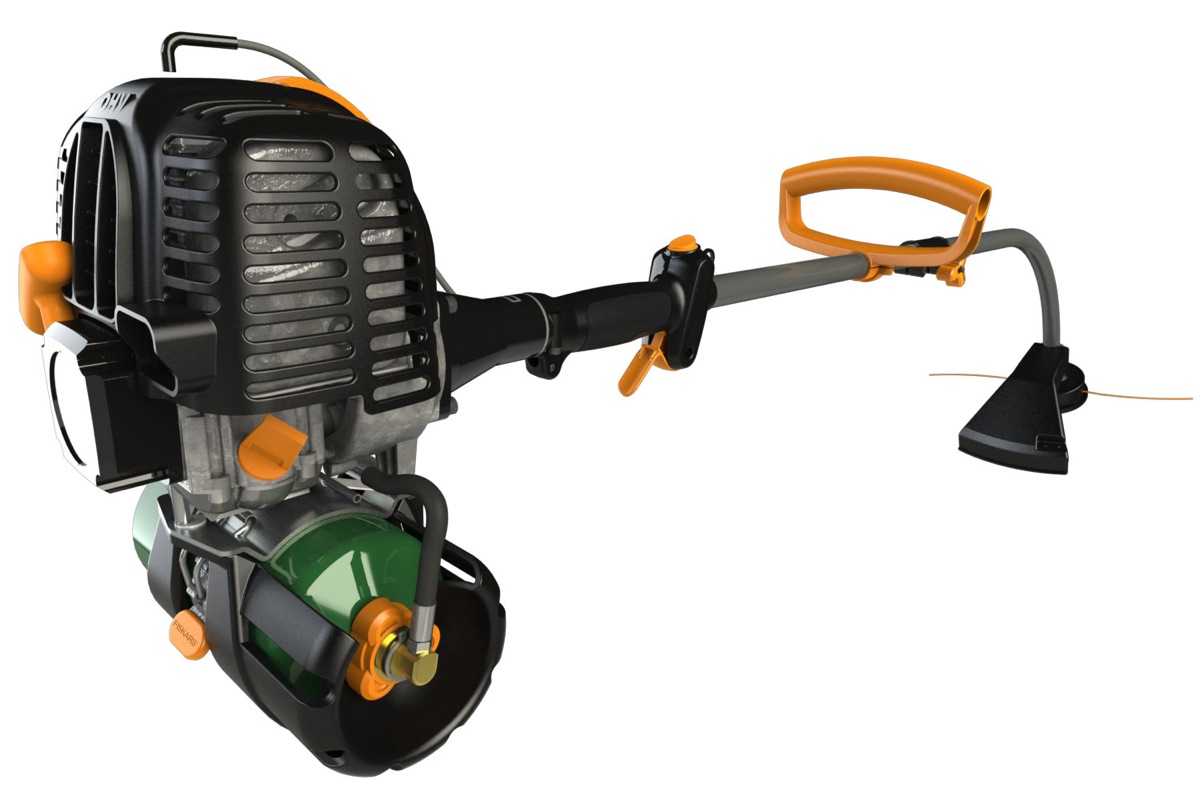 But what really caught my eye was SmartPower, Fiskars' new propane-powered string trimmer for beheading swathes of weeds or edging areas of the lawn that the mower doesn't reach.
Homeowners who've opted for electric- and battery-powered trimmers are usually disappointed by the gutless performance of those environmentally friendlier tools. The Fiskars SmartPower trimmer has all the power of a gas trimmer, avoids the messy hassle of mixing gasoline and oil, doesn't need winterization, and was awarded a Clean Air Excellence Award by the EPA.
The fuel source is the same 16.4-ounce metal canister used for camping stoves and lanterns and provides 85% longer run times than a typical tank of gas fuel.
The SmartPower trimmer will be in stores in February 2011, just in time for spring gardening season. For other great, smart gardening tools in Fiskars' line-up, check out their website.
My only disappointment was that Janelle Schwartz, the informative Fiskars rep I spoke with, couldn't warm up to the brilliant idea of letting me take the trimmer for a test drive around the exhibit hall. I explained my Edward Scissorhands-inspired topiary idea for reshaping one of Monrovia Nursery's 'Bountiful Blue' blueberry bushes (the brilliant blue foliage is to die for!) into a 3-D bust of Fiskars boyishly handsome spokes-stud and my good buddy Joe Lamp'l, but I didn't have time to wait while she checked with Corporate.