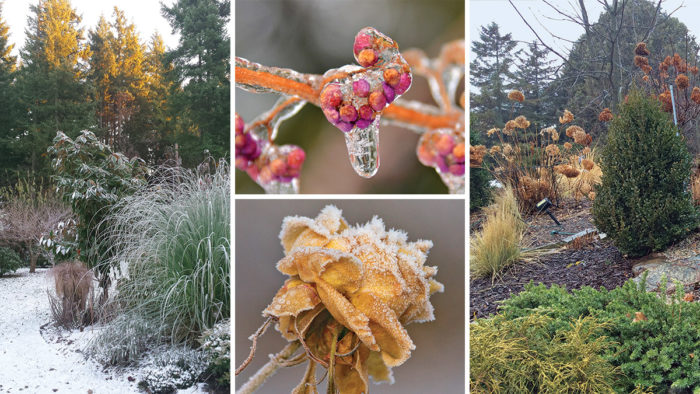 In gardening, we talk mostly about spring, summer, and to a lesser degree, fall. But that ignores a quarter of the calendar year. It's not easy to design a garden that looks good when dusted (or buried) in snow, but it can be done. In this readers' gallery from our online forum, Garden Photo of the Day, you'll see how a handful of gardeners just like you and me interpreted "winter interest" and accomplished the seemingly impossible: an inspiring landscape in January.
Lay a good foundation with strong forms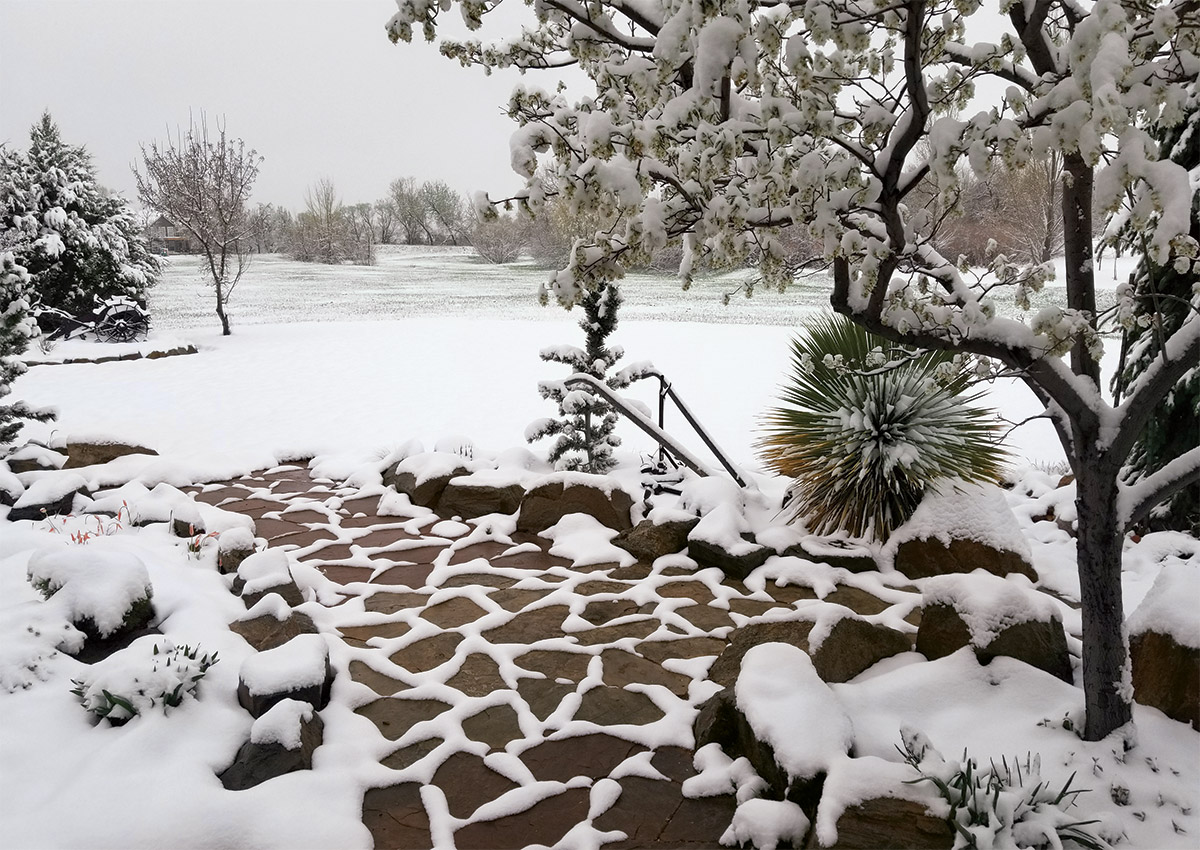 Anne Clark • Loveland, Colorado
Great gardens have great bones. And in winter, those elements step forward like at no other time of the year. Landscape designer Anne embraces strong forms through her plant and hardscaping choices. "The structural plants and boulders are the bones of my garden, which complement the home and frame the picture," she says. A framework of sturdy trees and shrubs anchors her landscape, while closer to the house a flagstone walk, outlined by snow, provides the stage for plants with strong forms, such as beaked yucca (Yucca rostrata, Zones 5–10), to shine.
Get the mix right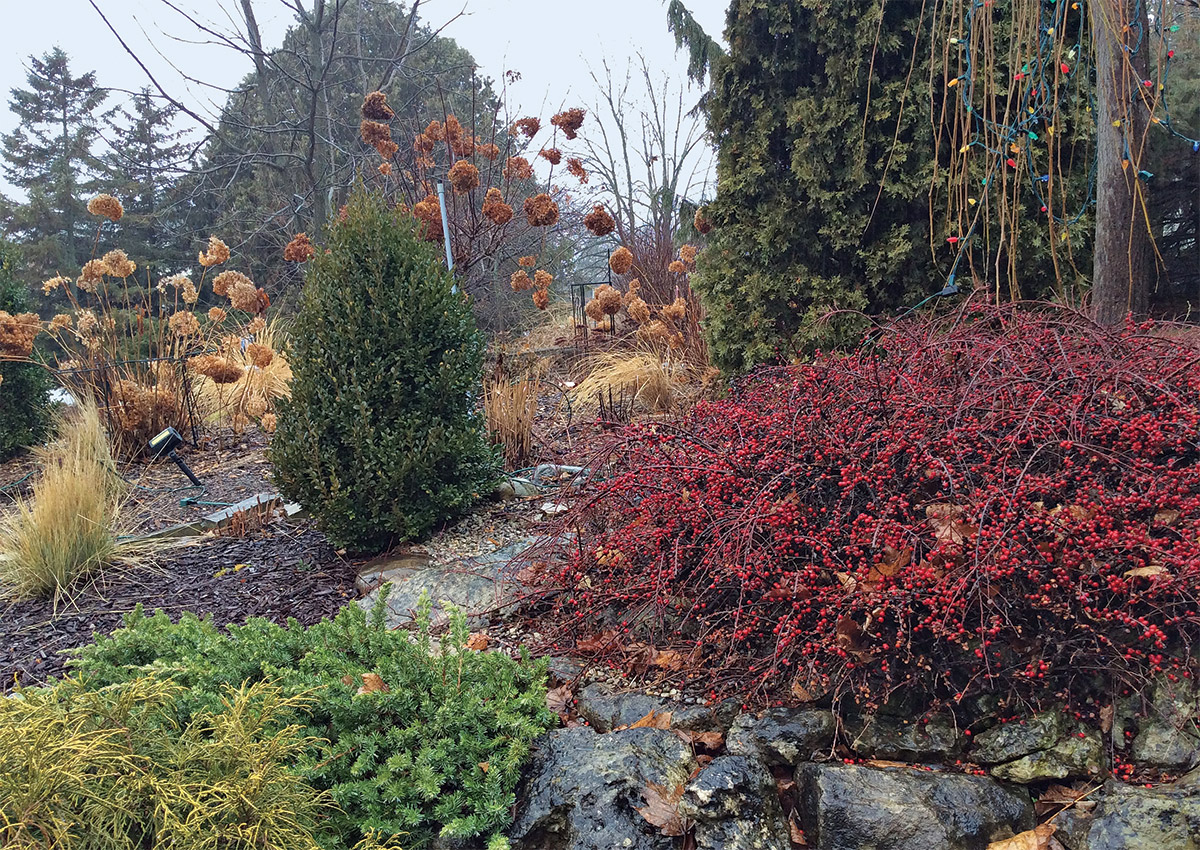 Alice Fleurkens • Sweaburg, Ontario
This garden proves that a combination of evergreens, berry-laden shrubs, and ornamental grasses is just the ticket for winter interest. "There is certainly nothing boring about the winter garden," owner Alice says. The assortment of dark green conifers and broadleaf evergreens, along with the tawny-hued grasses and spent blossoms of panicle hydrangea (Hydrangea paniculata cv. Zones 3–9), allow the rockspray cotoneaster (Cotoneaster horizontalis, Zones 5–7), full of red berries, to really pop. This bed looks stunning in spring, keeps going strong in summer through fall, and sparkles in winter.
Rely on plants in their prime—and past their prime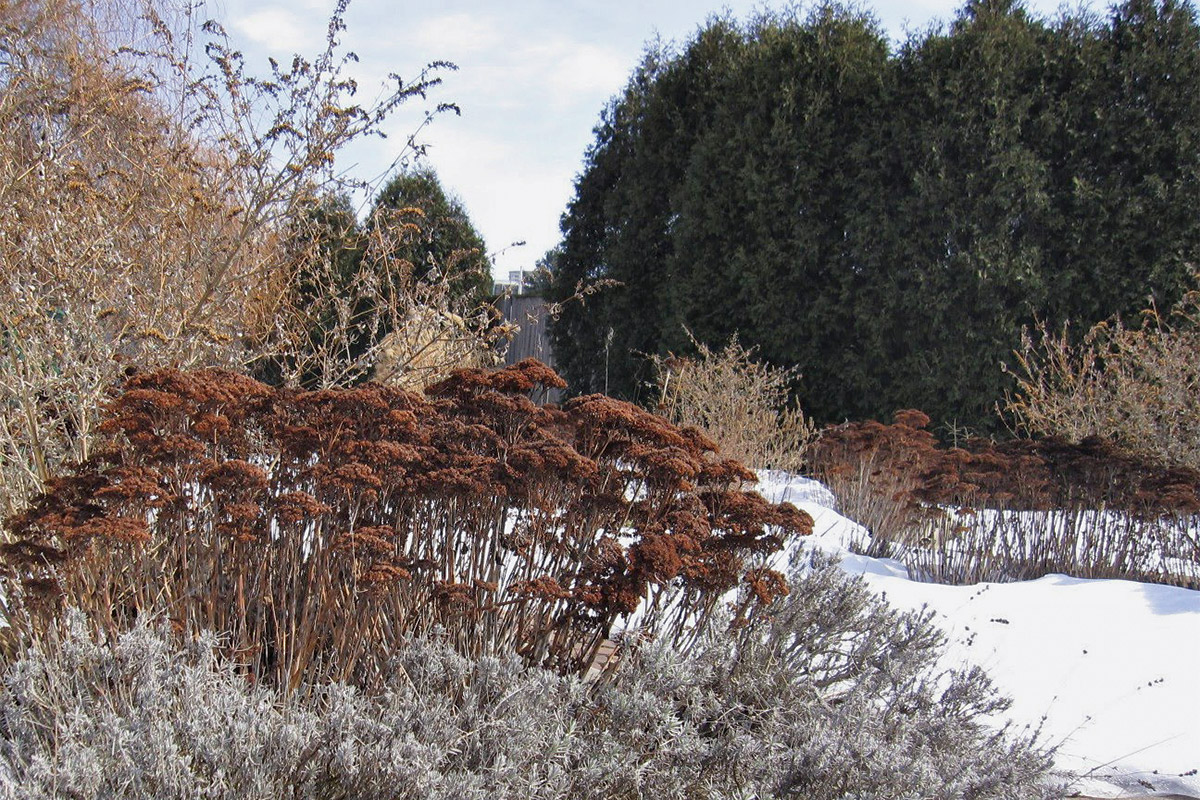 Joseph Tychonievich • Williamsburg, Virginia
Ivy-leaved cyclamen (Cyclamen hederifolium, Zones 4–9, below) is one of Joseph's all-time favorite plants. "That's mostly because those incredible leaves look terrific all winter long," he says. But for a garden to look good in winter, it doesn't need to be filled with evergreen foliage. Autumn Joy sedum (Hylotelephium 'Herbstfreude', Zones 3–9) and English lavender (Lavandula angustifolia, Zones 5–8) look equally stunning despite being dormant when the photo at far right was taken. The combination of silver branches and rusty seed heads is just as eye-catching as a conifer would be.
Be sure there are a few seasonal stars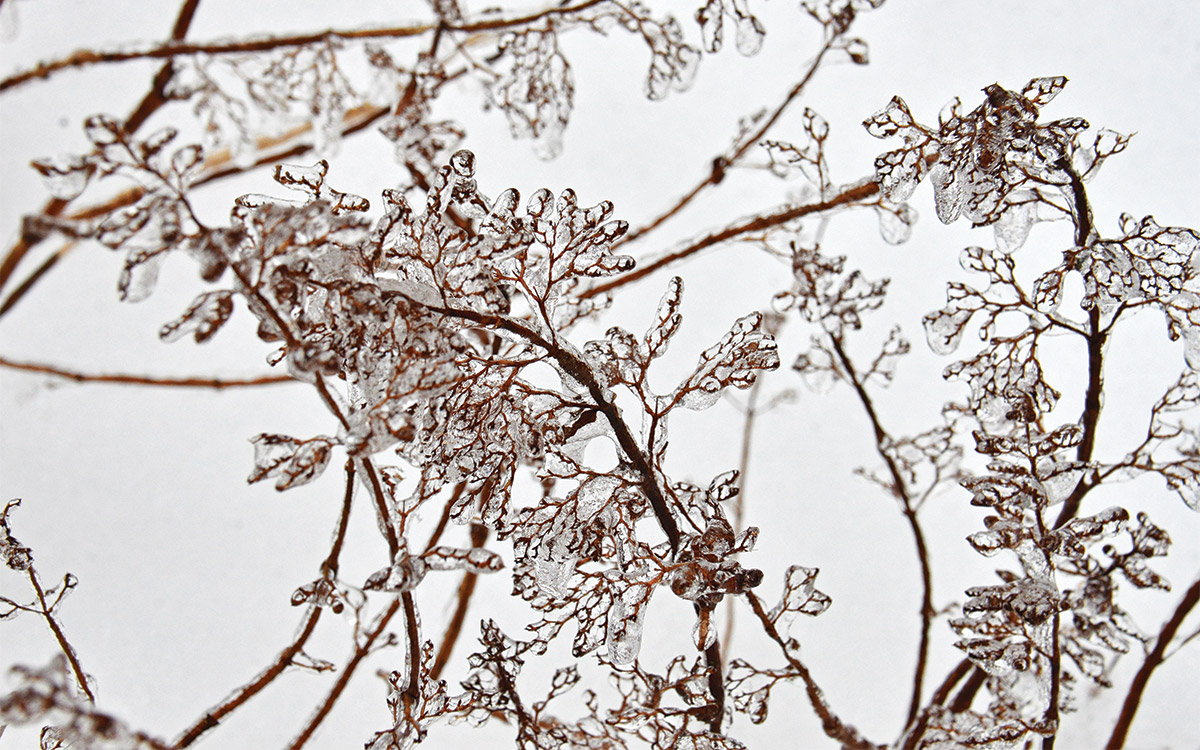 Carol Verhake • Berwyn, Pennsylvania
Unique texture and bright color are two traits that make a plant a focal point—even in winter. That's why gardener Carol was sure to include three key plants in her landscape. 'White Cloud' calamint (Calamintha nepeta subsp. glandulosa 'White Cloud', Zones 5–9) looks like fluffy bridal lace when encased in ice (above), while the yellow blossoms of 'Barmstedt Gold' witch hazel (Hamamelis × intermedia 'Barmstedt Gold', Zones 5–8) and the frozen purple berries on 'Early Amethyst' beautyberry (Callicarpa dichotoma 'Early Amethyst', Zones 5–8) provide a flash of color even through the snow and ice.
Broaden the evergreen palette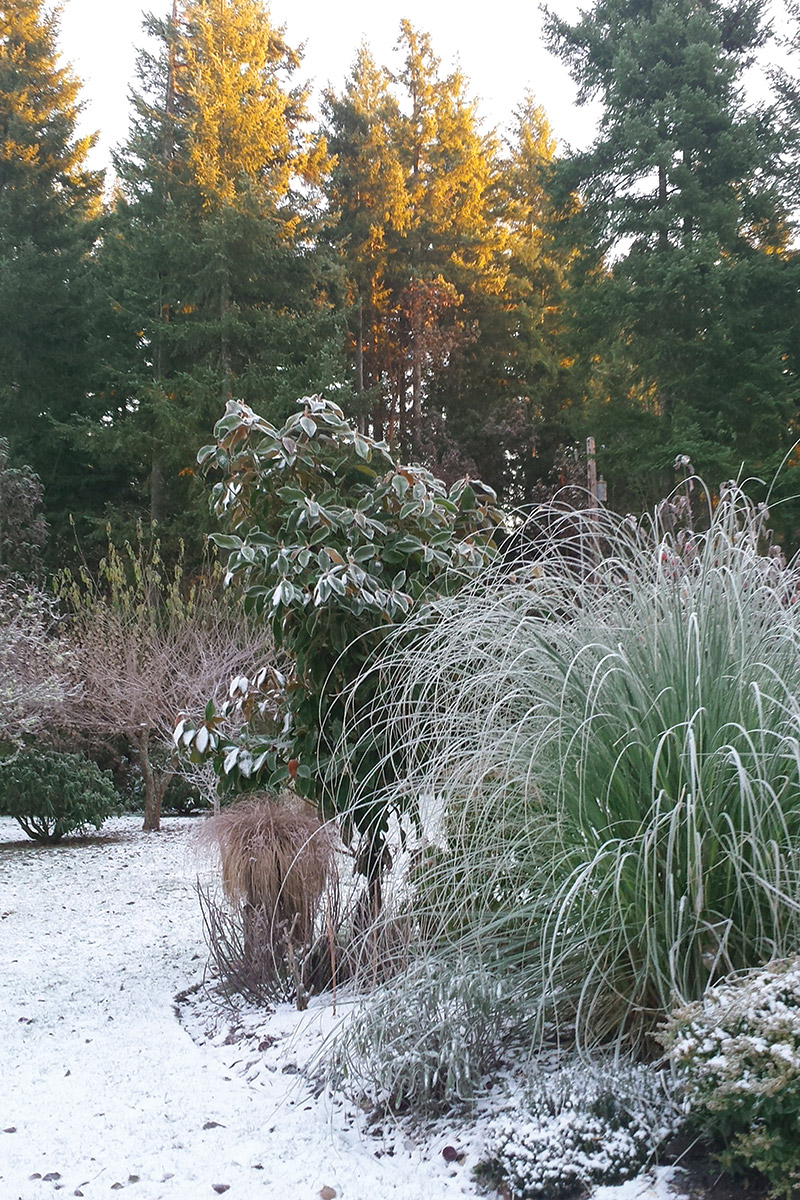 Jeanne Cronce • Port Orchard, Washington
"Evergreens make a wonderful anchor for the garden," says Jeanne, the owner of this frosty landscape. Conifers and rhododendrons are important players in January and February, and here they assume the role of background players. But it's the magnolia (Magnolia cv., Zones 4–9) and ornamental grass—not yet dormant—that are the surprising evergreen stars.
Embrace the unexpected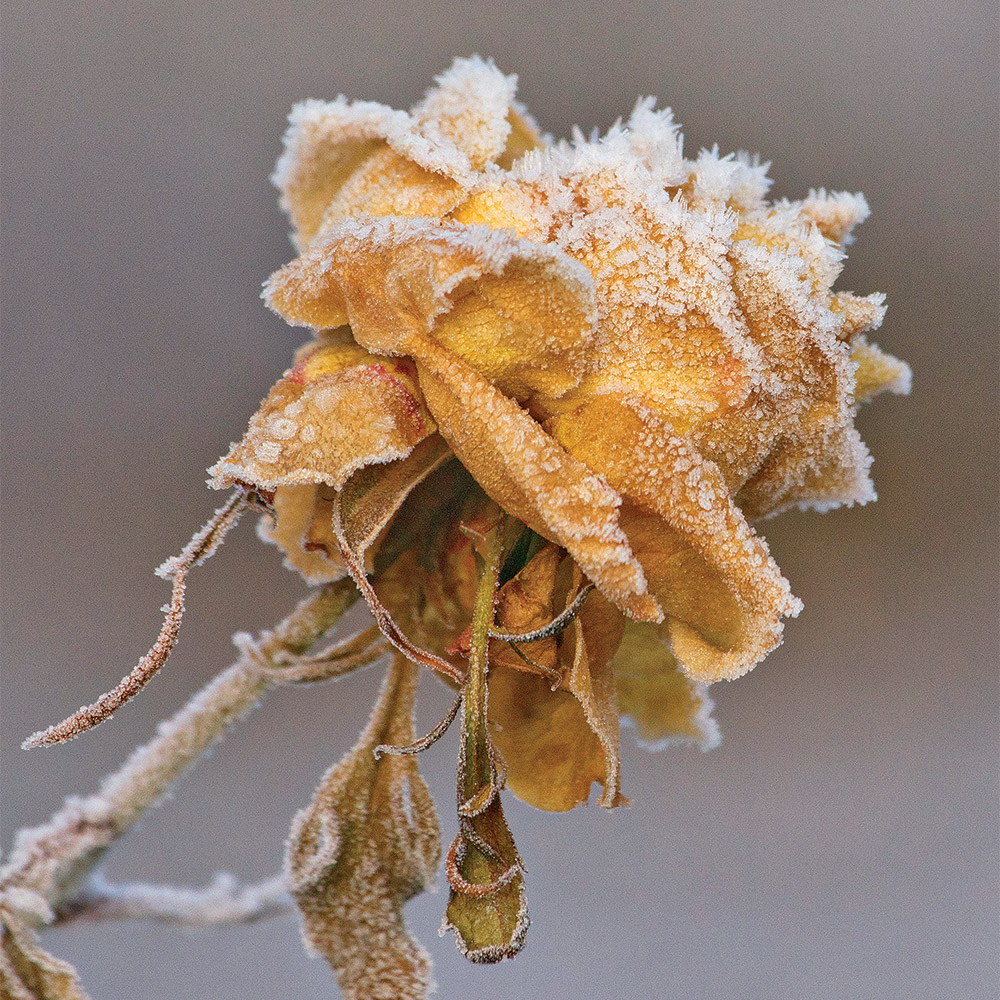 Michel Marie Rose • Yachats, Oregon
Sure, most of us are crestfallen when an early dose of winter hits. But if you've infused your garden with plenty of winter interest, there's no reason to lament the arrival of the off-season. And as Michel reminds us with this photo of a rose frozen prematurely in place, even a killing frost can inspire beauty.
Photos: courtesy of the contributors
---
Have a garden you'd like to share?
Have photos to share? We'd love to see your garden, a particular collection of plants you love, or a wonderful garden you had the chance to visit!
To submit, send 5-10 photos to [email protected] along with some information about the plants in the pictures and where you took the photos. We'd love to hear where you are located, how long you've been gardening, successes you are proud of, failures you learned from, hopes for the future, favorite plants, or funny stories from your garden.
If you want to send photos in separate emails to the GPOD email box that is just fine.
Have a mobile phone? Tag your photos on Facebook, Instagram or Twitter with #FineGardening!
You don't have to be a professional garden photographer – check out our garden photography tips!
Do you receive the GPOD by email yet? Sign up here.