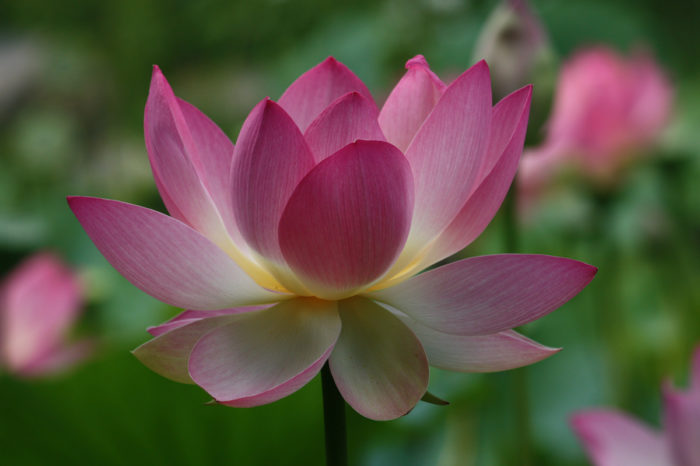 Today we're visiting Nancy Ridenour's garden in Ithaca, New York.
When I moved into this home in 1973, it had very few gardens. The front yard had some established trees, and the backyard was a flat lawn with a marsh and cattails. Over the years, I transformed the yard into my own work of art that I call my "pocket of peace." The yard is only 100 by 400 feet, but it has transformed into something unique that speaks of a garden much larger.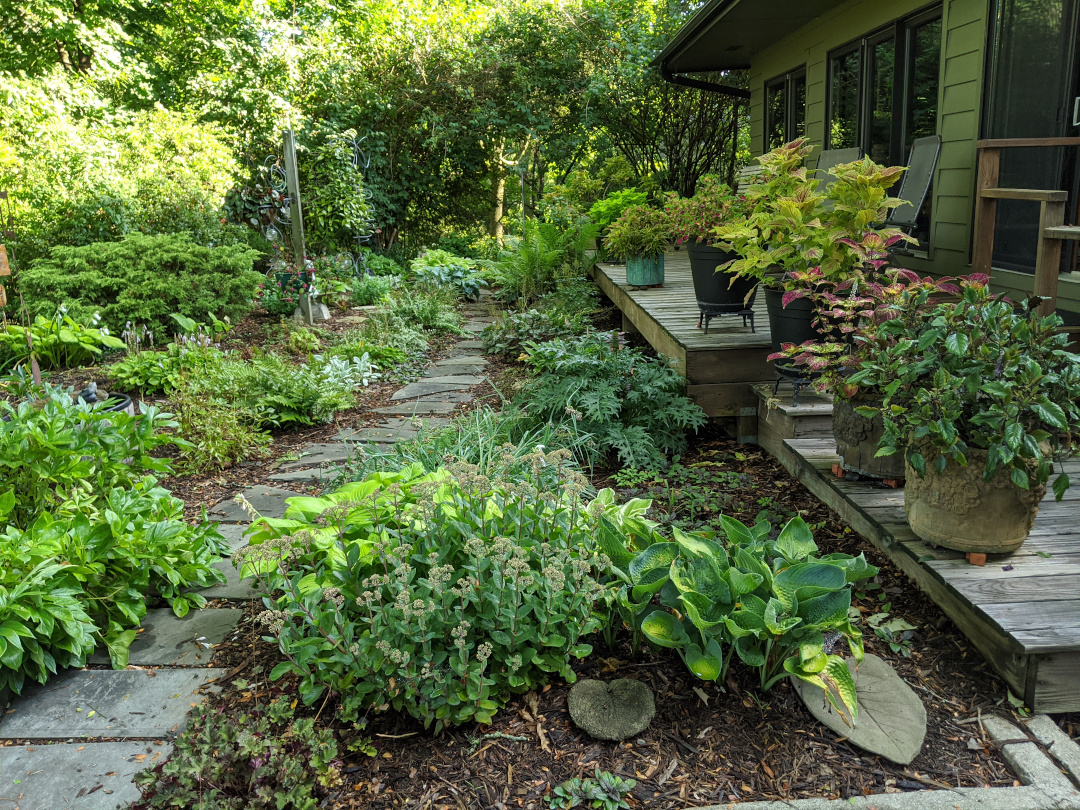 In 1980, I had the swimming pool filled in, using soil dug from the marsh in the backyard. The pool was directly behind the house and in disrepair. Over the years, I amended that garden with several perennials, some bushes, bulbs, and two walkways from stones found around the property. I also added two large sculptures to the garden that I made from flexible copper tubing. Some failures included not keeping up with the changing light conditions, resulting in plants such as clematis not doing well. The squirrels consumed most of the tulip bulbs, so I lost many. I had ordered many parrot tulip bulbs from Holland and have only a few left. Very expensive meals!

I had the pond re-dug and sculpted, which produced a large pond and three berms that gave the yard a unique topography. This photo shows a wide view of one of the berms.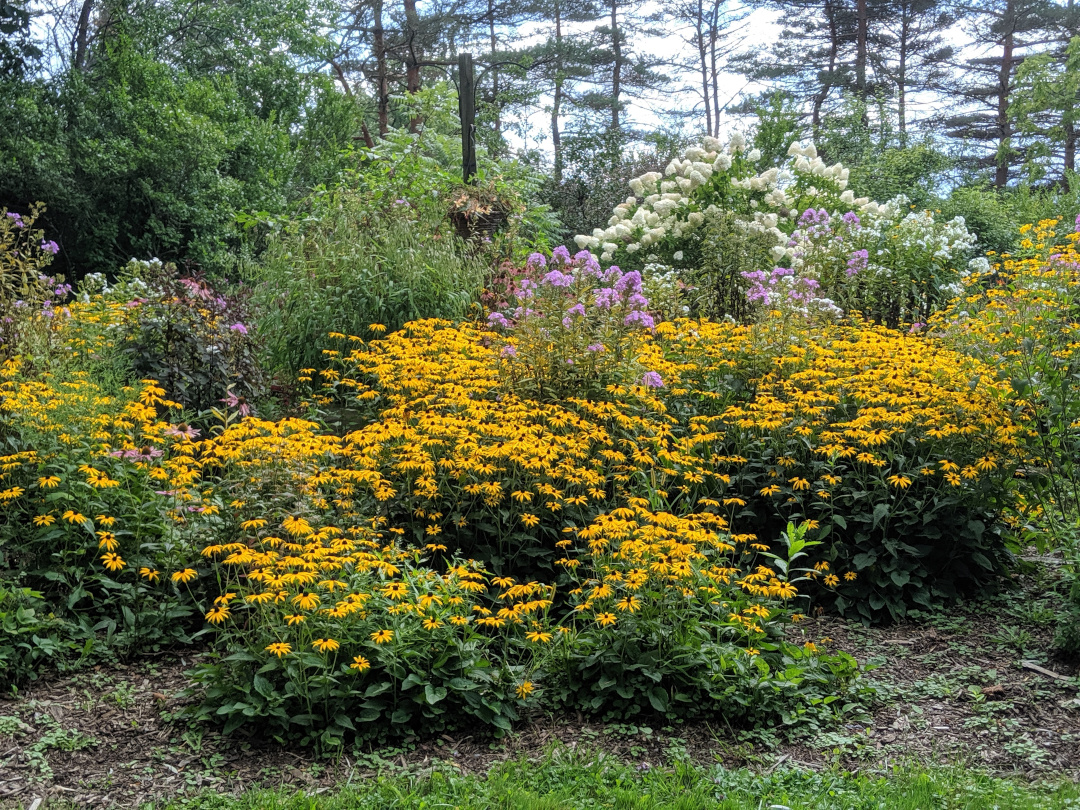 The formation of berms lent interest to the backyard and allowed more plantings than would have been possible in the original flat yard. One reason for the pond digs was to remove cattails that competed with the lotus. This year, I had to have more excavation because the nonnative yellow iris took over the edge of the ponds and started to compete with the lotus. I need to keep better watch as to what plant is taking over the others in the gardens.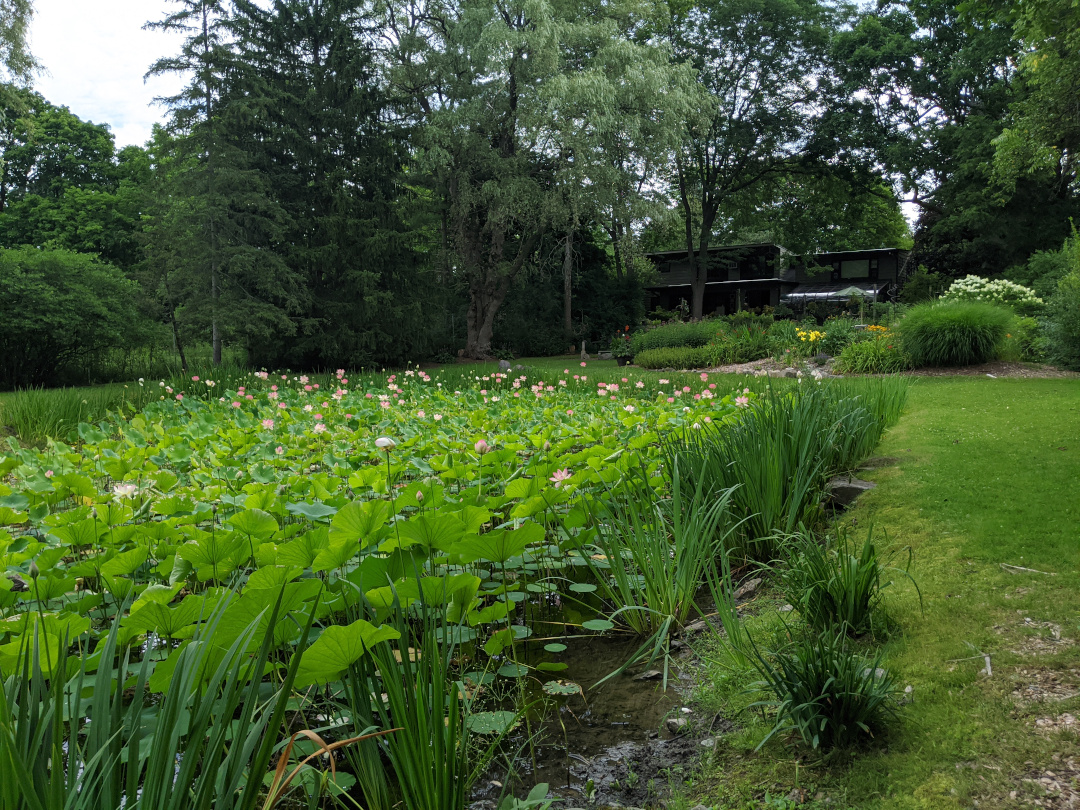 About 20 years ago, I planted six lotus plants (Nelumbo nucifera, Zones 4–8) in the pond. There are now over 500 plants that flower in the summer and provide a destination for many garden tours. I was introduced to the lotus while living in Laos, so finding it growing in Ithaca was a real treat.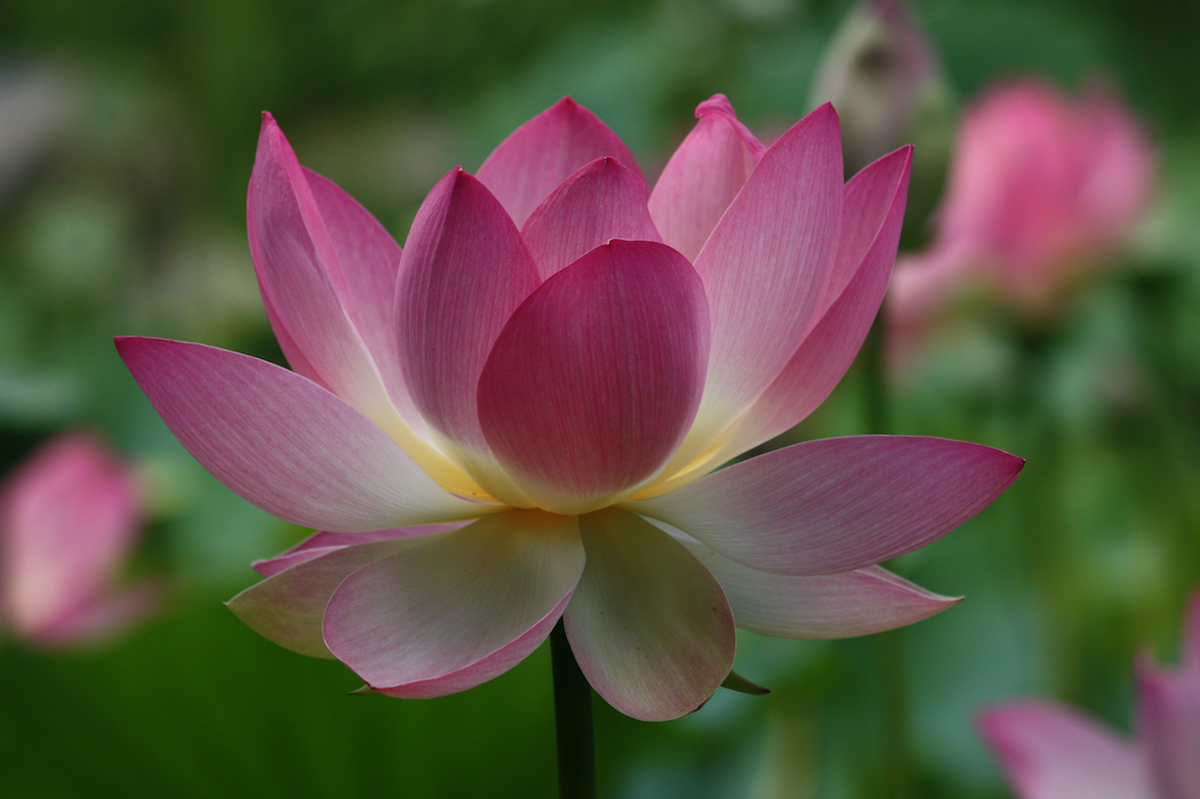 Lotus is my favorite flower in the gardens and gives me great pleasure to watch and to photograph. It has been the major subject for my work.
In the backyard, I transformed a section of the lawn into a Zen garden, with gravel and a sculpture, along with a concrete bench. One failure has been that I did not treat any of the copper, and some pieces oxidized to a black patina.
A daylily (Hemerocallis fulva, Zones 3–9) blooming on one of the berms. Since I grew up in a florist family, I have been gardening since my teen years. Gardens were a strong focus for 4-H projects. My present gardens have been a wonderful connection to my past and my family. Over the years, the garden has been my artistic expression with both plants and artwork.
Have a garden you'd like to share?
Have photos to share? We'd love to see your garden, a particular collection of plants you love, or a wonderful garden you had the chance to visit!
To submit, send 5-10 photos to [email protected] along with some information about the plants in the pictures and where you took the photos. We'd love to hear where you are located, how long you've been gardening, successes you are proud of, failures you learned from, hopes for the future, favorite plants, or funny stories from your garden.
If you want to send photos in separate emails to the GPOD email box that is just fine.
Have a mobile phone? Tag your photos on Facebook, Instagram or Twitter with #FineGardening!
You don't have to be a professional garden photographer – check out our garden photography tips!
Do you receive the GPOD by email yet? Sign up here.