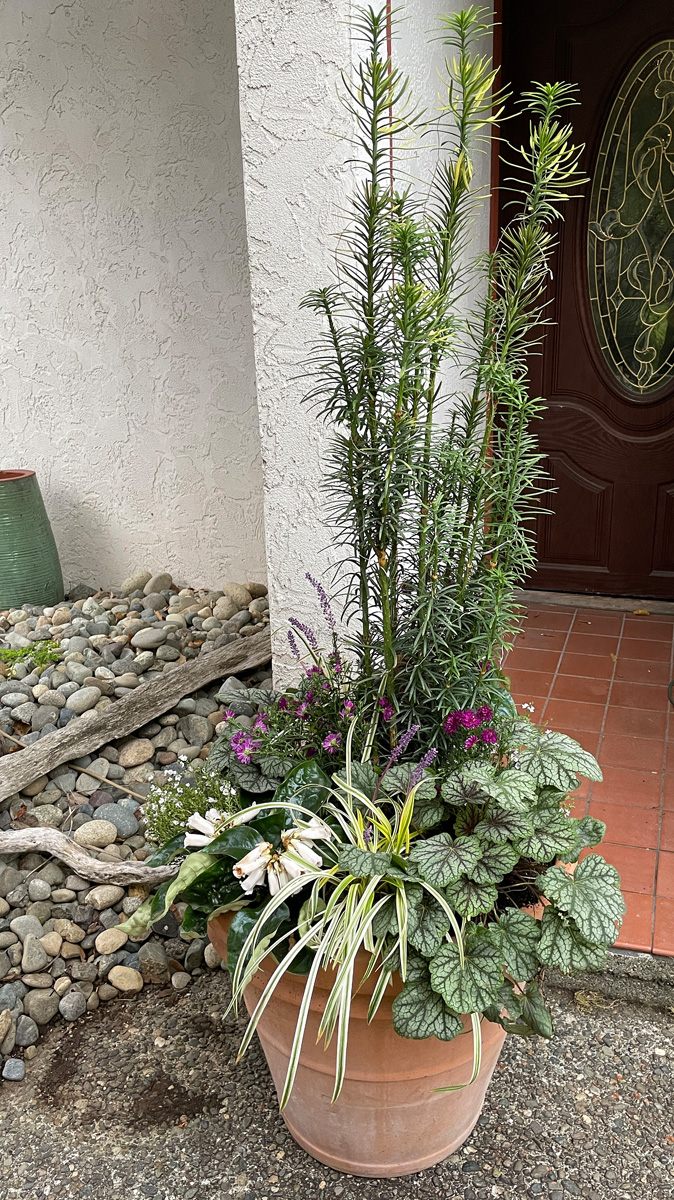 To extend the season on your porch or patio, containers built for winter are invaluable. But planting pots for cooler weather takes a little extra insight and planning.
Proper hard goods are the key to success
The temptation when planting winter containers is to think about the plants first, and give little thought to the pot, soil, or the even the care of your seasonal creation. The tips below have always helped my containers shine during the darkest months.
Containers for winter 
You must be sure the container that you choose is frost proof. Many times containers are not meant to be frozen solid. Soil in a container can freeze much faster than soil in the ground, and the water in the soil can expand and break the pot. Lightweight faux terra-cotta is beautiful and a perfect frost-proof choice. It's difficult to tell the difference between it and real terra-cotta. There are winter-proof ceramic or pottery containers on the market that also work great.
Soil for winter containers
Light soil works best in winter pots. Resist the urge to just pull out the top layer soil along with your summer plants and leave the compacted soil in the bottom of the pot. Roots do still grow in winter during milder times, and the ability of a plant to live through winter does depend on the roots being able to reach deeper into the soil. Mixing in some composted organic matter will ensure that the mix stays light, and it will lightly feed the plants too.
Watering winter containers
Rain (even constant) doesn't supply enough moisture to keep the containerized plants alive. Water whenever the soil feels dry. If the soil is light and not compacted it will also drain better, allowing watering to continue throughout winter.
Winter containers need shelter
Placing the container on a porch or sheltered area is a great idea. The container will do better if it is not battered around by the wind. If you don't have this type of shelter, plant a medium-height, evergreen grass that will act as a windbreak. Good choices are Feather Falls™ sedge (Carex 'ETCRX01', Zones 5–9) or New Zealand wind grass (Anemanthele lessoniana, Zones 8–10). These will protect some of the other plants from the weather, and they look beautiful when tossed by the wind.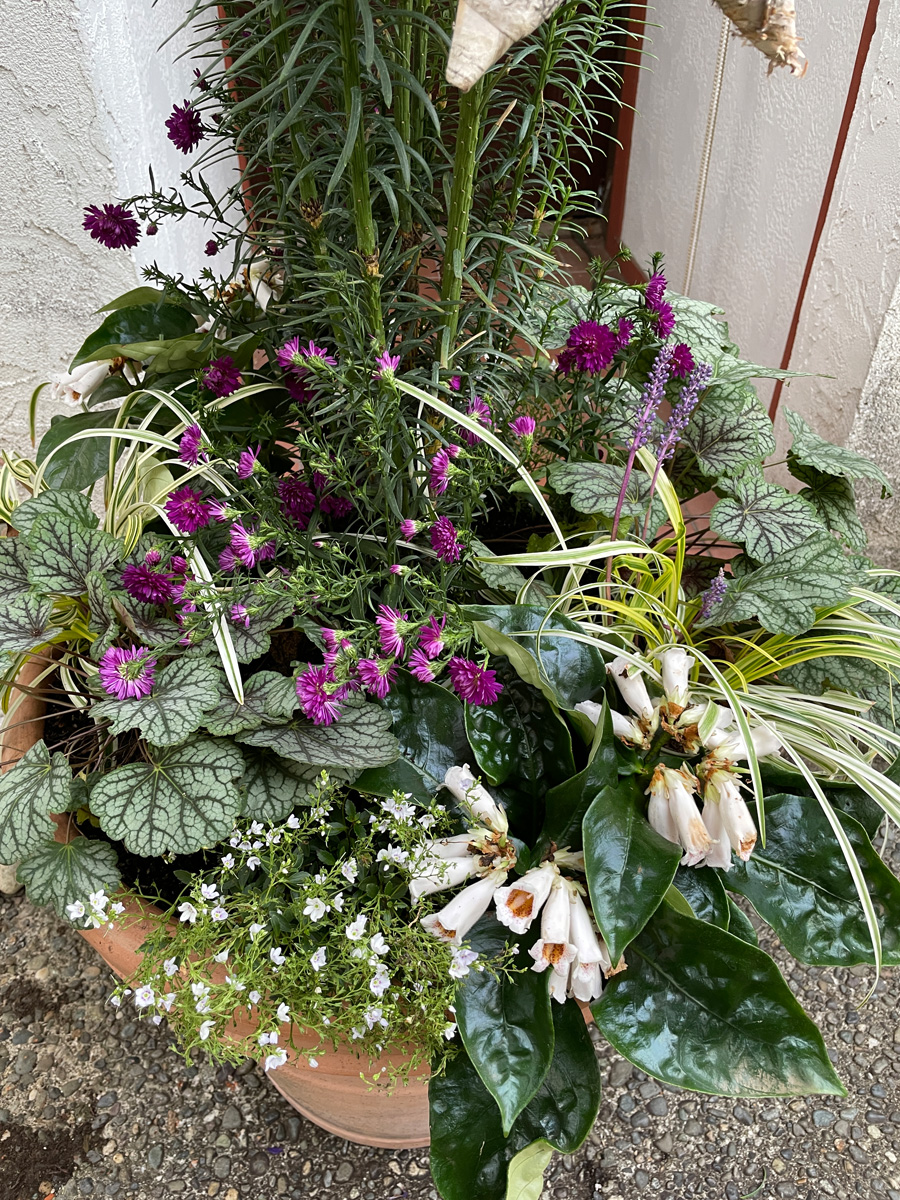 Plant choice isn't as limited as you think
Now that the mundane stuff is out of the way, let's talk about plants. This is also a challenge. Just because it looks great in the nursery doesn't mean it will look good in a month. Start off with a large statement plant in the background. It is even better if you can put lights on it for night interest. Lights around the outside of a house can push away the gloom and feel welcoming when you're returning home in the dark. You might be tempted to do a "Christmas container," but I suggest aiming for more of a winter look that will last beyond December. It is always possible to add Christmas touches such as glass balls, rose hips, or holly branches that can be removed in January.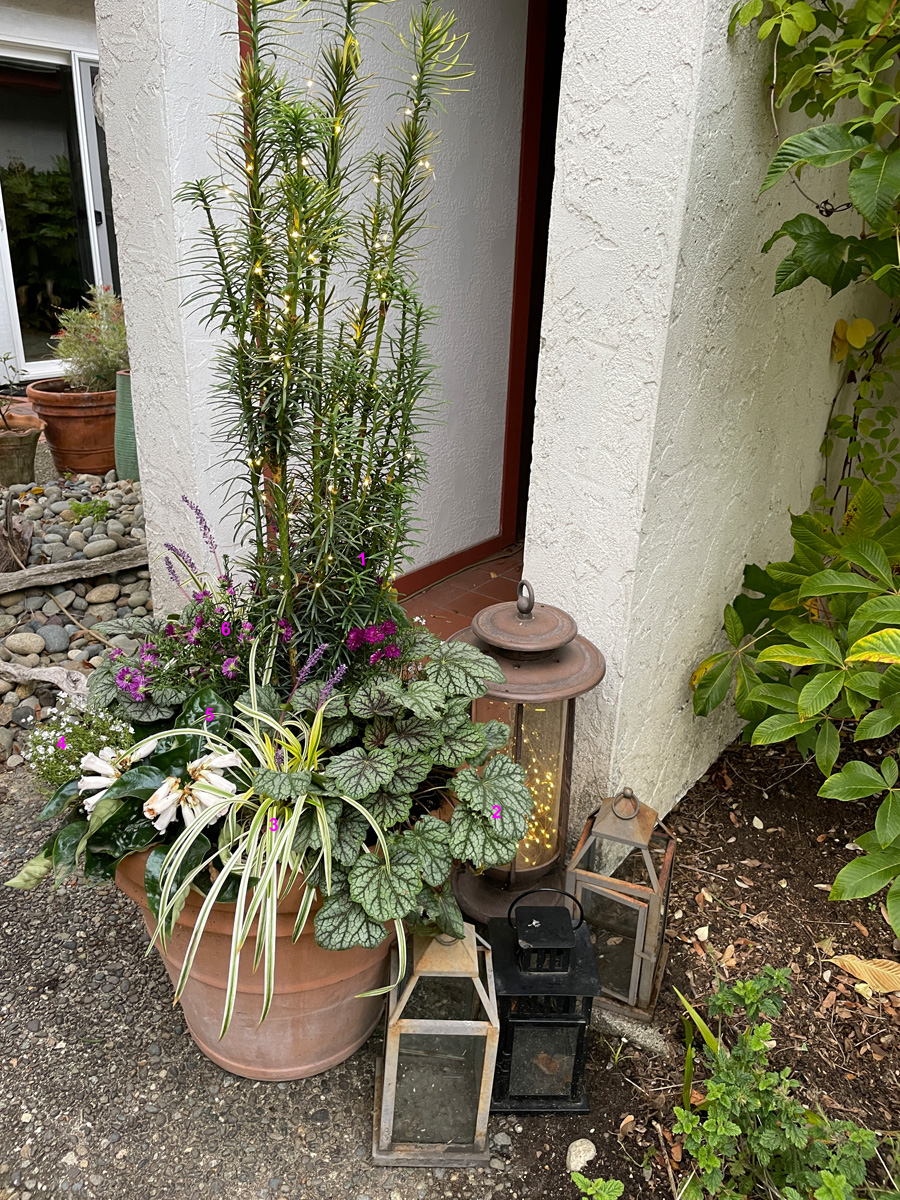 Winter container recipe
This container has several elements that allow it to look good in late November all the way through March.
'Korean Gold' plum yew (Cephalotaxus harringtonii 'Korean Gold', Zones 6–9)
I chose this evergreen as the focal point for the center for the container. It can last in a pot for several years but will probably find a new home in my garden in spring.
'Green Spice' heuchera (Heuchera americana 'Green Spice', Zones 4–9)
Variegated leaves are a great way to add interest when things are not blooming. 'Green Spice' is a strong-growing heuchera that stays evergreen. Unlike some of the wimpier cultivars, this plant doesn't break off or fade out after a couple of years.
'Silvery Sunproof' lilyturf (Liriope muscari 'Silvery Sunproof', Zones 6–9)
The blades of this lovely perennial take on a gold, green, and white variegation in winter. It blooms late in the year, so the purple spike flowers are just coming into their own in late fall. Often overlooked in the garden because it is a low-grower, here you get to see all of its color up close. Both the heuchera and lilyturf hang over the container to soften the edge.
'Avalanche' parahebe (Parahebe catarractae 'Avalanche', Zones 7–10)
This evergreen holds its white, mat-forming flowers through most of the winter. As the name suggests, it will tumble over the edge of the container.
False sinningia (Hemiboea subcapitata, Zones 7–9)
I am never able to resist a new plant; this stunner adds drama to the container. A ground cover with glossy evergreen foliage, it is fabulous in a shady, moist planting bed. Many people think the white tubular flowers with rust inside are inconsequential, but I like them, especially in a winter container where you can really see them. This plant blooms late, but when the flowers disappear, you'll be left with the lush leaves falling over the edge of the pot.
'Purple Dome' New England aster (Symphyotrichum novae-angliae 'Purple Dome', Zones 5–8)
A final touch of purple comes from a favorite perennial I dug out of the garden. All of these plants grow in partial shade, so when you are ready to clean out this container in spring, they can all be replanted together in the garden.
Even though this is a winter container and doesn't have a lot of red and green, add some gold and silver tinsel or stars and it will say, "Happy Holidays."
—Susan Calhoun is the owner of Plantswoman Design in Bainbridge Island, Washington.